HAPPY COLLEGE BASKETBALL SEASON EVERYBODY!!!
-The season officially tips off today at 4pm, est when Maine faces Richmond in the opening round of the Coaches vs Cancer Classic. The winner will face the Winner of the Tennessee Martin at Memphis game, which will begin at about 7pm, est.
-Here is what I call the Preseason Media Bracket. The notes on it are below.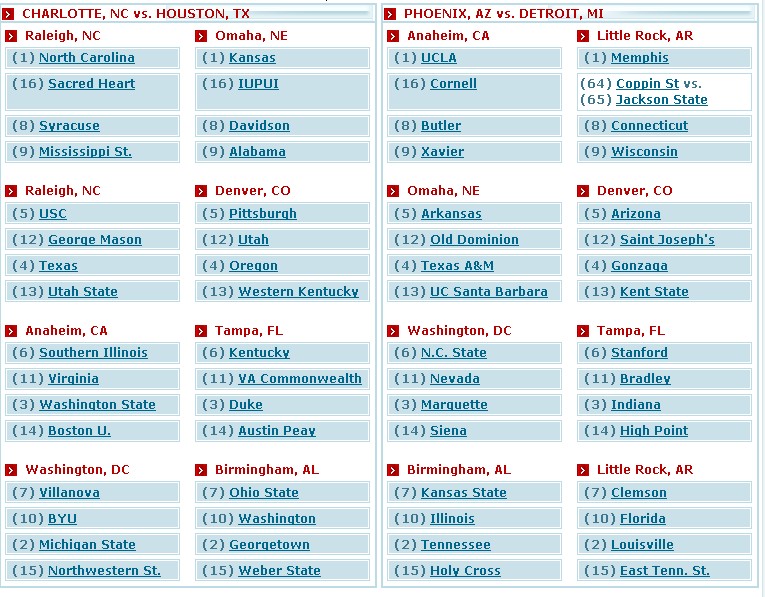 NOTES ON THE PRESEASON MEDIA BRACKET.
-Throughout the season, I always say that the bracket projections are a checkpoint of where teams currently stand more so than they are a prediction of what things will look like in March. Right now, there is technically a 340 way tie for first place because no games have been played yet. From a practical standpoint, one can already hypothesize who some of the better teams are, and what games being played early on will end up being a factor in March. Obviously if Tennessee Martin beats Memphis today and then goes on to the semifinals to win the tournament over Connecticut, Kentucky and Oklahoma, those will likely turn out to be a big win on their NCAA Tournament resume and put them in a position to earn an at-large. Of course that isn't likely to happen. More than likely Memphis will beat Tennessee Martin, and it will turn out to be a minimal factor on their tournament resume. We don't know that for sure because right now on paper it's a 340 way tie for first, but it's a safe hypothesis early on.
-With that in mind, the bracket you see posted above is what I like to call the Preseason Media Bracket. The seeding is based entirely off the Coaches' Poll and the conference champions were selected based on what was picked to win the conference at media day (at least in the leagues that have already had media day and posted the results on the conference site). It's always interesting for me to compare this bracket to the final bracket in March. There are always quite a few things that don't match up at all.
-In comparing it to my preseason bracket, which can be seen
HERE
, there are some things I disagree with. I don't know who is voting for Utah, or why, but the four votes they received in the Coaches' Poll earned them a high enough rank to be placed in the bracket as a #12 seed. I know they have several starters back, but they didn't' exactly set the world on fire last season.
-Old Dominion is in the bracket as a #12 seed as well. They appear to have a solid team, and were very good last year, but I wouldn't vote them into the Top 25 just yet, but evidently someone did.
-Florida State, who barely missed the NCAA Tournament last year, and likely would have made it had they been at full strength all season, did not receive a single vote in the Coaches' Poll. Four starters are back, and they have two very talented freshmen big men on their roster. They could end up having a big year if they can stay healthy. They look like a better team to me than either Utah or Old Dominion.
-I did have Alabama significantly higher in my bracket, but am second guessing that now since I've learned Ronald Steele is out for the year. They do have some very talented freshmen guards that should be able to make up for his absence, and I can still see the Tide having a big year and earning a good seed.
-Xavier is #33rd in the Coaches' Poll, and checks in as a #9 seed. Like a lot of teams, the jury is still out on them, but unlike previous years I believe that the jury will render a definitive verdict on the Musketeers. Xavier typically does well in the Atlantic Ten, and generally beats the midlevel teams they face out of conference. They haven't played that many Top 25 caliber teams in a given season in the past, and typically lost more than they won against the Top 25 caliber teams that they did face. As a result, they'd have an impressive record and a decent RPI, but minimal impressive wins, which often made them hard to rank. This year Indiana (potentially), Tennessee, Virginia, Creighton, Auburn, Arizona State, Kansas State and Cincinnati are all on the schedule. We should get a very good idea of exactly how good the Musketeers are this year once the season starts.
-Neither Nevada nor VCU were picked to win their conferences at media day, but both were ranked higher in the Coaches' Poll than the teams that were, so they are both projected in as at-larges and seeded better than the projected champions (Utah State, George Mason).
ENOUGH WITH THE PRESEASON PREDICTIONS!!! IT'S TIME TO PLAY!!!
-Memphis, Oklahoma, Kentucky and Connecticut are all hosting regionals in the Coaches vs Cancer Classic. The three other teams in each of the regions don't have much of a chance of advancing to the semifinals next week. Memphis will have to get by Richmond, Tennessee Martin and Maine. Kentucky's region consists of Gardner Webb, Central Arkansas and Alabama A&M. Ohio Valley (I'm from Ohio and don't even know who that is), Buffalo and Morgan State are at Connecticut, and San Francisco, Denver and East Central Oklahoma are at Oklahoma. Chances are we aren't going to see any competitive games that will end up being all that meaningful in the opening rounds of this tournament. If one of those teams can pull off an upset, it will be a huge early boost to their tournament resume, not to mention make that team an early season media darling. It has happened before, but it's rare. Technically everyone starts off at zero, so all teams are even now, but practically speaking these early games are more walkthroughs for the host teams than anything else. With that being said, it finally is basketball season. Games are now being played that count, and you know what?? I'll be tuning in.
-The non-exempt season begins Friday. I'll be running down all the highlighted match-ups every day of the season from Friday on.
-The
CONFERENCE TOURNAMENT INFO
for this season has been updated.