Spending an entire week in Moscow not only allowed me to sleep in the same bed on consecutive nights for seemingly the first time in weeks, it also granted me unprecedented access to the behind the scenes work that goes on at Dynamo Moscow, who prepared for and played three consecutive home games over the course of six days.
Having already experienced much of the more visible action that goes on before matches: practices, shoot-arounds, and walk-throughs, in most of my stops over the past weeks and beyond, this week provided a rare and incredibly valuable chance to see and often take part in the other things that separate the cream from the crop: advance scouting, statistical analysis, medical briefings, video sessions and the complicated and extremely important dialogue that is conducted between and amongst the coaching staff and players.
These are the little things that set the table and are so incredibly important in deciding the amount of success that an individual player or the collective group will have in every single game over the course of a season—something that people like me may not always take into account when we analyze the final results on the court.
David Blatt and his assistants Dan Shamir and
Sergei Bazarevich
put an unbelievable amount of work into preparing this team single day. With three games in just six days, they basically were working non-stop for every minute I was with them in Moscow. I was fortunate enough to be given complete access to the team, sitting in on the coaching staff's meetings and film sessions, have very frank and open discussions about the players and opposition (not to mention their philosophies on basketball and the industry), watch them break down tactical keys to the game and everything else that goes into preparing for game-day.
Visiting various teams and coaching staffs over the past weeks and months (not just European, but also NBA and NCAA teams) made for a very interesting contrast into the different styles and approach you find in the way basketball teams are organized and operated.
Blatt, a 49 year-old American-Israeli who graduated of Princeton University, has an impressive resume in International basketball, having won a European Championship with the Russian National team, an Italian league championship with Benetton Treviso, a FIBA EuroCup Championship with Dynamo St. Petersburg and a Euroleague championship as the assistant coach of Maccabi Tel Aviv.
Smooth, witty, articulate, at times sarcastic, and always highly demanding of his players and staff (I would know, having worked for him in a scouting capacity this summer) his method of communication is very unique. Always mindful of which buttons to push and when, he is usually able to build an excellent rapport with his players because of his straight up, no-nonsense style of coaching. Interestingly enough, he's assembled a roster composed of four Americans (two of whom,
Travis Hansen
and Arriel McDonald have European passports) and five former NBA draft picks—meaning Blatt's perfect command of the English language (an underrated factor here in Europe) obviously doesn't go to waste.
Blatt takes a very diplomatic approach to explaining things, allowing a fair amount of dialogue and not exclusively taking a "ball-busting" attitude to getting his players to execute. He seems like more of a glass half-full type than most, and his players obviously seem to appreciate that. That is, unless he's not seeing what he wants from them, at which point a momentarily volcano-like explosion is not slow to come, and the players are told under no uncertain terms where they erred and how they will correct their mistakes, immediately.
His assistant coach Dan Shamir (the head coach of Hapoel Jerusalem the previous two years, where he won back to back Israeli league Cups, and formerly an assistant with Maccabi Tel Aviv, where he first worked with Blatt) has a significant role in the way things operate in Dynamo, from his work in preparing for games, to the tactical assessments, speaking with players individually, scouting personnel before and during the season, and making his voice heard during practices and games. It's entertaining to observe the dynamics of their cooperative relationship (they have the added advantage of being able to speak Hebrew with each other, which no one else can understand)—clearly they respect and rely heavily on one another.
Tactically, the coaching staff at Dynamo Moscow breaks down the game of basketball in a way that I was really not prepared for—it's almost like being at a coaching clinic, 24/7. The lexicon of basketball terms used was massive in every video session—you could feel your basketball IQ improving on a daily basis, as they break the game down to a science. The players we spoke with seem to like the exhaustive, cerebral approach that is demanded of them—you never really saw them surprised by anything the opposition decided to throw at them, due to the incredible amount of preparation that went into each game. Just the knowledge I was able to gain of half-court sets, defensive adjustments and other tactical schemes made this trip worth the price of a plane ticket alone.
The day of the CSKA Moscow game, we watched a short breakdown of each of the opposing team's players—short clips demonstrating their strengths and weaknesses on offense and defense, and how the staff wanted them to play in turn. Immediately after that game was over, a DVD of their next opponent (in the EuroCup), Lukoil Akademik, was already being analyzed by Coach Shamir, with all their set plays diagrammed, their strengths and weaknesses noted both from a quantified and qualified perspective and a report prepared for each of the players and the head coach. During practice, game-type situations involving the opposition's strategy were constantly being implemented. They may not have had a great deal of time to prepare themselves and the players for each game, but they sure did make the most of it. Whereas other staffs place most of their emphasis on their own team and game-plan, these guys don't leave anything to chance.
Most people (including myself) just don't realize how much work goes on behind every day and night over the course of the basketball season, and it was extremely educational to see how this staff works and pick up some very valuable tricks of the trade.
Very helpful in this process is the fact that the conditions at Dynamo are befitting of the team's ambitions on the court. The arena is sparkling, just built a few years ago. It's small, but very impressive from the inside and out. Unfortunately, it was about two-thirds empty for the home games we took in, unbelievable when you consider the size of the city, the quality of the roster that was built, and just how high and entertaining a level they play at. The organization seems very professional, though—the team flies to each away game (not in Moscow) on a private jet, which is extremely rare in Europe, and the facilities and supporting staff are excellent.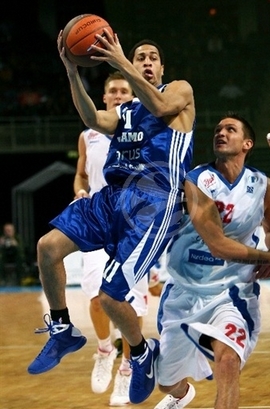 The roster isn't too shabby either. When mentioning that five former NBA Draft picks are present on this roster, it's interesting to note that that does not include arguably the most talented player on the team—NBA veteran
Jannero Pargo
. Bearing some similarities to the
Josh Childress
experiment
discussed in this blog last week
, this is yet another interesting case study, a player who clearly could have stayed in the NBA and been an important rotation player wherever he landed, but instead decided to try his luck overseas.
Just like Childress, Pargo's success or failure will be studied closely by NBA players weighing similarly large offers from European teams, as well as by the teams themselves, who will have to think long and hard of the risk/reward of spending huge sums of money to bring over important NBA players.
So far--ten games in--he seems to be faring pretty well, averaging just under 14 points in 26 minutes per game as the team's starting point guard. He's shooting 44% from the field, 40% from beyond the arc and 86% from the free throw line, dishing out 4.7 assists compared to 2.5 turnovers—while establishing himself as the team's clear-cut go-to guy.
Anyone that watched the New Orleans Hornets' series against the Dallas Mavericks in last year's NBA Playoffs knows what a complete offensive weapon Pargo has become.
He is a smart, skilled, silky smooth and incredibly potent combo guard, capable of making shots from anywhere on the court, often by stopping on a dime and creating great separation from his defender with his terrific pull-up jumper. His ball-handling skills are befitting of his upbringing on the streets of Chicago, and he gives European defenders fits with his ability to juke, fake, change speeds and get his shot off at will.
He runs the pick and roll wonderfully, playing the game at his own speed and being equally effective with the drive and dish as he is turning the corner. When allowed to set his feet from beyond the arc he rarely misses, while he always gives a good effort on the defensive end as well—being as competitive and intense as you would likely expect considering the underdog nature of his basketball career.
With that said, not everything has gone smoothly in Pargo's transition to Europe thus far, as we were often able to see in the three games we took in while in Moscow. Shot-selection has always been an issue for Pargo throughout his career, and this has been a problem here as well at times, as evidenced by his somewhat pedestrian shooting percentages inside the arc. Pargo rarely gets all the way to the basket, getting to the free throw line just under three times per game on the season thus far. He at times has a tendency to go off on his own and freeze out his teammates, which just doesn't fly in Europe the way it might in the NBA regular season. He's not a selfish player, but his mentality is clearly that of a scorer's, which the coaching staff is still working out how to take full advantage of without disrupting the flow of the offense.
Without the restrictions of the Russian rule (which forces teams to have two Russian players on the court at all times), Pargo might be able to see more time off the ball alongside
Hollis Price
. But because of the makeup of the roster, that isn't always possible at the moment.
While Pargo's on-ball defense looks stellar for the most part—he puts terrific pressure on the ball and displays a great combination of smarts and lateral quickness staying in front of his man—he struggles mightily defending off the ball. The concept of a zone defense looks entirely foreign to him, and he has very poor awareness reading the opposition's movement and anticipating what's going to happen next, particularly guarding the pick and roll.
The concept of maintaining 100% focus for every minute a player is on the floor is much more scrutinized in Europe than it is in the NBA regular season—games are shorter here, the pace is a bit slower, rotations are bigger, the season is not 82 games, and every possession thus demands a little more intensity and concentration.
Always known as being somewhat feast or famine—unstoppable when he's on, but too streaky and unpredictable to always know what to expect, the coaching staff here doesn't have the luxury of sitting him and bringing
Chris Paul
back into the game if things aren't clicking for Pargo on a given night. The Hornets miss Pargo dearly—that much is obvious this season—but European basketball is a different animal, and therefore, any player would need time and patience to make the adjustment. The global financial crisis, which affected Russian basketball as much any league in the world, has not helped matters at all, and the players here have been forced to be patient while things get worked out on that front.
With all that in mind, Pargo seems to be faring quite well.
And we haven't even mentioned the team's most expensive player,
Bostjan Nachbar
.
One week in Moscow was terrific in terms of improving my basketball IQ and being able to spend a significant amount of time getting to know this very important and incredibly interesting city. Next we're off to Belgium, to visit some friends, check in with two more clients and continue to enjoy our time here. Then it's off to Barcelona, where we'll be watching
Brandon Jennings
' team square off against
Ricky Rubio
(finally healthy as our friends at
Ball in Europe
pointed out) and DKV Joventut in a Euroleague matchup with obvious draft implications.
Next: Liege-Charleroi, Charleroi-Brose Bamberg, DKV Joventut-Lottomatica RomaUpdate: Ricardo Vaca informs us that after coming back healthily, it appears Rubio may have re-injured his right hand (the hand which he recently had surgery on) in yesterday's game. After drawing a foul while attempting a lay-up, Rubio couldn't even shoot the free throws afterwards.