Perhaps it's only appropriate that
Charles Jenkins
' latest and perhaps greatest performance – a pair of buzzer beaters in an overtime win over William & Mary last Monday – was recorded on a home video camera before going viral
to the tune of over 30,000 views on YouTube
in a week.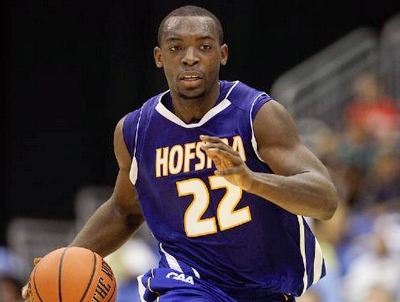 A similar effort from
Jimmer Fredette
,
Kemba Walker
or any of the other elite scorers in the country would have yielded a horde of on-air praise, analysis and highlight packages. But Jenkins isn't privy to such treatment playing at Hofstra University. The tiny school is tucked away on Long Island, just outside the Mecca of basketball, much as the Pride's star player is just outside the national conscious.
"He really is what college athletics is all about and I do wish he got more recognition, not only for what he does with the basketball, but also he's just an unbelievable kid," says Mo Cassara, Hofstra's first-year head coach. "He takes it in stride, he's not out there looking for extra credit. He just wants to win games."
If winning games is the only concern for the 6-3 senior guard, it's been a successful final season at the college level for the scoring dynamo. His team (12-4 in the Colonial Athletic Association) is in a three-way tie for second place with perennial conference powers VCU and Old Dominion. But unlike the Rams and Monarchs, or even conference leader George Mason, the Pride feature the kind of weapon that has proven to be nearly impossible to scheme against. Not only does Jenkins rank fourth in the nation in scoring at 23.5 points, but his nearly five assists per game leads the CAA, making him one of two players at the Division 1 level to lead his conference in both categories.
It's that second number that may play the biggest role in Jenkins' aspirations of playing in the NBA, as his size will certainly dictate that he spend a good deal of his time filling the role of playmaker rather than go-to scoring option.
"I have a lot of different sides of my game that people haven't seen," says Jenkins. "As far as what I'm doing at Hofstra, it's definitely earning me recognition and that's something I want to continue to do. My scoring has opened a lot of eyes for people who didn't know I was capable of these things. It's a way for me to get my foot in the door and once there, a lot of other parts of my games will be exposed."
"I do think he can play the point because he has great strength and he can pass the ball very well," adds Cassara. "I think those things are really going to help him transition to that position."
But until Jenkins begins the whirlwind of individual workouts and camps following his senior season, his prodigious scoring pace will remain his single most impressive asset.
His nearly 2,500 career points – he's the active leader in the NCAA – is the mark that garners the most attention from fans and casual observers, but it is the versatility and efficiency in which he gets his offense that draws the intrigue of pro scouts. According to data from Synergy Sports Technology, Jenkins ranks as the second most efficient isolation threat in the NCAA (after
Andrew Goudelock
), scoring on over 50% of his attempts when going one on one (minimum 50 possessions). He also ranks in the top-10 in pick and roll situations and in the top-25 as a catch and shoot threat.
Amongst NCAA prospects classified as point guards in the DraftExpress database, Jenkins currently trails only
Kyrie Irving
(who played just 8 games this season) in both
True Shooting Percentage
, and
Effective Field Goal Percentage
. This speaks not only to the tremendous shooter that Jenkins has developed into over the course of his career, but also the impressive shot selection he has shown this season despite the need his team has for him to score.
"A lot of times when coach tells me I need to take this many shots a game, I try to simplify it and put up shots where I'm most comfortable," he says.
Of course there have been just as many nights where the Pride coaching staff desperately wishes their star guard would put up even
more
shots.
"Without question, there have been games where I'm almost begging him to shoot the ball," Cassara says. "He's willing to do everything the right way. I firmly believe if he shot the ball 20 times a game he would lead the country in scoring."
That is where Jenkins truly sets himself apart from the other elite scorers at the Division 1 level – the sheer volume of shots. While players like Fredette, Walker, Providence star
Marshon Brooks
and even Charleston's
Andrew Goudelock
are attempting in the realm of 18 to 19 shots per game, the Hofstra senior has managed his eye popping scoring numbers on just 14.5 attempts. In fact, in 28 games this season, Jenkins has taken 20 shots only three times, and two of those games went to overtime.
Despite all of this however – factors that clearly point towards an individual who will try to make a name for himself by scoring at the next level – Jenkins has a firm understanding of his game and what will be asked of him at the pro level.
"One thing that separates me from a lot of other guys is I don't force things," he says. "I know I'm not going to get there and finish over a guy like
Dwight Howard
, but I have a pull up jump shot that I can rely on and I'm a great passer which a lot of people don't really know. People see my scoring numbers and that's really all they see, but I'm smart enough to know the ways I'm going to score there."
That really is one of the great allures of
Charles Jenkins
: he's smart enough. Smart enough to realize he isn't going to receive the same notoriety as many of his peers, but smart enough to let it serve as a motivator. Smart enough to know he won't enter NBA Draft talks with the kind of hype befitting his scoring average, but smart enough to know his game will do the talking when it comes time.
In the end maybe it is best that talk of Jenkins has been confined to YouTube clips and internet chat rooms. After all, he is college basketball's best kept secret.