Chris Douglas-Roberts sits down for an extremely in-depth interview from his preparations for the NBA draft at Tim Grover's gym in Chicago. He tells us about the work he's putting in, what he's trying to improve on, his thoughts on the draft process, where he hears he might be taken as of right now, why he's not going back to school and will not be playing in Orlando, and much more.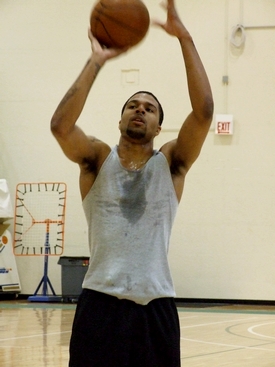 DraftExpress:
Chris how are you doing, where are you at right now?
Chris Douglas-Roberts:
I'm good. I'm in Chicago at Tim Grover's facility working out.
DraftExpress:
How long have you been out here for?
Chris Douglas-Roberts:
I've been here for about two weeks.
DraftExpress:
What kinds of things have you been working on?
Chris Douglas-Roberts:
Mostly a lot of jump shooting drills. We rarely do things that involve going to the basket, so we stick to the jump shots, fade away shots, ways to create off the dribble and off the pivot. We do a lot of footwork with the jump shot too. It's really helping out a lot; now I can finally be a two-guard. I don't have to only shoot the floater, I can shoot my fade-aways and step back jumpers.
DraftExpress:
Let me ask you about the floater. I've seen you take only one floater in a couple of drills here and I was shocked because that has been such a big part of your game. Is that something you're trying to get away from or are you trying to add other parts to your game?
Chris Douglas-Roberts:
The floater is definitely my bread and butter, but I'm not limited to that anymore. That was part of the Memphis offense and that's really what [Coach Calipari] wanted me to shoot. He wanted me to shoot either the floater or a lay up. But now I can get in between and shoot my mid-range jump shot and I feel comfortable shooting it.
DraftExpress:
Aside from working on your basketball skills, what types of things have you been working on physically out there?
Chris Douglas-Roberts:
We're definitely in the weight room working on explosiveness and getting stronger. Everybody here has a different agenda; mine is gaining a little weight. I'm at 203 right now, my first workout is on June 4th, and by then I'll probably be like 210, so I'll be fine. But we definitely are trying to get stronger and we're working on our explosiveness.
DraftExpress:
How do you think your game translates to a workout setting? Do you think you're fully able to show all your sides as a player?
Chris Douglas-Roberts:
Yes, because I feel comfortable doing it. I'm comfortable being a shooting guard. There's nothing about it that makes me uncomfortable because it's doing things that I know I'm capable of. So now I get the chance to go out and do it. I'm excited about it.
DraftExpress:
In the upcoming weeks of training what areas of your game are you looking to improve the most?
Chris Douglas-Roberts:
Really everything; I just need to polish everything up, that's why I'm down here with Tim. A lot of people don't think I have that two-guard mentality or that two-guard body, so I'm just going to polish everything, get better, and go into those workouts strong.
DraftExpress:
I don't know if there is a guard in this draft with more varying opinions on what kind of a player you are and what kind of a pro you'll be. Why do you think there is such a varying opinion on what type of a pro you will become?
Chris Douglas-Roberts:
I really don't know. I've always said that numbers don't lie. No matter what, my numbers were pretty good. Everyone has a different opinion because they've never really seen a game like mine, and experts never really want to be wrong. So they don't want to take that risk by saying that I'm going to be this great player. The experts have big egos and they don't want to be wrong, so I can understand that. All I can do is keep doing what I do.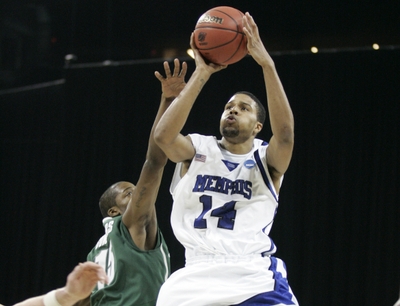 DraftExpress:
Have you been hearing anything yet about where you might wind up in the draft?
Chris Douglas-Roberts:
I've heard everything from around thirteen to twenty-four. I'm not really sure. My workouts haven't started yet, but I'm working out for teams all within that range. I'm even working out for the Nets who are at ten and twenty-one, so I'm working out for everyone. These workouts will speak volumes. I really don't know where I'll wind up, but I know I'll end up somewhere.
DraftExpress:
Is there any thought at this point about going back to school or do you feel like you've kind of accomplished so much that it'll be hard to top?
Chris Douglas-Roberts:
Yeah, it's going to be pretty hard to stay, but I feel like I've accomplished a lot at the University of Memphis. Who's to say that I'll be able to get back to the national championship game? That's the whole point of really being in college, is to make it to that big game. I've been there and was an All-American; so I feel like it's the time to see new things and move on to compete with the best in the world. So I really don't see a point in going back to school.
DraftExpress:
What about the pre-draft camp, has there been any decision on whether or not to play in that?
Chris Douglas-Roberts:
No, I'm not playing in it.
DraftExpress:
After the national championship game how hard was it to dive right back into the training?
Chris Douglas-Roberts:
It was hard, but I couldn't dwell on it, because I knew I had a bigger step to take. I didn't take that much time off, just about a week and a half to let my body rest up. I got right back into it and that's what I was supposed to do. I feel very comfortable right now with the draft and these workouts.
DraftExpress:
Watching Memphis play, part of what made you guys so fun to watch, aside from the sheer athleticism and the tenacity that you guys play with, was your offense. Can you give us an explanation of the dribble-drive offense in laymen's terms?
Chris Douglas-Roberts:
The one, two, and three on the floor are all interchangeable, so really anyone is capable of doing the dribble-drive. It's all about spacing, that's what it's all about. The one, two and three are capable of creating shots for themselves and creating shots for others. That's what we did at Memphis, we let those three create shots for either themselves of their teammates.
DraftExpress:
Do you think you would be best suited winding up on an NBA team where there is that kind of freedom to create for yourself, or do you think you can be just as successful on a team with a more strict offense?
Chris Douglas-Roberts:
I think I'll be fine in a strict offense. Even when we were playing at Memphis, we had individual workouts with Coach Calipari where we worked on coming off screens and all those types of things. So I worked hard on stuff like that even though I was playing in a dribble-drive offense.
DraftExpress:
Can you project ahead five years from now and think about yourself in the NBA. What kind of a player are you going to be at that point?
Chris Douglas-Roberts:
Oh that's hard to say, that is very hard to say. I'm going to get my foot in the door and I'm going to work extremely hard for whatever organization I'm with. If they give me a shot I think I could be a very good player. But the evaluation that teams have on me is he's a pure scorer, not a pure shooter, but a pure scorer. Once he becomes a great shooter, he'll be very hard to stop. I'm just going to try to keep that going and find ways to put the ball in the hoop. Every team needs guys that can put the ball in, so who knows. Hopefully five years from now we'll be having this conversation again.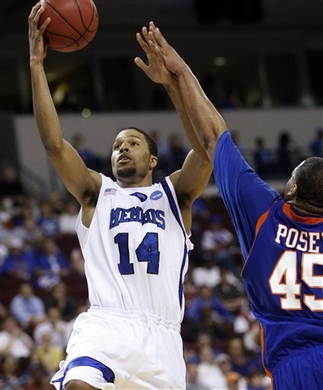 DraftExpress:
Just to follow up on the shooting. Last time I checked you shot around 53% from the field and around 42% from three, so that would indicate you're a pretty good shooter no?
Chris Douglas-Roberts:
Yea, that's the logical thing, but there are still some doubts. I really don't know what they see, but that's their doubt in their mind. But it is tough sometimes, because you see how much you've improved your shot and people are saying that you aren't a great shooter. You know I'd rather get to the basket anyway, but I'll look to shoot the jump shot.
DraftExpress:
Is it more important for you to be picked higher, potentially in the lottery, or rather be picked by a team where you'll have more playing time right off the bat?
Chris Douglas-Roberts:
The team is definitely more important. The money is nice, but there have been people picked high that have been out of the NBA in two years. But the team is definitely more important, because for me it's still about the game. I love basketball and I really want to be a great basketball player. I mean it's not necessarily about the money, more than the play.
DraftExpress:
If you had to pick really one thing that you learned from Coach Calipari, what would that be?
Chris Douglas-Roberts:
How to deal with the coach. Coach plays a lot of mind games and you have to be mentally tough to play for him; I'm sure it's the same way in the NBA. So being really successful in the game comes a lot from what I learned from Coach.
DraftExpress:
Aside from your physical abilities as a player, what is the most important thing you can offer an NBA franchise?
Chris Douglas-Roberts:
I feel I bring a lot of character to an NBA team. Attitude is a big thing, and I think I bring one to the locker room that a lot of players don't have.
DraftExpress:
Chris thanks so much for your time.