Considering that he did not take part in the scrimmage and we mostly got a chance to watch him shooting jumpers on his own, there really isn't a great deal of new information to add to the extremely intensive evaluations we've done on him over the course of the past two seasons, which weigh a lot more heavily in our mind considering his overall body of work.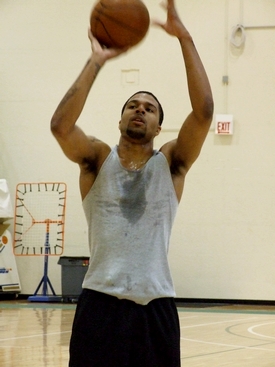 Douglas-Roberts' frame looks pretty toned, and he seems to have added a bit deal of weight from what we could tell. He's got a very good wingspan as well, and is an extremely confident player on the court. He shot the ball very well in the first day of workouts we took in, and then not quite as well in the second. His ball-handling looks a bit loose at times in this open setting, even though he wasn't particularly turnover prone at the collegiate level. Athletically, he is good, but probably not amongst this draft's best.
The bottom line is, Douglas-Roberts probably isn't the greatest workout player you'll find, which is not surprising considering his highly unorthodox style of play. He is a lot more impressive in the stuff that actually counts—the real games. Teams will be a lot more impressed breaking down his tape and seeing the 25 points per game he averaged per-40 minutes, the 54% he shot from the field, or the 41% he shot from behind the arc. They'll also be impressed by the way he speaks and conducts himself off the court—smoothly and extremely confidently, just like he does on it. Check out the interview we did with him in Chicago for a perfect example of that.
Procopio's thoughts on Douglas-Roberts:
He's a very effective basketball player, he really has the ability to shoot the ball. He'll be able to come off pin-downs and screens in the NBA and be a very good spot-up shooter, and that will open up drives for him. A guy who can shoot the ball like he can will be in the league for as long as he wants. He is a great floater, and is just a very smart all-around player. He's not a one-trick pony. He's a player you can throw in the game and ask to get baskets for you because he knows how to read defenders. He's learning every day, and is very efficient."