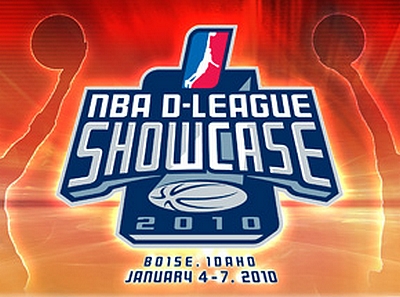 In addition to this article, we're also talking D-League Showcase all day
on Twitter
as well.
Strong Turnout for Scouts, Media
Something the D-League has to be encouraged by is the very strong turnout we saw in day one from the media and NBA teams.
30 media members—including the likes of the New York Times, Yahoo, CBS Sportsline and ESPN.com—are credentialed for the event, which is a massive increase from years past. Four years ago in Sioux Falls (our first Showcase) we were practically the only non-local media in attendance—this year you can find wall to wall coverage in places like
Ridiculous Upside
,
D-League Digest
,
D-League Daily
and others. While the demand may not have caught up with the supply just yet, this has to be seen as a great sign for D-League.
More notably for the players trying to earn future paychecks, 65-70 NBA people have also been credentialed, ranging from General Managers such as
Danny Ainge
(Boston), Daryl Morey (Houston), R.C. Buford (San Antonio), Maurizio Gherardini (Toronto), Sam Presti (Oklahoma City), Mark Warkentein (Denver), Donnie Nelson (Dallas) and Larry Riley (Golden State) to high-level executives like Jeff Weltman (Milwaukee), Kenny Williamson (Memphis), Michael Borne (Portland), Keith Grant (Dallas), Misho Ostarcevic (New York), Masai Ujiri (Toronto), Dennis Lindsey (San Antonio),
Dell Demps
(San Antonio), David Griffin (Phoenix), Neil Olshey (LA Clippers) and many others.
15-20 International team representatives are also in the building, mainly from Spain, Italy and Korea. Countries like Greece, France, Germany, Belgium, Turkey and Russia rarely do any scouting it seems, which helps explain the huge turnover we see year after year in those countries.
Self Starters Needed
Despite the strong turnout on the part of scouts and media, the fact remains that this arena holds 5700 people at full capacity. No more than a few hundred people were present at any point, meaning that the atmosphere was severely lacking for all four games of day one.
While this is not a surprise considering the circumstances (a weekday, in a small town, featuring teams that are not really of interest to anyone in particular, played on the same day of a BCS championship [Boise State-TCU] of huge significance to the local population), it creates a difficult atmosphere for players to compete in.
Most of the first three games were plagued by a distinct lack of energy on the part of many of the players, leading many scouts to shake their heads and wonder what needs to happen for the likes of
Gabe Pruitt
(almost invisible),
Alexis Ajinca
,
Joey Dorsey
("worst body language of any player in this league," according to one NBA scout) and others to actually play hard and act like they want to be here. You would think that the players here would be spitting blood at any opportunity to show their skills to the many influential talent evaluators in attendance, but that wasn't always the case.
Those that stood out were the self-starting hustlers amongst the bunch—particularly ex-Cal State Fullerton product
Frank Robinson
and St. Mary's alum
Diamon Simpson
as well as D-League veterans like
Billy Thomas
and
Maurice Baker
.
This is not a problem that is unique to the D-League—we believe that many players in this year's draft class for example would have similar issues getting up in this type of atmosphere. It's after all a lot easier to play in front of 15,000 people at Madison Square Garden than it is in front of 250 in Boise, but with their professional careers on the line—be it in the NBA or overseas—players must find a way to motivate to the fullest and try to leave as strong an impression as possible on the numerous talent evaluators that are in attendance.
Day One Top Performers
Note: We were not present for the first game of the Showcase, which reportedly featured very strong showings from the likes of
Carlos Powell
and
Garrett Temple
.
-
Morris Almond
- Almond was clearly the best NBA prospect seen in Boise in day one, finishing with 31 points and 8 rebounds, and is very likely on his way to a call-up (possibly to Denver according to rumors here) very soon. We'll be back with a full report on his strengths and weaknesses after his next game.
-
Frank Robinson
-
One of the most pleasant surprises of day one was the performance of lefty wing player
Frank Robinson
, who just joined the team about two weeks ago. Robinson came in off the bench and immediately stood out with his energy and terrific athleticism, playing outstanding defense with his superb length, strength and lateral quickness, and doing a great job getting to the basket and making plays at the rim. While other players were concerned with hunting their own shots, Robinson was giving the ball up unselfishly in transition and executing his team's half-court sets.
Robinson's biggest weakness remains his perimeter shot, which is very flat and not consistent at all. If he can find a way to improve this part of his game, he could develop into an interesting prospect for teams to look at. Although he's not incredibly big, Robinson's length and chiseled frame helps in that area.
-
Russell Robinson
-
Robinson came out with guns a blazing in the third game of the day, knocking down a barrage of shots to finish the first quarter with 16 points, and eventually ending up with 34 points. He showed the strengths he brings to the table, mainly his fundamentals, smarts and ability to run a team effectively—although you can tell that the chemistry he enjoys with
Desmon Farmer
is not great and his turnovers are up substantially this season.
He's also a physical guy who plays tough defense—his 6-8 wingspan helps quite a bit-- and is very solid on this end as you would expect from a former Bill Self point guard. He's not the quickest or most explosive player you'll find, particularly in his ability to finish plays around the rim (he makes just 44% of his 2-point attempts), but the fact that his perimeter shooting has improved substantially-- both from what we saw today and in the fact that he's shooting 40% from beyond the NBA 3-point line—helps his cause substantially. He did a good job in training camp with the Cavs this past October, and will likely get more looks as the season moves on.
-
Anthony Tolliver
- Had a strong showing with 24 points and 9 rebounds, showing his potential as a pick and pop threat with a number of good looking shots from beyond the arc. He'll be evaluated after his next game as well.
-
Billy Thomas
- As we discussed on our Twitter feed, Thomas had an excellent showing, making 7-9 3-pointers from beyond the arc and looking extremely smart and unselfish making plays on both ends of the floor. He doesn't have the athleticism or upside at age 34 to be the most attractive call-up candidate, but is a huge asset (in the
Randy Livingston
mold) for the D-League to have regardless.
-
Diamon Simpson
set himself apart today with a strong showing in the Showcase's second game. In a narrow loss to the Maine Red Claws, Simpson was often the best players on the floor for the L.A. Defenders. Displaying a good motor and a knack for being in the right place at the right time on both ends, he finished the game with 22 points and 14 boards.
An undersized big man who can put the ball on the floor to attack the rim, Simpson isn't an elite athlete, but he is willing to initiate contact, uses his narrow frame well, and has a nice wingspan. Assertive and decisive when attacking the rim, he's a capable finisher despite lacking a degree of vertical explosiveness. Showing good timing when ducking underneath when his teammates get into the lane, Simpson's off-ball movement and dribble drives afforded him a number of easy scoring chances today. Though he didn't appear as active defensively, where he seems content to stay at home and deny penetration, his length and instincts on the glass were apparent. Likely lacking the size and strength to translate his productivity to the NBA level, Simpson is certainly one of the more effective big men in the NBADL.