Exploring storylines from the
2011 D-League Showcase
in South Padre Island, Texas.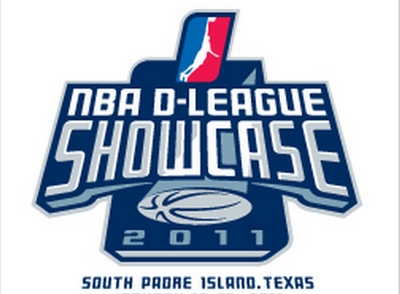 Great Location
After four years of covering the D-League Showcase in locations such as Orem, Utah; Sioux Falls, South Dakota; and Boise, Idaho, it's tough not to get excited about the prospect of 75 degree weather and t-shirts. While we don't really get a chance to enjoy the weather sitting in the gym for 12-13 hours every day, it's nice to not have to fight through the snow just to get inside the door.
Just a day into the event, it doesn't appear that the location has made a huge difference in terms of the quantity of NBA general managers (just two so far) and top-level decision makers in attendance.
Some of the more visible NBA faces seen on Day One:
Adam Simon (Miami Heat Director of College/International Scouting)
Bill Branch (Portland Trailblazers Assistant GM)
Danny Ferry
and Dennis Lindsey (San Antonio Spurs Assistant GMs)
Dave Babcock (Milwaukee Bucks Director of Player Personnel)
Dave Pendergraft (Atlanta Hawks Assistant General Manager)
Dave Twardzik
(Orlando Magic Assistant General Manager)
Gary Sacks (Los Angeles Clippers Assistant GM)
Gersson Rosas (Houston Rockets Vice President of Player Personnel)
Glen Grunwald (New York Knicks Senior VP of Basketball Operations)
Gregg Polinsky (New Jersey Nets Director of Player Personnel)
Kevin O'Connor (Utah Jazz GM)
Larry Riley (Golden State Warriors GM)
Matt Lloyd (Chicago Bulls Director of Scouting)
Michael Born (Portland Trailblazers Director of NBA Scouting)
Mike Petrie (Sacramento Kings Assistant Vice President of Basketball Operations)
Misho Ostarcevic (New York Knicks Director of Player Personnel)
Randy Brown
(Chicago Bulls Assistant to General Manager)
Rob Hennigan (Oklahoma City Thunder Assistant General Manager/Player Personnel)
Ryan Carr (Indiana Pacers Director of Scouting)
Tim Connelly (New Orleans Hornets Assistant GM)
Tommy Sheppard (Washington Wizards Assistant GM)
Tony Barone Jr (Memphis Grizzlies Director of Scouting)
Travis Schlenk (Golden State Warriors Director of Player Personnel)
Wes Wilcox (Cleveland Cavaliers Director of Pro Player Personnel)
The number of European scouts is down dramatically too. We've only seen four Italian League representatives here so far, and one from Germany. For the first time ever, only one ACB team (Gran Canaria) is in attendance. From what they are telling us, the consistent failure of top level D-League players to make an impact in high-level Europe this season and beyond has discouraged many teams from sending representatives over. For some reason, D-League stats just aren't translating to international play.
Come Get Work Done
While the sheer number of executives may be down, there's still a large group of NBA representatives here, especially in terms of scouts. Many veteran talent evaluators are telling us that they feel the need to come to the showcase and spend the entire week here in order to get as good of an evaluation of the D-League talent pool as possible.
"With the chances of the Vegas summer league happening looking bleaker by the day, this might be my only chance all year to evaluate this large and important group of players," a scout with 20+ years of experience who works for one of the most respected organizations in the NBA told us.
"I sure as heck don't want to have to explain to my boss why we let the next
Reggie Williams
, C.J. Watson,
Anthony Morrow
,
Anthony Tolliver
or
Kelenna Azubuike
slip between our fingers, at least not without putting up my best fight first."
With that, we get a great explanation as to why the showcase is such an important event for NBA teams. With 16 teams playing, 14 of which can be seen in the first two days, it's a perfect opportunity to evaluate a large group of players in one place. Even more important is the chance to network with members of the basketball community—D-League Coaches, NBA personnel, and European scouts—and exchange valuable pieces of information that can be crucial in the long-term decision making process.
While many of the teams contend that the talent (in terms of sure-fire NBA players) is down this year, there are still a number of prospects that are intriguing enough to at least warrant a look, even if this definitely isn't the only venue where NBA teams can evaluate them.
We don't recall anyone here being particularly enthusiastic about the prospects of
Reggie Williams
in the NBA at the D-League Showcase last year, so clearly unexpected things do happen, which is why the aforementioned scouts' approach is smart.
Injuries Take Their Toll
The last thing the D-League needed is for its best prospects to be injured in the days leading up to the event. Unfortunately, that's exactly what happened.
Aaron Miles
,
Kyle Weaver
,
Chris Hunter
,
Stanley Robinson
and
Anthony Mason
, Jr. are all sitting out with injuries at the moment, which is unfortunate for everyone involved considering how important this event is.
Top Call-Up Candidates
With only one player —
Zabian Dowdell
– receiving a call-up thus far, we have virtually a full pool of players (minus injuries) to look at.
We'll be back in the next few days to offer reports on the top prospects in attendance here, as well as the lone NBA draft-eligible prospect,
Jamine Peterson
.
Allocation Central
While the D-League might be disappointed by the number of players who have been called up by NBA teams thus far, the amount of allocations – NBA teams sending their first- or second-year players to D-League affiliates for seasoning—has reached a record-setting pace.
Seeing
Dexter Pittman
(Miami Heat #32 pick) and
Cole Aldrich
(Oklahoma City #13 pick) go head to head in the post in the first game of the 2011 showcase had to make Dan Reed, Chris Alpert and the rest of the D-League executives extremely happy. A matchup like that would have been unheard of even a year ago. This might represent the most important progress the D-League has made, and it starts with the reputation of the league itself in the eyes of the NBA, which has never been better.
NBA teams are feeling increasingly comfortable working with the coaching staffs of their D-League affiliates, something that has only been strengthened by the
new rules implemented
this year regarding training camp attendees. This has improved the communication lines dramatically, NBA and D-League sources say, and has resulted in teams realizing more and more the upside of letting their players work on their games in the NBADL rather than just sitting them on the bench in the NBA.
As the number of D-League teams increases, and every organization is able to work exclusively with one NBA team, expect this trend to become the norm. There is still a lot of work to be done, but it's impossible to ignore the strides we've seen in the last few years.
Best Performances From Day One
Dexter Pittman
– 16 points, 11 rebounds. Pittman was in the best physical shape we've ever seen and did an excellent job of scoring in the post, often while being guarded by a formidable defender in
Cole Aldrich
. Getting big minutes in Sioux Falls is exactly what he needs, and he looks like he's approaching his assignment here in a very serious manner, which is great to see, especially for Miami Heat fans.
Latavious Williams
– 18 points, 12 rebounds. Sporting a noticeably improved frame and a greater comfort level compared to when we last evaluated him, Williams continues to make strides with his knowledge of the game and his skill level in Tulsa. The way Oklahoma City is using the D-League is something the entire NBA should be looking at – they appear to be miles ahead of everyone else in this regard.
Orien Greene
- 11 points, 9 rebounds, 9 assists. Clearly the most physically impressive guard in attendance here, Greene stands out immediately with his athleticism and versatility at the point.
Othyus Jeffers
– 27 points, 17 rebounds. Jeffers' skill level continues to improve, while he remains one of the toughest and most athletic players you'll find.
Courtney Sims
– 25 points, 12 rebounds. In terms of size and skill, Sims has to be at the top of every NBA team's call-up list. When he's playing with as much energy and enthusiasm as he was today, he's a force to be reckoned with.
Joe Alexander
– 21 points, 10 rebounds, 6 blocks. Looking as focused and comfortable as we've ever seen him, Alexander has clearly embraced moving back to power forward, his natural position. His athleticism stood out constantly throughout the game. It appears that getting minutes is exactly what he needed to regain his confidence.
Dar Tucker
– 28 points, 10 rebounds. Always known as a superb athlete, Tucker surprised us by knocking down 5 of 6 shots from beyond the NBA arc. He made some impressive plays in transition and on the offensive glass as well.
Jeff Adrien
– 30 points, 12 rebounds. Adrien is a man amongst boys at this level, and has improved his basketball IQ and skill level substantially since his time at UConn. He looked like one of the best players at the showcase.
Edited by
Patrick Crawley
, Sports Editor for
Neon Tommy
and Managing Editor of
Basketball Fiend
.