Joe Alexander
STRENGTHS:
- Ability to get to free throw line
- Post offense
- Turnaround jumper
- Shot-blocking skills
- Competitiveness
- Huge upside
- Leadership skills in clutch
- Strong Intangibles
- Work ethic
- High-level productivity
- Only playing basketball for few years
- Passing skills
- Ability to finish around basket
- Athleticism
- Frail frame
- Size for position
- Undersized
- Wingspan
- Mid-range Jumper
- Shooting mechanics
WEAKNESSES:
- Lacks significant offensive polish
- Ability to create own shot
- Ball-handling skills
- Ability to defend position at next level?
- Lateral quickness
- Mechanical player
- Not ready to contribute immediately
- Jack of all trades, master of none?
- Unorthodox style
- 3-point range
- Ability to create separation from defender
Recent Tweets
All Tweets
DraftExpress: D.J. Stephens also has the 5th fastest 3\/4 court sprint time ever narrowly edging out Joe Alexander http://t.co/swaThB5ow9
2013-05-22 15:55:44
@TheBigLead Don't understand what you're trying to say. Joe Alexander is a phenomenal leaper, especially in open floor. No argument there.
2010-04-03 20:00:29
Haha, deal. JA doesn't fit. RT @TheBigLead i'll see your lateral quickness & raise you Kyle Korver, Jared Dudley, Joe Alexander & Dunleavy
2010-04-03 19:52:09
Nope. Martell Webster (#6).Also Marcus Fizer #4 RT @nbadleague Is Joe Alexander the highest NBA DRAFT pick (#8) to play in the NBA D-LEAGUE?
2010-01-22 16:55:00
Nope. Martell Webster. Also Marcus Fizer RT @nbadleague Is Joe Alexander the highest NBA DRAFT pick (#8) to play in the NBA D-LEAGUE?
2010-01-22 16:53:00
Top 25s - Full List
| Rank | Category | Total |
| --- | --- | --- |
| 25 | PF | 103 |
Team: Sassari
Physicals
Positions
Salary
Misc
H: 6' 8"
W: 220 lbs
Bday: 12/26/1986
(28 Years Old)

Current: PF
NBA: PF
Possible: SF/PF

Agent: Doug Neustadt

High School: Linganore HS
Hometown: Kaohsiung, MD
Drafted: Pick 8 in 2008 by Bucks
Best Case: Super Athletic Matt Harpring
Worst Case: Damien Wilkins

Predraft Measurements
| Year | Source | Height w/o Shoes | Height w/shoes | Weight | Wingspan | Standing Reach | Body Fat | No Step Vert | Max Vert |
| --- | --- | --- | --- | --- | --- | --- | --- | --- | --- |
| 2008 | NBA Pre-Draft Camp | 6' 7.25" | 6' 8.25" | 220 | 6' 11.5" | 8' 10" | 5.8 | 32.5 | 38.5 |



Basic Per Game Statistics

- Comprehensive Stats - Statistical Top 25s
| Year | League | Name | GP | Min | Pts | FG | FGA | FG% | 2Pt | 2PtA | 2P% | 3Pt | 3PtA | 3P% | FTM | FTA | FT% | Off | Def | TOT | Asts | Stls | Blks | TOs | PFs |
| --- | --- | --- | --- | --- | --- | --- | --- | --- | --- | --- | --- | --- | --- | --- | --- | --- | --- | --- | --- | --- | --- | --- | --- | --- | --- |
| 2015/16 | Italian | Joe Alexander | 7 | 27.6 | 14.3 | 5.9 | 10.0 | 58.6 | 5.3 | 8.1 | 64.9 | 0.6 | 1.9 | 30.8 | 2.0 | 2.4 | 82.4 | 0.9 | 4.9 | 5.7 | 1.9 | 0.9 | 1.6 | 2.1 | 2.7 |
| 2015/16 | EURO | Joe Alexander | 6 | 26.5 | 10.2 | 3.7 | 10.3 | 35.5 | 3.3 | 8.7 | 38.5 | 0.3 | 1.7 | 20.0 | 2.5 | 2.8 | 88.2 | 1.2 | 4.5 | 5.7 | 0.8 | 0.5 | 1.7 | 0.8 | 2.3 |

Player Page&nbsp&nbsp| Player Stats | Mock Draft History | Related Articles&nbsp&nbsp| Add to My Draft Express&nbsp
&nbsp
D-League Showcase Profiles: Call-Up Candidates (Part One)
January 17, 2011
Matt Kamalsky

One of the top call-up candidates in the NBADL at this juncture, former top-10 draft selection Joe Alexander is off to a strong start in his first campaign with the Texas Legends. Struggling to make a transition to the small forward position on the NBA level, Alexander has added a significant amount of weight to his upper body and has been converted back to the power forward spot, a position he's clearly far better suited for skill-wise. He scored effectively from the four spot during the two games he played at the 2011 Showcase, even if he showed some limitations as well.

Still the same tremendously gifted run-jump athlete we saw in workouts years ago, Alexander has an outstanding frame, but still isn't a very fluid player. He is very rigid in his movements and has difficulties getting down in a low stance, something that was a major issue when trying to play on the perimeter full time, particularly on the defensive end.

Over the course of the week here, and looking back at Alexander's body of work this season, it is clear that Alexander has found a comfort level offensively from the mid-post and left baseline. Setting up shop 10 to 12 feet away from the rim, when Alexander gets the ball he looks to either face up and take a quick jump shot if he's on the right block or settle for a turnaround jumper on the left side of the floor. Very rarely putting the ball on the floor with his back to the basket, Alexander has little trouble elevating over defenders to get his shot off, but needs to become more consistent if he's going to rely solely on those two moves to score.

When Alexander received the ball out on the perimeter and put it on the deck, the results were usually positive, which has been the case for most of the season. He's prone to forcing some drives and passes through contact, but his quick first step allows him to get to the basket, draw additional defenders, and create some easy scoring opportunities for himself and others. An efficient finisher, Alexander's mechanical shooting form has rendered him a less than efficient catch and shoot player, making his tendency to settle from the midrange a bit of a concern.

Defensively, Alexander was something of a mixed bag. He was slow to get back on defense on a number of occasions and didn't seem as dialed in as he usually is, but tallied 8 blocks in the two games we took in at the showcase and completely locked down the Dar Tucker one-on-one late in Texas's first game on one memorable occasion. Doing a nice job making his presence felt stepping in from the weak side and getting his hand on the ball, Alexander is a solid defender at this level, even when he isn't giving an Othyus Jeffers-type effort. A bit stuck in between positions defensively on the NBA level, it will be important for Alexander to hone his game on this end of the floor. The fact that he's leading the league in rebounding has to be viewed as a huge plus, though.

On the whole, Alexander's time with the Texas Legends has been a positive one. Lacking experience playing at a high level due to his late start in basketball and struggles in the NBA, Alexander has benefitted from seeing extended playing time at his natural position, something he's sorely lacked over the last few years. He still needs to continue polishing his offensive repertoire to maximize his efficiency, but the fact that he's averaging 20 and 10 and has as much upside as any player in the NBADL makes him a call up candidate and his situation one worth keeping an eye on.

[Read Full Article]

---
Las Vegas Summer League Day Seven
July 19, 2008
This wasn't a glamorous game for Alexander, as it took him quite a while to get going. This has really been an up and down week for the young forward, but he's shown some nice tool. Alexander showed great court vision today once again, doing a great job setting up his teammates. On one memorable occasion he caught a full court outlet pass only to tip it behind him to a cutting teammate. While his passing has been great, his shooting has been another story. He's had no problem getting his shot off, but just hasn't hit anything from the field. Alexander got going late in the contest, doing almost all his scoring in the final period, but for a player with such a great looking game, he still has a lot to learn. It will take the young forward a year, if not longer to begin to polish his raw tools in Milwaukee.

[Read Full Article]

---
Las Vegas Summer League Day Two
July 13, 2008
Alexander really struggled today, having a very hard time knocking down his shots. His footwork looked great, and he had no trouble getting his shot off, but Alexander was obviously a bit nervous in his debut. He forced some shots from the outside, and even air-balled a six-footer, an obvious indication of some first-game jitters. He did have an unbelievable block on a layup attempt in transition, and is one of the most athletic players in the Summer League with his impressive combination of leaping ability and strength. Overall, this outing was a reminder of just how far Alexander is from being a finished product. He's a great prospect with tools, but the polish won't develop overnight; neither will the resilience to bounce back in the middle of a game.

[Read Full Article]

---
Cross-Country Workout Swing: Part Two, Abunassar Impact Basketball
May 20, 2008
Alexander came into his morning workout with a great reputation, as everyone we spoke with that had been working with him over the past week could not stop raving about how well he had been responding to them thus far. "A fierce worker," Joe Abunassar told us. "He's an animal in the weight room," strength trainer Tony Falce told us. "He's worked non-stop for every minute since the second he got here." One after one, each of the trainers filtered over to our direction to share a story about their favorite pupil. And indeed, physically he's extremely impressive, quick off his feet, agile, with a great frame, and big hands. "He has great strength, balance, and power" Abunassar told us. Alexander looks like he's in incredible shape, having finished off the grueling shooting session much stronger than he started, and looking like he could easily have gone for another hour.

Any question about just how freakishly athletic he is vertically were answered as we watched him perform a series of highlight reel caliber dunks as the day of workouts came to a close—360s, off the backboard, windmills, the Vince Carter "honey-dip"/elbow inside the rim, between the legs, taking off from a step inside the free throw line, he visibly wowed each and every one of the players on the sidelines with his antics. Just for good measure, he finished off by jogging lightly towards the basket, jumping off two feet and viciously head-butting the rim, as you can see in the photo.



Ironically, Alexander started off his first workout quite unimpressively actually, looking very streaky from outside. As he went on, though, he found his rhythm, looking excellent from mid-range and showing off terrific form on what appears to be his go-to move—a one-dribble crossover pull-up jumper from about 18 feet. He gets terrific separation off the ground to create space from his imaginary defender, which, coupled with his extremely high release point, will make this shot very hard to stop in one on one isolation situations. He attacked every drill with the same balls to the wall aggressiveness you would expect from the reputation he's earned here and in college as a phenomenal worker, and this, combined with his terrific athleticism and seemingly very high character should make him somewhat of a hit on the NBA private workout trail. We walked out of his first day workout being much higher on him than we were before we came in. "He shoots the ball very well, is quick and explosive off the dribble," his trainer Joe Abunassar said. "He's dangerous both inside and out."



That impression did not lessen from what we saw during the competitive three on three games in the second day. His combination of quickness, explosiveness and intensity made him extremely difficult to contain, even if his rawness in the half-court was definitely evident, and the level of competition left something to be desired. Alexander still has considerable work to do on his ball-handling skills, shooting range, footwork, balance and overall technique if he's to reach his extremely high ceiling as a player. The ball seems to slow him down and he looks a bit out of control with his dribble by the time he reaches the rim on his slashing moves. His mid-range pull-up jumper is not the most refined you'll find, as he's somewhat off-balance as he elevates—but he's so athletic that he is able to recalibrate himself in the air as he reaches the apex of his jump. There are also concerns from what we could see here about his lateral movement on the perimeter defensively as he makes the transition to playing the small forward position fill time.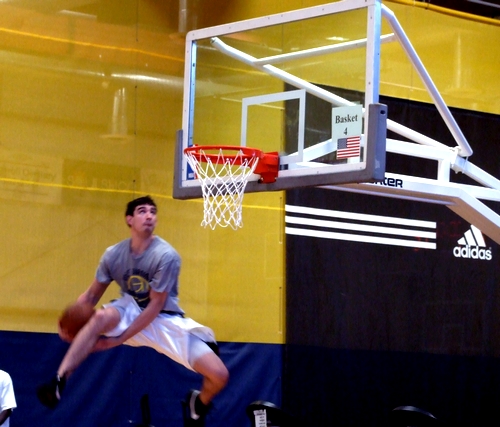 Jonathan Givony, DraftExpress.com



With that said, we need to keep in mind that he's only been playing organized basketball for about five years now, which means that his learning curve is still pretty steep as far as NBA talent-evaluators are concerned. That is certainly a good thing when you begin to project where he'll be a few years down the road, especially when you take his work ethic into consideration. Before we started our workout swing, we reeled off a couple of names of the players we'll be seeing on our various stops to an NBA Director of Scouting. "Right now he's probably somewhere in the early 20's on most teams boards, but he's going to be one of the fastest risers in this draft," the executive predicted. We like to maintain a healthy dose of skepticism as we make the rounds around the country, keeping in mind the very loose and informal nature of the workouts we'll be watching. But Alexander is definitely someone who left a very strong impression on us. Keep an eye out for a transcript of the interview we conducted with him over the next day or two.

[Read Full Article]

---
NCAA Tournament Performers, 3/26/08-- Part Two
March 26, 2008
We've closely tracked the progress of West Virginia forward Joe Alexander over the past two seasons, watching him emerging from raw, unpolished athlete to a bonafide NCAA star. That's what happens when you dominate the Big East conference tournament and then lead your team to the Sweet 16 of the NCAA's, going through powerhouse programs like Duke and Arizona on the way. Now that the entire country has finally caught on, we'd like to take another look to see how his skill-set is developing and how he currently projects as an NBA draft prospect.

Physically, Alexander remains the same intriguing prospect he always was, standing 6-8, with a good frame, long arms and excellent athletic ability. What seems to be developing the most, though, is his mentality, becoming the unquestioned go-to guy of this West Virginia squad. The Mountaineers run a lot of isolation sets for him, and he's look more and more comfortable asserting himself and putting his talent on display. He's become nothing short of outstanding with his post-up moves on the low block, converting at an extremely high rate with his terrific turnaround jumper, getting to the free throw line at a solid rate, while showing great flashes of talent in many other parts of his game.

Skill-wise, Alexander remains largely a work in progress, although he's clearly come a long ways from the player who averaged just 1 point per game only three years ago playing prep school basketball at Hargrave Military Academy. He relies heavily on his size, length, athleticism, footwork and smarts to create scoring opportunities for himself, be it from operating in the mid-range area, in the post, or from the top of the key. He's not one of those super smooth, fluid players for whom everything comes easily for, his game looks largely self-made—mechanical to a certain degree. He's at his best banking in mid-range jumpers while fading away off the block, but is also highly adept at facing up from 15 feet and using his quick first step and long strides to get to the rim off a single dribble.

Still not a player who can consistently create his own shot from the perimeter by putting the ball on the floor and beating defenders off the dribble, he needs to continue to work on his ball-handling skills to make the transition to playing on the wing full-time. He struggles changing directions in traffic when operating off the bounce, not quite able to always get all the way to the rim, which diminishes his finishing ability, which would otherwise be extremely strong due to his phenomenal leaping ability. Once Alexander is able to improve his advanced skill-set, he'll likely be able to do a much better job showing off just how athletic he is. Unlike most NCAA juniors, his learning curve is still extremely steep (he only started playing organized basketball as a junior in high school), and because of his reportedly outstanding work ethic (as profiled exceptionally well by Pete Thamel of the NY Times today), he also has a fairly high likelihood of reaching his very high ceiling. The fact that he has a very good feel for the game, as evidenced by his nice assist rates, further support that theory.

As a shooter, Alexander has solid form—nice mechanics, coupled with a high release point—but he still doesn't enjoy great accuracy from behind the arc, hitting just 11/40 on the season so far. He's equally streaky with his feet set as he is off the dribble, going through periods where he can't buy a bucket to being unstoppable from outside. He obviously still has a lot of work to do in this area, but clearly has plenty of room to grow as well. He's pretty solid from 16-18 feet, though.

Defensively, Alexander has nice tools, including great size and length, and seems to put in a pretty solid effort, but there will be some major question marks about his ability to guard NBA small forwards at the next level. He has a high center of gravity that makes it tough for him to get in a low defensive stance, and struggles staying in front of quicker wing players already, showing average lateral quickness and footwork in the process, and getting beat off the dribble on a regular basis. He's a little too stiff and upright in his stance, which does not allow him to contest quite as many shots as you'd hope within West Virginia's zone. To his credit, he does play at the very top of this zone, often matched up against smaller guards, which probably makes him look a bit worse than he actually is here, but there will be big concerns regardless. His very nice timing, combined with the quickness in which he gets off his feet, makes him a decent shot-blocking threat, at 1.5 per game.

Considering the developments we've seen over the past month, including the rumors we're hearing from various sources, it appears very likely that Alexander will be entering the draft when it's all said and done. He still holds his draft card in hand as a junior, but seems to have a perfect mix of potential and current production to maximize his draft stock without taking the risk of not improving as much as expected next season. It's pretty clear that he could use another season to hone his skills, and could probably even work his way into lottery discussions if he returns and has the type of season many envision him having, but there will be a lot on the line if he does decide to do so.

[Read Full Article]

---
NCAA Weekly Performers, 1/4/08-- Part Two
January 5, 2008
Having broken down Alexander's game in extreme depth just a few months ago, we'd like to offer up a progress report on his development from his sophomore to junior seasons so far. Alexander seems to be making some serious strides as a player and prospect, improving noticeably in a number of categories and emerging as the go-to guy in West Virginia's offense.

The Mountaineers went through a coaching change this past summer, and Alexander most certainly has profited from the newfound freedom he's finding under Bob Huggins. He still is reaping the benefits of the superb basketball education he received playing under John Beilein—a master of spacing, off the ball movement, controlling tempo, passing, and reading defenses within his Princeton style offense. Huggins, on the other hand, is known as an extremely tough-minded coach who preaches superb physical conditioning, hard-nosed man to man defense, and one on one ability, which makes playing for him an extremely different experience than it was under Beilein. To be able to play under two different coaches—both extremely well respected for what they do best—is only going to make Alexander and his teammates much more complete players down the road, which makes him an even more intriguing NBA prospect as well.

This season, compared to last, Alexander looks much more assertive first and foremost. His usage rate is up, but so is his efficiency, as he's scoring quite a bit more (5 points per game) but is also doing so on much better shooting percentages (over 5%). He's also upped his assists while cutting down on his turnovers slightly, and is also shooting 3-pointers far less frequently (1.2 attempts per game compared with 3.6) and getting to the free throw line at a considerably better rate (3.9 attempts per game compared with 1.8), where he's shooting a much better percentage (88% compared with 63.6%)

Physically, Alexander looks much improved as well. He's still the same superb athlete he always was, but now sports a more developed body, having noticeably worked on his strength. He's actually seeing quite a few minutes at the power forward position, and is spending a considerable amount of time in the post rather than hanging out on the perimeter where his athleticism isn't utilized as effectively. West Virginia wants him to either spin off his man and shoot turnaround jumpers here (he likes to kiss the ball off the glass nicely), or use his quickness to get by the big men that are guarding him on his way to the hoop.

Alexander's biggest weaknesses as a prospect were always his mediocre ball-handling skills. And while he isn't Kobe Bryant or Tracy McGrady quite yet, he has improved considerably in this area. Alexander looks very adept at taking his man off the dribble using either his left or right hand, taking advantage of his superior first step with one or two dribbles before utilizing his explosiveness to finish at the rim. He has a little bit more shake to his game, although he still doesn't look fully under control when forced to create for himself in complicated fashion in tight half-court sets. Still, he appears much more aggressive trying to make things happen this season, as you can probably guess by his free throw attempts, which have more than doubled.

Another big development we've noticed revolves around his mid-range game. He's added a pull-up jumper to his arsenal, and seems to be using it fairly extensively, looking pretty fluid creating separation off the ground and getting his shot off with a nice high release point that makes it very difficult to stop when you take his size into consideration. He's only taken 16 3-pointers at this point (hitting 5), so it's a bit too early to gauge how his perimeter stroke is coming along, but he seems to have nice mechanics and it's probably only a matter of time (next season?) until he starts showing progress here too.

Defensively, Alexander still looks very solid from what we can tell. His combination of size, strength, length and quickness make him quite imposing at the small forward position, but he's also very committed to stopping his man as Bob Huggins demands. He will get down in a fundamental defensive stance and work to keep his man in front of him, recovering nicely if beat and getting an impressive amount of blocks (1.7) in the process.

All in all, Alexander seems to be developing nicely at West Virginia, and should be deemed a pretty interesting prospect by the time he's ready for the draft in 2009. He's likely a role player at the next level, but can surely evolve into a very useful one at that if he continues to progress.

[Read Full Article]

---
Top NBA Draft Prospects in the Big East (Part Two: #6-#10)
October 22, 2007
One of the main reasons why West Virginia managed to stay respectable in 2006-2007—eventually winning the post-season NIT Tournament)was the impressive development shown by sophomore Joe Alexander. Only having averaged 1.3 points as a freshman, few could have expected him to up his scoring into the double digit category, all while still staying with the confines of West Virginia's rigid offense. With his breakout season behind him and a new head coach in place with the arrival of Bob Huggins, this could very well be the season that Joe Alexander puts himself on the national map.

In terms of his pure physical attributes, there is a lot to like here, particularly from an NBA draft perspective. Standing 6-8, with a nice frame, and a good wingspan—Alexander fits the billing and then some of your prototypical NBA small forward. That impression only strengthens when you begin to examine his athletic ability, clearly adequate if not more for his NBA position. Alexander has good quickness, a very nice first step, and the ability to get up and finish strong around the basket, sometimes to unload a highlight reel caliber dunk.

Skill-wise, Alexander is already a true wing player at this point in his development, unlike most 6-8 forwards at the collegiate level, who are still transitioning at this phase from the post to the perimeter. The most dangerous part of his game potentially looks to be his jump-shot—not incredibly steady at this point at 30.5%--but still showing good enough touch to develop into a real weapon if he puts the repetition in. His follow through seems to need the most work, as he rarely fully extends his arm, and those problems seem to be magnified even more on his off-the-dribble shots, where he seems to rush his release quite a bit.

Alexander isn't a great ball-handler, but he's athletic enough to be an excellent threat finishing plays around the basket in transition or cutting off the ball on backdoor cuts. He sometimes looks more aggressive than others depending on what game you're watching, so it will be very interesting to monitor whether or not he shows more of a go-to mentality as a junior than he did as a sophomore.

Defensively, Alexander has good potential as well—taking advantage nicely of the physical tools he has at his disposal: his size, length, and above average quickness. He tries pretty hard on top of that, looking committed to stopping his man and being pretty fundamentally sound in his approach on this end. He's not a very strong player (his frame is OK, but clearly still needs to fill out)—but it wouldn't be rare to see him mixing it up around the paint and even coming up with a block or two in some games.

Alexander's biggest weakness at this point revolves around his ability to create offense for himself on a consistent basis. He's a poor ball-handler—the ball clearly slows him down, and once he does get to the rim, he's often already out of control and unable to finish in traffic. He also doesn't have the ability to stop and pull-up off the dribble—the type of mid-range game that most NBA wings need to be effective. That's not to say that won't come in time, but it will take a lot of work, and will probably be what will distinguish him from being projected as a first round pick or a second rounder.

[Read Full Article]

---
DraftExpress 2006-2007 Big East Postseason Awards
February 27, 2007
At times, Alexander looked like a star in the making in his breakout sophomore season, displaying outstanding athleticism and a perimeter game that could become lethal if he takes this offseason seriously. At 6-8, he has all the tools NBA scouts look for in a small forward, and will be expected to shoulder a much bigger role next season.

[Read Full Article]

---