Kyle Nelson
Danuel House
has been on radar of scouts since he was in high school, but struggled during his first two years in college to take the next step towards reaching his potential. This seems like a strange statement for a player who has had a career as good as House who has averaged 12.4 points per game and earned Conference USA Freshman of the Year in 2013 with Houston and improved on his jumpers across the board as a sophomore, but it wasn't until his junior season at Texas A&M that House really came into his own as a prospect. He earned First Team All-SEC honors as a junior shooting 40% from beyond the arc on 6 attempts per game displaying the jump shooting acumen scouts had been hoping to see from the former top-30 recruit.
When we scouted House in the preseason, we noted that he was finally on his way to becoming a "3 and D" roleplayer. Combined with his prototypical size at 6'7 with a 215-pound frame and above average athleticism for an NBA small forward, it seemed he had found the definable skill that could make him a viable candidate to hear his name called in the 2016 draft.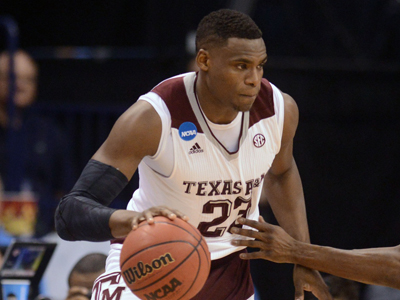 House was named by the Associated Press to the Honorable Mention All-American team as a senior. He led Texas A&M to the top of the SEC standings and a surprise run to the Sweet Sixteen. The Texas native even averaged a career his 15.6 points per game and came up huge in the Aggies' improbable comeback win over Northern Iowa. Despite all that, he shot just 28% from beyond the arc after the end of November on almost 9 attempts per-40 minutes pace adjusted, losing much of the steam he had gained in the eyes of NBA scouts as concerns about his efficiency and ability to spread the floor reemerged.
Shooting the ball on the way down, House's mechanics have never been ideal, but plenty of players have found a way to make shots without the most fluid release. His performance this season as a jump shooter was absolutely critical to his perception among NBA scouts as they often take a conservative approach to players with less than ideal mechanics who make such a massive jump in effectiveness. Unfortunately, House's efficiency dipped as quickly as it had spiked, making his junior season seem like an apparition.
While House struggled mightily as a set shooter connecting on just 27% of his attempts, he nevertheless managed to convert an adequate 35% off the dribble. Though 70% of his attempts in the half court came from the perimeter, he showed some promise as a slasher with his strong first step converting a decent 54% as a finisher, up from a poor 44% a year ago, frequently doing his best work being aggressive with his dribble in the pick & roll and on the break.
Drawing 5.9 free throws per-40 minute pace adjusted on limited trips to the rim, House isn't afraid to create contact on the occasions he does venture inside. Despite that, his tendency to be overly aggressive with the shots he attempts inside leads to his less than stellar shooting around the basket. His shot selection and decision-making on the whole leaves something to be desired.
On defense, House looked much better than he did as a junior. He may not have elite lateral quickness and is not always as aggressive as he can be, but he does do a good job of staying in front of his man and using his body to prevent clean looks around the basket. Despite the occasional lapse, he seems to have improved defending the pick-and-roll, slipping over screens when possible on nearly every possession. He also does a solid job of closing out on perimeter shooters. That being said, his above average lateral quickness and 6'8 wingspan ultimately limit his potential as an NBA defender, so he must prove to NBA teams that, despite these limitations, he can nevertheless play aggressively on every possession.
House had a very good senior season as measured in terms of wins and accolades, but he remains an average prospect from an NBA perspective. Roleplayers on the wing have to be able to knock down shots and House's senior season offered more questions than answers to whether he can be that kind of player as a pro. Additionally, House will be 23 years old on draft night and has a relatively low ceiling compared to other wings in the draft. Therefore, he must prove to scouts that he can seamlessly transition from a top option at the collegiate level to a role player who will be willing to leave it all on the floor, night after night, in the NBA. After not being invited to the NBA Draft Combine and not currently projected to be drafted, workouts are all the more essential to House's draft stock with the draft just a month away. In the meantime, he must continue to work hard, showcase his strengths, and improve upon his weaknesses in front of NBA personnel if he hopes to hear his name called on draft night.