Top NBA Prospects in the AAC, Part Four: (#11-15)
October 25, 2013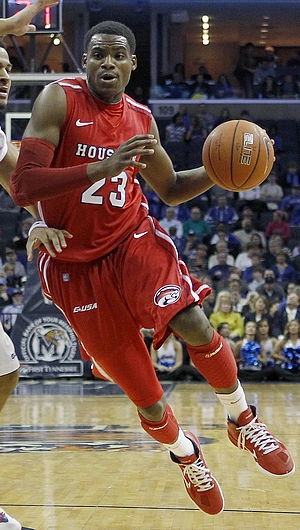 US Presswire



Jonathan Givony

A consensus top-30 high school recruit, Danuel House surprised many by electing to commit to his hometown school of Houston, passing up the likes of Kansas, Texas, Ohio State, Georgetown and Baylor.

While his first season in college slipped largely below the radar screen of the national media, playing for a team that finished below .500 in conference-play, he still had an excellent overall campaign, winning freshman of the year honors in Conference USA.

Now moving to the American Athletic Conference, where he'll see stronger competition alongside the likes of Louisville, Memphis, UConn and others, House has a chance to emerge in a much more significant way if he's able to improve on his strong freshman season.

Standing 6-7, with a lanky frame, House looks the part of a NBA wing player. He's a very good athlete on top of that, showing excellent speed in the open floor and the ability to play above the rim with ease.

Offensively, House shows an interesting framework of skills to work with. He's very good in transition, where his quickness and explosiveness make him extremely dangerous, but is also capable of making his presence his felt in the half-court.

House was not a consistent shooter as a freshman, making just 32% of his 3-point attempts on the year, but he shows good potential in this area with solid shooting mechanics and touch, both with his feet set and off the dribble. When he catches and shoots the ball in rhythm, he sees very strong results, but his release point tends to fluctuate at times, and his shot-selection isn't always great, which hurt his percentages last year.

House's athleticism and scoring instincts allowed him to find some success inside the arc as well. His quick first step helped him get to the free throw line nearly 7 times per-40, one of the top rates among freshmen prospects, even if he still needs to improve his strength in order to become a better finisher around the basket. His advanced ball-handling skills are also still a work in progress, as he struggles to change directions with the ball and isn't much of a threat in isolation or pick and roll settings—things that will likely come with added skill-development and experience.

The biggest weakness House possesses at the moment likely revolves around his play on the defensive end. With his size and lateral quickness, House has the potential to guard multiple positions and be extremely disruptive if he put his mind to it, but unfortunately that's hardly the case at the moment, as he shows poor fundamentals and a very low intensity level.

Showing a difficult time getting (and staying) low to the ground to contain shot-creators, House looks far too eager to relax in his stance, frequently allowing his opponents to drive right past him. He doesn't fight through screens aggressively, is often out of position in his team's zone or pick and roll coverage, contests shots lackadaisically on the perimeter, and gets overpowered inside the paint by stronger players on a regular basis.

To his credit, House's lack of interest in playing defense isn't an isolated issue on Houston's roster, as the team ranked second to last in this defensive efficiency among the twelve C-USA squads last season, ahead of just lowly Rice, who went 1-15 in-conference. This has been a consistent issue the last few years for Houston, so it will be interesting to see if things change at all playing against stronger competition in the AAC this season. Needless to say, the next coaching staff that House plays for will likely have a lot of work to do on this end of the floor.

Defensive issues aside, House is an extremely talented prospect that scouts will certainly want to keep an eye on. He has NBA size and athleticism, to go along with a budding skill-set on the perimeter that shows plenty of promise. With that said, his team played one of the weakest schedules in college basketball last season, so he still has a lot to prove to increase his notoriety in NBA circles.

[Read Full Article]

---