Not considered a serious NBA prospect going into his senior season,
Ben Hansbrough
has forced us all to reevaluate our perceptions after a Big East Player of the Year caliber season. Where does he stand at the moment?
Ben Hansbrough, 6-3, Senior, Point Guard, Notre Dame
18.4 points, 3.9 rebounds, 4.3 assists, 2.4 turnovers, 1.2 steals, 48% FG, 82% FT, 44% 3P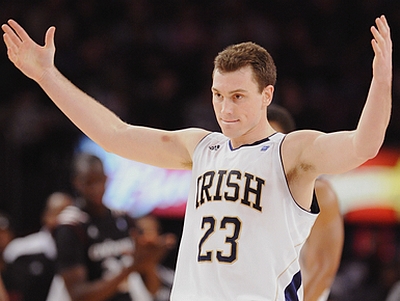 Jonathan Givony
Ben Hansbrough
was essentially a spot-up shooter his first two seasons of college basketball at Mississippi State. 70% of his 400+ field goal attempts came from beyond the arc.
After transferring to Notre Dame, Hansbrough's role expanded, but it wasn't until
Luke Harangody
graduated last summer that he was given a chance to truly show what he could do as the team's primary facilitator and designated go-to guy.
Since then, the fifth year senior has absolutely exploded onto the college basketball landscape, winning Big East Player of the Year honors after leading his team to a sparkling 14-4 record in a conference that many perceived to be the toughest in the NCAA.
In turn, talent evaluators have been forced to adjust their perceptions of "Tyler's brother" and his chances of playing in the NBA, which are looking as real as ever these days.
He's become a more versatile player, but Hansbrough's best attribute as a pro prospect remains his perimeter shooting ability.
He ranks as one of the most effective jump shooters in college basketball, making an exceptional 48% of his catch-and-shoot attempts and 44% of his overall 3-pointers. Hansbrough shows outstanding shooting mechanics, deep range, a quick release and the ability to make jumpers both with his feet set and off the dribble (even when coming off screens). His ability to step out beyond the NBA 3-point line really stretches college defenses, allowing his teammates to operate more effectively inside the arc.
This season Hansbrough was also asked to operate as Notre Dame's primary ball-handler. He generates over a third of his offense in pick-and-roll and isolation situations, where he is extremely efficient. He has a below average first step for an NBA point guard, but he has good size and strength and is a strong ball handler capable of changing speeds effectively. He shows choppy footwork and has the ability to use quick spin moves to keep defenders off balance and draw fouls.
Hansbrough is not particularly fast or explosive, something that appears most noticeably in transition, where he is just average and at times has trouble converting shots in traffic inside the paint. Nevertheless, in half-court settings his smarts, high skill level and aggressive nature allow him to create shots successfully, as evidenced by the fact that his team sports the third most efficient offense in the NCAA--aided greatly by his high shooting percentages, his above average ability to get to the free throw line and his low turnover rate.
Hansbrough demonstrates excellent court vision and timing with his passes. When defenses close out, he has a knack for finding the open man cutting to the rim. He's a highly unselfish player who knows how to make teammates better and executes his half-court offense crisply and proficiently. However, he's also not afraid to improvise creatively if things break down. Despite converting to the point guard position late in his college career, and not even playing there full-time this season, he should be able to operate effectively as a point guard in the NBA, considering his skill level and basketball IQ--even if it's clear he's not a traditional playmaker.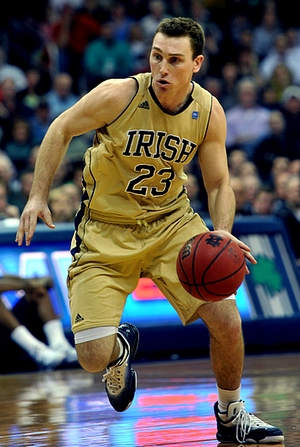 Defensively, Hansbrough is,
like the rest of his Notre Dame teammates
, nowhere near as accomplished. He lacks great length or lateral quickness, struggling to contest opponents' shots on the perimeter effectively and having a difficult time staying in front of more physically gifted slashers. He puts a solid effort in and will make plays on occasion thanks to his smarts and aggressiveness, but overall he projects as an average defender at best at the NBA level.
Hansbrough is exactly the type of college prospect many NBA types tend to shy away from. There will be plenty of question marks about his defense and his effectiveness at creating scoring opportunities at the next level.
With that said, his work ethic, which is
reportedly
legendary
, his competitiveness (we should know by now after Tyler), and his productivity (Big East Player of the Year) cannot be ignored, particularly considering the level of play he competed at in the Big East.
Unfortunately for Hansbrough, the last three games of his career (30% FG, 13-9 ast/to ratio) were far from his best performances this season, something that could stick out in the minds of talent evaluators, who do their most intense travel in the month of March. Based on the latest information we've received, Hansbrough has elected not to attend the Portsmouth Invitational Tournament—another setting he could have used to showcase his late-blooming skills.
When it's all said and done, individual workouts could end up deciding his fate. Showing that he can defend his position effectively and continue to create shots at a high rate against the best prospects in this draft will likely ease any concerns teams have about him—and dictate just how high he gets drafted, if at all.
Hansbrough has many interesting qualities, making him a player coaches may like to have in their backcourt rotation. He's a more versatile player than
Andy Rautins
, for example, who was drafted 38th overall last year, and is every bit as good of a shooter. Will that earn him a spot in the first round this June? We'll have to wait and see.
Edited by
Patrick Crawley
, Sports Editor for
Neon Tommy
and Managing Editor of
Basketball Fiend
.