With the NBA becoming far more of a perimeter game these days, shot creators coming at a huge premium and multiple ball handlers in every lineup becoming the norm, it's only natural that talent evaluators would look to the college ranks to find offensive firepower.
Enter South Florida's
Dominique Jones
.
Ranked
top 10 in scoring
and
top 5 in free throw attempts per game
, Jones is a physically imposing 6-4 combo guard with an NBA-ready frame, an excellent wingspan and the aggressive mentality to take advantage of it.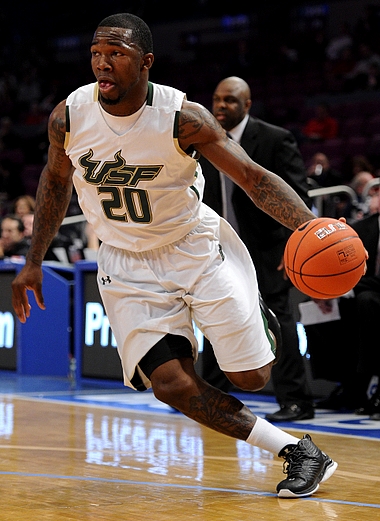 Jones stands out first and foremost because of the ease with which he can create his own shot, showing a powerful first step, long strides, a low center of gravity and terrific body control as he weaves his way around defenders en route to the basket.
He has a great knack for getting to the rim thanks to the purpose with which he attacks his defender. He knows how to lower his shoulder to get past his man, often just overpowering his matchup on his way to the basket,just beingtoo strong and relentless for most Big East defenders to keep out of the lane.
Jones is constantly in attack mode, doing a notable job in particular pushing the ball up the court and creating easy looks for himself in transition. He's also a capable weapon in the half-court, especially in isolation and pick-and-roll situations.
Once in the paint, Jones can finish through contact -- thanks to his excellent frame -- and really understands how to draw fouls. He ranks first in free throw attempts per minute among all point guards and shooting guards in this draft, and in the NCAA period. He also has a nice floater in his arsenal.
What makes Jones intriguing in today's NBA is that he can spend time at either backcourt position. He's clearly a good enough ball handler to bring the ball up the court and get a team into its offense, and he shows pretty good court vision on top of that, with his ability to play the pick-and-roll and find teammates off the dribble in drive and dish situations.
In the film we studied, it was a bit surprising to see the amount of possessions in which Jones was obviously looking to make the extra pass, but ended up forcing a difficult shot as the clock ran down due to the inability of his teammates to create open looks. He's clearly not a selfish player. While no one will confuse him with a pure point guard, he's enough of a lead guard to see minutes as his team's primary ball handler coming off the bench.
The other place that Jones stands out is on the defensive end, where he can come up with some incredibly impressive possessions. Jones appears capable of guarding either backcourt position in the NBA. He is especially effective on the ball, where his terrific size, strength and length shines through.
Jones moves his feet well and is an extremely physical player. He gets right up in his matchup's chest and uses his length effectively to contest shots and force tough looks. His intensity level is pretty impressive when you consider he plays 37 minutes per game and is the absolute catalyst for his team offensively. He even takes charges once in a while.
Jones' competitiveness comes into play in the box score as well. He comes up with a fair amount of blocks and steals, and is one of the better rebounding guards you'll find in this draft class, averaging nearly 7 per 40 minutes, pace adjusted.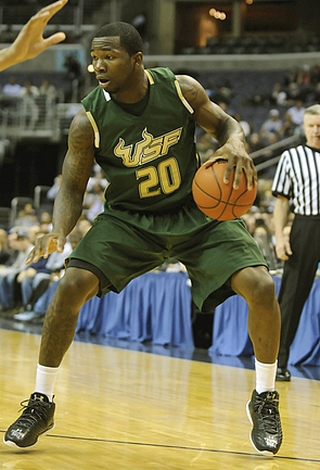 Despite the seemingly lofty praise, things aren't all that rosy when it comes to the rest of Jones' game. It's clear there are some adjustments he'll need to make to reach his full potential as an NBA player.
The most notable adjustment would be in his jump shot, which is not a consistent weapon for him in catch-and-shoot or off-the-dribble situations. Jones sports a slow release and flat-footed mechanics on his jumper. He doesn't create any separation whatsoever from his defender. This is likely to be a bigger issue for him in the NBA, as he may not be able to get his shot off as effectively. Expanding his range out to the NBA 3-point line -- and becoming more consistent with his jumper in general -- should be a big priority for him moving forward.
While Jones displays nice touch and seems to have a good feel for putting the ball in the basket in general, he gets into trouble at times because of poor shot selection and questionable all-around decision making skills. He attempts more shots off the dribble than he does in catch-and-shoot situations, hitting a similar percentage on both: around 33%. Part of this is due to how heavily his team relied on him to create scoring opportunities , but he tends to overestimate his ability at times and can shoot his team out of games.
Jones also can stand to improve his left hand. He heavily favors driving right and will more often than not opt to pull up for a jumper if forced to operate with his off hand. Even when driving right, he lacks a degree of explosiveness when finishing around the basket. This isn't much of an issue at the college level, particularly with his ability to get to the free throw line, but it may be something to keep an eye on in terms of the way he projects to the NBA.
Jones relies heavily on his strength and his first step to get to the basket, and would be well served to diversify his arsenal of ball-handling skills and hesitation moves to further improve his slashing ability.
Playing for a South Florida team that wasn't particularly good the past three years in the Big East didn't help matters much. All things considered, it's not difficult to see why Jones was in such a rush to leave as soon as the season ended. He turns 22 later this year and has already logged nearly 3,500 minutes at the college level. While he could definitely stand to improve his jump shot, Jones already appears to have made the decision to stay in the draft, according to what we can gather. It's highly unlikely that he'll return to USF at this point.
While Jones isn't getting much hype at this stage of the draft process, he's the type of player who could surprise NBA teams in workouts and slowly see his stock rise as they get to see his impressive physical attributes and shot-creating abilities in person. Matching him up with the likes of fellow combo guards
Avery Bradley
and
Eric Bledsoe
could be an eye opening experience.
With virtually every team in the second half of the first round needing an aggressive minded ball-handler who is ready to come off the bench immediately and see minutes in today's NBA, he could become a popular figure over the next two months.
At the moment, he appears to be one of the many early entrants firmly on the first round bubble. It's still early in the draft process, though, and teams are still forming opinions about the various prospects. If Jones checks out well in the intangibles department and performs as expected in private workouts, his chances of going in the first round will improve significantly.