Dominique Jones
Recent Tweets
All Tweets
Dallas got a steal in Dominique Jones. He's going to contribute to them next year already. 3 million dollars well spent by @mcuban
2010-06-24 21:15:00
RT @samickFanHouse Dallas bought the 25th pick from Memphis, so South Florida's Dominique Jones will go to the Mavs, a source tells FanHouse
2010-06-24 21:14:00
@samickFanHouse Dallas bought the 25th pick from Memphis, so South Florida's Dominique Jones will go to the Mavs, a source tells FanHouse.
2010-06-24 21:13:00
1st workout was Gani Lawal, Tiny Gallon, Terrico White, Dominique Jones, Jordan Crawford and Armon Johnson. Probably about 15 teams there.
2010-05-24 12:17:00
Heard Dominique Jones was the best player in 1st Minnesota workout. Aggressive in mid-range. Excellent in 2 on 2 w/jumper. Good defense.
2010-05-24 12:07:01
Top 25s - Full List
Team: Shanxi
Physicals
Positions
Salary
Misc
H: 6' 5"
W: 216 lbs
Bday: 10/15/1988
(27 Years Old)

Current: SG
NBA: SG
Possible: SG

Agent: Andrew Vye

High School: Lake Wales
Hometown: Lake Wales, FL
Drafted: Pick 25 in 2010 by Grizzlies

Predraft Measurements
| Year | Source | Height w/o Shoes | Height w/shoes | Weight | Wingspan | Standing Reach | Body Fat | No Step Vert | Max Vert |
| --- | --- | --- | --- | --- | --- | --- | --- | --- | --- |
| 2010 | NBA Draft Combine | 6' 3.25" | 6' 5" | 216 | 6' 9.25" | 8' 5" | 5.9 | 26.0 | 32.5 |



Basic Per Game Statistics

- Comprehensive Stats - Statistical Top 25s

Player Page&nbsp&nbsp| Player Stats | Mock Draft History | Related Articles&nbsp&nbsp| Add to My Draft Express&nbsp
&nbsp
Situational Statistics: This Yearís Shooting Guard Crop
June 10, 2010
One of the biggest risers of this yearís draft season, Dominique Jonesí explosive scoring ability ranks him highly in certain metrics, though he doesnít excel in any one given situation.

The most impressive aspect of Jonesí resume is his 46.5% scoring ratio, indicating that he scores at least a point on nearly half of his extremely high 21.6 possessions per-game. The level of efficiency ranks first in this group, and his .976 PPP and 11% shots fouled are well above average as well. Jones is both a high usage and high efficiency scorer, which is a rare combination to find.

With nearly 20% of his touches coming in transition, Jones gets to the line better than any of his peers on the break, drawing a trip to the line on 21.6% of those possessions. The USF product doesnít excel in any one particular offensive situation, though he is a solid isolation player. Much of his success comes from his ability to finish at the rim. His 1.22 points per-possession as a finisher place him third amongst this group. That quality should lend itself well to the NBA.

The reason Jones doesnít excel in any one particular area is because he isnít a terribly efficient jump shooter. An average shooter when left open off the catch (39%), and a below average pull up shooter (32.4%), Jonesís dynamic ability to get to the rim, create contact, and finish make him an intriguing guard with potential at both positions, but to become a more serviceably player in a smaller role, heíll need to hone his long-range jumper. If he does, watch out.

[Read Full Article]

---
NBA Combine Interviews: Henry, Anderson, Babbitt, Jones, Robinson
May 24, 2010
[Read Full Article]

---
Analyzing the NBA Combine Measurements
May 22, 2010
Looking for a poor man's John Wall? Take a look at Dominique Jones. He tied with Wall for longest wingspan among point guards in the 2010 class at 6-9 ľ, and measured out a half an inch taller as well. Jones is getting more and more buzz as we predicted in an article a few weeks ago, which highlighted him as one of the biggest sleepers in the draft.

[Read Full Article]

---
Finding a Niche for Dominique Jones
April 27, 2010
With the NBA becoming far more of a perimeter game these days, shot creators coming at a huge premium and multiple ball handlers in every lineup becoming the norm, itís only natural that talent evaluators would look to the college ranks to find offensive firepower.

Enter South Floridaís Dominique Jones.

Ranked top 10 in scoring and top 5 in free throw attempts per game, Jones is a physically imposing 6-4 combo guard with an NBA-ready frame, an excellent wingspan and the aggressive mentality to take advantage of it.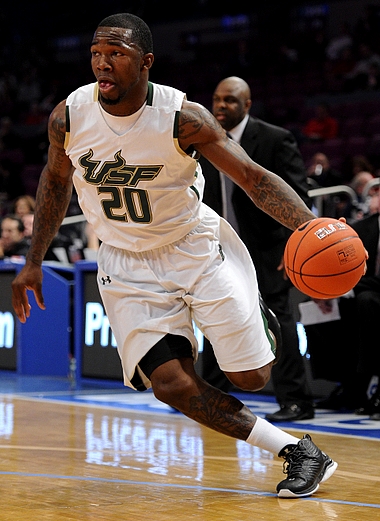 Icon SMI



Jones stands out first and foremost because of the ease with which he can create his own shot, showing a powerful first step, long strides, a low center of gravity and terrific body control as he weaves his way around defenders en route to the basket.

He has a great knack for getting to the rim thanks to the purpose with which he attacks his defender. He knows how to lower his shoulder to get past his man, often just overpowering his matchup on his way to the basket,just beingtoo strong and relentless for most Big East defenders to keep out of the lane.

Jones is constantly in attack mode, doing a notable job in particular pushing the ball up the court and creating easy looks for himself in transition. Heís also a capable weapon in the half-court, especially in isolation and pick-and-roll situations.

Once in the paint, Jones can finish through contact -- thanks to his excellent frame -- and really understands how to draw fouls. He ranks first in free throw attempts per minute among all point guards and shooting guards in this draft, and in the NCAA period. He also has a nice floater in his arsenal.

What makes Jones intriguing in todayís NBA is that he can spend time at either backcourt position. Heís clearly a good enough ball handler to bring the ball up the court and get a team into its offense, and he shows pretty good court vision on top of that, with his ability to play the pick-and-roll and find teammates off the dribble in drive and dish situations.

In the film we studied, it was a bit surprising to see the amount of possessions in which Jones was obviously looking to make the extra pass, but ended up forcing a difficult shot as the clock ran down due to the inability of his teammates to create open looks. He's clearly not a selfish player. While no one will confuse him with a pure point guard, heís enough of a lead guard to see minutes as his teamís primary ball handler coming off the bench.

The other place that Jones stands out is on the defensive end, where he can come up with some incredibly impressive possessions. Jones appears capable of guarding either backcourt position in the NBA. He is especially effective on the ball, where his terrific size, strength and length shines through.

Jones moves his feet well and is an extremely physical player. He gets right up in his matchupís chest and uses his length effectively to contest shots and force tough looks. His intensity level is pretty impressive when you consider he plays 37 minutes per game and is the absolute catalyst for his team offensively. He even takes charges once in a while.

Jonesí competitiveness comes into play in the box score as well. He comes up with a fair amount of blocks and steals, and is one of the better rebounding guards youíll find in this draft class, averaging nearly 7 per 40 minutes, pace adjusted.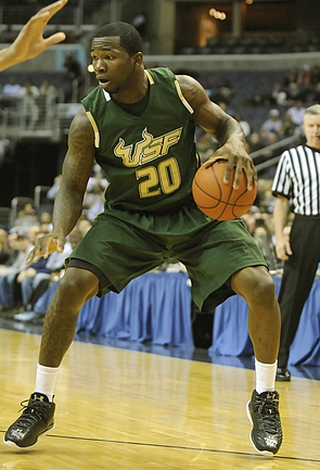 Icon SMI



Despite the seemingly lofty praise, things arenít all that rosy when it comes to the rest of Jonesí game. Itís clear there are some adjustments heíll need to make to reach his full potential as an NBA player.

The most notable adjustment would be in his jump shot, which is not a consistent weapon for him in catch-and-shoot or off-the-dribble situations. Jones sports a slow release and flat-footed mechanics on his jumper. He doesnít create any separation whatsoever from his defender. This is likely to be a bigger issue for him in the NBA, as he may not be able to get his shot off as effectively. Expanding his range out to the NBA 3-point line -- and becoming more consistent with his jumper in general -- should be a big priority for him moving forward.

While Jones displays nice touch and seems to have a good feel for putting the ball in the basket in general, he gets into trouble at times because of poor shot selection and questionable all-around decision making skills. He attempts more shots off the dribble than he does in catch-and-shoot situations, hitting a similar percentage on both: around 33%. Part of this is due to how heavily his team relied on him to create scoring opportunities , but he tends to overestimate his ability at times and can shoot his team out of games.

Jones also can stand to improve his left hand. He heavily favors driving right and will more often than not opt to pull up for a jumper if forced to operate with his off hand. Even when driving right, he lacks a degree of explosiveness when finishing around the basket. This isnít much of an issue at the college level, particularly with his ability to get to the free throw line, but it may be something to keep an eye on in terms of the way he projects to the NBA.

Jones relies heavily on his strength and his first step to get to the basket, and would be well served to diversify his arsenal of ball-handling skills and hesitation moves to further improve his slashing ability.

Playing for a South Florida team that wasnít particularly good the past three years in the Big East didnít help matters much. All things considered, itís not difficult to see why Jones was in such a rush to leave as soon as the season ended. He turns 22 later this year and has already logged nearly 3,500 minutes at the college level. While he could definitely stand to improve his jump shot, Jones already appears to have made the decision to stay in the draft, according to what we can gather. Itís highly unlikely that heíll return to USF at this point.

While Jones isnít getting much hype at this stage of the draft process, heís the type of player who could surprise NBA teams in workouts and slowly see his stock rise as they get to see his impressive physical attributes and shot-creating abilities in person. Matching him up with the likes of fellow combo guards Avery Bradley and Eric Bledsoe could be an eye opening experience.

With virtually every team in the second half of the first round needing an aggressive minded ball-handler who is ready to come off the bench immediately and see minutes in today's NBA, he could become a popular figure over the next two months.

At the moment, he appears to be one of the many early entrants firmly on the first round bubble. Itís still early in the draft process, though, and teams are still forming opinions about the various prospects. If Jones checks out well in the intangibles department and performs as expected in private workouts, his chances of going in the first round will improve significantly.

[Read Full Article]

---
NCAA Weekly Performers, 1/29/10
January 28, 2010
Joseph Treutlein

After a promising freshman season, Jones plateaued or even regressed a bit as a sophomore, though heís come back strong as a junior, posting the best numbers of his career in both production and efficiency. Jones has improved in multiple areas of his game, some of which will be very important for his game to translate to the next level.

Athletically, thereís not much new to say about Jones that we havenít already said before, as heís a strong 6í4 combo guard with a very good first step but not much in terms of vertical explosiveness. Jonesí lack of ability to explode in the lane has always been one of the things holding back his game, but heís managed to solve that problem indirectly by developing a much-needed right-handed floater.

Where he previously had trouble finishing over long, athletic bigs in the lane, Jones is now capable of pulling up with his floater, which he is hitting with remarkable accuracy, so much so that you can probably make the argument he has the best floater of any player in the country right now. This is incredibly important in projecting his game to the next level, because he wouldíve simply been incapable of consistently finishing in the lane without this new ripple.

As for attacking all the way to the basket, Jones does a pretty good job finishing there, if only because heís doing a better job of picking his spots, pulling up for the floater when facing weak-side help and only going to the rim when he has an opening to get his shot off. Jones also has no problems throwing his well-built frame around, getting to the line at a high rate (7.2 FTA per game), and all of these things combined lead to him scoring 1.41 points per possession on shots around the basket, which ranks in the 91st percentile of college players according to Synergy Sports Technology.

In terms of ball-handling, Jones has made some improvements in his time in college, now mixing in respectable spin moves and crossovers to get free, though he still could probably stand to improve some more with the ball, specifically when using his left hand. When going right, Jones looks very comfortable, having no trouble reaching top speed and staying under control on his way to the rim, but going left he definitely lacks the same confidence and comfort level, and it makes him much less effective.

As a shooter, Jones still hasnít developed much in terms of his pull-up jumper, lacking fluidity and comfort when relying on stepbacks and pull-ups, though heís very good in space, possessing solid mechanics and three-point range. He also does do a good job getting separation when he is trying to create his own jump shot, though his accuracy falls off considerably when heís moving side to side into his shot.

Jones has steadily increased his assist numbers all three years in college, though itís still hard to classify him as a point guard, as he clearly has a scorerís mentality, and heís still splitting ball-handling and floor manager duties with teammate Chris Howard. Jones does a good job creating on simple drive and kicks, and by keeping his head up to make some solid passes in transition, while he also shows flashes of ability in the pick-and-roll game. Still, itís questionable if heís ever going to develop the mentality to be a pure point.

Defensively, Jones has upped his intensity a bit this season, playing more aggressive man and off-ball defense, resulting in him ranking 14th in our database in steals per game at 2.0. On the ball, he shows a very strong stance and gets right up into his man, while also showing good reflexes and doing a good job using his length to contest shots. He doesnít have the greatest foot speed, and this is definitely exposed when defending quicker points, but if he continues to hone his fundamentals and put in the effort consistently, he should be able to be adequate defending most shooting guards at the next level.

Looking forward, Jones is definitely helping his NBA prospects this season, though he still may be best coming back to school another year to continue developing the weaker areas of his game, namely advanced ball-handling and his pull-up jumper. While the development of his floater definitely eases the concerns of how his lack of vertical explosiveness will translate to the next level, there are still questions surrounding his position and if heís a good enough shooter to make it as a scoring guard. When he does come out, he should be firmly on the draft radar, and will likely have every opportunity to earn a spot in the NBA.

[Read Full Article]

---
Top NBA Draft Prospects in the Big East Part Three (#11-15)
October 15, 2009
Kyle Nelson

After emerging as one of the most underrated freshmen in the Big East, South Florida combo-guard Dominique Jones returned for a strong sophomore campaign. He led the Bulls in scoring, in rebounding, and in steals and was named Big East Honorable Mention for the second consecutive season. Though South Florida finished last season 9-22 and won just four games in the Big East, the team has made strides in the off-season and could be far better this time around. The key, however, is their star, Dominique Jones, a player who scouts will be watching closely to see whether or not he has what it takes to play at the next level.

Jones stands 6í4, which depending on his position at the next level, is either above average or merely just average. He has excellent size for a perimeter player at the collegiate level, however, and is aided significantly by his long wingspan and excellent 205-pound frame. He is not a particularly explosive player, which complicates his NBA potential, but he is very quick and utilizes his strength well on both ends of the floor. Knowing his physical limitations helps him compensate for and overcome his lack of elite athleticism, which bodes well considering his future at the next level.

On the offensive end, Jones is severely hampered by his shaky ball handling abilities. Though he has improved since his freshman year, he still has trouble dribbling in traffic and even more trouble trying to create space for himself on the perimeter and from mid-range. His very quick first step, strength, and body control allow him to get to the basket and convert at a good rate, however. His willingness to follow his misses as well as his teammatesí misses, also provides him with open looks around the basket. He is a very good slasher at this point, arguably one of the best in the Big East Conference. Due to his lack of ideal explosiveness, however, he had trouble converting inside against some of the Big Eastís more skilled and sizeable big men such as Hasheem Thabeet and Greg Monroe. This is one significant concern for scouts: whether or not heíll be able to finish amongst the NBAís taller, stronger, and more athletic big men. Also, despite showing flashes of potential, Jones does not seem to have the court vision or instincts to run the point guard position consistently at this level or the next. He can execute simple drive and kick plays when he is not looking for his own shot, but he oftentimes picks his dribble up too early and frequently commits turnovers when he has gotten himself into trouble.

Improving his handle would also do wonders for his overall offensive game, as well. Most notably, it would help him tremendously in developing a mid-range game. Last season, he showed significantly more flashes than he did previously in his college career, but he still does not look comfortable pulling up off of the dribble. Improved ball handling would certainly help him in this area, but so too would improving his overall shooting mechanics. Jones is a far better shooter than his mediocre percentages would indicate, but inconsistency is a major problem. While his form is fluid, Jones rarely releases the ball from a consistent point and hardly gets the kind of lift one would expect to see from a player with his athleticism. He can make shots with his feet set and, at this point is at his best in catch-and-shoot or spot-up opportunities. He moves very well without the ball in his hands, which certainly helps him in this area. If he wants to be a factor at the next level, however, he must prove to scouts that he is capable of expanding his offensive repertoire to include more of a mid-range game to compliment his slash-and-shoot style.

On the defensive end, not much has changed. His average lateral quickness hurts him against quicker guards and he does not have the size to be as versatile on the perimeter at the next level as he is in college. His strength and length make him a tough match up at the collegiate level, however, and if he could increase his focus and improve upon his defensive awareness, he could develop into a very solid defender. Similarly, he must work on not running under screens and biting for fakes, two things that he continued to do last season.

This season will be crucial for Dominique Jones as he must take a step up from his freshman and sophomore campaigns. After witnessing his percentages plummet and opposing teams focus their defensive schemes to stop him, Jones needs to adapt accordingly and finds ways to score efficiently while continuing to be the co-facilitator for South Floridaís offense. The Bulls are entering a critical season, as well, and improvement is expected, if not required, if Coach Stan Heath wants to keep his job. South Florida will go as far as their star can take them and, though the bright lights likely will not shine on Dominique Jones many times this season, scouts will be watching and waiting to see if he can prove to them that he belongs in the NBA draft discussion.

[Read Full Article]

---
Top NBA Draft Prospects in the Big East (Part Four: #16-20)
November 3, 2008
Proving to be one of the surprise stories from last yearís loaded freshman class, Dominique Jones enters his sophomore season as the second leading returning scorer in his class. The shooting guard proved he could put up points against stiff competition, reaching double-figures in all but one Big East game, and topping 20 points in seven different contests. With the departure of big man Kentrell Gransberry, Jones will likely get even more shot opportunities this season.

Physically, Jones is built like a pit-bull for the off guard spot. At 6í4Ē 205 pounds he has a solid frame that allows him to attack the basket and take contact in the lane. His wingspan helps him on the defensive end, particularly on the glass, where he did a pretty good job rebounding the ball last season. Overall, as we mentioned last year, Jones isnít a freakish athlete, lacking a degree of explosiveness that most NBA guards have. He does show good strength and body control when attacking the rim, though, and can certainly be described as an above average athlete at the collegiate level.

When we last looked in on Jones, we talked about his shooting prowess from the perimeter. While he is certainly a threat to hit from the outside, his shooting percentages cooled off considerably when he faced tougher defenders in the Big East. Jones is pretty good on the catch and shoot with his feet set, but off the dribble his percentages drop dramatically. There is no question he has great range on his shot, but often, Jones makes poor decisions as to when to shoot the basketball. When faced with tight defensive pressure, rather than looking for a better option a lot of the time, he will tend to fade away on his shot instead. Issues that started to arise with Jonesí game later in the season had to do with his overall technique. He shows a tendency to short arm a lot of his shots in addition to not getting much elevation either.

What really became apparent from Jones later in the season was the success he has going to the basket both in transition and the half court set. He is an extremely aggressive player, often putting his head down and barreling through the lane. His ball-handling skills set him back a bit, as they are still quite loose, resulting in him getting stripped or not getting the best look at the basket. Often times he will be driving down the lane with a full head of steam and pick up an offensive foul as heís unable to change directions to avoid a defender.

Jones has great strength finishing around the basket and shows very nice touch on his shots, often able to bank in difficult looks. What still continues to be an issue for him though is the almost complete lack of a mid-range game. Jones rarely if ever pulls up off the dribble, but once in a while will mix in a one-handed runner.

Jonesí defensive game is still a mixed bag. His hustle, strength and length make him a difficult player to beat when he is on his game, but this often isnít the case. As a result of playing at the top of South Floridaís zone defense Jones is often forced to cover quicker guards. His lateral quickness isnít great and he is too quick to bite on fakes of any kind, making him an easy target to beat off the dribble.

While he is certainly still a long ways away from cracking anyoneís draft board, Jones will be an interesting player to keep an eye on in the upcoming years. Scoring over 17 points per game as a freshman in the Big East is not a minor accomplishment, and if he becomes a more consistent perimeter shooter, while improving his decision making and all-around versatility, we could very well be looking at a future NBA player.

[Read Full Article]

---
NCAA Weekly Performers, 1/23/08-- Part One
January 24, 2008
One of the more interesting surprises of the season has been the steady play of Dominique Jones, a unheralded combo guard out of Florida. Posting numbers that rank him amongst the top freshman in the country, he is quietly beginning to make a name for himself in the Big East despite USFís limited success.

The physical package that Jones offers makes him intriguing, standing 6í4 and blessed with a very nice wingspan. He owns a powerful first step, while having strength uncommon for a player so young as well. However, his athleticism is quite average, as he possesses poor lateral quickness and is not very explosive for a potential draft prospect.
Jones does the bulk of his scoring through strong takes to the basket, whether in transition, or in half court sets. He is cable of driving both left and right, able to convert at a high frequency due to his strength and body control. Although he doesnít get off the ground all that well, the freshman has shown the ability to maneuver himself in the air in order to avoid rotating defenders.

In terms of outside shooting, Dominique has proved that he can knock down three pointers with the best of them, hitting on a sizzling 42% of his attempts. Possessing very nice form and deep range, his shot can get streaky occasionally, as Jones has the tendency to bring the ball down below his waist before going into the shooting motion. The inconsistency of his shooting motion is fixable, and would certainly speed up his ability to get his long range jumper off in most situations.

Seeing heavy minutes at the point guard position for South Florida, Jones has had the chance to show off his playmaking skills and very nice court vision. It is not a problem for him to drive into the lane, draw two or three defenders, and then find the open man. Playing with a high basketball IQ, he tends to make very good decisions for a player who was thrown into the fire early on at point guard in the deepest conference in America. With that said, it is clear that Jones is not a natural point guard, and is looking to create for himself first and foremost when he has the ball in his hands.

Jonesí major weakness on the offensive end revolves around his lack of a mid-range game. In the numerous games that we observed, he did not take even pull-up for even one jump-shot off the dribble from mid-range. All of his scoring came in the way of drives to the rim or three pointers, making him a bit predictable to guard at times. Ball-handling is another area of Jonesí game that could stand to use some improvement, as he dribbles the ball quite high. He can get a little out of control at times with his wild dribble, but it is clear that proper off-season training could help fix these ball handling deficiencies.

On the defensive end, Jones applies great ball pressure out on the perimeter with his superior size and length. Often placed out front in USFís zone, he gives defenders fits with his ball hawking ability in the passing lanes. Besides that, though, Jones is a pretty average defender. He struggles mightily guarding point guards, not possessing good enough lateral quickness to stay in front of them. Jones does a little better job of guarding shooting guards, but is still nowhere near what you would call a stopper. Also displaying inconsistent effort on this side of the floor, he struggles to get through pick and rolls and contest opposing playersí shot when rotating.

Nothing can be taken away from the excellent year that Jones is having, establishing himself as a near lock to make the All-Big East Freshman Team. He is still a ways away from being considered an immediate draft prospect, but has already cemented himself as one of the better young players the conference has to offer.

[Read Full Article]

---