The 2015 NBA Combine will run from May 12th through May 17th, and while much of the attention paid to the event will focus on the action on the floor, the athletic testing conducted, and the interaction between teams and prospects, medical testing windows are the only item that appears on the schedule throughout the six days. Both at the Combine, and in the private workouts held by teams in the coming weeks, the crop of prospects eligible for the 2015 Draft will be poked and prodded by medical personnel from around the League in an effort to measure their fitness and diagnose any previously undiscovered issues.
The battery of tests these prospects will be put through range from echocardiograms to simple vision tests to complex assessments looking to ascertain joint or muscular problems. Asked to submit a full medical history prior to the combine, and then answer a questionnaire upon arrival, some prospects face highly specific tests tailored to explore potential red flags, while others face a fairly standard gambit of examinations. Though the results of these tests can hurt the stock of some prospects, they've also proven to serve their underlying purpose of uncovering serious health concerns. For example, less than a year ago,
Isaiah Austin
's EKG at the 2014 NBA Combine was the first domino to fall in his unfortunate, career-ending diagnosis with Marfan Syndrome.
John Brenkus, Kinesiology, and Minimizing Risk in the NBA
There's a good chance that if you're reading this article, you're already familiar with John Brenkus, the host of SportScience, an aptly named television series that gained traction on Fox Sports Net in the late 2000s before being picked up by ESPN and sprinkled over its existing programming as short segments.
Analyzing the physics and engineering principles at work in the more interesting feats of athletes competing at the highest levels of their respective sports, SportScience, with Brenkus as the executive producer and on-air narrator, brought the methods and findings of human performance analysis mainstream. The public face of an ongoing surge in innovation in the application of technology in the field of kinesiology, Brenkus is but one of a growing number of researchers leveraging new measuring tools to gain new insight into how athletes move.
The utility of that new insight is fairly clear for NBA teams, especially during the draft process, where many prospects undergo a full battery of tests to assess the strength of their joints and their potential risk for serious injury for the first time in their entire lives. With first round prospects receiving guaranteed money and the implications of insurance coverage for potential free agent acquisitions (
which are described succinctly in Larry Coon's CBA FAQ
), information about physical weaknesses and the probability they have to limit a player's ability to stay on the floor obviously goes a long way towards helping NBA teams minimize risk.
Given the basketball industry's collective proclivity for new information, it should come as no surprise that human movement science has gained considerable traction among NBA personnel over the years. Whether it's something as simple as a scout scrutinizing a player's gait or the success of the Phoenix Suns' training staff in rejuvenating the careers of older players with comprehensive strength and flexibility assessments, coupled with aggressive preventative strengthening routines (summarized nicely by Eric Freeman
here
and in tremendously well-researched detail by Michael Schwartz
here
), principles of kinesiology have found their way into how NBA teams are evaluating and physically preparing players.
An Anecdote from 2015 Draft Prospect Myles Turner
For the average NBA Draft prospect, the battery of tests they're put through this time of the year tend to be a formality, but for other players the stakes are a bit higher. It seems that at least one player per draft cycle is faced with concerns based around how they move on the court and what kind of toll the resulting forces are taking on their musculoskeletal system. Sometimes those questions are raised about a bruising big man struggling with lower back pain late in the season or a prospect who is particularly knock-knee or bow-legged relative to the norm, but they can also pop up for more subtle reasons like unsteady running form or a lack of ideal knee bend in the post.
This season,
Myles Turner
is perhaps the highest profile player in this draft to face scrutiny specifically for
how
he moves. DraftExpress's video scout, Mike Schmitz, broke down Turner's specific mobility issues in our preseason video scouting report on the potential top-10 pick. The following video is linked to start with that section:
https://youtu.be/sU_qZL9LevA?t=6m22s
Turner's somewhat ginger, choppy running stride was a part of not only our scouting report on him, but of those published by most major NBA Draft outlets as well. As Schmitz notes, Turner is plenty mobile for a 7-footer. He moves better than numerous center prospects we've covered over the years, but with the lamentable history of big men with injury problems over the last two decades and the increased attention to detail in the internet era of scouting, Turner's gait was still viewed as a concern.
Turner selected Andy Miller of ASM Sports as his representation earlier this spring. Miller, in concert with Turner, Turner's father David, and renowned Dallas strength coach Ken Roberson, decided to be proactive about the questions facing the 19 year old center and look for answers in advance of the NBA Combine. That search led Turner and his team to undergo a trio of tests at the Hospital for Special Surgery based in New York, the same hospital where
Kevin Love
and
Paul George
had their respective surgeries done over the last year.
The returns of Turner's lower extremity physical, running mechanics physical, and foot and ankle evaluation revealed the root of Turner's mechanical issues as weakness in both his left and right gluteus medius. The resulting 27-page report, which includes analysis from three phyisicians, stills of Turner performing various stability and running on a treadmill, and numerous x-rays was distributed to all 30 NBA teams, but more significantly, paints a picture of an imbalance that can be corrected over time.
Behind the Scenes of Turner's Testing
Flexibility and Range of Motion
The battery of tests Turner faced began with a look at his flexibility as the doctor's gauged the angles he was able to achieve in various stretches. Looking for tightness in his lower body, they revealed, in the doctor's estimation, nothing outside of the norm.
| ROM (approximate) | Right | Left | Normal |
| --- | --- | --- | --- |
| Hamstrings | 70° | 70° | 80°-90° |
| Hip Flexors - 1 Joint | 5° | 5° | 0° |
| Hip Flexors - 2 Joint | 70° | 70° | 80° |
| Calves | 10° | 10° | 15° |
| Internal Rotation | 45° | 35° | 30°-45° |
| External Rotation | 55° | 55° | 45°-60° |
| ITB/TFL (Outer Thigh Flexibility) | Normal | Normal | |
| Quadriceps | Normal | Normal | |
Muscular Strength and Endurance
The second test was more enlightening about the reasons for Turner's gait. Looking for deviations in the knee and pelvis to identify weaknesses through manual testing, the tests showed Turner's gluteus medius on both sides to be very weak. An important lower limb stabilizer, this weakness and the imbalance between the strength of his left and right side were deemed the culprit behind his running form.
| | Right | Left |
| --- | --- | --- |
| Hip Abduction | 4/5 | 3/5 |
| Hip Extension | 5/5 | 5/5 |
| Knee Extension | 5/5 | 5/5 |
| Knee Flexion | 5/5 | 5/5 |
Dynamic Stability Testing
Performing shallow one-legged squats to look at what kind of pelvic control he was able to maintain and what kind of forces were being applied to his knee, the subsequent tests Turner went through uncovered to what degree his gluts were having on his balance and running form.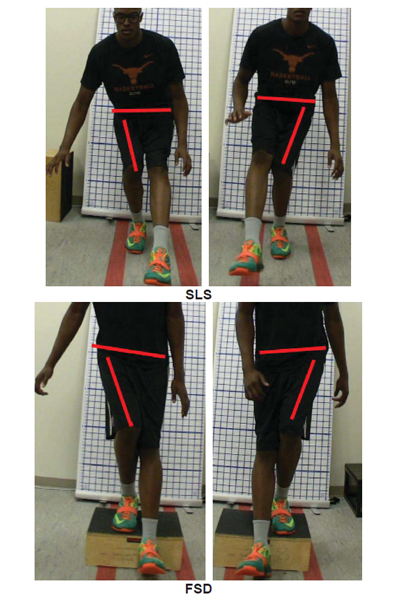 Strike Pattern and Foot Mechanics
After completing his balance testing, Turner took to the treadmill where doctor's diagrammed and measured the angles of his joints as well as his ground contact patterns to paint of full picture of his running style.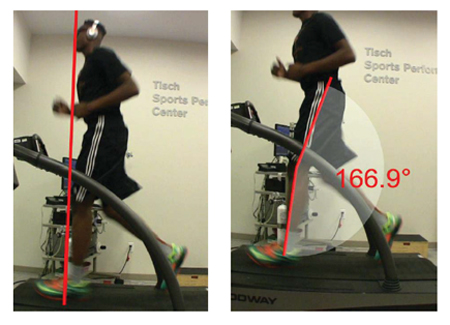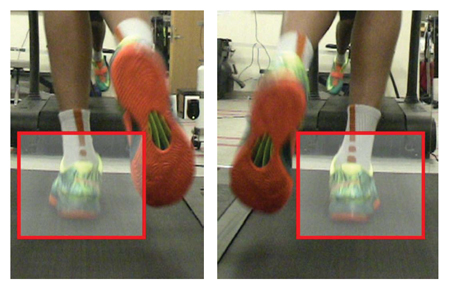 The first diagram shows Turner running with a comfortable mid-foot strike, but the second diagram displays excessive pronation on the left foot according to the report. Though its Turner's gluts that are the issue, it is interesting to note just what kind of impact that weakness creates further down the chain of muscles he uses when running.
Knee and Hip Mechanics
The below diagrams look at the angles of Turner's upper leg when he's running. An example of the lack of pelvic stability the reports point to can be seen clearly in the first picture, while the second shows a loss of control in his legs in his natural running stride.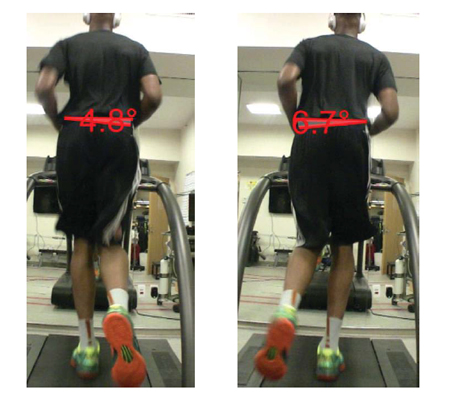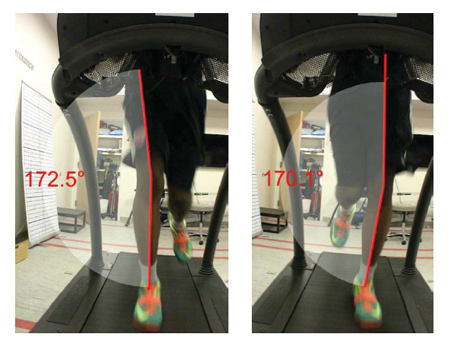 Improvement Plan
Fortunately for Turner, the ultimate outcome of this comprehensive look into the issues identified by scouts early in his career was very positive as his strength deficit in the gluts is, in this doctor's view, very correctable. The running mechanics portion of the report sent to teams ends with a set of exercises for Turner to do daily to help him activate the specific areas of concern.
Myles Turner Interview
Turner was kind enough to answer a few of our questions regarding his situations before he headed to Chicago for the NBA Combine.
DX: How did the decision for you to have a gait assessment come about?MT:
I have heard about it for years and I wanted to prove to everyone that it's just mechanics. I wanted all the NBA teams to know I was 100% healthy.
DX: Who was involved in that process? MT:
My Agent Andy Miller, my trainer Ken Roberson and My father David Turner
DX: What led to your choice of the Hospital for Special Surgery? MT:
My Agent recommended it and my father had surgery there years ago.
DX: Were you at all worried about what the results might show? MT:
No, I knew that I was completely healthy.
DX: Was that the first time you'd ever been through a battery of tests like those, what was the actual test like? MT:
Yes that was the first time that I went through tests like that. The actual test looked at my movement, I also did a stress test on a treadmill and they stretched out my legs to gauge how flexible and strong I was.
DX: Had anyone ever indicated to you personally that you might have a strength imbalance prior to the draft process? MT:
No
DX: You experienced some specific aches and pains over the course of your freshman season at Texas, were you surprised that they were more than just wear and tear related? MT:
No, the aches and pains I had did not have anything to do with my gait. They were just the normal aches and pains college players feel during the season.
DX: What kind of exposure had you had to running mechanics and speed training in the past? MT:
I had done some track work and traditional speed training, but it was not a main concern, my focus before the assessment was mostly about basketball.
DX: What has the corrective exercise program been like for you thus far? Has the difference been noticeable in your other on-court pre-draft preparations? MT:
I have been working on my core, hips and gluteal muscles. I have noticed huge gains in my transitional drills. I have been able to get out and run the court better.
DX: How will this play out over the course of your career and how important might this be for you? MT:
I will continue to do the physical therapy work, building on the base we have set up during predraft. I think this is going to be a key factor in my long-term development.
DX: Would you recommend these types of assessments to future prospects? Do you have any other advice for them? MT:
Yes if someone has a similar situation I think they should definitely look to have the problem identified. Don't let what people say frustrate you, just continue to work hard and get better.
Performance Optimization and the Future
Turner isn't the first prospect to have a running mechanics assessment and subsequently send it to teams, but he is the first to share those results publically. Obviously, the positive nature of his prognosis played a role in that decision, but he and his representation deserve credit for giving draft fans a glimpse into just how in-depth the medical testing these players are put through has become and were smart for approaching the process pro-actively.
Given the performance and draft stock implications of correcting or just beginning to correct a muscular imbalance, it wouldn't be shocking to see more agents looking to not only get ahead of the medical testing that will be done this week at the NBA Combine, but also use the results of this type of testing to help players make gains pre-draft preparation, even if their client isn't identified as having any significant issues. With few players reaping the benefits of tests like this at the college level, the opportunity to get them assessed and build a program to help them work to eliminate any potential imbalances or weaknesses seems like promising step towards maximizing their athletic performance. Look for this process to continue to move to the forefront as it becomes more accepted and common in sports circles.