Myles Turner
Recent Tweets
All Tweets
DraftExpress: Myles Turner showing great timing and instincts on the offensive glass and on help-side defense to help compensate for his lack of mobility.
2014-06-23 20:02:31
DraftExpress: (cnt'd) Jaylen Brown Justise Winslow Luke Kennard Myles Turner Stanley Johnson Stephen Zimmerman Thomas Welsh Tyler Lydon. Tyus Jones
2014-06-12 13:47:23
DraftExpress: High School Class of 2014 Scouting Reports-the Big Men http://t.co/MQ45RG3eOg Myles Turner Cliff Alexander Trey Lyles Kevon Looney & more
2013-09-04 11:11:24
DraftExpress: Interview we conducted with top 2014 high school recruit Myles Turner http://t.co/f0gjJ8Amw4 - Pretty impressive speaker for his age
2013-08-16 11:49:40
DraftExpress: RT @GlobalHoops1 2014 Myles Turner and 2015 Stephen Zimmerman are going to be at Adidas Nations as are Kaleb Joseph and Goodluck Okonoboh.\u2026
2013-08-02 11:19:21
Team: Texas, Freshman
Physicals
Positions
Rankings
Misc
H: 6' 11"
W: 242 lbs
Bday: 03/24/1996
(19 Years Old)

Current: C
NBA: C
Possible: C

Pick: 11 in 2015 Mock Draft
Rank 11 in Top 100 Prospects
Rank 6 in NCAA Freshmen
RSCI: 5

High School: Trinity HS
Hometown: Bedford, TX

Predraft Measurements
| Year | Source | Height w/o Shoes | Height w/shoes | Weight | Wingspan | Standing Reach | Body Fat | No Step Vert | Max Vert |
| --- | --- | --- | --- | --- | --- | --- | --- | --- | --- |
| 2014 | USA Basketball | 6' 10" | NA | 243 | 7' 4" | NA | NA | NA | NA |
| 2014 | Hoop Summit | NA | 6' 11.5" | 242 | 7' 3.75" | 9' 1.5" | NA | NA | NA |
| 2013 | USA Basketball | NA | 6' 10.5" | 230 | 7' 3" | 9' 0" | NA | NA | NA |
| 2013 | LeBron James Camp | NA | 6' 10" | 223 | 7' 2" | NA | NA | NA | NA |
| 2013 | Big Man Skills Acad | NA | 6' 10" | 223 | 7' 2" | NA | NA | NA | NA |



Basic Per Game Statistics

- Comprehensive Stats - Statistical Top 25s
| Year | League | Name | GP | Min | Pts | FG | FGA | FG% | 2Pt | 2PtA | 2P% | 3Pt | 3PtA | 3P% | FTM | FTA | FT% | Off | Def | TOT | Asts | Stls | Blks | TOs | PFs |
| --- | --- | --- | --- | --- | --- | --- | --- | --- | --- | --- | --- | --- | --- | --- | --- | --- | --- | --- | --- | --- | --- | --- | --- | --- | --- |
| 2014/15 | NCAA | Myles Turner | 34 | 22.2 | 10.1 | 3.4 | 7.6 | 45.5 | 2.9 | 5.7 | 51.3 | 0.5 | 1.8 | 27.4 | 2.8 | 3.3 | 83.9 | 1.3 | 5.2 | 6.5 | 0.6 | 0.3 | 2.6 | 1.4 | 2.4 |

Player Page&nbsp&nbsp| Player Stats | Mock Draft History | Related Articles&nbsp&nbsp| Add to My Draft Express&nbsp
&nbsp
Myles Turner NBA Draft Scouting Report and Video Breakdown
March 23, 2015
Derek Bodner

A very highly touted high school recruit (5th in the 2014 RSCI Index), Myles Turner came onto the scene strong for a hopeful Texas Longhorns squad that was a consensus preseason Top-10 ranked team. Turner started off the season posting incredible per-minute stats, averaging 24.6 points, 13.8 rebounds, and 6.1 blocks per 40 minutes during Texas' first 10 games, playing 20.3 minutes per night and shooting 52.6% from the field, helping Texas start off the season 9-1.



Mike Schmitz Video Scouting Report


(Video may not load with Internet Explorer. Use Chrome or Firefox)

Offensively, Turner's primary weapon at this stage of the game is his jump shot. With a high release point, soft touch, and a quick, decisive release for a big man, Turner's ability to score from the perimeter is a dangerous and coveted skill for the 6'11" freshman. Turner flashes range (albeit inconsistently) out to the collegiate three point line, where he hit 17 threes on the year on a 27.4% clip. A more realized use of his jump shot has been from midrange and, especially, from the free throw line, where Turner connected on an excellent 83.9% of his attempts this season.

That jump shot is both his biggest strength and, at times, his biggest weakness, as it plays a pivotal role in every facet of his offensive game. According to Synergy Sports Technology, Turner posts up on roughly 40% of his half-court field goal attempts, a sizable number for a freshman big. Upon further inspection, though, a very significant portion of those, especially over his right shoulder, are turnaround jump shots out of the post, which he finds mixed results with. Turner also moves well without the ball, but his most frequent rotation is to flash the middle of a zone for a foul-line jumper. He also shows some potential as a pick-and-roll player, but is almost twice as likely to settle for the pick-and-pop jumper rather than roll to the basket.

Part of this tendency to float on the perimeter is clearly exacerbated by the situation he elected to place himself in at Texas, as the Longhorns' perimeter shooting, ball-movement and floor spacing were very inconsistent, at best. Turner played out of position at the power forward position alongside similarly sized frontcourt players who, with the exception of Jonathan Holmes (who saw his perimeter jump-shot fall apart in Big 12 play after an extremely hot start), operate almost exclusively in the paint. This congestion of big men, and the lack of creativity in which they were utilized, clearly exacerbated Turner's natural tendency to settle for jump shots and not exploit his tremendous size and length around the basket more efficiently.

With that said, Turner still has plenty of work to do in terms of rounding out his offensive game. While not an explosive athlete, or incredibly tough and aggressive in the paint, his 9-2" standing reach gives him some potential on the block, and he shows solid touch on a hook shot with his right hand. He needs to diversify his post-up game, though, as he shows little in the way of counter moves and lacks any sort of a go-to move with his left hand. He could also stand to add some much-needed strength, as he frequently struggles to hold his ground in the post. Being one of the youngest players in this draft class, not turning 19 until March 24th, that will certainly improve with time and added physical development.

His awkward running style, might not change anytime soon, though. Turner noticeably lumbers getting up and down the floor, and only made five field goals (out of 13 attempts) all season in transition situations according to Synergy Sports Technology.

As the non-conference portion of Texas' schedule concluded, and their chemistry seemed to erode, the lack of diversity in Turner's offensive game began to show, and he settled more and more for jump shots. As detailed in the following chart, Turner posted incredible numbers against teams ranked outside of the Top-100 (26.7 points per 40 minutes, 3.8 offensive rebounds per 40, 59.3% shooting from the field), but failed to consistently make an impact on the offensive end against Top-100 defenses (14.6 points per 40 minutes, 1.7 offensive rebounds, 37.9% shooting).



On the defensive side of the court, however, Turner continued to make a strong impact on a Texas team that ranked in the top-20 in the nation defensively, with his 9.4 defensive rebounds per 40 minutes (4th among DX Top-100 prospects) and 4.7 blocks per 40 minutes (3rd) both ranking very favorably in this draft class.



Those numbers rank Turner very well compared with recent elite-level defensive prospects such as Karl Towns (8.7 defensive rebounds and 4.5 blocks per 40 minutes), Joel Embiid (10.0 defensive rebounds and 4.5 blocks per 40 minutes) and Nerlens Noel (8.5 defensive rebounds and 5.5 blocks per 40 minutes). Encouragingly, those numbers remained excellent even when the competition strengthened, as Turner averaged 4.7 blocks and 8.7 defensive rebounds per 40 minutes against Texas' tough conference schedule.

While not an explosive athlete, Turner combines his plus length with excellent timing and great shot blocking instincts to be a consistent factor on this end of the court. Similarly, while Turner could certainly stand to fill out his frame with much-needed strength, he has good technique on the defensive glass and shows a nose for the ball, and does a good job collecting rebounds outside of his area for a guy who isn't all that quick.

While Turner is a superb defensive prospect, there are a few areas of concern going forward, namely his propensity for picking up fouls and struggles defending the pick and roll. Turner's 4.3 fouls per 40 minutes is a relatively high number, although not unheard of for a young shot-blocking prospect. He tends to bite on pump fakes and can be a little bit overly aggressive at times. Still, with the excellent overall instincts he shows as a shot blocker this seems to be something he can get under control as he gains more experience.

The longer term concern on defense is likely his pick and roll defense, something which is a bigger concern at the next level, especially since Texas played a decent amount of zone defense with Turner on the court. Sporting awkward movements exacerbated by his abnormally large feet, Turner lacks great, or even good, lateral quickness. His struggles defending ball-handlers coming off the pick and roll, and in open space in general, is a concern, and something he'll have to improve upon going forward, as the NBA game has different rules and a much more pronounced tempo than college basketball does.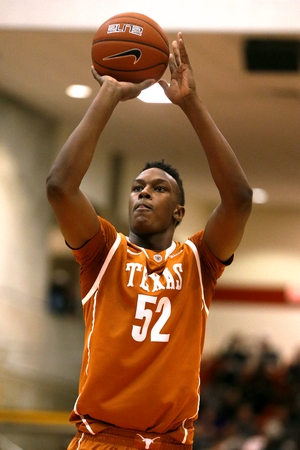 US Presswire



While Turner's lack of offensive diversity and his willingness to settle for outside jump shots is a concern going forward, the combination of a big man who can space the floor from the perimeter while also being a strong rebounder on the defensive glass and a rim protector inside the paint is incredibly rare, and, in today's NBA where spacing is king, also incredibly valuable. As long as his body can hold up (somewhat of a concern due to his physical makeup), he shouldn't have too much of a problem finding some type of a niche in the NBA. If a team thinks they can hone in his shot selection, and not see him lose too much effectiveness against big men who are more athletic than him, Turner's skill set and raw defensive ability could be tough to pass up for teams in need of a big man, even if the precise extent of his long-term upside is yet to be determined.

[Read Full Article]

---
Myles Turner vs Kentucky's NBA Frontcourt Video Analysis
December 9, 2014
A detailed video analysis by Mike Schmitz of how Texas' Myles Turner fared in his matchup with Kentucky's vaunted NBA-bound frontcourt this past week in Lexington.





More Situational Videos from Mike Schmitz



-Jahlil Okafor vs Frank Kaminsky Head to Head Matchup Video Analysis
---
Take a look at our video section for a compilation of all the videos we've produced this year.
[Read Full Article]

---
New Batch of USA Basketball Measurements Released on DraftExpress
October 3, 2014
Myles Turner measured similarly this June as he did at the Nike Hoop Summit in April, now standing just a shade under 7-feet, with a gigantic 7-4 wingspan. He added 13 pounds in the eight months between October of last year and June.

[Read Full Article]

---
Top NBA Prospects in the Big 12, Part 3: Myles Turner Scouting Video
September 11, 2014


Mike Schmitz is the video analyst for DraftExpress. Follow him on twitter and check out the DraftExpress Video section. He will be breaking down the NBA draft in digital format all year long for us.

[Read Full Article]

---
2014 FIBA U18 Americas Championship: US Scouting Reports
June 25, 2014
Mike Schmitz

Strengths
-Excellent size, frame and length for a center.
-Great instincts as a shot blocker. Rotates well. Alters shots. Very good timing.
-Good offensive rebounder.
-Very good shooting touch. Capable out to 3-point range. Comfortable in mid-range spots.
-Upside offensively. Can get to a turnaround jumper comfortably. Fundamentally sound rip-through from 17 feet. Pretty good touch on right handed jump hook.
-High IQ. Good passer. Knows where to be on the defensive end.
-Good hands.
-Plays with great effort. Works hard on the glass.

Weaknesses
-Lacks mobility. Struggles getting up and down with fluidity. Runs awkwardly.
-Huge feet slow him down. Has issues hedging and recovering.
-Average body.
-Lacks explosiveness. Not an above the rim guy.
-Not comfortable turning over his right shoulder.
-Lacks go-to moves on the block. Doesn't get deep position.
-Foul prone.

Outlook Turner has an intriguing blend of shooting ability, basketball IQ, shot blocking instincts and rebounding ability for a near-7-footer. The Texas-bound big man does some nice things on the floor that should translate well to the next level. Turner's potential is a bit limited by his lack of mobility and explosiveness, however. He's not exactly great in one area and although he certainly has some NBA-level skills and tools, he struggles to get off the ground quickly, keep quicker bigs in front and hedge and recover in the pick and roll. Turner figures to face questions about his long-term durability due to his abnormally large feet and awkward running style. Turner certainly has the tools to contribute at Texas and eventually parlay that into a potential lottery selection in the 2015 draft. But because of Turner's lack of athleticism along with questions about his long-term durability, he doesn't quite have the star potential people may have envisioned in the past.

[Read Full Article]

---
2014 Nike Hoop Summit: USA Measurements
April 12, 2014
Myles Turner
Weight: 242 lbs.
Height (w/shoes): 6'11.5"
Wingspan: 7'3.75"
Standing Reach: 9'1.5"

[Read Full Article]

---
2014 Nike Hoop Summit: USA Practice Day Three
April 12, 2014
[Read Full Article]

---
High School Class of 2014 Scouting Reports, Part Two- the Big Men
September 4, 2013
Jonathan Givony

Recruiting Rankings: 247: #7, ESPN: #10, Scout: #5, Rivals: #6

Strengths:
-Tremendous physical attributes. Great frame, long arms, soft hands
-Extremely athletic. Quick off his feet. Very nimble.
-Great instincts as a shot-blocker. Terrific timing
-Very good touch around the basket
-Very nice turnaround jumper
-Capable of stepping outside and shooting from the perimeter
-Can put the ball on the floor a bit
-Very intelligent player. Great passer for his position
-Extremely unselfish. Almost to a fault at times
-Competes on the glass
-Solid toughness
-Extremely intelligent off the court
-Huge upside to continue to develop

Weaknesses:
-Very limited offensively
-Not strong enough to establish position inside the paint
-Does not possess great footwork or post moves
-Not really comfortable carrying a heavy scoring load. Often does not look like he really wants the ball
-Shots the ball with a side-spin, which hurts his accuracy
-Not fluid or graceful yet with movements. Runs the floor and hedges screens somewhat awkwardly

Outlook: Physically gifted big man still in a very early stage of his development. Grew considerably in a short amount of time, and does not look fully comfortable in his own skin just yet. Has the potential to be a special defensive player. Has terrific instincts for blocking shots. Frame is underdeveloped but will fill out in impressive fashion. Appears to have terrific intangibles off the court, which leaves a lot of room for optimism regarding his future development.

[Read Full Article]

---
Myles Turner Video Interview
August 16, 2013
[Read Full Article]

---