It was a little over a month ago, while waiting in an airport, that
Jermaine Taylor
received word from Central Florida coach Kirk Speraw that he had been invited to the Portsmouth Invitational. The senior, who had quietly risen to number three in the national scoring race, was, needless to say, excited.
"I looked at it as a big opportunity, as getting closer to my dream," says Taylor. "Getting that invite was another step toward the NBA."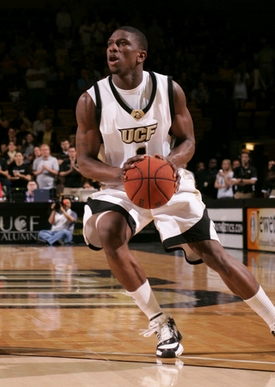 Fast forward to day three of the Portsmouth Invitational, and suddenly Central Florida's all-time leading scorer is the hottest name there is amongst scouts in attendance. Taylor, playing against some of the best seniors in the country, has amassed 51 points in his first two games, by far the highest total amongst the 64 players in attendance.
True to himself as a player, Taylor says he hasn't changed his game in the slightest in order to prepare for the audition in front of all 30 NBA franchises. The gunner who was a big time scorer during his days with the Knights has continued to be much of the same with his new set of teammates for the week.
Of course, the constant struggle for players like Taylor in showcase events of this kind, is finding the happy median between looking for shot opportunities, but distributing the basketball enough so as to not be labeled selfish. Rather than agonizing over something that ultimately is going to be subjective anyway, Taylor is keeping his mind focused on the game on the floor rather than the one in the stands.
"Every time I step on the floor I don't think about things like that, I think about playing my game," he says. "I don't want to rush anything, but every time I think I have a shot and it's there, I'm going to take it. If it isn't there, I'm going to pass it off. That's what's been working for me, so I don't want to go away from that now."
Not that he's needed to go away from it. Taylor, in addition to putting up impressive scoring totals, has been doing so with very efficient shooting as well, connecting on 20 of his 42 shot attempts in the first two games. The numbers and performances have been enough to attract the attention of several NBA teams according to Taylor's agent Michael Whitaker. Whitaker says that a handful of team representatives have taken the steps to introduce themselves to his client and state that they'll be contacting him down the road about individual workouts.
Whitaker finds himself in a similar situation to the one he was in last season when he first started representing current San Antonio Spur
George Hill
. Hill, a rookie out of IUPUI, was very much like Taylor in that he was an unknown commodity from a small school. Thanks to a slew of solid workouts and promotional work from Whitaker, Hill shocked draft pundits when he was selected in the first round. Whitaker's work with Hill is a major reason why Taylor signed on with him.
"What he's done for George [Hill] is great," says Taylor. "He was in the same position that I'm in right now. He came from a small school, not too many people knew about him, and he went first round. I'm trying to do the same thing; I have all the confidence in my agent and right now he's showing me that he's doing a good job."
Taylor is keeping up his end of the bargain as well, and shows no signs of slowing down. When he hasn't been on the court playing in front of scouts, he is spending his down time at a nearby gym continuing to work on his game before his next performance. He says that coming into the week his ball-handling skills were a bit of a concern for him, but he has managed to avoid dribbling the ball more than he has to. Now he's focused on only one thing, what he does well right now.
Teammates and opponents shouldn't take offense that he's only worried about making sure he gets his, as Taylor says, that's just the nature of the beast.
"When I'm on the court, that's how I feel," says Taylor.
"We can be friends and get along, I'm not a mean guy, and off the court I do get along with the guys. On the court though, at something like this, you have no friends. You have to go to work. I'm just playing my game and they play their game."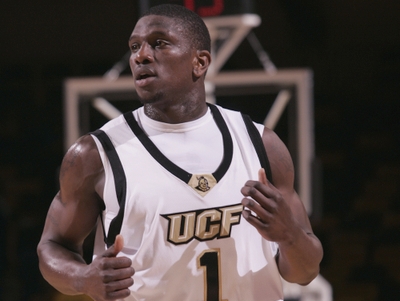 Maybe it's just a chip on his shoulder from having attended a smaller school. Central Florida received almost no coverage this season save for a couple of conference match ups with Memphis. Rather than viewing this as a negative, Taylor sees it as an opportunity to make a fresh impression on the scouts, rather than trying to break out of a label he was given from a couple of games on TV.
And while it is possible that some of the players defending him this week may see Taylor's gaudy scoring numbers as nothing more than a byproduct of playing in Conference-USA, the stoic scorer couldn't be any more ok with that fact if it is the case.
"I hope people don't really look at me as a major factor," he says. "I know I didn't go to a big school and I wasn't an All-American, so I hope they take me lightly, that just means it'll be bad for them."
Thus is the nature of events like Portsmouth, and the reality for players like Taylor. His entire chance of achieving a lifelong dream of playing in the NBA can be made or broken in the course of just four games. He intends to continue his training in Indianapolis at the conclusion of the tournament this weekend; he'll be working with the same staff that helped prepare
George Hill
for the draft. Taylor knows he still has work left to be done in his final game, though, he isn't about to let the opportunity of a lifetime pass him by due to complacency after a pair of games.
"I want to show that I can play against the guys who went to Texas, the guys who went to Boston College, wherever. Just because I'm doing well after two games doesn't mean I'm going to let up and stop working, that's not the kind of person I am."
That's what he hopes the NBA is about to find out.