Scouting Report by Josh Riddell. Video Analysis by Mike Schmitz
After making a big leap production wise from his sophomore to junior season,
Jonathan Holmes
came back to Texas for his senior season hoping to end on a high note and lead the Longhorns to the Sweet Sixteen for the first time. Holmes started the season on fire, but like Texas' entire team, faded as the year moved on, particularly with his outside shooting. He suffered a concussion in early February that saw him miss two full conference games, but had a strong enough season to earn a spot on the
Big 12 All-Conference Honorable Mention team
.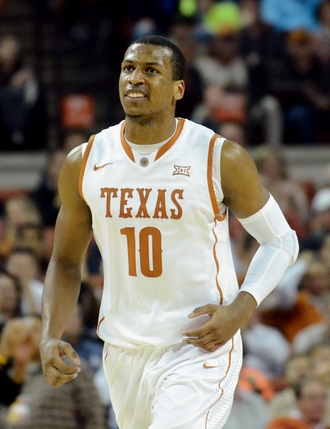 Holmes will now set his sights on the NBA draft and attempt to answer the questions scouts have about his NBA future in pre-draft workouts. The 6'9" forward measured out better than expected in Chicago, which should allow him to see plenty of minutes at the PF spot, with additional minutes coming at the 3 in bigger lineups. While none of Holmes' individual athletic tools leap off the page, he is a well-rounded athlete with a nice combination of quickness and strength that should help him compete against NBA players. He moves well in the open court and is tough enough to throw his weight around on the interior.
(Video may not load with Internet Explorer. Use Chrome or Firefox)
To show he can play on the perimeter, Holmes has worked on his three point range working his way up from 2.2 three point attempts per 40 minutes pace adjusted his freshman season to 6.3 his senior season,
second most among small forwards in our top 100
. Part of that was out of necessity, as Texas had a glut of big men this season that forced Holmes to see a good amount of minutes on the wing, which drew mixed results. But there is no question that his skill-level improved quite a bit over the course of his career, allowing him to score in a variety of different situations, be it off spot-ups, attacking closeouts, in the post, or via the offensive glass.
Holmes never became the knock-down shooter NBA scouts would have liked to see, and he ended his career shooting 33.1% on long distance shots and 33.3% on all catch and shoot jump shots this season according to Synergy Sports Technology. With that said, he demonstrates good fundamentals on his shot, with a quick and compact release that allows him to get his jumper off mostly the same way every time and should allow him to improve his consistency as his career moves on.
With that said, Holmes has been extremely streaky throughout his career, going through huge swings of effectiveness without much rhyme or reason, and the fact that he dips the ball unnecessarily on the catch and thus shoots it with a fairly low release point makes his jumper easier to contest when well defended and/or under pressure. How consistent of a shooter Holmes is able to become will play a huge role in whether or not he's able to carve out a real role in the NBA. His consistent mechanics, combined with the fact that he made 78% of his free throw attempts leaves a lot of room for optimism—particularly with better spacing and ball-movement than he enjoyed at Texas.
(Video may not load with Internet Explorer. Use Chrome or Firefox)
Holmes is not an overly creative ball-handler, and is unlikely to develop into a high volume shot-creator or passer in the NBA. He made just a handful of off the dribble jumpers at Texas, and only distributed 92 assists in 2903 career minutes.
Despite that, his situation at Texas surely didn't help matters a great deal, as he consistently was defended by smaller players, but rarely was able to take advantage of that due to the glut of frontcourt players he was usually utilized alongside of. Moving from the 4 to the 3 hurt his efficiency significantly, and having to share the floor with another paint-clogging big man saw his 2P% drop from an outstanding 58% as a junior to a middling 44% as a senior.
For a player who is not overly explosive to begin with, that was a tough development. Holmes ranked towards the bottom of all forward prospects in the various vertical leap categories tested at the NBA Combine, and his struggles finishing in traffic were much more noticeable with the lack of spacing Texas enjoyed this year. After hitting 67% of his shots around the basket as a junior (Synergy), that dropped to just 48% this past season, despite seeing far fewer attempts.
If matched up against a smaller defender, Holmes has the ability to score in the post with his strong body and soft touch. He can power through defenders of similar size or can shoot over smaller defenders, and while his footwork on the block isn't advanced, he can use his athletic tools to get a decent shot off. He could use this attack sparingly to create some easy offense in the right matchups.
Holmes is an active rebounder from his position, utilizing his athleticism and energy to grab 3.5 offensive rebounds per 40 minutes pace adjusted,
second among small forwards in our top 100
and 6.1 defensive rebounds per 40 minutes pace adjusted. He has demonstrated good fundamental rebounding skills, toughness and agility to rebound outside his area over his career. He will need to focus on this aspect of his game at the professional level to provide value to his team as a rebounder from his position.
The biggest key to Holmes sticking in the NBA will likely come down to his ability to defend his position. Standing 6-9 with a 6-11 wingspan, a near 9-foot standing reach and a 242 pound frame, Holmes has solid size for a NBA power forward, but is quick enough to step out onto the perimeter and guard most small forwards as well. That gives him great versatility which is highly coveted in today's NBA, even if he'll have to show that that element of his game can translate to competing against NBA athletes.
Holmes gets into a defensive stance willingly, and slides his feet well to stay in front of attacking players. He's a physical and competitive player with plays with a high energy level and isn't afraid to dive on the floor for loose balls or throw his strong frame around. Holmes blocked quite a few shots from the small forward position this year (1.6 per-40), indicating good timing and anticipation skills, and also grabbed a ton of offensive rebounds throughout his career at Texas (4 per-40), which is also a good sign.
Holmes will need to display his versatile skill-set and rebounding ability in pre-draft workouts while showing scouts he can defend both forward positions and be a consistent jump shooter. He has been caught in between positions during his time in college, but there are major questions about whether he was utilized in a way that played to his strengths. Holmes had an outstanding NBA Combine, which opened up quite a few eyes and will likely earn him some looks even in the late first round. Players in his mold who can adequately defend both forward positions, space the floor, and play physical and competitive basketball are very much en vogue these days, which gives him a great chance to carve out a niche in the NBA long term.