Jonathan Holmes
Recent Tweets
All Tweets
DraftExpress: One guy who definitely needs to enter the DX database is Texas freshman Jonathan Holmes. 6-8 athletic PF w/a great body. Can make an open 3.
2011-11-21 08:03:28
Team: Texas, Senior
Physicals
Positions
Rankings
Salary
Misc
H: 6' 8"
W: 254 lbs
Bday: 12/09/1992
(22 Years Old)

Current: SF
NBA: SF
Possible: SF/PF

Rank 13 in NCAA Seniors
Rank 64 in Top 100 Prospects
RSCI: 86

Agent: Zach Kurtin

High School: Antonian College Prep
Hometown: San Antonio, TX

Predraft Measurements
| Year | Source | Height w/o Shoes | Height w/shoes | Weight | Wingspan | Standing Reach | Body Fat | No Step Vert | Max Vert |
| --- | --- | --- | --- | --- | --- | --- | --- | --- | --- |
| 2014 | Nike Skills Academy | NA | 6' 8.5" | 254 | 6' 10" | NA | NA | NA | NA |



Basic Per Game Statistics

- Comprehensive Stats - Statistical Top 25s
| Year | League | Name | GP | Min | Pts | FG | FGA | FG% | 2Pt | 2PtA | 2P% | 3Pt | 3PtA | 3P% | FTM | FTA | FT% | Off | Def | TOT | Asts | Stls | Blks | TOs | PFs |
| --- | --- | --- | --- | --- | --- | --- | --- | --- | --- | --- | --- | --- | --- | --- | --- | --- | --- | --- | --- | --- | --- | --- | --- | --- | --- |
| 2014/15 | NCAA | Jonathan Holmes | 32 | 26.1 | 10.3 | 3.3 | 8.4 | 38.9 | 1.9 | 4.4 | 44.3 | 1.3 | 4.1 | 33.1 | 2.4 | 3.1 | 77.8 | 2.2 | 3.9 | 6.1 | 1.1 | 0.5 | 1.0 | 1.5 | 2.2 |

Player Page&nbsp&nbsp| Player Stats | Mock Draft History | Related Articles&nbsp&nbsp| Add to My Draft Express&nbsp
&nbsp
Jonathan Holmes Updated NBA Draft Scouting Report
April 20, 2015
Josh Riddell

After making a big leap production wise from his sophomore to junior season, Jonathan Holmes came back to Texas for his senior season hoping to end on a high note and lead the Longhorns to the Sweet Sixteen for the first time. Holmes started the season on fire, but faded as the year moved on, particularly with his outside shooting. He suffered a concussion in early February that saw him miss two full conference games, but had a strong enough season to earn a spot on the Big 12 All-Conference Honorable Mention team.


US Presswire



Holmes will now set his sights on the NBA draft and attempt to answer the questions scouts have about his NBA future in pre-draft workouts. The 6'8" forward will likely need to show he can play some minutes at the small forward position and is comfortable on the wing, as he is likely too small to play the power forward spot full time. While none of Holmes' individual athletic tools leap off the page, he is a well-rounded athlete with a nice combination of quickness and strength that should help him compete against NBA players. He moves well in the open court and is tough enough to throw his weight around on the interior.

To show he can play on the perimeter, Holmes has worked on his three point range working his way up from 2.2 three point attempts per 40 minutes pace adjusted his freshman season to 6.3 his senior season, second most among small forwards in our top 100. Part of that was out of necessity, as Texas had a glut of big men this season that forced Holmes to see a good amount of minutes on the wing, which drew mixed results. But there is no question that his skill-level improved quite a bit over the course of his career, allowing him to score in a variety of different situations, be it off spot-ups, attacking closeouts, in the post, or via the offensive glass.

Holmes never became the knock-down shooter NBA scouts would have liked to see, and he ended his career shooting 33.1% on long distance shots and 33.3% on all catch and shoot jump shots this season according to Synergy Sports Technology. With that said, he demonstrates good fundamentals on his shot and a 6'10" wingspan to complement his height should be enough to consistently get his shot off against NBA defenders. He was extremely streaky throughout his career, going through huge swings of effectiveness without much rhyme or reason, but certainly shows the potential to become with his strong mechanics and the fact that he made 78% of his free throw attempts—particularly with better spacing and ball-movement than he enjoyed at Texas.

Holmes is not an overly creative ball-handler, and is unlikely to develop into a high volume shot-creator in the NBA. With that said, his situation at Texas surely didn't help matters a great deal, as he consistently was defended by smaller players, but rarely was able to take advantage of that due to the glut of frontcourt players he was usually utilized alongside of.

Holmes will need to become a better off the dribble shooter to operate on the wing full-time, though, as he hit just 3 of the 16 pull-ups he attempted this season. Generally speaking, Holmes was not very effective inside the arc this year, converting just 48.1% of his shots around the rim in the half-court this season, according to Synergy Sports Technology, which may partially be a product of Texas' dysfunctional offense. He struggles to get by defenders off the dribble as he doesn't have great ball-handling skills and is unable to finish at the rim consistently if he finds a straight line path to the rim. He'll need to improve his ball-handling to become a multi-dimensional perimeter player at the next level while complementing his outside shooting, which will hopefully get more consistent.

If matched up against a smaller defender, Holmes has the ability to score in the post if asked by his team. He can power through defenders of similar size or can shoot over smaller defenders.
and while his footwork on the block isn't advanced, he can use his athletic tools to get a decent shot off. He could use this attack sparingly to create some easy offense in the right matchups.

Holmes is an active rebounder from his position, utilizing his athleticism and energy to grab 3.5 offensive rebounds per 40 minutes pace adjusted, second among small forwards in our top 100 and 6.1 defensive rebounds per 40 minutes pace adjusted. He has demonstrated good fundamental rebounding skills, toughness and agility to rebound outside his area over his career. He will need to focus on this aspect of his game at the professional level to provide value to his team as a rebounder from his position.

The biggest key to Holmes sticking in the NBA will likely come down to his ability to defend his position. Weighing in at 254 pounds at the Nike Skills Academy last summer, he is very much on the heavy side for a small forward (although he reportedly dropped to around 240 by the start of the season), while his 6-10 wingspan is very short for a power forward. He moves his feet decently, and has good instincts on this end of the floor, but doesn't always operate at full intensity, as he tends to lose his focus at times and will find himself out of position. He plays too straight-up at times and is late closing out on shooters on the perimeter, biting on pump-fakes or gambling for steals, which causes his entire team scheme to collapse in turn. Showing he can continue to slim down, minimize these lapses in focus and play with maximum intensity and awareness at all times will go a long way in improving his NBA chances.

Holmes will need to display his versatile skill-set and rebounding ability in pre-draft workouts while showing scouts he can defend his position and be a consistent jump shooter. He has been caught in between positions during his time in college and will need to find his niche for a NBA team. If he can do so in the upcoming months, he may hear his name called during the NBA Draft and get an immediate shot at the NBA. If not, it wouldn't be surprising to see him work on his shooting and ball-handling in the D-League and make his way into the NBA at some point in his career, as players in his mold are very much en vogue these days, and he displays more than enough talent and versatility to play in the NBA.

[Read Full Article]

---
Top NBA Prospects in the Big 12, Part 7: Prospects #13-16
September 15, 2014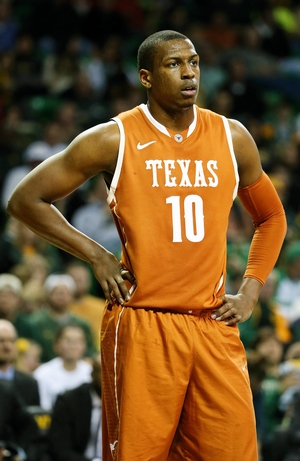 US Presswire



Derek Bodner

After flashing some promise as a freshman, Jonathan Holmes struggled to make the step forward many expected during his sophomore season. In fact, by all accounts he took a step backwards. His scoring fell, from 13.0 points per 40 minutes pace adjusted down to 12.0, his PER dropped from 17.2 to 15.3, and his efficiency suffered as well, from a 56.7% true shooting percentage down to a disappointing 51.8%.

Holmes turned things around in a major way during his junior season, which saw the 6.8" forward assume a much bigger role in the Texas offense. While Holmes only saw a modest up-tick in playing time, up to 24.3 minutes, from 20.2, his per-minute scoring jumped drastically. Holmes scored 20.3 points per 40 minutes when adjusting for pace this past season on tremendous efficiency. Whether looking at his PER (which jumped to 26.4), true shooting percentage (59.8%), points per possession (1.23), or offensive rating (118.3), Holmes had an incredibly productive season from a per-minute standpoint, while doing so at an extremely efficient level.

An area of Holmes' game that has seen considerable growth over the years is as a jump shooter. The overall amount of jump shots that he takes hasn't changed all that much over the years, but the effectiveness of the shot has. That improvement is most evident in his development as a three point shooter. While he's still not consistent from the collegiate three point line, his 33.3% shooting at 2.6 attempts per game was by far the best of his career.

However, the area where this improvement has made the most positive impact may be in Holmes' post-game. Holmes flashes a relatively simple, but effective, back to the basket arsenal. He fights for and establishes position well, presents a good window for the entry pass, and has good touch on a hook shot over his left shoulder, which he is able to shield the ball well and get it off over bigger defenders.

Holmes supplements his hook shot by utilizing his improving jump shot in post-up situations. After establishing deep post position to put himself in position for a high percentage shot, Holmes uses this position for both a turnaround jump shot over his right shoulder, and also by facing up, where he is able to either get off a clean look at a very make-able jump shot or, if his man is aggressively guarding him, can use his quickness to put the ball on the floor and get to the rim. Holmes' significantly improved effectiveness as a jump shooter, combined with his quickness, creates a fairly effective face-up threat.

The rest of Holmes' offensive game is still somewhat of a work in progress. His effectiveness as a jump shooter has led to more involvement in the pick and roll game, another area that could become a staple of his as he continues his development shooting the basketball. While he shows good promise as a face-up threat, and is able to be a weapon from 15 feet and in, his ball handling still needs improvement to fully take advantage of these opportunities, as he struggles to change direction and react to the rotating defense. He does move well off the ball, able to both find the weak points in a zone and also make himself available for passes from driving guards.

Holmes is able to make himself a factor on the glass on both ends of the court, where his pace adjusted output of 4.4 offensive rebounds and 6.9 defensive rebounds are both very good marks. On the offensive side, Holmes shows very good effort and pursuit fighting for position on the glass, and his athleticism, strength, and tenacity allow him to convert at a good clip after gathering these rebounds. On the defensive side of the ball, he shows good technique and timing.

On the defensive side of the court, Holmes generally gets in a good stance on the perimeter, and moves his feet relatively well for a player his size, while his strength allows him to hold his own down low. Although not an incredibly explosive leaper off of two feet, he shows good timing when going for blocks, allowing him to block 2.0 shots per 40 minutes pace adjusted. Perhaps most importantly, Holmes got his foul problems somewhat under control during his junior year. At 4.0 personal fouls per 40 minutes pace adjusted it's still somewhat of a problem, particularly on a young Texas squad that will need the senior Holmes to stay on the court, but it's a drastic improvement over the 6.1 and 5.7 fouls per 40 minutes pace adjusted that he committed during his freshman and sophomore seasons, respectively. He could still stand to avoid some of the reach-in and over-aggressive fouls that he tends to picks up, but last season was a positive step forward in that regard.

After a disappointing sophomore season, Jonathan Holmes had the kind of junior season that put him back on the map as a prospect, including big games towards the end of the season against talented front courts such as Kansas, Iowa State, West Virginia, and Baylor. It will be interesting to see how much he is able to build off of the improvements he made in his jump shot last year, whether he is able to become more consistent from the collegiate three point line and beyond, and whether he can continue to refine his ball handling skills to fully take advantage of the opportunities his improved shooting give him as a face-up threat. With his strength, quickness, emerging threat shooting from the perimeter, and ability to contribute on the glass, he could garner some interest from NBA teams next June, particularly if he shows more ability to operate as a full time small forward, which would likely be his natural position at the next level.

[Read Full Article]

---