by Giuseppe Matarazzo
Josh Childress
finally made his debut in the Euroleague. The former Atlanta Hawks player, one of the best sixth men in the NBA last year, was a major contributor in pushing the eventual champions, the Boston Celtics, to a seven-game playoff series last May. This summer he decided to leave the NBA for Europe, to play for Olympiakos Piraeus. The Greek team, one of the top contenders to win the Euroleague Final Four in Berlin, has given him new challenges, and of course, a lot of money-- a three year deal for 20 million dollars. In his first Euroleague game, Childress showed all the characteristics which made him appreciated by numerous NBA teams. He registered 14 points, 8 rebounds and 3 blocks, and drew 8 fouls. He is an impressive talent, but the best is surely ahead of him in terms of showing European basketball fans what he can do at the Euroleague level.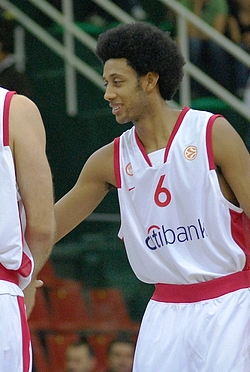 "We are all really happy about Josh's debut," said Olympiakos General Manager Christos Stavropoulos. "He gives our team scoring, defense and athleticism. But after all, it's only his first match. This has been a really hot summer for the European market. Many European players have come back in Europe after their NBA experience, and moreover, there have been some exceptional cases, such as Childress and
Brandon Jennings
. "
"I want everyone to understand, this is not a passing thing. It's the new way, maybe the new standard, explored by European top teams. The Euroleague gives us new opportunities and new markets to reach for. In the long run, our investments will be returned. At the moment our main profit comes from the love and the passion of our presidents and owners, but our goal is to bring many more new sponsors and investors in European basketball, to expand the market more and more. That takes time, but in the future, another Childress will come, because the competition level is higher, and lots of players are fascinated by Europe as they think the life style is very good and they'll live well here, with all the comforts and assistance an NBA team can provide".
"I'm sure
Josh Childress
is only the first ," said NBA veteran
Travis Best
(age 36, with 708 NBA games under his belt and a NBA Finals appearance with Indiana). He's now the point guard of Avellino.
"First of all, in Europe the quality of life is high," Best told us. "3 or 4 years ago my decision could be considered strange, but now it's almost quite normal. Obviously, money plays a big role; top European teams can spend a lot of money without the limitation of salary cap. A lot of astonishing players prefer to come overseas and sign big guaranteed contracts instead of being content with the mid-level exception. Here they continue to play great basketball, enjoy tax advantages, and live in amazing places with perfectly organized teams".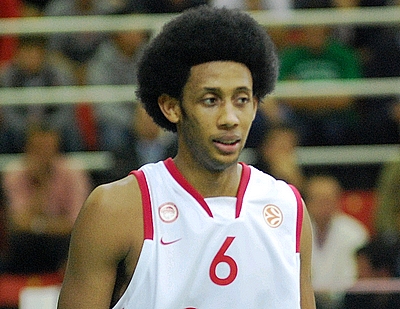 Childress himself seems enthusiastic about his new role, as a Euroleague superstar. Against Avellino he showed qualities that could lead him to the 08-09 MVP award. He talked with us about his inital feelings in this new challenge.
So Josh, at last you played your first match in the Eurolegue, what was your first impression?
"It was exactly as I thought. An impressive match, really physical, with a noisy crowd, against a good team with interesting players.They told me the level was high, and I saw that for myself".
And what about your game?
"I can' t say I'm satisfied. Yes I'm disappointed enough: I think I could have helped my teammates in a better way at the turning point of the game. Meanwhile, I put my abilities to use for the team and tried to provide help on defense. I know I made some mistakes and some my choices were wrong, I've got to improve my free throws and in the spacing on the court. I admit that it's not easy to compare with the new distances".
What's the main difference you saw in approaching a new match?
"The difference is in the amount of training. In the NBA, there's lot less practice. Here you have to spend much more time working with the team to prepare for the game. They said it to me, but I didn't imagine so much time working. The week is very busy, but I feel I'm improving".
Last summer your choice shocked everyone, some defined it as 'historic.' Why did you decide to do it?
"Effectively I was the first to land in Europe in my prime. It may sound crazy, mainly if you consider my age and my role in the NBA. But I don't think it is 'historic', I think it's the right choice for my career and especially for my growth as a man and as a player. My agent told me about Olympiakos' offer and I said...'why not?'"
At Stanford you were already known for your scoring abilities. In Atlanta you also showed your great potential on defense. How do you make your 'American style' of play a reality as a member of the Eurolegue?
"Yeah, since I was in college I was considered a really good scorer. But obviously I have to adapt my game to the new requests from my team. So I only have to train day by day with my team and follow their advice in order to try to improve. It's thanks to players such as [Theo] Papaloukas that everything is made easier. I have a lot to learn from him, he is always disposed to give you advice and help. I'm learning a lot from him and the other guys of Olympiakos.
Not less important is defense. Our coach is very strict, and I know I can be a factor on that side of the court, but I absolutely need to be constant in whatever I do. I'm disposed to learn and to reinvent myself; my experience at Stanford College has been very important to that intent. First of all you have to study there, and that's why I can say it has prepared me not only for basketball, but also for my aptitude to learn".
Brandon Jennings has decided to come directly to the Eurolegue. What about him?
"I know Brandon very well, he told me about his decision. He made a courageous choice; nobody has done something similar before, and he knows that. I'm sure he will grow a lot and I'm pretty sure that many others will do what he did".
You landed in Athens some months ago, can you say now if you'll stay here till the end of your contract?
"I can't say that now. Sure, I don't complain about my decision, it was the right one. I' m well here, the team is competitive, and I feel I' m growing in every part of my game. It's true, I feel this experience is making me become a better player...no doubt about that."