Josh Riddell
Kaleb Tarczewski
was a key player for the Arizona Wildcat team that won the Pac-12 league and conference tournament championships before falling to Wisconsin in the Elite Eight for the second year in a row. After returning to Arizona for his junior season, Tarczewski saw his production plateau as he finished this season averaging 14 points per 40 minutes pace adjusted while shooting 58% from the field. The center played in every game for the Wildcats and has missed only two games in his three seasons. Widely expected to declare for the NBA Draft, Tarczewski will soon turn to the next page of his career where he hopes to get picked by a NBA team and become a valued part of a team's rotation.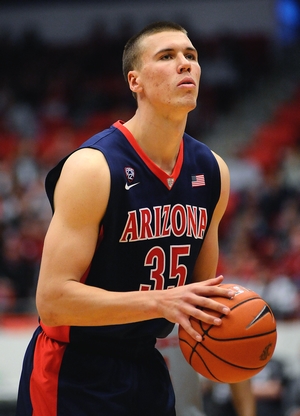 Measured at 7'0" with a sturdy 245 pound frame, Tarczewski has the prototypical frame of a NBA center. He moves well getting up and down the floor, with quick runs from rim to rim in transition, and excellent agility in the half-court. His pro prospects are in ways hurt by his lack of length, as his wingspan was measured at just 6'11" in 2012. While this won't prevent him from a NBA career, as seven footers such as Cody Zeller, Mason Plumlee and Chris Kaman have been drafted with similar wingspans or shorter, Tarczewski will have to prove he can overcome this lack of length to be a capable NBA center.
Offensively, Tarczewski has been a complementary player throughout his career at Arizona, attempting 8.2 field goal attempts per 40 minutes pace adjusted. He won't ever become a go-to back to the basket player but has some limited potential as a post scorer against backup big men, as he converted 50.7% of his post-up opportunities according to Synergy Sports Technology. His footwork isn't great and his length may hurt him against taller defenders, but he has some basic moves he can use to keep his defender guessing. He does need to become more comfortable with his off-hand, which he didn't use much while in college. He is adept at sealing his defender to get position around the rim helping to get easy looks.
Tarczewski will need to find ways to contribute offensively and one way he could do so would be in ball screen sets. He uses his strong frame to set a solid screen and then dives to the rim hard, demonstrating good vision to find the open space and quickness to beat the help defense. He's a capable finisher around the rim, averaging 61.5% according to Synergy Sports Technology, although his ability to finish at the next level will be hindered by his average physical tools.
Tarczewski will need to provide value in ways other than scoring to a pro team, as he doesn't project to be much of an offensive option. As a seven-footer, he's struggled as a rebounder in his collegiate career and he ended with just
7.8 total rebounds per 40 minutes pace adjusted
, second worst among centers in our top 100. He is often much more focused on boxing out opponents and letting teammates come up with loose balls, which likely hurt his production, but his below average awareness combined with his lack of leaping ability and length don't project him to be a great rebounder at the next level, especially on the offensive glass where he averaged just
2.4 per 40 minutes pace adjusted
. He'll need to focus on becoming a competitive defensive rebounder, crashing the glass relentlessly with high energy to track down loose balls, while continuing to box out opponents well like he normally did for Arizona.
On the defensive side, Tarczewski will struggle to be a rim protector, as his
0.8 blocks per 40 minutes
were the lowest among centers in our top-100 and would be the lowest in our database since 2000 for a seven footer drafted to the NBA.
Tarczewski plays hard defensively, but his potential is limited by his lack of length as opponents will be able to shoot over him. He does have the strength to compete with big men on the block while he can move his feet well extremely well stepping out and guarding in different pick and roll settings. While he may never become an elite defender, continuing to play with energy while making proper rotations could result in him becoming a very useful team defender as he was for the past three years at Arizona.
Already 22 as a junior, Tarczewski's upside is a bit limited by his age and average tools. While he didn't dominate the collegiate game, he was surrounded by NBA level talent and accepted and filled a role nearly every NBA team is looking to fill. He was consistently lauded by his coaching staff for the work ethic and intangibles he displays on and off the court, and will likely continue to endear himself to whichever coach he works with next. Teams will certainly be interested in a player of his size who can defend the pick and roll at such a high level, and if he can find ways to contribute outside of scoring, particularly in terms of rebounding, he could certainly play his way into an NBA rotation.