Kaleb Tarczewski
Recent Tweets
All Tweets
DraftExpress: Top NBA Draft Prospects in the Pac-12 #3-5 http://t.co/1zwn79iHqp - Dwight Powell Kaleb Tarczewski C.J. Wilcox
2013-10-04 01:20:35
DraftExpress: Stark contrast in conditioning-level & overall athleticism between Kaleb Tarczewski & Mitch McGary. Tarczewski running, jumping much better.
2012-04-05 08:38:11
DraftExpress: Top prospects on USA squad: Shabazz Muhammad, Nerlens Noel, Kyle Anderson, Kaleb Tarczewski, Rasheed Sulaimon, Archie Goodwin, Gary Harris.
2012-04-05 08:21:00
DraftExpress: RT @nikehoopsummit: @usabasketball roster: (cont.) Marcus Paige, Tony Parker, Rasheed Sulaimon, Kaleb Tarczewski
2012-03-06 11:54:37
DraftExpress: HoopHall 2012 Reports: Shabazz Muhammad, Kyle Anderson, Kaleb Tarczewski, Grant Jerrett, Steven Adams, Amile Jefferson http://t.co/1q2raKWA
2012-01-18 10:18:00
Team: Arizona, Junior
Physicals
Positions
Rankings
Misc
H: 7' 0"
W: 243 lbs
Bday: 02/26/1993
(21 Years Old)

Current: C
NBA: C
Possible: C

Pick: 45 in 2015 Mock Draft
Rank 78 in Top 100 Prospects
Rank 7 in NCAA Juniors
RSCI: 7

High School: St. Mark
Hometown: Claremont, NH

Predraft Measurements
| Year | Source | Height w/o Shoes | Height w/shoes | Weight | Wingspan | Standing Reach | Body Fat | No Step Vert | Max Vert |
| --- | --- | --- | --- | --- | --- | --- | --- | --- | --- |
| 2012 | Hoop Summit | 6' 10.25" | 6' 11.75" | 243 | 6' 11" | 9' 0.5" | NA | NA | NA |



Basic Per Game Statistics

- Comprehensive Stats - Statistical Top 25s
| Year | League | Name | GP | Min | Pts | FG | FGA | FG% | 2Pt | 2PtA | 2P% | 3Pt | 3PtA | 3P% | FTM | FTA | FT% | Off | Def | TOT | Asts | Stls | Blks | TOs | PFs |
| --- | --- | --- | --- | --- | --- | --- | --- | --- | --- | --- | --- | --- | --- | --- | --- | --- | --- | --- | --- | --- | --- | --- | --- | --- | --- |
| 2013/14 | NCAA | Kaleb Tarczewski | 36 | 28.3 | 9.9 | 3.6 | 6.1 | 58.4 | 3.6 | 6.1 | 58.4 | 0.0 | 0.0 | &nbsp | 2.8 | 3.8 | 75.6 | 2.1 | 4.2 | 6.3 | 0.5 | 0.1 | 1.0 | 1.8 | 2.6 |

Player Page&nbsp&nbsp| Player Stats | Mock Draft History | Related Articles&nbsp&nbsp| Add to My Draft Express&nbsp
&nbsp
2014 adidas Nations Interview: Kaleb Tarczewski
August 26, 2014
[Read Full Article]

---
Top NBA Draft Prospects in the Pac-12, Part 3 (#3-5)
October 2, 2013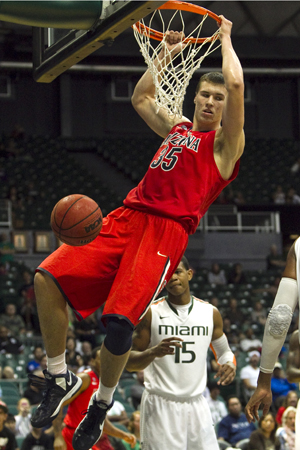 US Presswire



Matt Kamalsky

A consensus top-10 recruit coming out of high school, Kaleb Tarczewski was the headliner of Sean Miller's outstanding 2012 recruiting class. Facing the lofty expectations associated with those labels as a freshman, the young center struggled to make his presence felt for stretches and often found himself grounded by foul trouble. Still, the St. Mark's (MA) product gained valuable experience and strung together some stretches of solid play late in the year, leaving plenty of room for optimism as his game continues to mature.

Standing 7'0 with a maturing 250-pound frame to go along solid mobility and athleticism for a player his size, it isn't hard to see what makes Tarczewski an intriguing center prospect on first glance. He did a great job packing on weight over his last two years at the high school level, and certainly looks the part of NBA center, even if his frame still looks like it can handle more muscle. Aside from his below average 6'11 wingspan, Tarczewski has everything scouts look for in a big man.

As is often the case with freshman big men in his mold, Tarczewski played a small offensive role in his first season in Tucson. The majority of his touches came in the immediate vicinity of the rim where he was able to use his size and athleticism to his advantage as a finisher, but wasn't as consistent when forced to create a look for himself in close as his skill level is still a work in progress.

He did the majority of his scoring converting the looks his teammates created for him in simple catch-and-finish situations. Staying active in the half court and able to finish above the rim with authority when given a step to gather himself, Tarczewski shot a respectable 58.6% finishing around the basket according to Synergy Sports Technology. Narrowly missing more than a few tip ins and close range opportunities in traffic, Tarczewski looked rushed at times, especially when challenged, and is capable of more as he gets more comfortable operating under duress and with the speed of the college game.

In back to the basket situations, the New Hampshire native shot a middle-of-the-road 42.6% and turned the ball over at a fairly high rate, but nonetheless flashed some positive things to work with moving forward. Adept at establishing deep post position, his size and physicality allowed him to create some easy opportunities in close as he managed to seal his defender and catch the ball with two feet on occasion. He also tossed in a hook shot over his left shoulder from time-to-time, but has a ways to go to become a consistent post scoring threat as his repertoire lacks variety and reliability. If Tarczewski can take the next step as a scorer by developing his footwork and left hand in the coming seasons, his ability to carve out position in close should pay major dividends when he's better prepared to contribute as an individual scorer.

At this point, Tarczewski makes his best contributions on the glass, where he does a fine job boxing out defensively and getting to the front of the rim offensively. Averaging a solid 10.9 rebounds per-40 minutes pace adjusted, his length limits him to some degree and he comes up short of having outstanding hands or timing on the boards, but he puts a body on opposing big men and goes after the ball in traffic, pursuing caroms with a good energy level.

Defensively, Tarczewski's size makes him a formidable defender one-on-one on the block and his mobility gives him the potential to develop into the type of big man who can step out and hedge in the two-man game. His lack of great length and anticipation limit his impact as a weakside shot blocker, and he has plenty of room to improve his consistency, discipline, and fundamentals on this end of the floor. Nonetheless, the building blocks are there for him to continue to improve as he gains experience. In the short term, his ability to avoid foul trouble will be a factor in what type of season he'll have as a sophomore.

This will be an important season for Tarczewski's development as he'll have plenty of opportunities to take on a bigger role on the offensive end and emerge as a difference-maker for an extremely talented Arizona team looking to fill the void left behind by Solomon Hill and Mark Lyons. Considering his size and mobility, Tarczewski's NBA upside is apparent, but it will be the development of his skill level and defensive presence which ultimately dictate just how he's perceived by scouts when his sophomore season comes to a close.

[Read Full Article]

---
2012 Nike Hoop Summit: USA Team Measurements
April 7, 2012
Kaleb Tarczewski
Height without shoes: 6-10.25
Height with shoes: 6'11.75
Weight: 243
Wingspan: 6-11
Standing Reach: 9'0.5

Interview and Highlights:



[Read Full Article]

---
HoopHall Classic Scouting Reports: Elite 2012 Prospects (Part One)
January 18, 2012
Jonathan Givony

7-footer Kaleb Tarczewski (#8 Scout, #20 Rivals, #6 ESPN) continues to develop at his own pace, getting a little better every time we see him.

Looking noticeably stronger in the upper body, Tarczewski put together a workman-like 22 point, 6 rebound performance in a win in Springfield, tacking on 5 assists, 6 turnovers and 3 blocks for good measure. Playing against an extremely undersized Friends Central squad, nothing he did was particularly flashy, as most of his points came off simple moves inside the paint.

As we've noted before, Tarczewski has excellent size at 7-0, to go along with good mobility and a rapidly improving frame. Not a prolific shot-creator, he's capable of finishing with authority when opportunities are created for him, as he has good hands and gets off the ground fairly well. His back to the basket repertoire is simple, but fundamentally sound, mostly consisting of jump-hooks and up and under moves, sometimes using the glass. While he surely lacks a degree of aggressiveness asserting himself at times inside the paint, particularly in terms of carving out post-position and demanding the ball, he also doesn't force the issue, showing solid vision passing out of double teams.

Tarczewski will hit the occasional turnaround jumper, but doesn't show much range at this stage, something he'll likely continue to work on over time.

Defensively, Tarczewski is not a high flyer, but is nevertheless capable of making his presence felt inside, blocking shots with both hands. Like all big men, he needs to continue to work on his ability to step outside the paint and guard the pick and roll, but he already shows a decent framework to build off. At this level he's rarely challenged by another player his own size, so it will be interesting to see how quickly he's able to adapt at the college level. He's not particularly quick laterally, so he will need to show a better motor than he has thus far contesting shots and playing with consistently high energy to play up to his full potential on this end of the floor.

Tarczewski will have plenty of NBA eyes on him from the moment he steps out on the floor at Arizona. It may take him some time for him to adapt to the college level initially, but he surely has the talent to be a solid contributor as a freshman.

[Read Full Article]

---
HoopHall Classic Scouting Reports (Part Four): 2012 Elite Prospects
January 25, 2011
Joseph Treutlein

Playing against an extremely undersized and overmatched opponent, Kaleb Tarczewski (#9 Scout, #13 Rivals, #24 ESPN) had a very disappointing game in his team's 69-63 loss to Life Center Academy, with him failing to assert himself offensively, converting on just 4-of-12 field goal attempts in the game.

In a contrast to what we witnessed the last time we saw Tarczewski play, here he played very soft on the offensive end, refusing to back down opponents, having trouble securing rebounds, and often getting out-muscled and outhustled by players 4-8 inches smaller than him.

In the post, Tarczewski struggled with multiple entry passes, wasn't able to convert on any of his finesse moves, and simply refused to dunk the ball despite being in position multiple times. He got most of his 11 points getting to the free-throw line or getting putbacks of his own misses, doing very little to contribute for his team from a scoring standpoint.

To his credit, one thing he did look great doing on the offensive end was passing, showing a nice feel for the game to go along with the vision and passing ability to find players open on the other side of the court, something that could be of great use to him at the next level.

On the defensive end, Tarczewski blocked an impressive nine shots, looking outstanding on some plays, showing the anticipation, timing, and mobility to swat shots in the lane coming from the other side of the court.

It's not out of the ordinary for 16-year-old seven footers to have games like this, and Tarczewski is much farther along from a skills and feel standpoint than most comparable players his age, but the tentativeness on the offensive end is still somewhat concerning. We'll continue to track his progress over the coming years, as he's clearly a very promising prospect.

[Read Full Article]

---
2010 National Prep Showcase: Elite 2012 Prospects
November 24, 2010
Jonathan Givony

A legit 7-footer with athleticism and an excellent frame, it doesn't take very long to figure out why Kaleb Tarczewski (#12 Scout, #13 Rivals, #24 ESPN) is considered such a highly touted prospect. He provides his team with a major presence inside the paint on both ends of the floor, and looks to be a hard working player on top of that.

Offensively, Tarczewski is fairly raw as you would expect from a 16-year old 7-footer, but can already make his impact felt in a couple of ways. He has excellent hands first and foremost and does a good job of catching the ball high and finishing plays above the rim, showing excellent potential as a pick and roll finisher.

Tarczewski seems to have been very well coached early on in his career, as his fundamentals appear to be quite strong. Although not terribly fluid at this stage, he has some budding footwork inside the post and some signs of a jump-hook and turn-around jumper, two moves that should serve him well and he continues to improve his offensive polish. At this level he can also make an impact with his sheer size, strength and athleticism, running the floor and crashing the offensive glass, things he did well in the lone game we saw.

Defensively, Tarczewski is a huge presence with his terrific physical tools, and seems to have some solid instincts to work with as well. He boxes out opponents, can block shots, hedges the pick and roll impressively, and seems to want to compete on each and every possession, which is a great sign at this early stage. Foul trouble will likely be an issue early on in his career, but his basketball IQ appears to be above average, which will surely help him down the road.

While it's certainly way too early to be jumping to any long-term conclusions, there are a lot of things to like about Tarczewski's potential at this preliminary stage. He'll surely have his choice of attending any college in America (Kansas is rumored to be in the lead), and as long as he continues to develop, we'll certainly be revisiting his progress in the future.

[Read Full Article]

---