Scouting Report by Jonathan Givony. Video Analysis by Mike Schmitz
Kelly Oubre
came into this season with high expectations, a top-10 recruit having to replace #1 overall draft pick
Andrew Wiggins
at small forward for Kansas. He got off to a fairly rocky start, playing only 8 minutes per game in his first seven contests, becoming somewhat of a whipping boy for Bill Self due to his uneven efforts defensively and struggles finding himself in the Jayhawks' half-court offense early on.
Oubre found his way back into Kansas' rotation as the year moved on, starting every game from mid-December to the end of the season. He had some very impressive outings in the Big 12 against the likes of TCU, Baylor, Texas and Oklahoma, but the season ended in disappointment for all parties with a double-digit loss in the NCAA Tournament's Round of 32 to in-state rivals Wichita State. Up and down throughout the season, Oubre showed flashes of his talent, but didn't have a great season overall, playing only 21 minutes per game on average.
(Video may not load with Internet Explorer. Use Chrome or Firefox)
The intrigue around Oubre starts with his prototypical tools for a NBA wing player, standing 6-7 in shoes, an ideal basketball frame, and a wingspan measured between 7-1 and 7-2. Although not a freakish athlete, he is nevertheless an extremely smooth and fluid player.
The place where he'll be able to put those tools to use most prominently early in his NBA career should be on the defensive end, where he is far from a finished product, but shows terrific potential as a wing stopper. Oubre moves his feet exceptionally well for his size and has the length to contain pretty much any type of backcourt player. He can put terrific pressure on the ball and has excellent instincts for getting in the passing lanes (2.2 steals per-40). He also rebounds well for his position (7.6 D-Reb per-40) and comes up with an occasional block at times as well.
Once his frame fills out (he has plenty of room to add another 10-15 pounds, if not more) and he figures out how to play with the same type of intensity level on every possession, he has a chance to be an absolute handful on this end of the floor, as long as he puts his mind to it.
Offensively, Oubre's most NBA-ready attribute is likely his jump-shot, as he has soft touch, natural scoring instincts, a nice follow through, and smooth mechanics when in rhythm. He was a little bit streaky at times (36% 3P%) as a freshman, partially due to shot-selection issues, but he has a nice foundation in place to make this part of his game a dangerous weapon with repetition. Oubre has a tendency to change up his release point at times when rushed, sometimes shooting the ball on the way down, off the side of his hand, or with very little arc, but he's improved steadily on this part of his game over the past few years and should continue to do so in time with proper instruction.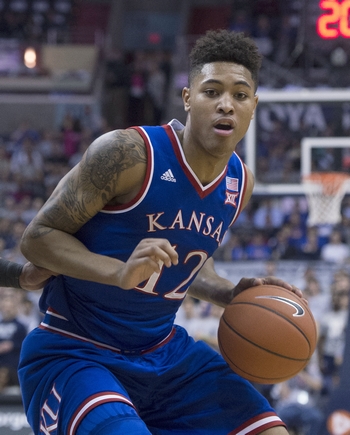 As a shot-creator, Oubre is very much a work in progress still. His ball-handling skills are rudimentary, almost entirely confined to his stronger (left) hand, and with a fairly high dribble that slows him down off the bounce and neutralizes his excellent natural tools to a certain extent.
He doesn't get to the rim in the half-court all that prolifically for that reason, and is just an average finisher when he does, making 53% of his shots around the basket, a fairly average rate for a player with his physical tools. Part of that is due to his still-developing frame, some of that is because of his extreme reluctance to finish with his right hand, and part is because he simply isn't the type of monster leaper vertically to overcome those challenges at this stage of his career against a rotating defense waiting for him in the paint.
Oubre doesn't compensate for that with a tremendous feel for creating offense for his teammates, as his 8% assist percentage ranks last among wing players in our Top-100 prospect rankings. He is a reluctant passer at times, but also doesn't have a great understanding of time, score, and situations at this stage, which hopefully will improve as his career moves on. While defensively he should be able to defend both wing positions in the NBA, offensively he is more of a small forward right now due to his average shot-creation ability for himself and others.
Oubre wasn't ready to be a go-to guy for Kansas as a freshman, and shouldn't be expected to be anything close to that as a NBA rookie. While he is extremely gifted physically and is blessed with a great deal of natural talent, he'll need to get much more consistent with his approach to the game, and improve his overall awareness and polish on both ends of the floor to reach his very high potential down the road.