Andrew Wiggins
Recent Tweets
All Tweets
DraftExpress: RT @JayJayUSATODAY What's Andrew Wiggins think about NBA teams possibly tanking to try & get him? "That's risking a lot for one player!" h\u2026
2013-07-17 13:05:23
DraftExpress: What's Andrew Wiggins think about NBA teams possibly tanking to try & get him? "That's risking a lot for one player!" http://t.co/sQBza6pJii
2013-07-17 12:20:53
DraftExpress: Andrew Wiggins isn't wasting any time putting on a show for Kansas' fans http://t.co/aSKHx0Vu7h (via @JasonKingESPN)
2013-06-19 18:04:44
DraftExpress: Bummer. Andrew Wiggins pulls out of Canada's U19 World Championship training camp. Wants to focus on Kansas http://t.co/dgmpmMpwoU
2013-06-09 03:01:19
DraftExpress: Canada released their preliminary U19 World Championship roster. It includes Andrew Wiggins. All U19 WC Rosters here http://t.co/FOPqsnTfKf
2013-06-06 13:42:22
Team: Kansas, Freshman
Physicals
Positions
Rankings
Misc
H: 6' 8"
W: 197 lbs
Bday: 02/23/1995
(19 Years Old)

Current: SF
NBA: SF
Possible: SF

Pick: 1 in 2014 Mock Draft
Rank 1 in Top 100 Prospects
Rank 2 in NCAA Freshmen
RSCI: 1

High School: Huntington Prep
Hometown: Toronto, ON

Predraft Measurements
| Year | Source | Height w/o Shoes | Height w/shoes | Weight | Wingspan | Standing Reach | Body Fat | No Step Vert | Max Vert |
| --- | --- | --- | --- | --- | --- | --- | --- | --- | --- |
| 2013 | Hoop Summit | NA | 6' 8" | 197 | 7' 0" | NA | NA | NA | NA |
| 2012 | LeBron James Camp | NA | 6' 7" | 196 | 6' 11" | NA | NA | NA | NA |
| 2012 | Hoop Summit | NA | 6' 7" | 195 | 6' 11" | NA | NA | NA | NA |
| 2011 | LeBron James Camp | NA | 6' 7" | 190 | 6' 11" | NA | NA | NA | NA |



Basic Per Game Statistics

- Comprehensive Stats - Statistical Top 25s
| Year | League | Name | GP | Min | Pts | FG | FGA | FG% | 2Pt | 2PtA | 2P% | 3Pt | 3PtA | 3P% | FTM | FTA | FT% | Off | Def | TOT | Asts | Stls | Blks | TOs | PFs |
| --- | --- | --- | --- | --- | --- | --- | --- | --- | --- | --- | --- | --- | --- | --- | --- | --- | --- | --- | --- | --- | --- | --- | --- | --- | --- |
| 2013/14 | NCAA | Andrew Wiggins | 35 | 32.8 | 17.1 | 5.4 | 12.1 | 44.8 | 4.2 | 8.5 | 49.3 | 1.2 | 3.6 | 34.1 | 5.0 | 6.5 | 77.5 | 2.2 | 3.7 | 5.9 | 1.5 | 1.2 | 1.0 | 2.3 | 2.7 |

Player Page&nbsp&nbsp| Player Stats | Mock Draft History | Related Articles&nbsp&nbsp| Add to My Draft Express&nbsp
&nbsp
Andrew Wiggins Scouting Report and Video Breakdown
March 26, 2014
Andrew Wiggins' NCAA career likely ended last weekend with a loss to Stanford in the Round of 32. We can now take a step back and conduct an inventory of everything he displayed this season as an NBA prospect, as well as the things he still has to improve on.


---
-Elfrid Payton Scouting Report and Video Breakdown
-Marcus Smart Scouting Report and Video Breakdown
-NBA Draft Prospect of the Week: C.J. Wilcox (Video Scouting Report)
-NBA Draft Prospect of the Week: T.J. Warren (Video Scouting Report)
-NBA Draft Prospect of the Week: A.J. Hammons (Video Scouting Report)
-NBA Draft Prospect of the Week: K.J. McDaniels (Video Scouting Report)
-NBA Draft Prospect of the Week: Deonte Burton (Video Scouting Report)
-NBA Draft Prospect of the Week: Noah Vonleh (Video Scouting Report)
-NBA Draft Prospect of the Week: Nik Stauskas (Video Scouting Report)
-NBA Draft Prospect of the Week: Aaron Gordon (Video Scouting Report)
-NBA Draft Prospect of the Week: Clint Capela (Video Scouting Report)
-NBA Draft Prospect of the Week: Thanasis Antetokounmpo (Video Scouting Report)
-NBA Draft Prospect of the Week: Shabazz Napier (Video Scouting Report)
-NBA Draft Prospect of the Week: Bogdan Bogdanovic (Video Scouting Report)
-NBA Draft Prospect of the Week: Joel Embiid (Video Scouting Report)
-NBA Draft Prospect of the Week: Julius Randle (Video Scouting Report)
-NBA Draft Prospect of the Week: Jabari Parker (Video Scouting Report)
-Revisiting Giannis Antetokounmpo (Video Scouting Report)
-Revisiting Damian Lillard (Video Scouting Report)
-Revisiting Nikola Mirotic (Video Scouting Report)
-Revisiting Alexis Ajinca (Video Scouting Report)
---


Wiggins has everything you could hope for in a wing prospect physically, as he sports excellent size (6-8 in shoes) and length (7-0 wingspan), and is an elite athlete. His frame is on the narrow side, but will undoubtedly fill out as he matures. He's incredibly quick and explosive off his feet, and covers a huge amount of ground with his ridiculously long strides, which allow him to get from the 3-point line to the rim with just one dribble, and makes him a lethal threat in transition (1.3 PPP, fourth best among DX Top-100 Prospects). His body control is excellent and he has a devastating second jump, which gives him excellent potential as an offensive rebounder as well.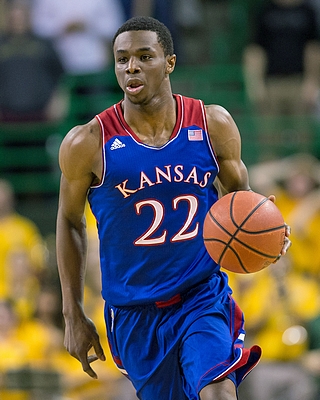 US Presswire



Wiggins is very much an unrefined offensive player, but still scored a solid 21 points per-40 minutes as a freshman, even if his usage rate and efficiency were average. He's for the most part a straight-line ball-handler, as the ball slows him down and doesn't do a great job changing speeds or directions, particularly with his off hand, but is capable of getting inside the paint effectively regardless thanks to his exceptionally quick first step. Even though he tends to shy away from contact at times around the basket, he still got to the free throw line 7.9 times per-40 minutes, and made 78% of his attempts once there, which helped make up for his otherwise unpolished skill-level in the half-court.

As a shooter, Wiggins is somewhat of a mixed bag. His mechanics are very good and he's a capable shooter with both his feet set or off the dribble, even if the results are inconsistent at this point—as he converted just 34% of his 3-point attempts on the year. His shot-selection leave something to be desired at times, he has a tendency for settling for long contested jumpers, but should be able to develop into a very solid outside shooter in time as long as he puts the work in.

Defensively, Wiggins is already extremely effective. His combination of size, length, lateral quickness and solid intensity gives him the potential to develop into a multi-positional lockdown perimeter defender in the NBA, particularly as he matures and gets stronger.

To reach his full potential, NBA teams will want to see Wiggins become more aggressive with the way he approaches the game. He has somewhat of a laid-back demeanor on the floor, which can be seen in the way he finishes around the basket at times, his tendency for shying away from contact, and his propensity for settling for long jumpers. He looks reluctant at times to just explode down the lane and dunk on people, which his physical tools suggest he should be able to much more frequently than he does. Part of that might have to do with his youth, lack of experience and strength.

To his credit, Wiggins only recently turned 19 years old, and is obviously nowhere near a finished product. His tremendous scoring instincts and defensive prowess give him outstanding two-way potential, and that, coupled with his incredibly rare physical tools, makes it very easy to see why he's such a coveted prospect.

Matchups against the likes of Florida, Duke, Villanova, San Diego State, Iowa State, Baylor and Oklahoma State have given us ample opportunity to evaluate Wiggins' very defined strengths and weaknesses as a prospect, which we've done in the following video scouting report, courtesy of Mike Schmitz.



All of our video scouting reports this season can be found here.

[Read Full Article]

---
Nike Hoop Summit Scouting Reports: Wings
April 24, 2013
Jonathan Givony

Andrew Wiggins had somewhat of a quiet showing on the all-star circuit over the past three weeks, not really dominating the competition the way some might expect considering some of the accolades he's garnered. That might be somewhat by design, though, as from watching him closely and interacting with him, it's difficult not to feel like he's deeply fatigued from the three weeks he spent on the road as well as the incredible circus that has surrounded his college recruitment the past few months. Any scout evaluating him for the first time probably didn't come away thinking he's the NBA franchise changer he's been billed as, but that's not really that much of a concern considering he's still at least 14 months away from having to fill that role.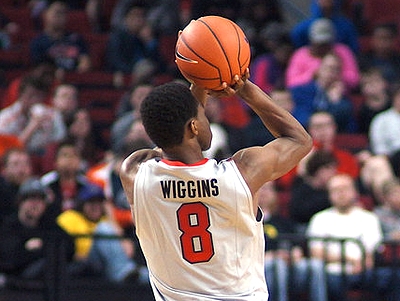 Tim Brown/OregonLive.com



Watching him practice and play in Portland, Wiggins' talent shined through regardless of how motivated he felt to prove himself at any given moment. He measured an inch taller (6-8) and longer (7-0) than he did last year in Portland, although he hasn't added a single pound to his frame since then, and he's still one of the best athletes you'll find in the world outside of the NBA. Wiggins has the ability to create his own shot at will with an array of jukes, shakes, hesitation moves and amazing body control, even if his ball-handling skills in the half-court still haven't quite caught up. He's dynamite in transition and very capable of finishing effectively in the half-court as well since he can simply rise up over the top of the defense and wait until traffic has subsided before elegantly laying the ball in.

His perimeter shooting is getting more and more consistent as time goes on, as his mechanics have improved and most importantly his release point is getting higher and quicker. His pull-up jumper is becoming a more dangerous weapon as well, aided greatly by the fact that he can simply rise up on a dime and elevate over defenders before throwing the ball in the basket. The touch he shows on his jump-shot leaves a lot of room for optimism regarding how he'll develop in this area down the road.



Not a selfish player by any means, Wiggins looked more than happy creating for others over the course of the week, seemingly taking pleasure in taking the attention off him for once.

Defensively, Wiggins has all the tools to be a menace at his position, with his long arms, excellent size and terrific athleticism, but didn't seem to put all that great of an effort in at most of the events we've seen him at over the past year. He rarely gets into a stance and seems pretty non-chalant in his overall approach, but that likely has more to do with the settings he's played in and what's being demanded of him more than anything.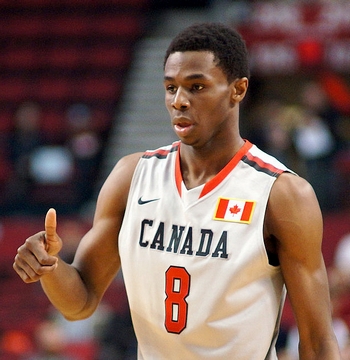 Tim Brown/OregonLive.com



All in all, nothing Wiggins has shown on the court leads us to believe there is a better NBA prospect anywhere in high school basketball. There may be some concerns about whether he has the mental makeup and killer instinct needed to (want to) be the go-to star his talent indicates, but it will be much easier to draw further conclusions about that at the college level than right now.

[Read Full Article]

---
2013 Hoop Summit World Select Team Measurements
April 16, 2013
Andrew Wiggins
Height w/Shoes: 6'8
Weight: 195
Wingspan: 7'0

[Read Full Article]

---
Nike Hoop Summit Scouting Reports: Wing Players
April 10, 2012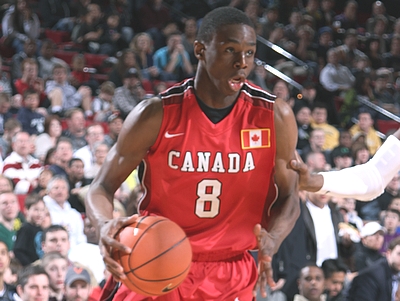 Sam Forencich/USA Basketball



Jonathan Givony

The youngest player at the Nike Hoop Summit, having just turned 17 two months ago, Andrew Wiggins had an incredible week in Portland, showing he's one of the most talented prospects in the world currently outside the NBA.

Measuring 6-7, with a 6-11 wingspan and a terrific frame for a prospect his age, Wiggins clearly has ideal physical tools for a NBA wing. He's a fluid and explosive athlete on top of that, capable of getting to wherever he wants on the floor with his excellent first step and strong leaping ability.

While not yet a dynamic ball-handler in the half-court, Wiggins is a very effective shot-creator thanks to his terrific quickness and scoring instincts. He uses crafty jukes and hesitation moves to get his man off balance and then blow by him, where he can finish above the rim in highlight reel fashion. He's primarily a right-handed driver at this stage, still needing to improve his overall ball-handling skills and ability to play at different speeds, which is normal considering his age. With his size, strength and budding talent, he looks to have outstanding potential in this area, particularly operating in transition.

Wiggins is also a capable shooter, despite possessing somewhat unorthodox mechanics on his jumper, with a low release point. Although streaky at times, he showed the ability to make shots from all over the floor with a compact, consistent motion, and should be able to raise his release as time goes by without too much of a problem.

Defensively, Wiggins has all the tools to be a game-changing presence, with his terrific size, length, frame and quickness. He makes plays on a regular basis here, be it getting in the passing lanes, blocking shots or smothering opponents on the perimeter with his long arms and huge hands. Like many young players, he's a bit naïve at times on this end of the floor, as it's clear he still lacks significant experience here. With added maturity and good coaching, Wiggins has the potential to be a lock-down defender guarding either wing position.

The son of a former NBA first round draft pick, Mitchell Wiggins, and a former track and field Olympian silver-medalist, Marita Payne-Wiggins, Andrew obviously has genetics working in his favor. He has consistently continued to improve every time we've seen him since he was just 15 years old, which combined with his humble off-court disposition, is a great sign for his future. As long as he keeps his head on straight—something that many not be easy with all the attention that will be coming his way--and continues to improve on his weaknesses, the sky is the limit for Wiggins as a basketball prospect. As a high school sophomore, he currently isn't eligible to be drafted until 2015, but should be able to speed up that process by reclassifying to the class of 2013.

Interview:





[Read Full Article]

---
2012 Nike Hoop Summit: International Measurements
April 2, 2012
Andrew Wiggins
Weight: 195 lbs.
Height (w/shoes): 6'7"
Wingspan: 6'11"

[Read Full Article]

---
Jordan Brand Classic International Game: Top Prospects
April 20, 2011
Jonathan Givony

Andrew Wiggins was the top overall prospect at this event, and possibly in all of North America for his age group. This week provided an interesting opportunity to (again) evaluate him at an early stage in his development.

Wiggins has terrific physical attributes for a 16 year old, standing 6-7 with a great frame and smooth athleticism. He has the look of a top-shelf prospect, even if his skill-level is still catching up to his physical tools (as one would expect considering his age).

Wiggins is currently at his best in transition. He has the ability to get to the rim effortlessly and finishes with excellent extension around the basket, sometimes using his body to shield opponents. He makes plays that other players his age simply can't make thanks to his athleticism. He regularly goes out of his area for rebounds and plays in the passing lanes. He plays with intensity.

In the half-court, Wiggins is still a work in progress. He has average ball-handling skills and is a streaky overall shooter, even though it's clear that he's improved his jumper since the last time we saw him. To his credit, he doesn't force the issue very much and has a nice feel for the game.

Defensively, Wiggins has outstanding physical attributes and shows a solid commitment to making his presence felt. He has the size and strength to defend most big men and the length and athleticism to stay in front of perimeter players - something that is a huge advantage at this level.

He was impressive in the game itself as well, scoring 21 points on 9-16 shooting and grabbing 10 rebounds, which proves the hype around him is clearly not unfounded.

Wiggins obviously has a long ways to go, but there's plenty to be optimistic about moving forward if he continues to work hard and stays humble.

[Read Full Article]

---
FIBA U-17 World Championships: Top International Prospects
August 7, 2010
Far and away the youngest player at this tournament at just 15 years old, Canadian Andrew Wiggings nevertheless found a way to help his team in Hamburg and earned himself a solid amount of playing time in turn.

Standing around 6-6 with an amazing frame, long arms and superb athletic ability, Wiggins has all the physical characteristics needed to develop into a big time prospect down the road. His value at the moment lies mostly on the defensive end, where he shows excellent timing and intensity and was able to make a major impact. He blocked a good amount of shots at this tournament and altered plenty more with his terrific length. He displays the type of instincts and patience that could make him a lockdown defender and a coveted prospect down the road, regardless of how quickly his offense develops.

Skill-wise, Wiggins is quite limited (as you might expect considering his age). He shows very little in the way of shooting range and displays poor mechanics on top of that, releasing the ball from the side of his head. His ball-handling skills are a work in progress, even if he did drop some extremely impressive glimpses of potential from time to time, beating his man to the basket with a terrific first step, then elevating and hanging well above the rim for an awesome finish. Even more impressive than that was the maturity and composure Wiggins showed at such a young age. He didn't force the issue in the slightest, making some nice passes and looking like a very good teammate. He was willing to contribute in whatever way he was asked to.

Wiggins is still in a very early stage of his development and clearly has a long path ahead of him, but he's off to a great start and will be in excellent shape as long as he doesn't let the attention he's garnering get to his head.

[Read Full Article]

---