Lester Hudson workout story from IMG Academy
By now you've probably heard of
Lester Hudson
. If you have, you've probably heard about his amazing story: how he failed to graduate from high school or junior college; how he wound up at the University of Tennessee-Martin, and of course, the jaw dropping numbers. In his first three games played at the Division 1 level, Hudson torched national runner-up Memphis for 35 points, and recorded the first quadruple-double in Division 1 men's basketball history. Hudson's journey by now has been recounted by dozens of publications across the country, not that the 23 year old junior is complaining.
"I'm happy everyone knows what I've been through and what I've been able to accomplish," Hudson said. "It's been a great experience for me."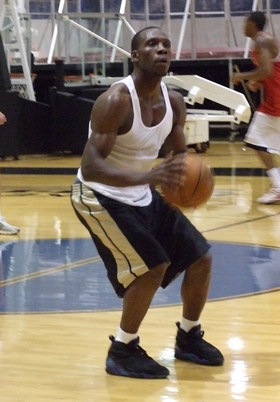 Of course, Hudson's story doesn't end with Tennessee-Martin's loss to Austin Peay in the Ohio Valley Conference Tournament semi-finals; if anything that is where the next chapter begins.
When the season ended, Hudson took about a week off to let his body recover from the thirty-three games he logged this year. Of course, he still had to donate a significant amount of his time to classes and final exams, so Hudson will be the first to tell you, that even once he returned to the court he "wasn't working out as hard as he should have been."
Once he was done with his academic responsibilities, it was off to Bradenton, Florida, home to the famed IMG Academy. Hudson has already been at IMG for two weeks, living and training with other NBA hopefuls including
Courtney Lee
,
Stanley Burrell
,
Reggie Williams
,
Brian Roberts
,
Pat Calathes
and prep big man
John Riek
. While the players have yet to scrimmage against each other in their time together thus far, Hudson stated that it has been a good experience getting to see other elite players working out up close.
At IMG, Hudson's day begins with an 8 AM wake up call in his apartment not far from the academies facilities. He lays out his clothes for the day the night before in order to allow himself enough time to arrive for breakfast at 8:30. After a quick meal, the players have about an hour with the training staff to get taped, stretched, or have any physical issues dealt with before they begin their work for the day.
Hudson spends time in the weight room and on the court six days a week. Mondays, Wednesdays and Fridays he does his lifting session first, while on the other days he works out on the court first.
"They've got six different hoops in the gym, so sometimes you'll be working alone, sometimes with a partner. We'll have partner shooting, or working on your own with a coach. We do a lot of other individual drills as well."
While Hudson's goal is to improve every aspect of his game, he clearly stated that as far as his skills, he was most concerned with improving his ball handling abilities. Physically he expressed the desire to become quicker on the floor, because as he puts it, "you can always use more of that."
The day is broken up by a break for lunch, but Hudson is quickly back on the court by 3 o'clock for an afternoon session of further skill work. For a player who explicitly voices his desire to improve every facet of his game, Hudson is swift to list his strengths when asked.
"The way I hustle, play defense and shoot the ball. I can rebound well too. I think one thing they'll really notice about me is how I can get my team involved in the game. I really understand that if a guy isn't touching the ball, or if one of my teammates doesn't feel involved in the game, I need to get him the ball."
He further added a comment that is sure to win him the approval of any future front court teammates:
"I think if a big man on the floor gets a big block on defense or pulls down a tough rebound, he deserves to get the ball on the other end of the floor."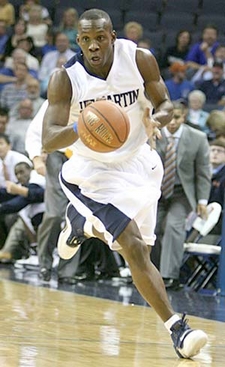 At IMG, Hudson is receiving more than simply physical training; a full staff is working from morning till night, helping him improve both on and off the court. When his day in the gym ends he often then proceeds to a session with a communication skills coach (Steve Shembaum) that the academy has work on preparing the players for life at the professional level. Hudson has been able to gain confidence from working with the coach.
"He really helps you relax when you're talking to the media, which is good because I get real nervous with that; he's really been able to help me."
In addition to the help he receives with his communication skills, Hudson has spent plenty of nights watching players who are already in the limelight. Each night, he and the other players at IMG, sit down with members of the academies staff, including David Thorpe, and break down the NBA playoff games that are on that night. Hudson says he has gained a tremendous amount from these sessions, stating that he has been able to pick up lots of little nuances of the game that will help him on the floor.
Hudson finds himself in an interesting position currently, stuck in the middle of two very important decisions for his future. Despite declaring for the draft, Hudson has yet to sign with an agent, leaving the possibility that he could return to school for a senior campaign. When asked about this, he was adamant in expressing his confidence in pushing forward with hopes of a professional career.
"Right now I feel comfortable because I've been hearing from a lot of teams so far. I think its now up to me to go out and show them that I'm what they need for their organization."
When asked, Hudson was able to produce a long list of team's that had already contacted him in regards to individual workouts, including: Detroit, New Jersey, Denver, Portland, Seattle, Houston, Minnesota, Toronto, Cleveland, San Antonio, Memphis, Boston, Sacramento and Utah.
Certainly the sheer volume of teams that have contacted Hudson so far is a confidence booster for the combo guard, and while he is eager to show off his abilities, he stated he has received some advice that has him leaning towards not playing on the biggest stage for him to showcase his talents: the Orlando Pre Draft Camp.
"It's kind of hard because I want to go and I want to show my skills to all of the GM's that are going to be there. I want to go and perform. But I've been hearing that there might be some negatives for me if I go to Orlando. So I might not go just because I already have so many of these teams asking me to do workouts."
The biggest factor that could hurt Hudson in Orlando is his 6'3" frame. He stated that he knew it was likely he would need to make the shift from combo guard to pure point guard in order to play at the next level, but also pointed out several players in the NBA he could model his game after.
"Really with my size I need to be a true point guard, but being the good scorer that I am, I think it depends on what team I go to. If you look at a guy like
Daniel Gibson
on Cleveland, sometimes Lebron [James] brings the ball up; or on Orlando with [Jameer] Nelson, sometimes [Hedo] Turkoglu brings it up. Regardless I am going to have to learn to play more point guard, because it is the hardest position on the floor."
For now, Hudson's biggest concern is continuing to develop and improve as a player. With all that he has gone through in the last several years, he can look ahead to the future with a perspective that belies his twenty-three years.
"I've just taken everything one day at a time, and moved forward a little bit from where I was the day before. I think I've worked hard and taken advantage of the opportunities that have come my way, now I'm just working hard to give myself the opportunity to get picked in the NBA Draft."