In addition to the high school prospects we had the chance to evaluate on our trip up to the Hoop Hall Classic in Springfield, Massachusetts, the main reason we decided to make the trip was to check in on the progress of 7-2 Sudanese big men
John Riek
, who we first saw at the
Lebron James
Skills Academy in July, as well as the Boost Mobile Classic in October.
Since then, there's been a bit of a storm rumbling in NBA draft circles about Riek, whose handlers have expressed interest in entering his name into this year's draft. The hype around him has been significant, almost damaging when considering the repercussions. Chad Ford had him ranked as a top 10 NBA draft prospect for nearly two months (ahead of established big men such as
Roy Hibbert
,
DeVon Hardin
, and
Brook Lopez
) before even watching him play once, Rivals.com had him slotted as the #1 Center in the 2008 high school class, and Jeff Goodman of Fox Sports went even further and stated that he may even have a chance to be the #1 overall pick. This probably ended up hurting Riek more than it helped him, as it forced NBA scouts to go evaluate Riek in mass, and created unrealistic expectations that he never had any chance of being able to satisfy—and thus spawned a backlash.
When we first went to evaluate Riek back in July at the LeBron Nike Camp (
part one
, and
part two
) it was on the basis of taking a look at a completely unknown high school junior, who was very raw, but managed to hold his own against top prospects--and seemed to have outstanding potential to develop in the future due to his physical tools combined with the sheer tenacity in which he played with. In short, we went in expecting nothing, and came away having clearly seen
something
.
Since the ante has now been upped (to crazy and quite irresponsible talk about possibly being the top center in this draft), and he's now a post-graduate rather than a junior, NBA scouts and executives went in expecting to see something completely different (a top 10 pick worthy player essentially)--and the feedback has unsurprisingly been absolutely awful, almost unanimously across the board. "Possibly the worst prospect I've seen this year," said one Eastern conference scout, "absolutely awful" complains another, "I wouldn't take him with a top 10 pick in the D-League draft" a third chimes in. Others were more cautiously optimistic, although there is not one person we spoke with who came away from seeing him over the last two months actually impressed by him.
The truth, as we found out in Springfield, lies somewhere in the middle.
Before we begin discussing Riek's prospects as a potential NBA draft pick, we must first look at how he got to where he is now. Riek was born in war-ravaged Sudan, and grew and went to high school in Ethiopia after fleeing the country with his family. He began playing basketball in 2001, and was brought to the States just one year ago, in January of 2006, by an intermediary of a high school in New York, Our Savior New American, which has become known as a bit of a factory for African 7-footers, for better or for worse.
After a bit of a squabble, and a lot of back and forth, Riek finally transferred to Winchendon this summer, thanks to the help of two new people that have taken over his inner circle—Gary Lorden and Fatah Muraisi, via another one of Muraisi's Sudanese projects, Mustafa Al-Sayyad. There is some controversy surrounding the circumstances, but that's not really all that important for the purpose of this story. The articles in the Boston Globe and Sports Illustrated go into a lot more depth than we ever could, and are extremely well done. An August 21st article in the New York Daily News, however, is slightly less flattering.
The bottom line is that after spending only one year in the US, there is no question that culturally, there will obviously be a huge adjustment for Riek to make. Any NBA team that decides to draft him will have to realize that, as there is a great deal of work that needs to be done with him, not just on the court, but especially off it, where anyone that has spent time with him says he also lacks plenty of polish.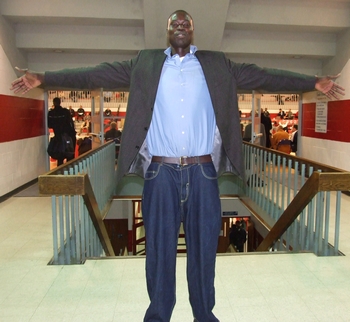 Physically, there is no question what Riek brings to the table. Standing 7-2 with an excellent frame and an incredible 7-8 ½ inch wingspan, he has game changing potential just by standing in the paint with his arms outstretched. His upper body looks pretty well developed, but his lower body still needs plenty of work, and his conditioning is incredibly poor. When Riek walked onto the court for warm-ups in Springfield (he got about 3/4ths of the way before he realized that he needed to get rid of the water bottle that was in his hands) he made an incredible impression on first glance, but quickly needed to sit down after just a few minutes in the layup-line, as he was drenched in sweat and just could not continue.
The first thing you notice about Riek is that he runs pretty awkwardly (think
Nick Fazekas
or
Hasheem Thabeet
). His feet strangely point outwards in his normal stance and he leaves an impression of being somewhat awkward and uncoordinated, running the floor fairly well with his big, long strides, but certainly not looking very graceful in the process. Defensively, his stance seems pretty strange as well, as he seems to stand in the paint looking more the way you'd expect him to offensively, with his elbows bent and his hands ready to catch the ball, rather than with his arms fully outstretched. Nothing about his game suggests that he's received very much coaching from a young age.
Riek's team, Winchendon, was matched up with arguably the top Prep school in the nation, Patterson, who feature some pretty athletic guards and a decent big man who is undersized and not all that athletic. It was a very close contest, and Patterson pulled it out in the end.
Defensively, Riek didn't make as much of an impact as you may have hoped considering his physical tools. Patterson's guards (especially future Arkansas guard
Courtney Fortson
) regularly took the ball fearlessly right at him and scored quite a few points in the paint, with Riek showing poor timing, awareness, coordination, and reaction time, being called for goaltending violations on at least three separate occasions, and picking up two fouls in the first eight minutes. The game just seemed to be moving too fast for him for the most part, and although he's mobile, he's not an athletic big man in the traditional sense, looking fairly limited getting off his feet for example.
Fundamentally, Riek is light years away. It appears at this point that he's gotten very little actual coaching at any point in his short basketball career, and from what most NBA scouts who have followed him the closest say, he's only regressing lately at Winchendon. Beyond his almost inexplicably bad conditioning, he has very little core strength, and thus almost no balance, causing him to fall over quite easily. He bites on pump-fakes, does not know how to properly use his body, and commits foolish fouls far from the basket, being mostly relegated defensively to standing in the painted area—which is not allowed in the NBA because of the new Illegal Defense rules (3 seconds in the paint). As a rebounder, he boxes out usually, but struggles to go out his area.
Still, you can't ignore the potential Riek has a defensive game-changer at the next level, if he ever figures it out. He plays extremely hard and is not afraid of throwing his body around in the paint and getting dirty, hustling for loose balls, trying to hit the glass (although not always with two hands), showing a mean streak with his pointy elbows (he has an edge to him for sure), and generally looking very committed to doing what it takes to help his team win, within his very obvious limitations at the moment. It would be very interesting to see what he could do if he was able to spend a month or two with a professional trainer who could get him into optimal shape and allow him to play at 100% energy level for 25-30 minutes. We probably saw Riek at 70% in the first half, and then maybe at 40% in the second half, causing him to look quite poor due to fatigue.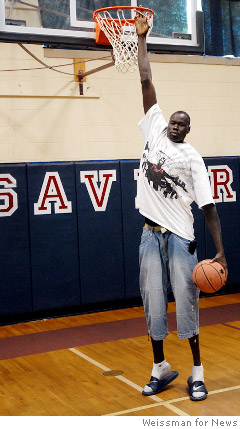 Offensively, there is very little to talk about at this point, and from what we can tell and have learned in the past from similar project players, there probably is not a lot of room for optimism either. Riek's chances of scoring at this level come from somewhat being able to establish position in the paint (not a give-in) and then having his teammate lob the ball over the defense into his outstretched arms for him to put the ball in the net from very limited range. If he has a chance to dunk the ball, he will-- pretty forcefully at that-- aided greatly by the amazing extension he gets thanks to his wingspan.
To his credit, Riek keeps the ball up extremely high (again, his incredible height and wingspan come in very handy here) so no one else can reach it, and then in very mechanical fashion, thinks a little bit and heaves the ball at the rim. This whole process seems to take quite a bit of time, to the point that it's not out of the question that he might get called for a 3 seconds violation in the paint by the time he's ready to shoot. Again, you notice his incredible lack of balance and core strength, making him almost like a human version of the leaning tower of Pisa, ready to fall over at any given moment. In short, he's a turnover waiting to happen at this point. Even passing the ball in simple fashion seems to be somewhat of a struggle. Setting a proper screen or rolling to the basket for a catch and finish (like we saw
Saer Sene
do just a week prior in the D-League Showcase) certainly looks to be out of the question.
Riek's touch in the paint leaves a lot to be desired as well, although there may be some hope for him based off what we saw from the free throw line. He knocked down 6 of his 7 attempts in this game, confirming the notion we got during warm-ups, where he surprisingly knocked down some wide-open jumpers from about 17 feet out, even shockingly sometimes in pull-up fashion. Although his hands looked very poor in this particular game (he bobbled or dropped quite a few balls), people we trust say that they are actually pretty decent, so we'll have to wait for another impression before we make a final judgment here.
Something that is quite encouraging is the fact that Riek does actually want the ball offensively, even if there isn't a whole lot he can do with it unless he's within a few feet of the hoop. Regardless, he will post up strong and call for it aggressively, to no avail sometimes due to his teammates' inability to make proper post-entry passes. In spite of that, Riek looks to have a pretty nice demeanor on the floor. He cheers his teammates on wholeheartedly, looks involved in what goes on in the game, and generally seems to care about helping his team win. That's not always the case from what we've seen with similar prospects in the past.
So where would Riek go in the draft based off what we currently know? That's very hard to say at the moment. He's certainly not the top 10 pick (or god forbid number one) that he's been billed as by some, but there is no question that he has a great deal of potential for the NBA.
Will there be a team (or more importantly, the coaching staff) out there in the first round with the willingness and the patience to invest as much time as he needs them to over the next 3-4 years? The D-League might help, but to what degree? He still needs to pass a rigorous physical, show at least some type of polish in the interview process, and have the conditioning to conduct a 90 minute NBA workout—all big question marks at this point. His age will be heavily scrutinized, especially with the eyebrow raising way he went from being a high school junior to an NBA draft eligible post-graduate seemingly overnight this past summer. It's a very complicated proposition.
Whether it's fair or not, the track record of players in his mold to go through the draft process and develop into contributors is incredibly shaky, which is clearly working against him.
Saer Sene
was a top 10 pick just 18 months ago, but he also got an entire front office fired in Seattle when people saw just how far away he actually was from contributing. We were fortunate enough to watch Sene play twice just days prior to arriving in Springfield to watch Riek, which gave us a pretty good measuring stick to compare their development process. The two will inevitably be compared heavily as we get closer to June. From what we can tell, Sene looks to be further ahead in his development (which is to be expected) and is also probably a better athlete than Riek, although he doesn't play quite as hard as him. We also went to see
Hasheem Thabeet
practice this week, just for good measure, and he looks like the most athletic and well-proportioned of the three, although his hands and motor leaves an awful lot to be desired.
From what we've been told, Riek will be participating at the Nike Hoop Summit in mid-April, which will draw further comparisons with
Saer Sene
, who took this exact route to being drafted in the top 10 after dominating the game on the defensive end. This will give scouts a great opportunity to evaluate him in practice and a real game, and will allow Riek to get the feedback he needs to decide whether to enter this year's draft or not. He also might attend the Jordan Classic at Madison Square Garden. Getting eligible for college appears to be a long shot from what we understand (although stranger things have happened), so if the draft process is not in the cards this year (which might be the case since there is no guarantee that Riek is a first rounder at this point), he might be wise to consider spending another year in prep school, or maybe even going to play overseas for a team with a track record for developing big men. His family's financial situation is a big concern, from what we're told. We'll be monitoring the situation closely, and will surely be out at the Hoop Summit to continue and see how he progresses.
NBA teams who are interested in watching the game we attended in Springfield can find it on Synergy Sports Technology.