Josh Riddell
After a sophomore season where
Michael Frazier
played an integral role for a Florida team that advanced to the Final Four, he struggled in his junior season, with an ankle injury forcing him to miss seven games during conference play. The Gators missed the NCAA Tournament for the first time since 2009m and rather than electing to return for his senior season, the 21 year old Frazier elected to enter his name into the NBA Draft and pursue a career in professional basketball.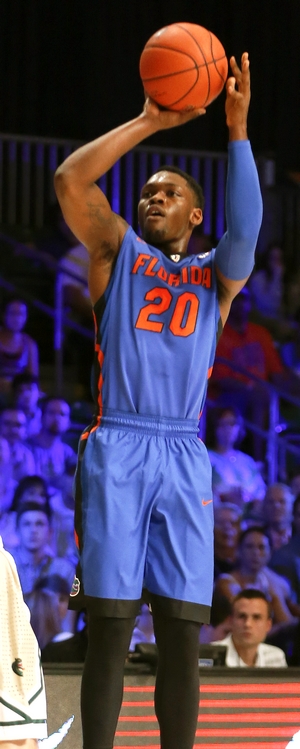 Primarily known for his prowess as a spot-up shooter, Frazier saw his three point percentage drop from 44.7% his sophomore season to 38% his junior season,
an average mark compared to shooting guards in our top 100
. Losing three all-conference teammates allowed SEC defenses to key in on Frazier much more heavily as a junior and prevented him from seeing anywhere near the same quantity of quality looks he enjoyed in his two seasons prior, which played a major role in his percentages dropping, along with his injury problem.
Despite the ball not going through the net as frequently, Frazier continued to show strong mechanics on his jump shot, and as he moves through the pre-draft process he'll need to prove he can stretch the floor consistently and that he is capable of being a lights-out shooter from NBA range.
A bit undersized for a shooting guard, measured at 6'4" when he played for the USA Basketball U19 team in 2013, Frazier has a strong 6'9" wingspan that allows him to play bigger than his size. He's a strong athlete overall, as well, displaying good quickness and explosiveness while possessing a solid frame that should allow him to match up athletically with NBA level shooting guards, certainly those on reserve units.
While mainly a straight line driver, he can step through the defense at times and has the potential to attack off the dribble when opponents run him off the three point line. While he showed some potential in this area, he didn't attack the rim often as he attempted just 39 attempts at the rim where he shot 53.8% according to Synergy Sports Technology. Frazier will also need to show he can attack closeouts off the dribble when defenses take away his jumper to give him a counter move and another way to contribute offensively. He has the athletic tools to be a capable finisher at the rim although his size indicates he should consider developing a floater as well.
While his junior season offered up the opportunity to step into a larger scoring role after the graduation of
Casey Prather
,
Patric Young
and
Scottie Wilbekin
, Frazier's shot attempts remained level, increasing just slightly from 12.2 to 12.7 per 40 minutes pace adjusted. At this point, he looks to be strictly a complimentary floor spacer. The fact that he moves well without the ball, both spotting up and coming off screens to put himself in passing lanes, certainly helps his cause.
Defensively, Frazier can use his length to bother opposing shooting guards but being slightly undersized may hurt his ability to be a plus defender. While his overall athletic tools are on par with many shooting guards, he doesn't show multi-positional versatility. With that said, he has learned under a strong defensive coach in
Billy Donovan
and puts in a concerted effort on this end by moving laterally well, closing out strong and rotating crisply to be both a solid on and off ball defensive player. He will need to contribute on defense to work his way into a NBA rotation.
Frazier has some potential as a spot-up shooter who plays capable defense, which is an increasingly important role in today's NBA, and the weakness of this year's draft class at his position will certainly bolster his chances of getting picked. Even if he does not on his first go-around, he will get many opportunities in summer league and training camp due to his shooting prowess, and if he puts in work to round out the rest of his game, either in the D-League or elsewhere, he could certainly emerge as a viable NBA player later in his career.