Michael Frazier
Recent Tweets
All Tweets
DraftExpress: Players who went undrafted Jonathan Holmes Christian Wood Robert Upshaw Mam Jaiteh Michael Frazier Aaron Harrison Vince Hunter more
2015-06-26 00:21:36
DraftExpress: I think not only will he makes it he plays a key role. RT @CoryMcKnight Any chance Michael Frazier doesn't make it? Need his shooting.
2013-06-16 14:53:46
DraftExpress: Ryan Arcidiacono Damyean Dotson Michael Frazier Marcus Georges-Hunt Aaron Gordon Jerami Grant Montrezl Harrell Jahlil Okafor (cnt'd)
2013-06-16 14:47:40
Team: Los Angeles
Physicals
Positions
Rankings
Salary
Misc
H: 6' 5"
W: 199 lbs
Bday: 03/08/1994
(21 Years Old)

Current: SG
NBA: SG
Possible: SG

RSCI: 91

Agent: Matt Ramker

High School: Montverde Academy
Hometown: Tampa, FL

Predraft Measurements
| Year | Source | Height w/o Shoes | Height w/shoes | Weight | Wingspan | Standing Reach | Body Fat | No Step Vert | Max Vert |
| --- | --- | --- | --- | --- | --- | --- | --- | --- | --- |
| 2015 | NBA Draft Combine | 6' 3.75" | 6' 4.25" | 199 | 6' 8" | 8' 5.5" | 7.4 | 24.0 | 35.0 |
| 2013 | USA Basketball | 6' 2.5" | 6' 4" | 196 | 6' 9" | 7' 5.5" | NA | NA | NA |



Basic Per Game Statistics

- Comprehensive Stats - Statistical Top 25s
| Year | League | Name | GP | Min | Pts | FG | FGA | FG% | 2Pt | 2PtA | 2P% | 3Pt | 3PtA | 3P% | FTM | FTA | FT% | Off | Def | TOT | Asts | Stls | Blks | TOs | PFs |
| --- | --- | --- | --- | --- | --- | --- | --- | --- | --- | --- | --- | --- | --- | --- | --- | --- | --- | --- | --- | --- | --- | --- | --- | --- | --- |
| 2015/16 | DLEAGUE | Michael Frazier | 2 | 5.5 | 4.0 | 1.0 | 2.5 | 40.0 | 0.5 | 2.0 | 25.0 | 0.5 | 0.5 | 100.0 | 1.5 | 1.5 | 100.0 | 0.5 | 0.5 | 1.0 | 1.0 | 0.0 | 0.0 | 0.5 | 0.0 |

Player Page&nbsp&nbsp| Player Stats | Mock Draft History | Related Articles&nbsp&nbsp| Add to My Draft Express&nbsp
&nbsp
2015 NBA Combine Interview: Michael Frazier and J.P. Tokoto
May 21, 2015
[Read Full Article]

---
NBA Combine Competitive Action Recap: Day Two
May 16, 2015
14 points, 4 rebounds, 2 assists, 2 turnovers, 2 steals, 4-7 2P, 1-4 3P, 27 minutes

After a strong 17-point outing in the first game (3/5 3P), Michael Frazier put together another strong performance in his team's final contest, showcasing a little more versatility than we had grown accustomed to seeing from him in his three years at Florida. He is a strong athlete who competes hard defensively, which already separates him somewhat from most one dimensional shooters, and he was able to hit a variety of shots in different ways that demonstrated that he may be able to develop into more than just a floor-spacer on offense. Frazier ran off a screen elegantly and hit a beautiful shot with great footwork and balance, and also converted a number of off the dribble jumpers in the mid-range area when the defense sagged off him. Combine all that with very solid measurements for a NBA shooting guard (6-5 in shoes, 6-8 wingspan), and a terrific showing in the shooting drills, and it's easy to point to Frazier as one of the players who helped themselves the most at the NBA Combine this week.

[Read Full Article]

---
Michael Frazier Updated NBA Draft Scouting Report
May 4, 2015
Josh Riddell

After a sophomore season where Michael Frazier played an integral role for a Florida team that advanced to the Final Four, he struggled in his junior season, with an ankle injury forcing him to miss seven games during conference play. The Gators missed the NCAA Tournament for the first time since 2009m and rather than electing to return for his senior season, the 21 year old Frazier elected to enter his name into the NBA Draft and pursue a career in professional basketball.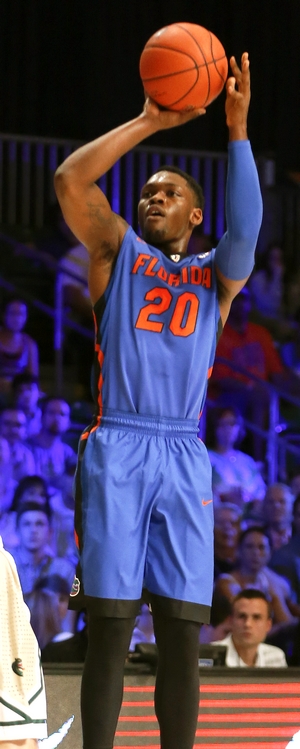 US Presswire



Primarily known for his prowess as a spot-up shooter, Frazier saw his three point percentage drop from 44.7% his sophomore season to 38% his junior season, an average mark compared to shooting guards in our top 100. Losing three all-conference teammates allowed SEC defenses to key in on Frazier much more heavily as a junior and prevented him from seeing anywhere near the same quantity of quality looks he enjoyed in his two seasons prior, which played a major role in his percentages dropping, along with his injury problem.

Despite the ball not going through the net as frequently, Frazier continued to show strong mechanics on his jump shot, and as he moves through the pre-draft process he'll need to prove he can stretch the floor consistently and that he is capable of being a lights-out shooter from NBA range.

A bit undersized for a shooting guard, measured at 6'4" when he played for the USA Basketball U19 team in 2013, Frazier has a strong 6'9" wingspan that allows him to play bigger than his size. He's a strong athlete overall, as well, displaying good quickness and explosiveness while possessing a solid frame that should allow him to match up athletically with NBA level shooting guards, certainly those on reserve units.

While mainly a straight line driver, he can step through the defense at times and has the potential to attack off the dribble when opponents run him off the three point line. While he showed some potential in this area, he didn't attack the rim often as he attempted just 39 attempts at the rim where he shot 53.8% according to Synergy Sports Technology. Frazier will also need to show he can attack closeouts off the dribble when defenses take away his jumper to give him a counter move and another way to contribute offensively. He has the athletic tools to be a capable finisher at the rim although his size indicates he should consider developing a floater as well.

While his junior season offered up the opportunity to step into a larger scoring role after the graduation of Casey Prather, Patric Young and Scottie Wilbekin, Frazier's shot attempts remained level, increasing just slightly from 12.2 to 12.7 per 40 minutes pace adjusted. At this point, he looks to be strictly a complimentary floor spacer. The fact that he moves well without the ball, both spotting up and coming off screens to put himself in passing lanes, certainly helps his cause.

Defensively, Frazier can use his length to bother opposing shooting guards but being slightly undersized may hurt his ability to be a plus defender. While his overall athletic tools are on par with many shooting guards, he doesn't show multi-positional versatility. With that said, he has learned under a strong defensive coach in Billy Donovan and puts in a concerted effort on this end by moving laterally well, closing out strong and rotating crisply to be both a solid on and off ball defensive player. He will need to contribute on defense to work his way into a NBA rotation.

Frazier has some potential as a spot-up shooter who plays capable defense, which is an increasingly important role in today's NBA, and the weakness of this year's draft class at his position will certainly bolster his chances of getting picked. Even if he does not on his first go-around, he will get many opportunities in summer league and training camp due to his shooting prowess, and if he puts in work to round out the rest of his game, either in the D-League or elsewhere, he could certainly emerge as a viable NBA player later in his career.

[Read Full Article]

---
Top NBA Prospects in the SEC, Part Eleven: Prospects #14-17
September 29, 2014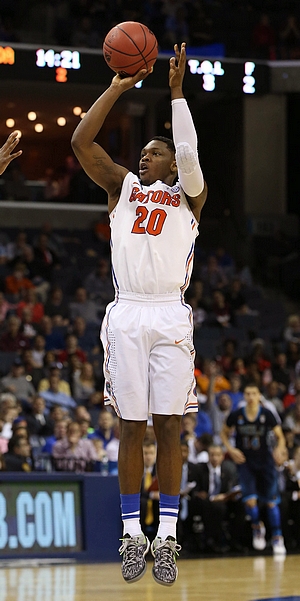 US Presswire



Matt Kamalsky

Last time we checked in on Michael Frazier, he was fresh of a strong performance at the U19 World Championship Training Camp. Subsequently making the team and going on to average 6.7 points and 3.1 rebounds per-game as Team USA took gold in the Czech Republic, Frazier returned to Florida last fall poised for a breakout year. Ending the year as the third leading scorer on a balanced and veteran laden team, Frazier was a major bright spot for Billy Donovan's Gators, who went 36-3 and made the NCAA Final Four.

A consensus top-100 recruit in the 2012 high school class, Frazier is a bit undersized for a wing in terms of height, standing just 6'4 in shoes, but his 6'9 wingspan allows him to play a bit bigger defensively. He's also a very good athlete, possessing the fluidity and explosiveness common among NBA rotation players at the shooting guard position.

Offensively, Frazier's role last season, and the skill set he's displayed over his first two seasons with the Gators, was fairly cut and dry. 87.1% of Frazier's field goal attempts were jump shots, and his 44% shooting accuracy in catch and shoot situations was among the best marks for a shooter of significant volume in all of college hoops, according to Synergy Sports Technology.

Though Frazier did much of his damage in spot-up and off screen situations, he was also looked to create off the dribble at times, finding largely mixed results. An average ball-handler, Frazier did not prove very prolific creating high-percentage shots for himself at the rim, though he was efficient when he did find opportunities to score at the rim. Knocking down 34.3% of his jump shots off the dribble, the next step in Frazier's evolution as an offensive player will come in his ability to effectively create his own offense off the dribble.

Accounting for only 14.4% of Florida's possessions according to Synergy Sports Technology, the coming season will present Frazier with an opportunity to take on a bigger role offensively. With Florida's three highest usage players joining the professional ranks, it will be interesting to see how Frazier handles the transition from high-efficiency role-player to go-to scorer, and just how much of the shot creating responsibilities left behind by Scottie Wilbekin he's able to assume.

Defensively, Frazier plays with good energy and fundamentals. A key cog on one of the nation's very best defensive teams, Frazier is a solid team and individual defender. He's not a particularly prolific rebounder, nor does he produce steals at a high rate, but he moves his feet well, works to close out shooters, and rotates fairly crisply on the perimeter. His size may limit him a bit at the next level, and he could stand to fight through screens more aggressively, but he appears to have the right mindset to do well on this end of the floor.

Given the turnover in Florida's starting lineup, Michael Frazier has a lot to gain this season. There's little questioning his chops as a set shooter, which combined with his defensive ability, already makes him an intriguing NBA prospect, but his increased role could help him improve his standing among scouts if he can take advantage of it.

[Read Full Article]

---
USA Basketball U19 World Championship Training Camp Report, Part Two
June 19, 2013
A consistent contributor as a freshman, earning a spot on the SEC All-Freshman team, Michael Frazier came in at a significant advantage having played for Billy Donovan at Florida already. He showed that he's worthy of a roster spot on his own merit here in Colorado Springs, though, quickly establishing himself as one of the best shooters on the team—no surprise considering he shot 47% from beyond the arc this season—but also contributing to his team's ball-movement and putting a strong effort in defensively.



Interview




Frazier is near-automatic with his feet set but can also make a shot with a hand in his face, even if you rarely see him take a bad shot. He appears to be a very good athlete but doesn't show that very often due to his underdeveloped ball-handling skills. All in all, he's not someone that stands out on first glance but is exactly the type of player who can play an extremely important role against international competition on a team like this, simply by spacing the floor, playing solid defense and not making mistakes.

[Read Full Article]

---