E'Twaun Moore is a winner.
Always has been.
As a senior at East Chicago Central High School he guided the Cardinals to a 4A state championship over a North Central team led by future lottery pick and Los Angeles Clipper
Eric Gordon
. His 107 wins in four seasons at Purdue ties him for the most in program history with teammates
JaJuan Johnson
. He has been a part of four NCAA Tournament teams, two Sweet Sixteen teams, a regular season Big Ten championship and a Big Ten Tournament title.
Yet, when the third leading scorer in Boilermaker history looks back on his illustrious career two words ring louder than the rest: what if?
How would Moore's legacy in West Lafayette change had forward
Robbie Hummel
not suffered a torn ACL in back-to-back seasons? How much further could Purdue have advanced in the NCAA Tournament? Would the four-year standout be viewed differently by NBA scouts had he played in a Final Four?
"It's just something you have to live with," says Moore. "I definitely think we're a better team than the results may say otherwise."
Not that Purdue struggled mightily without the services of Hummel, who watched from the sidelines as Moore helped lead the program to back-to-back 25 win seasons and three NCAA Tournament wins in his final two years.
"I think he probably reflects back now and wishes we had a little more luck in that area, but certainly not while it was happening," says Purdue head coach Matt Painter. "I think he was able to make the most of it and I think it helped him in the long run, dealing with that kind of adversity and being held accountable for the extra slack that needed to be picked up."
Moore's numbers improved significantly in each of his final two college seasons, culminating in a senior year in which he averaged 18 points and five rebounds while shooting 40 percent on three-point attempts. His diverse scoring nature, continually improving shooting and prowess as a wing defender on one of the premiere defenses in the country made him one of the most complete players in the Big Ten during his final year.
He and
JaJuan Johnson
formed one of the most lethal scoring duos in the country at nearly 40 points per game, yet there was always a sense that they were coming up short. The omnipresent specter of lost Final Four hopes was personified by Hummel's healing knee watching from the sidelines, a sense that no matter how good Purdue was playing under Moore's leadership, they would never quite meet the bar that so many had set so high.
In many ways those Boilermaker teams serve as a perfect microcosm of the battle he and Johnson now face to achieve their dream of playing in the NBA – overlooked talent that remains lethal. Both earned a slew of postseason accolades, both starred in a conference considered among the best in the nation. Neither is getting serious talk as anything more than a late first round prospect, a fate that carries even more uncertainty in the present in the face of the looming lockout.
"I think I am being overlooked, but I couldn't really say why," says Moore. "Maybe people didn't see a lot of me during the regular season, or they just haven't seen a lot of what I can do well. I'm more athletic than what people think, that's something I think I'll show in workouts."
Painter, who knows the guard's game as well as anybody, sees Moore's value not in individual traits that are often highlighted in the scouting process, but rather the collective body of work. What he lacks in above average size (6-foot-4 in shoes), he makes up for in smarts. What ground he cedes to defenders sans an explosive first step, he takes back with craftiness.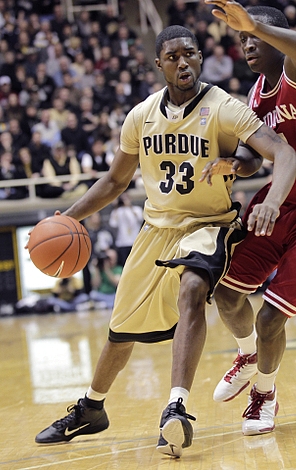 Consistency, Painter says, may be the key to it all though.
"Guys that are that consistent in college for a long run usually wind up being the same way in the NBA. I think when it comes down to it, when you get him into a competitive setting, he's productive and not just scoring the basketball either. He's a winner."
"He beat a lot of guys in college who at the time were considered better. Now he's probably going back into that same boat where people may think he comes up a bit short in some areas, but when it comes down to it, he wins and he produces."
And he understands the game.
The value of character and intelligence are often overlooked by many outsiders in the draft process each season, with more appealing traits like size and wingspan drawing headlines. Yet the rise of players like New York's
Landry Fields
and San Antonio's
Gary Neal
, players grounded in the understanding of their role and limitations, provides evidence that there is something to be said for these characteristics.
An Academic All-American, Moore brings a unique skill to the table in a sea of individuals desperately trying to differentiate themselves from the pack.
"I understand the X's and O's of the game," he says. "I know how to set other people up – being smart definitely adds to the game."
But is it enough to earn him an NBA contract? Moore is firmly planted in the second round in the latest draft projections, a slot that doesn't come with the initial security of a guaranteed contract, but often yields one later in the process. It also means that teams and scouts feel upwards of 40 players in the current draft class are more deserving of a pro career than the Purdue star.
It's a reality that the humble 22-year-old faces with a steely resolve. When asked about his draft status, Moore simply acknowledges the surprising production the second round has produced in recent years and turns the attention back to improving another facet of his game. Moments like this offer a fleeting glimpse in the psyche of a talented young man fighting to achieve a goal in uncertain times.
"He'll act like it rolls off his back, but it bothers him," Painter says. "I think that's what drives him. He's always been that guy who is very good, but there are a few names mentioned before him. I think that's always motivated him to work and he's going to keep using some of those negative comments as motivation."
"He's always been that way."