Joe Treutlein
Landry Fields, 6-7, SG/SF, New York Knicks
10.5 points, 7.6 rebounds, 1.9 assists, 1.1 steals, 1.4 turnovers, 52% FG, 74% FT, 39% 3PT
Undoubtedly the biggest surprise of any player from the 2010 NBA Draft,
Landry Fields
has been an integral part of the New York Knicks' early success, starting every one of their 30 games and in many minds, being the second best rookie in the league to date.
Drafted 39th by the Knicks after not being projected to be picked at all by most services, Fields is certainly a player who "fell through the cracks" somewhere in the evaluation process.
Younger than most players in his class, he saw very little playing time as a freshman and sophomore at Stanford, and didn't do very much to draw attention to himself when he started playing more in his junior season.
By the time he did start producing as a senior, he was putting up big numbers in what was deemed to be a
very weak
Pac-10 conference, and wasn't really on anyone's scouting list to start the season.
Fields wasn't considered more than a fringe prospect for most NBA teams even after his excellent senior season, as evidenced by him not being one of the 53 prospects invited to the official NBA Pre-Draft Camp and Combine--usually a kiss of death for non-International players.
Fields did play at the Portsmouth Invitational Tournament, but barely stood out, not being one of the 12 players (none of whom are currently in the NBA) named to the all-tournament team. He didn't even lead his team in scoring. That honor went to Morgan State's Reggie Holmes, a PIT all-tournament selection, who is now playing in Morocco of all places.
Considering where he started and where he is now, Fields' case might be the most unlikely we've seen in the seven NBA drafts we've covered.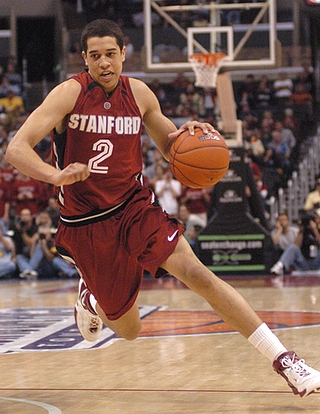 Part One: The Importance of Role
Then:
"As Stanford's clear-cut first option, Fields has been an extremely consistent performer for Head Coach
Johnny Dawkins
through the first few months of the season, posting less than 21 points in only one game thus far, while also leading his team in rebounds and steals.
Fields has blossomed into a major mismatch threat at the college level due to his big wingspan, solid athleticism, and ability to play both inside and outside. However, standing just 6-7 and falling a bit between positions, Fields still has a lot to prove to NBA scouts regarding his pro potential.
After serving a complementary role next to
Lawrence Hill
last season, Fields is the feature player in Stanford's offensive sets, with almost a quarter of his touches coming in pure isolation situations according to the data we have at our disposal."
-NCAA Weekly Performers, December 31, 2009
Now:
In comparing the role Fields played in college to how he has fit in on the Knicks, there really is very little comparison at all, and that alone is a major reason why many people did not see this kind of success coming.
Possibly the biggest change is that of position, where Fields played the 4 in college and was projected as a combo-forward by many scouts, yet he's seen almost all his minutes on the wing in the pros, being a 2/3 if not a pure 2 in many lineups.
While he would've been at a disadvantage from a size, strength, and athleticism standpoint at power forward, his size and strength actually becomes advantage at the shooting guard spot, while he did a good job filling out his frame substantially and maximizing his athleticism over the summer, making him much more attractive in that regard as well.
The data on his isolations alone also tell much of the story, with 148 of his 596 possessions his senior year being of the isolation variety (24.8%), compared to just 23 of 299 in the pros (7.7%).
Fields has literally gone from first to fifth option in his team's starting lineup, and it's made a world of difference in his efficiency and effectiveness, despite the much increased level of competition.
Not really having the advanced ball-handling skills or elite speed to excel in isolation situations, Fields is much more comfortable playing off the ball the way he does with the Knicks, where his offensive duties consist primarily of spreading the floor, knocking down open shots, making flow-of-the-offense passes, and crashing the offensive glass, all of which he has done an exceptional job of.
When Fields is forced to take his man off the dribble, it's often in an up-tempo situation or off a quick series of swing passes around the floor, which means his defender usually isn't fully set in his stance, making him more effective on his forays to the rim. That's not to say role is the only reason he's succeeding however, as Fields certainly brings a plethora of valuable skills to the table, starting with his outside shooting.
Part Two: Perimeter Shooting
Then:
"Though Fields has proven to be a high caliber scorer, he is still not a finished product offensively, especially with the polish he shows from the perimeter. When he isn't able to get close enough to the rim to utilize his floater, he struggles mightily with his pull-up jump shot, displaying a lack of fluidity in his form and a low release point. In contrast, Fields is a passable shooter from a standstill, displaying solid range and the ability to make shots with a hand in his face, a nice tool for him on the occasions that he faces up in the post."
-NCAA Weekly Performers, December 31, 2009
Now:
Possibly the most important area of his game in terms of how he's managed to succeed so quickly, Fields' catch-and-shoot ability from NBA three-point range has been a major part of why his own (and the Knicks') offense have managed to be so successful this season.
The interesting thing about his shooting is despite the NBA three-point line being a few feet deeper than the college three-point line and despite going up against much tougher defenders every night, Fields' 38.7% shooting from three is a higher number than any of his four years in college. As a college senior for example he shot just 33.7% from beyond the arc. He's also making more 3-pointers per game than he did in any of his four years at Stanford, which is something you rarely see.
With this, of course, it's important to look a little deeper, as once again the importance of role has a large impact on how his numbers have improved. According to Synergy Sports Technology, Fields is actually scoring an identical 1.15 points per shot on catch-and-shoot opportunities in the pros as he did in college. The difference in his overall numbers is actually coming as a result of the type of shots he's taking, with him now taking a significantly higher percentage of shots spotting up as compared to off the dribble.
In his senior year, Fields took 73 catch-and-shoot jumpers compared to 67 off the dribble, whereas in the pros he's taken 65 catch-and-shoot compared to just 12 off the dribble. With him scoring an abysmal 0.5 points per shot with off the dribble jumpers, this has been a major boon to his overall efficiency.
In looking at his shooting abilities, Fields is a perfect fit for Mike D'Antoni's Seven Seconds or Less offense, as he has a high and quick release, excellent balance even when on the move, and is extremely disciplined and intelligent in always spacing the floor, staying put behind the arc, and moving to where the offense needs him most.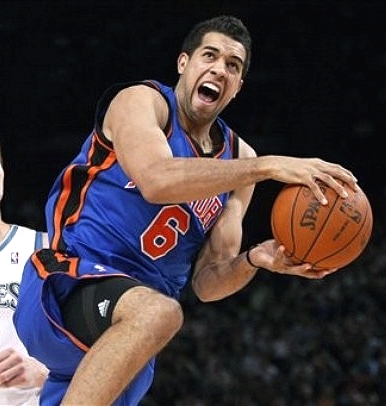 Part Three: Off-The-Dribble Offense
Then:
"Displaying a solid first step, nice ball-handling ability, and a knack for using his length and smarts effectively to get his shot off over defenders, Fields is a tough cover for small forwards, let alone the occasional four-man that steps out to defend him. Able to attack the basket and finish with either hand, he looks equally comfortable driving after facing up in the mid-post or operating from the perimeter. Using jabs and jump-stops very effectively, displaying a nice floater, and showing toughness and creativity around the rim, Fields does an excellent job of creating scoring chances on the interior, as his outstanding 8.6 free-throw attempts per-contest indicate."
-NCAA Weekly Performers, December 31, 2009
Now:
While Fields hasn't done much in terms of shooting off the dribble in the pros, something he struggled with heavily as a collegiate, he does still do a fair amount of damage attacking off the dribble, though only in a way conducive to his strengths.
Fields actually is getting to the rim a more than a decent amount thus far, with him having 93 shots around the basket compared to just 83 jump shots in the halfcourt setting according to Synergy Sports Technology. While many of these opportunities come on offensive rebounds and off-the-ball cuts, Fields also does a good job on quick catch-and-drive opportunities where he can take advantage of his defender rotating from out of position.
Not having elite reactiveness or quickness with the ball, Fields gets by with rangy strides, good body control, and not deviating much from straight-line drives. His straight-line speed is actually pretty good for his size, however, while he has a size and strength advantage over most defenders he faces, both of which in combination with excellent touch contribute to him being a good finisher in the lane.
Fields is also very disciplined in not trying to attack in situations other than quick catch-and-drives, as his athleticism and ball-handling skills don't allow him to do nearly as well in isolation opportunities, where his defender is in stance with his hips squared, something he's not usually capable of getting past.
Part Four: Passing, Rebounding, and Basketball IQ
Then:
"Aside from his ability to put points on the board, Fields impacts the game in a number of other ways. A capable passer and rebounder, Fields displays a good basketball IQ, and while he's not looking to make passes when he puts the ball on the floor, he shows good court vision and will hit the open cutter and deliver crisp passes back out to the perimeter when defenders collapse to deny his penetration."
-NCAA Weekly Performers, December 31, 2009
Now:
Possibly the most underrated aspect of Fields' game as a draft prospect, his overall intelligence and approach to the game has been critical in his early success, as he's played much more like a 10-year veteran than a rookie in his first 30 games in the league. Fields truly embodies the term "glue guy" in that his contributions and positioning on the offensive end really go a long way towards making things easier for the other players on the floor, a big reason he has the highest +/- on the Knicks by a wide margin
according to 82games.com.
Frequently setting up on the wing behind the three-point arc in the halfcourt and in transition, Fields provides floor spacing with his perimeter shooting and an excellent passing cog on swings around the floor, especially considering his extremely high degree of unselfishness and good decision-making. This likewise shows up when he starts attacking the basket, as virtually all of his dribble-drives fall into one of two categories: a straight-line drive all the way to the rim or two dribbles and a kick out to the open man behind the arc because the lane shut down.
The other area Fields make a substantial contribution is on the glass, as his extremely high 7.6 rebounds per game suggest. Taking minutes and pace into account, Fields is actually rebounding at nearly the same rate in the pros as in college despite a move from the frontcourt to the wing, though being on a team that frequently plays small-ball lineups certainly helps him out there.
Regardless, his prowess on the glass is by no means a fluke, as his nose for the ball is as good as anyone's, with him constantly running full speed for the ball the moment it bounces off the rim. Despite not being the quickest or most reactive athlete, this is actually one area where Fields is above average, as his straight line-speed and momentum-driven leaping ability when uncontested is quite good, something that shows up very evidently in these situations.
Part Five: Defense
Then:
"Defensively, Fields successfully uses his length to make an impact in the passing lanes and contest shots. Displaying active hands and a good effort level overall, Fields ranks amongst the top-20 players in steals per-game in our database. Though he doesn't have outstanding lateral quickness, he doesn't get beat off the dribble too often on the NCAA level, and shows good discipline forcing his defender to drive into help and pursuing the ball aggressively off the rim after shots go up."
-NCAA Weekly Performers, December 31, 2009
Now:
Defying his doubters in the pros just as he did in college, Fields continues to more than hold his own on the defensive end despite not having the quickest of feet, being the rare NBA wing who can turn himself into an average to above-average defender despite a lack of great athletic tools. Fields' fundamental base, effort level, and positioning are all outstanding, and the area he surprisingly excels most in is isolations, taking full advantage of the opportunity to get his hips set and in front of his man, rarely being blown by off the dribble. His length helps him out greatly here, as does his massively improved frame, something that has made his transition to the wing easier than expected.
Fields does tend to struggle in other ways, however, not really doing a good job getting around screens either running off the ball or in the pick-and-roll game, though he makes up for it partly with positioning and hustle.
In terms of team defense, he's everything a coach can ask for, constantly keeping his head up watching both his man and the ball, running across the floor to contest open shots, crashing the defensive glass, and always maintaining good position.
Outlook:
Playing for the perfect coach in the perfect role for his skill set, Landy Fields has gotten himself into a great situation for his future, and he should continue to thrive if not improve even more if the situation remains the same. While he may not have had as much success on another team, it's quite clear talent evaluators (ourselves included) sold him short in many areas as a prospect, and it doesn't appear his early success is a fluke. While he likely will never be more than a great role player, Fields can still continue to improve with his shooting and ball-handling, while more experience can only make him a smarter player than he already is.