Jonathan Givony
By passing up the opportunity to be picked in the first round of last year's draft, an onerous burden was placed on
Chris Singleton
to become the go-to guy for Florida State and satisfy inevitably high expectations from NBA scouts, the national media, his coaching staff and Seminole fans.
This was the season Singleton needed to transform himself from prospect to productive player.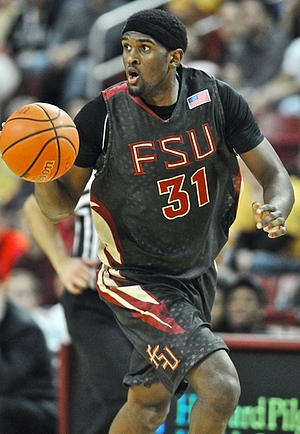 Despite seeing slightly less playing time this season (likely due to foul problems), Singleton's scoring rate is up substantially, as are his rebounding numbers, steals, blocks, field goal percentage, 3-point percentage, free throw percentage and usage.
The 'Noles boast an 11-3 record, with one quality win on their resume already—a victory over Baylor in Hawaii -- and a handful of "acceptable" losses to Ohio State, Butler and Florida.
Numbers aside, Singleton's biggest asset as a NBA prospect remains his prototypical physical attributes. Standing somewhere between 6-8 and 6-9, with long arms, a well-built frame, and outstanding athleticism, he looks the part of a modern-day NBA forward — a la
Josh Smith
,
Rudy Gay
and
Gerald Wallace
.
His skill-level, however, has taken slightly longer to come along, as you can probably guess by the 49.6% he shot from the free throw line last season.
Singleton is still not what you would call a great offensive player, but he has made incremental improvements that have helped him become a more efficient scorer. That's not an easy thing to do playing in an offense that ranked last in the ACC last season (130th in the NCAA) in offensive efficiency, and would be
well on its way
to repeating that feat if the conference wasn't so down this year.
Singleton's jump shot is a good place to start since it will be crucial to the success he enjoys as an NBA player. He's taking slightly less of them this year but is making the ones he does attempt at a better rate. He has nice shooting mechanics (albeit with an average touch), so it was only a matter of time until this started happening, especially once his shot selection improved. Through 14 games, Singleton has converted 24 of his 62 jump shots (39%), up from 36-of-134 (22%) last year – a major improvement.
Digging deeper, we find that he's simply been a lot more effective spotting up with his feet set this season, converting nearly half of his attempts of this nature (as opposed to 29% last season). Considering his likely role in the NBA, that's a very encouraging development. Can he continue to shoot like that for the rest of the season and in private workouts for NBA teams?
Another positive development revolves around Singleton's post-up game. We've seen a lot more of him on the block this season, and he's enjoying greater success there. With the huge size advantage he enjoys on a nightly basis at the small forward position, and even at the power forward position at times, where he's playing a lot more this year, there's no reason he shouldn't be doing this even more.
On a similar note, Singleton's offensive rebounding production has also improved. Given his tremendous physical tools, scouts have always wanted to see Singleton show better effort and toughness and be more willing to go inside the paint to make his presence felt, and they are finally getting their wish.
As a slasher, Singleton remains below average. He does not have the ball-handling skills needed to create his own shot on a consistent basis. He struggles to change speeds and directions with the ball, which hampers him from taking full advantage of his excellent physical tools. He isn't able to get to the rim and utilize his explosiveness as much as you might hope, often settling for off-the-dribble jumpers instead, which are definitely not his strength.
This is a big reason why he projects as more of an off-the-ball role player than someone expected to carry a heavy offensive load in the NBA. Clearly he would be best suited playing on an up-tempo team that likes to get out in transition, alongside a point guard who can get him the ball in a position to score. In his current situation at Florida State, with its slow and disjointed offense, it's tough to imagine that at times.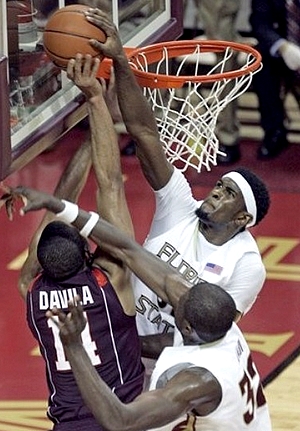 Rather than trying to outscore opponents, it's on the defensive end where the Seminoles really make their mark. They ranked
#1 in the NCAA last year
in that category, according to kenpom.com, and are currently in
the top 5 this season
once again. This is the place where Singleton will help an NBA team the most right off the bat. Any team looking to improve on defense will be wise to give him a serious look.
With his terrific size, length, lateral quickness and intensity, Singleton puts tremendous pressure on the ball and is an absolute menace in passing lanes. He gets his team tons of extra possessions every game with his ability to collect rebounds, blocks and steals, and is the type of player who would have no problem guarding multiple positions at the NBA level —be it face-up 4's, shot-creating wings, back-to-the-basket forwards, or even switching out onto quicker guards on the perimeter (if that's how his coach elects to defend the pick-and-roll). This type of versatility makes him extremely attractive in today's NBA.
Singleton has done a good job of polishing his all-around game and is making a compelling case for himself as a potential lottery pick. How he finishes the season from an individual and, more importantly, a team perspective will play a large part in how he's ultimately perceived as a draft prospect.
Although he clearly has his flaws, players of Singleton's nature who are capable of locking down multiple positions, rebounding out of their area and scoring in transition (off cuts to the basket and second chance opportunities on the offensive glass) are valuable assets. If Singleton can develop into a reliable spot-up shooter on top of that, he'll have a long and productive NBA career.
Edited by
Patrick Crawley
, Sports Editor for
Neon Tommy
and Managing Editor of
Basketball Fiend
.