Gorgui Dieng is one of the top big men in the 2013 Draft. How do his age and upside impact his stock and contrast with his ability to have an immediate impact?
Gorgui Dieng, 6'11, Junior, Center, Louisville
Scouting Report by Matt Williams. Video Analysis by Mike Schmitz
Establishing himself as one of the best centers in the country,
Gorgui Dieng
played a key role in guiding Louisville to a National Championship as a junior with his inspired play despite breaking his wrist just five games into the season. Less than four years removed from being named MVP of the 2009 Basketball Without Borders event in South Africa and subsequently enrolling in prep school in the United States, the once raw, skinny big man has grown into a very mature player with his combination of length, defensive ability, and unique, albeit still fairly unpolished, offensive skillset.
Video Analysis
More Video Scouting Reports
Dieng's intrigue as an NBA prospect starts with his prototypical size and length for the center position. Standing 6'11 with a 7'4+ wingspan, he's added nearly 50 pounds to his frame since arriving in the USA, and although he could still stand to pack on more muscle to both his upper and lower body, he certainly passes the look test at this point more easily than he did as recently as a year ago.
On top of his sheer size, Dieng is also a solid athlete for a near 7-footer, possessing good quickness and leaping ability to go along with a strong motor. His mobility is noticeable in his rebounding ability, but even more so on the defensive end, where he did a tremendous job last season protecting the rim behind Louisville's aggressive perimeter players in Rick Pitino's zone and when defending one-on-one en route to being named Big East Defensive Player of the Year.
The anchor of the #1 ranked defense in the country, Dieng averaged an impressive 3.2 blocks per-40 minutes pace adjusted as a junior. While he doesn't rank as well nationally as he did as a sophomore when he blocked 3.8 shots per-40 pace adjusted, he's a very capable weakside shot-blocker with excellent timing who has learned to patrol the paint without fouling or goaltending as much as he did in the past.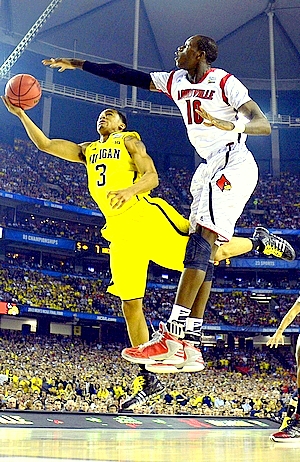 As a one-on-one defender, Dieng shows impressive intensity and held his own at and away from the rim at the college level. He still bites on fakes and gets beat on quick, powerful post moves on occasion, but does a very good job of battling on the block on the whole. He also had some impressive moments defending the perimeter this season as well, doing a good job of getting low and moving his feet when switched onto a guard. Moving forward, Dieng would benefit from getting stronger and more disciplined to help him make the transition to defending the bigger, more skilled post scorers he'll encounter in the NBA, but he's clearly on the right track.
On the offensive end, Dieng's role as a junior remained largely unchanged from the one he played during the majority of his sophomore year, revolving primarily around his score to play off the penetration of his teammates, create opportunities for himself by crashing the boards, and make the most of a few touches in the post each game. On paper, Dieng's scoring numbers climbed only marginally this year. His points per-40 pace adjusted rate improved from 10.8 to 12.3 and his points per-possession jumped from 0.893 to 0.927 according to Synergy Sports Technology.
The 2013 All-Big East 1st Team selection did the majority of his damage in the immediate vicinity of the rim this season, with most of his scoring opportunities created by his teammates. After shooting 59% around the basket last season, Dieng's conversion rate in close jumped to 66% this season as he looked a bit more under control in traffic than he did a year ago. Able to finish above the rim with a dunk or through contact with his improved touch and frame, Dieng is a big, active target working off the ball and in the two-man game.
With his back to the basket, Dieng took a step back in terms of productivity this season, converting just 28% of his attempts from the post, rarely getting the rolls or deep position that helped him shoot 48% last year. Lacking much in the way of counter moves and seldom using his left hand to score after breaking his left wrist, Dieng's footwork looked a bit rangier on some of his post moves, but he did not appear comfortable improvising one-on-one. He flashes deft touch on his right-handed hook shot and will drop in a turnaround jumper from time to time, but until Dieng can become less predictable and yield more consistent results, he'll continue to face questions about his ability to contribute offensively on the block at the next level.
Where Dieng did show some promise offensively last season was as a midrange threat with his spot-up jump shot. Knocking down 15 of the 23 jumpers he attempted over the last 15 games of the season and 50% of his 42 attempts overall, Dieng shoots the ball with his high release point and found fairly consistent results when he could catch and shoot in rhythm. Considering the sample size and Dieng's 65% shooting from the foul line, it remains to be seen how prolific Dieng can be away from the basket immediately, but the flashes he showed leave a lot of room for optimism.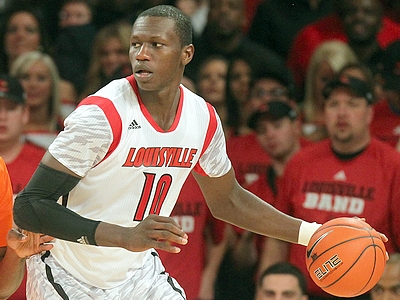 Perhaps Dieng's most unique attribute as a player is his ability to use his size to his advantage and make sound decisions as a passer. For a prolific shot blocker, Dieng's ability to distribute the ball places himin rare company among NCAA shot-blocking centers from the BCS in the last decade with a positive assist to turnover. Averaging 2.5 assists per-40 minutes pace adjusted, Dieng' is not an unprecedented passer for a big man, but he possesses terrific vision, does a good job delivering crisp passes in close, and had some exceptional stretches picking apart zone defenses from the high post. Even putting the ball on the floor and attacking the rim in a straight line from time to time, Dieng will flash some talents with the ball that most defensive-oriented centers at the college level lack.
Already 23 years old, Dieng is currently the second oldest player slated to be picked in our 2013 mock draft. Though that limits his perceived upside, his steady improvement in each of his seasons at the college level leaves some room for optimism looking ahead. Considering his size, athleticism, defensive ability, and effort level, the Senegal-born center is one of easier prospects to pencil into an immediate role among those slated to be available in the middle of the first round in this draft. Possessing many of the tools necessary to find early minutes as a backup center, it will be interesting to see how teams value Dieng's readiness but lack of elite upside as we head towards the draft as well as where his work ethic takes him as he prepares for the draft in the coming months.