Oklahoma State's
Marcus Smart
has emerged as one of the most polished freshmen in college basketball. How does his style of play translate to the pro level?
Marcus Smart, 6-4, Point Guard, Freshman, Oklahoma State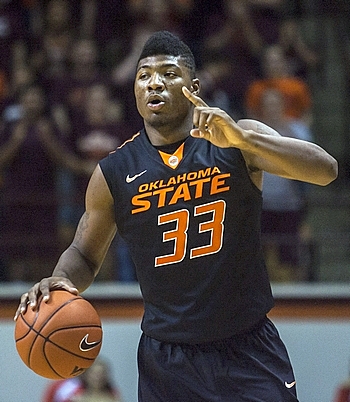 Walker Beeken
Despite some inconsistency, Oklahoma State freshman
Marcus Smart
has garnered buzz as one of the top freshmen in college basketball so far in the early season. A McDonald's All-American who was billed as more of a combo guard coming out of high school, Smart played the point over the summer for the USA Basketball squad that won the U-18 FIBA Americas, and he's had the ball in his hands to run the point from day one for Travis Ford and the Cowboys.
Smart has excellent size for an NBA point guard, standing 6-4 with a very strong, mature, and powerful frame for an 18-year old. While not necessarily the fastest or quickest player at his position, Smart still brings a nice set of physical tools to the table with his combination of size, power, and solid explosiveness. He enhances those tools by playing with tremendous intensity on both ends of the floor.
Smart made a name for himself very early in his college career in a matchup with then #5 ranked North Carolina State in Puerto Rico in November. He put up 20 points, 7 rebounds, 7 assists, 4 steals, and 4 blocks, making plays on both ends of the court and leading the Cowboys to a 20 point blowout over the Wolfpack.
Since then, however, Smart has had mixed results, displaying his great talents while also showing some of his weaknesses. Most notably, he's struggled to knock down shots consistently, much of which can be traced to questionable shot selection, as he's shooting over five 3-pointers per-forty minutes, despite only connecting on 29.5% of those attempts.
He shoots with solid mechanics, good lift, a nice stroke, and shows the ability to shoot off the catch or smoothly pull up off the dribble, but he too often settles for long jump shots, seeming content taking deep contested pull-up jumpers, rather than putting pressure on his defender and attacking the basket.
Smart plays the game at a nice pace and shows great poise for a freshman, but he's also had some trouble taking care of the basketball, coughing it up on almost a quarter of his used possessions so far this season. His handle could use some tightening up, and his decision-making in traffic could also use some work, both of which he should be able improve upon in time.
Off the dribble, Smart has quite a bit of room to grow as he continues to get a feel for when to pick his spots. He isn't the quickest player changing speeds or directions, but he has a powerful first step, which along with his size and mature frame, enables him to get by his man and create space off the bounce. Once he gets in the paint, Smart does a nice job using his strong body to shield defenders, but he lacks a reliable floater and can have some trouble finishing at the rim amongst his trees to due to a lack of great vertical explosiveness, something that he seems to be improving on as the season moves on.
Overall though, Smart has an extremely well-rounded, polished skill set for a player his age to go along with very good scoring and passing instincts, showing the ability create his own shot or find the open man, as he's averaging a solid 5.9 assists per-40, against 3.9 turnovers. He also possesses excellent intangibles, having earned the reputation for being a tremendous teammate, leader, and competitor, who led his team to back-to-back Texas state championships in high school.
Those traits are on display watching Smart on the defensive end, as he seems to relish the opportunity to lock down his man when defending on the ball. He moves fairly well laterally and utilizes his great size, strength, and energy to his advantage. He also shows great instincts, active hands, and a nose for the ball, as his 3.4 steals per-forty pace adjusted ranks him second of all point guard prospects in our top 100 rankings.
Given his competitive nature, it's not surprising that Smart's best games of the season so far have come against their three ranked opponents (including back-to-back close losses in their last 2 games to Gonzaga and at Kansas State), as he's averaged 22.7 points per game in those contests while shooting 58.5% from the field.
It's still very early in the season, as he's only played thirteen college games, but if Smart can continue his momentum through Big 12 play, while shooting the ball more consistently and cutting back on his turnovers, he is a player whose stock could rise quite a bit by the end of the season. He has a unique combination of physical tools, basketball IQ, and skill level for a player his age, and NBA teams will likely love his intangibles and ability to fit into or help develop a winning culture.