Predraft Measurements
| Year | Source | Height w/o Shoes | Height w/shoes | Weight | Wingspan | Standing Reach | Body Fat | No Step Vert | Max Vert |
| --- | --- | --- | --- | --- | --- | --- | --- | --- | --- |
| 2013 | USA Basketball | 6' 2" | 6' 4" | 226 | 6' 8" | 8' 4" | NA | NA | NA |



Basic Per Game Statistics

- Comprehensive Stats - Statistical Top 25s
| Year | League | Name | GP | Min | Pts | FG | FGA | FG% | 2Pt | 2PtA | 2P% | 3Pt | 3PtA | 3P% | FTM | FTA | FT% | Off | Def | TOT | Asts | Stls | Blks | TOs | PFs |
| --- | --- | --- | --- | --- | --- | --- | --- | --- | --- | --- | --- | --- | --- | --- | --- | --- | --- | --- | --- | --- | --- | --- | --- | --- | --- |
| 2013/14 | NCAA | Marcus Smart | 31 | 32.7 | 18.0 | 5.3 | 12.5 | 42.2 | 3.7 | 7.2 | 51.4 | 1.6 | 5.3 | 29.9 | 5.9 | 8.1 | 72.8 | 1.4 | 4.5 | 5.9 | 4.8 | 2.9 | 0.6 | 2.7 | 2.9 |

Player Page&nbsp&nbsp| Player Stats | Mock Draft History | Related Articles&nbsp&nbsp| Add to My Draft Express&nbsp
&nbsp
Marcus Smart Scouting Report and Video Breakdown
March 24, 2014
Marcus Smart's NCAA career likely ended this weekend with a loss to Gonzaga in the Round of 64. We can now take a step back and conduct an inventory of everything he displayed this season as an NBA prospect, as well as the things he still has to improve on.


---
- NBA Draft Prospect of the Week: C.J. Wilcox (Video Scouting Report)
-NBA Draft Prospect of the Week: T.J. Warren (Video Scouting Report)
-NBA Draft Prospect of the Week: A.J. Hammons (Video Scouting Report)
-NBA Draft Prospect of the Week: K.J. McDaniels (Video Scouting Report)
-NBA Draft Prospect of the Week: Deonte Burton (Video Scouting Report)
-NBA Draft Prospect of the Week: Noah Vonleh (Video Scouting Report)
-NBA Draft Prospect of the Week: Nik Stauskas (Video Scouting Report)
-NBA Draft Prospect of the Week: Aaron Gordon (Video Scouting Report)
-NBA Draft Prospect of the Week: Clint Capela (Video Scouting Report)
-NBA Draft Prospect of the Week: Thanasis Antetokounmpo (Video Scouting Report)
-NBA Draft Prospect of the Week: Shabazz Napier (Video Scouting Report)
-NBA Draft Prospect of the Week: Bogdan Bogdanovic (Video Scouting Report)
-NBA Draft Prospect of the Week: Joel Embiid (Video Scouting Report)
-NBA Draft Prospect of the Week: Julius Randle (Video Scouting Report)
-NBA Draft Prospect of the Week: Jabari Parker (Video Scouting Report)
-Revisiting Giannis Antetokounmpo (Video Scouting Report)
-Revisiting Damian Lillard (Video Scouting Report)
-Revisiting Nikola Mirotic (Video Scouting Report)
-Revisiting Alexis Ajinca (Video Scouting Report)
---


Any discussion about Smart's prospects in the NBA have to start with his tremendous physical profile, as it will certainly give him a major advantage at his position and be one of the keys to any success he finds. Standing 6-4, with a 6-8 wingspan and a ripped 225 pound frame, Smart is bigger and stronger than most NBA point guards, and he's not afraid to use that to his advantage.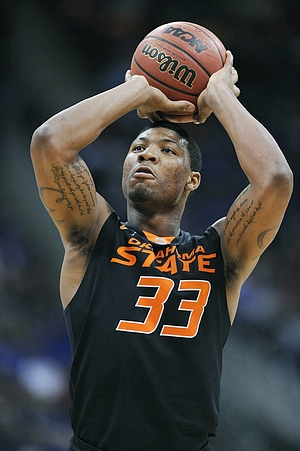 US Presswire



Smart makes a living inside the paint, as he relishes contact and gets to the free throw line nearly ten times per-40 minutes, while finishing 57% of his shots around the basket in the half-court. The role he will play in the NBA appears to be well defined, as he's very good in transition and on the pick and roll, and is more than capable of creating shots for himself and others, something he appears to have improved on in his sophomore year. Smart's assist to turnover and pure point ratio both increased notably this past season, particularly his ability to avoid coughing the ball up, as his turnover percentage decreased from an alarming 19% as a freshman to a much more manageable 14%.

Another area Smart is likely to excel in very early in the NBA is on the defensive end. With his size, strength and length, Smart is capable of guarding multiple positions, which gives his coach nice versatility to take advantage of in different schemes. He even proved strong enough to put a body on big men in certain stretches, showing the type of toughness and competitiveness NBA executives love. On top of that, he brings terrific anticipation skills for blocks, steals and rebounds, hauling in seven boards per-40 minutes and over three steals thanks to the intensity level and timing he displays.

On the downside, Smart still sports a very inconsistent jump-shot, something that didn't really improve from his freshman to sophomore seasons. His shooting mechanics leave a lot to be desired, as he dips the ball violently, and fades forward and sometimes sideways on his release. That wouldn't be that big of an issue if Smart didn't take as many jumpers as he does—nearly half of his field goal attempts came from beyond the arc, and he hit just 30% of them, many being contested ones early in the shot clock.

Smart is not a non-shooter by any stretch, but his poor decision making hampers his percentages significantly. He will have some very ugly low-efficiency nights in the NBA against better-organized defenses until he learns how to reel himself in and plays within his limitations.

Other issues, such as his reputation for flopping, and the very short fuse he showed pushing a fan in the stands at Texas Tech, are ones NBA teams will likely want to explore further during the draft process. This reportedly wasn't the first time he put hands on someone according to what we've been told by reliable sources. Additionally, while many are quick to laud his intangibles as a winner, it's important to note that he did not win a NCAA Tournament game in his two years at Oklahoma State.

With that said, it's difficult not to admire the Joakim Noah style competitiveness Smart brings to the table, which can be very valuable in a long 82 game regular season, particularly for organizations trying to improve their "team culture."

Matchups against the likes of Kansas, Iowa State, Baylor, Gonzaga, Oklahoma, Texas and Memphis have given us ample opportunity to evaluate Smart's very defined strengths and weaknesses as a prospect, which we've done in the following video scouting report, courtesy of Mike Schmitz.



All of our video scouting reports this season can be found here.

[Read Full Article]

---
Top NBA Prospects in the Big 12, Part 1: Marcus Smart Scouting Video
September 24, 2013


Mike Schmitz is the video analyst for DraftExpress. Follow him on twitter and subscribe to the DraftExpress YouTube page. He will be breaking down the NBA draft in digital format all year long for us.

[Read Full Article]

---
2013 FIBA U19 World Championship Interviews: Smart, Donovan, Bolden
July 8, 2013
[Read Full Article]

---
USA Basketball U19 World Championship Training Camp Report, Part Two
June 19, 2013
The leader of last summer's USA Basketball squad that won the U18 FIBA Americas Championship, Marcus Smart was available to join this U19 team after surprisingly electing to pass on entering the 2013 Draft, where he likely would have been a top-5 pick.



Interview




Smart (re)established himself right off the bat as the leader of this team in the first few minutes of scrimmaging after the team was brought together, setting the tone for how this team is going to earn it's keep. He was diving on the floor for loose balls, driving to the rim with reckless abandon, and playing terrific defense on anyone he was matched up against. When your best player is the toughest, most competitive guy in the gym at all times, and is so willing and happy to sacrifice his body for the sake of the team, it makes it that much easier for the rest of the roster to fall in line.

While Smart's jumper wasn't falling all that consistently during the scrimmages, he made up for it in other areas, setting screens, posting up inside, making the extra pass, grabbing offensive rebounds, chasing down blocks in transition, and drawing fouls at will. He is somewhat of a power forward in a point guard's body, seemingly enjoying taking contact around the paint with his ripped frame, playing with terrific aggressiveness and absolutely no ego.

It goes without saying that it's an incredible luxury for the coaching staff and USA Basketball to have a player like Smart leading the team, and it should increase this team's chances of coming away with the gold exponentially.

[Read Full Article]

---
Marcus Smart Video Scouting Report
February 13, 2013




More Video Scouting Reports:



-Victor Oladipo
-Kelly Olynyk
-Russ Smith
-C.J. McCollum
-Mam Jaiteh
-Ben McLemore
-Leo Westermann
-Sergey Karasev

Mike Schmitz is the video analyst for DraftExpress. Follow him on twitter and subscribe to his YouTube page. He will be breaking down the NBA draft in digital format all year long for us.

[Read Full Article]

---
NBA Draft Prospect of the Week: Marcus Smart
January 10, 2013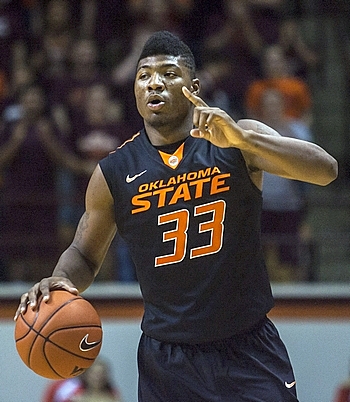 US Presswire



Walker Beeken

Despite some inconsistency, Oklahoma State freshman Marcus Smart has garnered buzz as one of the top freshmen in college basketball so far in the early season. A McDonald's All-American who was billed as more of a combo guard coming out of high school, Smart played the point over the summer for the USA Basketball squad that won the U-18 FIBA Americas, and he's had the ball in his hands to run the point from day one for Travis Ford and the Cowboys.

Smart has excellent size for an NBA point guard, standing 6-4 with a very strong, mature, and powerful frame for an 18-year old. While not necessarily the fastest or quickest player at his position, Smart still brings a nice set of physical tools to the table with his combination of size, power, and solid explosiveness. He enhances those tools by playing with tremendous intensity on both ends of the floor.

Smart made a name for himself very early in his college career in a matchup with then #5 ranked North Carolina State in Puerto Rico in November. He put up 20 points, 7 rebounds, 7 assists, 4 steals, and 4 blocks, making plays on both ends of the court and leading the Cowboys to a 20 point blowout over the Wolfpack.

Since then, however, Smart has had mixed results, displaying his great talents while also showing some of his weaknesses. Most notably, he's struggled to knock down shots consistently, much of which can be traced to questionable shot selection, as he's shooting over five 3-pointers per-forty minutes, despite only connecting on 29.5% of those attempts.

He shoots with solid mechanics, good lift, a nice stroke, and shows the ability to shoot off the catch or smoothly pull up off the dribble, but he too often settles for long jump shots, seeming content taking deep contested pull-up jumpers, rather than putting pressure on his defender and attacking the basket.
Smart plays the game at a nice pace and shows great poise for a freshman, but he's also had some trouble taking care of the basketball, coughing it up on almost a quarter of his used possessions so far this season. His handle could use some tightening up, and his decision-making in traffic could also use some work, both of which he should be able improve upon in time.

Off the dribble, Smart has quite a bit of room to grow as he continues to get a feel for when to pick his spots. He isn't the quickest player changing speeds or directions, but he has a powerful first step, which along with his size and mature frame, enables him to get by his man and create space off the bounce. Once he gets in the paint, Smart does a nice job using his strong body to shield defenders, but he lacks a reliable floater and can have some trouble finishing at the rim amongst his trees to due to a lack of great vertical explosiveness, something that he seems to be improving on as the season moves on.

Overall though, Smart has an extremely well-rounded, polished skill set for a player his age to go along with very good scoring and passing instincts, showing the ability create his own shot or find the open man, as he's averaging a solid 5.9 assists per-40, against 3.9 turnovers. He also possesses excellent intangibles, having earned the reputation for being a tremendous teammate, leader, and competitor, who led his team to back-to-back Texas state championships in high school.

Those traits are on display watching Smart on the defensive end, as he seems to relish the opportunity to lock down his man when defending on the ball. He moves fairly well laterally and utilizes his great size, strength, and energy to his advantage. He also shows great instincts, active hands, and a nose for the ball, as his 3.4 steals per-forty pace adjusted ranks him second of all point guard prospects in our top 100 rankings.

Given his competitive nature, it's not surprising that Smart's best games of the season so far have come against their three ranked opponents (including back-to-back close losses in their last 2 games to Gonzaga and at Kansas State), as he's averaged 22.7 points per game in those contests while shooting 58.5% from the field.

It's still very early in the season, as he's only played thirteen college games, but if Smart can continue his momentum through Big 12 play, while shooting the ball more consistently and cutting back on his turnovers, he is a player whose stock could rise quite a bit by the end of the season. He has a unique combination of physical tools, basketball IQ, and skill level for a player his age, and NBA teams will likely love his intangibles and ability to fit into or help develop a winning culture.

[Read Full Article]

---
McDonald's All-American Video Profile: Marcus Smart
April 30, 2012
[Read Full Article]

---
McDonald's All-American Week Player Evaluations (Part Two)
April 2, 2012
Golin Harris



Jonathan Givony

Previously unknown to us heading into the event, Marcus Smart had a strong week here in Chicago, and looks like a great get for Travis Ford at Oklahoma State.

Undersized for a shooting guard at around 6-3, but with a chiseled frame, long arms and solid athleticism, Smart is surely big enough to be effective at the college level, but may give some scouts pause with his lack of size.

Smart makes up for that with what appears to be great versatility on both ends of the floor, as well as a winning spirit and a real competitive streak.

Offensively, Smart shows the ability to make shots both with his feet set and off the dribble, from the 3-point line as well as in the mid-range area. He's at his best using his superior strength to overpower opponents en route to the basket, though, finishing through contact and drawing plenty of fouls in the process.

Smart is also extremely effective on defense, playing with a real chip on his shoulder here and being very effective with his combination of length and aggressiveness.

A good, but not elite athlete, it will be very interesting to see how the different parts of Smart's game translate to the college level. He's a surprisingly complete player for his age, and is known as a great leader and a winner on every stage he's played at. While he's unlikely to become a full-time point guard, it may not be a surprise to see him take on more of a combo guard role in college, as he clearly has the basketball IQ and unselfishness to do so, which would likely improve his NBA prospects considerably.

[Read Full Article]

---