Trey Burke brings a complete and ideal offensive package to the table as a NBA point guard prospect. Will his lack of size and defensive prowess hurt his case as the top point guard in this year's draft?
Trey Burke, 6-0, Sophomore, Point Guard, Michigan
Scouting report by Jonathan Givony. Video analysis by Mike Schmitz
The consensus national player of the year in every major award, even before leading Michigan on an exhilarating NCAA Tournament run to the national championship game,
Trey Burke
made tremendous strides in his sophomore season, upping his NBA draft stock significantly in the process.
Burke made a substantial statistical jump in many key areas this season, improving his scoring (+21%), assist (+40%) and steal (+75%) rates, upping his 2-point (+1%), 3-point (+3.5%), and free throw percentages (6.1%), while cutting down on his turnover rate (-35%) and nearly doubling his assist to turnover ratio. In addition, his pure point rating went from being ranked 57th amongst all NCAA point guards last season to second best this year.
Burke is undersized for a point guard, standing around six feet with a relatively narrow frame, but as mentioned in the past, he compensates for that somewhat with an extremely long 6-5 wingspan. He is a solid athlete as well, quick in the open floor and extremely shifty in the half-court, although not terribly explosive around the basket.
Video Analysis
More Scouting Report Videos
The engine behind the #1 offense in college basketball, Burke was arguably the best pick and roll point guard in the NCAA this season, able to put incredible pressure on the defense thanks to the tremendous balance he brings between scoring and facilitating for others. The fact that he can make shots from anywhere on the floor, find the open man instantaneously, or get to the rim makes him extremely difficult to game-plan against.
A highly creative passer, Burke can make plays for teammates in a number of ways, using lobs, bounce passes, kick-outs or dump-offs to find the open man confidently in the half-court or in transition. He sees the floor well, and is not predictable at all with the way he decides to attack the defense on any given possession, thanks to his tremendous versatility.
A fantastic ball-handler with the ability to create offense with either hand and also change speeds at will, Burke has terrific timing and patience in the half-court, not being afraid to use his body to seek out contact in the lane or put a defender on his hip in the mid-range area to create an advantage. He is an expert at stopping and using an extra dribble or two to force the defense to react, and then subsequently reading what happens, either finding the open man or pulling up off the dribble himself.
His maturity as a playmaker came a long way this season, as he did a great job cutting down on turnovers this season, coughing the ball up on just 13% of his possessions, second best among DX Top-100 ranked point guards.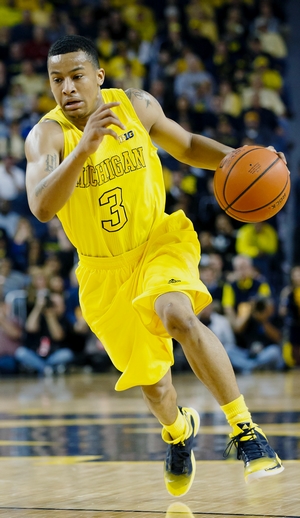 In addition to the 7.7 assists per-40 minutes he averaged this season, Burke also carried Michigan on plenty of nights in the scoring column as well, averaging 21.5 points per-40 on excellent shooting percentages (50% 2P%, 38% 3P%, 80% FT%).
Burke is first and foremost an excellent shooter, able to make shots with both his feet set (44%) or off the dribble (42%), inside and outside the arc. He has excellent core strength and subsequently deep range on his jump-shot, as he displayed on numerous occasions by hitting dagger shots from well beyond the NBA 3-point line at some of the biggest moments of Michigan's season. He has unlimited confidence in his abilities and looks to be extremely tough both mentally and physically, playing the game with terrific swagger.
One area which Burke may struggle at the NBA level is with his ability to finish plays inside the paint in traffic. He converts just 52% of his attempts around the basket in the half-court, a fairly average rate, as he's hampered at times by his lack of size and strength against bigger, longer and more athletic frontcourt players. He tends to settle for tough runners and floaters in the lane, which he finds mixed success with, and needs to get much better at using his left hand around the rim, which he seemingly avoids at all costs.
He's not afraid to drive right into the teeth of the defense and initiate contact to draw fouls, but it remains to be seen whether he'll be able to get to the free throw line at the same rate he did in college (five times per-40 minutes), especially considering his narrow frame. There may be some concerns about whether he'll be able to stay healthy over the course of an 82-game season if he's constantly taking hits around the basket.
The other major area of concern with Burke lies on the defensive end of the floor, where he'll seemingly always be at somewhat of a disadvantage considering his average physical profile. Michigan in general was not a great team defensively this season, and Burke certainly played a role in that, as his effort on this end of the floor wavers at times. Bigger guards can give him problems having their way with him physically, and he allows himself to get screened off rather easily in pick and roll situations, not doing a great job fighting over the top. His long arms do help compensate somewhat at times, particularly in his ability to anticipate and come up with steals and even blocks, but generally speaking he often wasn't much of a factor on this end of the floor, seemingly saving himself at times, which is somewhat understandable considering the amount of minutes he saw and the all-everything role he played for Michigan offensively.
All things considered, it's difficult not to consider Burke the best point guard in this year's draft class when evaluating how much of a complete package he brings to the table offensively. Athletic, intelligent, competitive point guards who can create, distribute and score are incredibly rare and coveted assets, and despite his defensive limitations he should have no issues carving out a long career as a NBA starter, as long as he's able to stay healthy.