Stefon Jackson, 6-5, Junior, Shooting Guard, UTEP
25.9 ppg, 5.2 rpg, 1.0 apg, 2.3 Topg, (51% FG, 26% 3FG, 32.8 mpg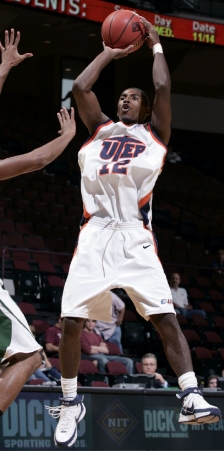 Kyle Nelson
There are very few scorers in the NCAA more skilled than UTEP junior
Stefon Jackson
. Standing at what looks to be around 6'5 with nice athleticism and quickness, Jackson has established himself as one of the premier mid-major players in the country, and with his refined offensive game, is steadily turning into a legitimate draft prospect.
Offensively, it's tough to find too many players with a more refined mid-range game than Jackson's. He possesses nice ball-handling ability which allows him to create space for himself through a variety of ball-fakes and hesitation moves, something he has been able to do against almost any defender that has been thrown at him thus far. He possesses a terrific pull-up jumpshot that he can get off from anywhere inside of the three-point line, showing nice form complete with a high release point, good elevation, and an incredibly quick release. He is truly making a killing from mid-range this year, shooting 51% from the field on the season on over 16.5 attempts per game. This is particularly impressive because on the offensive end of the court, he is the first option for UTEP and has a target on his back every night, yet somehow manages to be a consistent mid-range threat.
Jackson is also a good slasher, possessing a good handle with his left and right hands as well as a good first step. Opponents often guard his right hand, but he can drive well with either hand and frequently embarrasses defenders who don't respect his slashing game. He is a tough player, which, combined with his size and athleticism, allow him to finish strong and take contact well against bigger players. He also uses his size against smaller guards to back them down into the painted area, or to post them up straight from the blocks, both representative of his offensive versatility. If he does not finish, he gets to the line extremely well, averaging an outstanding 11.2 free throws attempts a game, and shooting a respectable 73% from the foul line.
One area that Jackson should really focus on both for his team's sake as well as his potential on the next level is his perimeter shooting. His perimeter shot is just as ugly as the 26% that he shoots from beyond the arc suggests. He has an inconsistent release point, shooting it differently just about every time he attempts a shot. His form needs substantial work, to say the least. However, he has shown flashes. He has shown that he can shoot it from NBA range sometimes and has good form in his mid-range jumpshot to suggest that, with work, he could improve into a good three-point shooter in the future. However, it is going to take work and without improvement, his potential is significantly lower.
Despite his woes from behind the arc, Jackson he is a very efficient scorer. Despite the fact that he is the first option in UTEP's offense, he rarely forces shots or plays more selfishly than his team needs him to be. He could easily score 35 points a night, but he does a good job of playing within UTEP's offense and deferring to teammates when the time calls for it. This does not look like he is disappearing as a scorer, but rather that he is a good teammate. When he does not have the ball in his hands, he does a good job rebounding the ball (5.2 rebounds/game) and he also is a decent facilitator and passer. Regardless, he is usually helping out his team on the offensive end, with or without the ball in his hands.
Jackson is also a strong defender, possessing good lateral quickness as well as quick hands. Combined with his tough attitude, this ability often compensates for his lack of size on the perimeter. While his lack of size for an NBA shooting guard somewhat hurts his potential at the next level, his constant effort and competitive attitude eases some concerns about his height. Regardless, he uses his athleticism, quickness, and toughness well to always compete on the defensive end.
Stefon Jackson
is having an outstanding season thus far, playing well consistently against high-major, mid-major, and low-major competition. Improvements in his long-range shooting are essential before he is considered a top-notch draft prospect. While his potential is somewhat limited because of his size, if he continues to improve, he could emerge as an intriguing instant offense type prospect for the next level. At this point, there are few better scorers at the college level and, based on his season thus far, combined with the persistent rumors we're hearing about him testing his draft stock this summer, we're guessing
Stefon Jackson
will not be an obscure prospect for much longer.
DeJuan Blair, 6-7, Freshman, Center, Pitt
12.1 points, 10.1 rebounds, 2.3 steals, 1.7 blocks, 57% FG, 66% FT, 23 minutes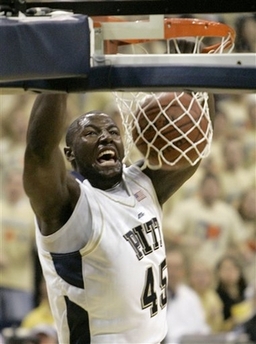 Jonathan Givony
One of the most impressive freshman in the country, certainly on a per-minute basis, has been undersized Pitt big man
DeJuan Blair
. #2 in the country for freshman in rebounds per 40-minutes pace-adjusted, #3 in steals, #8 in blocks, and #19 in scoring—it's hard to deny the impact that Blair has made so far for undefeated Pitt. He made his presence felt to the entire country last Thursday matching up with Duke at Madison Square Garden, scoring 15 points with 20 rebounds and 3 blocks in an overtime victory on ESPN.
Standing the height of a swingman, with the physique of an offensive lineman, Blair does not look like your prototypical NBA draft prospect. He's 6-7 and 265 pounds with fairly average athleticism, but he makes up for that and then some with his tremendous 7-3 wingspan and an unbelievable passion for the game.
Blair has suction cups for hands, which, when combined with his awesome length, motor, positioning and timing, make him one of the best rebounders in college basketball, already as a freshman. He is absolutely tenacious going after anything and everything that is even remotely in his area, grabbing an outstanding 10 rebounds in just 23 minutes per game. These same attributes make him a presence as a shot-blocker (and shot-alterer), but especially as a ball-thief as well, enabling him to just poke away steals while playing the passing lanes—really telling us a great deal about his instincts for the game in the process.
Offensively, Blair is a force inside the paint when he's able to establish deep enough position inside, which he is often able to at the collegiate level due to his strength and sheer girth, which few big men can compete with. He can seal his man off and move him around in the paint while backing him down, at which point his length really comes in handy when attempting to finish around the rim. He can also set an excellent screen thanks to his extreme width, and is smart and nimble enough to know when to slip it and roll to the hoop where he can catch and finish nicely thanks to his soft hands. He can also handle the ball fairly well in the open court, not being a liability in these situations when in transition.
Not one of those super skilled and polished undersized big men who can create their own shot in the post at will, Blair is a bit limited when forced outside of 5 feet or so away from the basket. He has quick feet, but not much in the way of a versatile post game, showing almost a non-existent left-hand and sometimes lacking the explosiveness to finish plays around the rim. He's so heavily reliant on his right hand that you'll regularly see him blow a seemingly easy shot that he's forced to make much more complicated on the left block by unnecessarily switching hands and trying to go for a reverse right-handed layup. He could probably stand to become a better passer out of double-teams, often not seeing the floor very well when trapped and thus being somewhat turnover prone in these situations in the process. He's not immune to making freshman mistakes—not exactly a surprise considering that he's indeed just a freshman, and not an incredibly touted one coming out of high school.
Defensively, Blair is as noted very good at coming up with blocks and steals, a testament to his length and excellent feel for the game, but he's still somewhat of a liability when forced outside by a mobile big man playing the pick and roll. He just doesn't have the lateral quickness at this point to hedge, switch, go over, or trap the pick and roll, which means his team's only clear option here is to go underneath the screen—not an ideal option at all against a team with solid perimeter shooters. Moreover, athletic players with any semblance of ball-handling ability just blow by him at this point, which basically exposes his team's entire half-court defense.
Already being severely undersized at 6-7 (most NBA big men will just shoot over him, even though his length helps here), this lack of quickness defensively really complicates things when talking about his NBA potential. He'll have to trim down significantly (ala
Jason Maxiell
), and become a much more aware team defensive player to have a real chance at the next level—something that he has plenty of time to do only being a freshman. That will also help his conditioning, which at times looks poor when he spends more than 5-6 minutes on the floor consecutively. We do love his demeanor out on the basketball court, though—always smiling, but extremely intense and serious—truly looking like someone who enjoys every moment he's playing, which is always a nice thing. We expect him to become a (very productive) fixture on the college basketball landscape for years to come.
Josh Shipp, 6'5, SG/SF, Junior, UCLA
14.8 points, 3.0 rebounds, 2.6 assists, 1.6 steals, 2.1 turnovers, 49% FG, 86% FT, 41% 3PT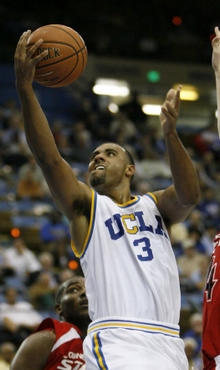 Joseph Treutlein
Josh Shipp picked up right where he left off last year, providing UCLA with solid, versatile contributions from the wing, but is now doing so on much improved efficiency. At 6'5 and 220 pounds, Shipp has a strong build for a wing, and he's a decent athlete as well. Shipp has steadily improved his production and efficiency in his four seasons at UCLA, even after hip surgery allowed him to play just four games as a sophomore.

Shipp's game starts from behind the three-point arc, where he's made excellent strides with his shot, shooting .405 this season, up from .316 last season. He's also taking more than half of his overall field goal attempts from behind the arc, well up from last year, where about 37% of his shots came from behind the arc. Shipp is an excellent shooter from deep when he has time to get his feet set and isn't rushing things, showing very good mechanics on his shot. He runs into some trouble when shooting on the move, though, with his accuracy falling off considerably, and him having a tendency to rush his shot, resulting in sloppier mechanics. For that reason he isn't much of a threat shooting off screens, even though he's constantly running through screens on offense. To his credit, he seems to find ways to get wide open very often, and gets a lot of clean three-point looks, which he hits with very good regularity.

Shipp also has a nice semblance of a dribble-drive game, showing good ball-handling for a wing with both of his hands, and the ability to drive towards the basket coming off a screen or in isolation situations. His dribbling isn't outstanding, though, and he doesn't show much ability to quickly change directions with the ball in the lane. His creativity around the rim could also be better, not showing much ability to finish with his left hand, and getting into trouble committing charging violations more than your average player. He shows a good ability to get space for a mid-range game, but doesn't have the greatest accuracy on his shots there, something he'll definitely need to improve on to stick around at the next level. He shows flashes of a nice right-handed floater, which is definitely something he should continue working on.

Shipp does a good job contributing in other ways on the offensive end as well, being an above average passer for a wing, showing the ability to handle the ball on the perimeter when necessary, and often getting ahead in transition, where he uses his athleticism to finish well at the rim.

On the defensive end, Shipp has good hands and plays the passing lanes well, picking off some passes and starting fast breaks, but his man-to-man defense leaves a lot to be desired. He shows a good fundamental base and doesn't seem to take plays off, but his lateral quickness is extremely questionable, with him routinely getting beat in isolation situations in the early going this season. He also shows a lot of trouble chasing guards around screens, often getting caught, leading to a wide-open shot for his man. These are major concerns for him when projecting to the next level.

Shipp is a very nice role player at the college level, but it's still questionable if he'll be able to grow into a similar role in the NBA. He'll undoubtedly be invited to Portsmouth, where he will have a chance to prove he belongs, and could be invited to the NBA pre-draft camp as well. He has an outside chance of getting drafted, but most likely will have to prove himself in summer league and training camps to earn a guaranteed contract. He'll need to show he can consistently contribute something at an NBA level other than spot-up shooting to have a chance to stick around in the league.
Will Daniels, 6-8, Senior, PF/SF, Rhode Island
18.3 ppg, 7.2 rpg, 1.3 bpg, 1.1 spg, 50.3% FG, 28.9% 3FG, 27.3 min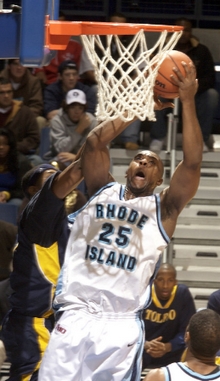 Joey Whelan
Will Daniels has had a fantastic first third of the season leading the Rhode Island Rams to one of their best starts in years, and a national ranking. Listed at 6'8", but probably closer to 6'7" and 225 pounds, Daniels has a solid frame and has been a beast against smaller defenders on the block, while also taking advantage of mismatches on the perimeter. The seniors numbers have improved each year, and he is on pace right now for his finest season at URI.
There is no question that Daniels is somewhat pigeon holed into the undersized power forward role because of his size and athletic limitations. Daniels is very strong, which helps him especially on the boards and when posting up offensively. He is hurt though by his lack of overall explosiveness and quickness. Often times at the college level Daniels finds himself in matchups against slower post players that he is able to beat off the dribble. Against more athletic players, though, he has a tendency to struggle, especially on the block where he can't elevate over defenders very well.
The classic college tweener, Daniels will float inside and outside on offense depending on what the defense gives him. He seems to have no problem taking shots from both the perimeter and off the dribble against slower defenders, but he shoots a low percentage due to his poor mechanics. Daniels cocks the ball well behind his head when he shoots, and also has a tendency to jump and release the ball from inconsistent vantage points. So while he isn't afraid to take these types of shots, it isn't hard to see why he is shooting below 30% from beyond the arc on the season. In cases where smaller, quicker players are guarding him, Daniels becomes much more of a catch and shoot player, spotting up on the wing, rather than creating his own shot.
Daniels has shown that he will take advantage of mismatches on the perimeter and drive to the basket from time to time. His ball-handling skills are average, so generally he is limited to driving in a straight line to the basket. Despite his physical toughness, Daniels has trouble finishing in traffic around the basket, and a lot of this stems again from his inability to elevate over a crowd.
The post is where Daniels is at his best. He has a nicely developed post game, relying primarily on a solid drop step and nice spin move to the baseline. From standstill positions, he often needs to use a series of pump fakes to get his man in the air, rather than just exploding at the basket and finishing strong. Daniels is very tough inside, playing physical basketball and hitting the offensive glass hard. His nearly three offensive rebounds per game is a testament to his tenacity on the inside.
The defensive side of the ball is where Daniels is going to lose points with NBA scouts. His lateral quickness isn't great, and while he may be able to guard post players that will step out on the wing, he isn't fast enough to keep up with most backcourt players. In the post Daniels plays tough defense, but taller and more athletic players can back him down and elevate over him. He picks up over a block a game, though, thanks to his good timing and anticipation skills. Shedding 10-15 pounds would probably serve him well, as he's carrying some extra baby fat around that he doesn't quite need.
Considering his toughness, basketball IQ and ability to produce despite his physical limitations, some may project Daniels winding up in a
Udonis Haslem
type role in the NBA. He will most likely get an invite to Portsmouth at the end of the season, but will probably have an uphill battle to hear his name called on draft day.