Joseph Treutlein
DeJuan Blair, 6-7, PF/C, San Antonio Spurs, 1989
8.5 points, 7.4 rebounds, 1.1 assists, 1.2 steals, 1.5 turnovers, 50% FG, 66% FT
Expected to be drafted in the lottery by most analysts in the 2009 NBA Draft, Blair surprisingly fell to the 37th pick due to concerns surrounding the long-term viability of his surgically repaired knees. As they've made a habit of doing in the past decade, the Spurs pounced on the opportunity by picking up Blair, who's yet to miss a game in his NBA career.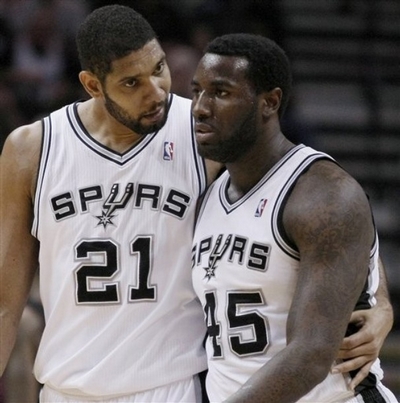 Part One: Offensive Role
Then:
"Although his sophomore campaign is over, Blair certainly left his mark on the season and has solidified himself amongst college basketball's elite – being recognized on Monday as a first team All-American. His great play, impressive physique and the multiple intangibles that he brings to the game has clearly caught the attention of basketball pundits and NBA scouts everywhere.
DeJuan Blair
's statistical output this season has been nothing short of spectacular. He ranks
#1 in PER
with an astounding 38.9, which is due in large part to his efficiency offensively and the high value placed on offensive rebounding – an area where Blair excels at averaging 8.1 per-40 minutes, which is
first in the nation
by a wide margin.
On the offensive end, Blair has definitely shown great improvement. He scores at a nice rate, 23 points per-40 pace adjusted, which ranks him 12th amongst the 88 elite college players ranked in our 2009 or 2010 mock draft. On top of that, he is extremely efficient, finishing 59% of his 2-point shots, which ranks him 11th in that category."
-NCAA Weekly Performers, April 8, 2009
Now:
Coming into the pros from the college game,
DeJuan Blair
had to undergo quite the transformation with his offensive role, going from one of his team's offensive focal points to the very antithesis of that, with him having virtually zero plays ever run for him on the Spurs. While Blair always had the gritty, hustle style of play embedded into his game in college, it also went along with a big scoring responsibility, with him ranking second on his team in field goal attempts in his last year in college (compared to sixth this year for the Spurs). Further, how Blair is getting his shots is also noticeably different, as 35.1% of his field-goal attempts in the half court were of the post-up variety at Pittsburgh, where as now those shots account for just 15.4%.
Coming into a situation with a strongly established core of offensive players in
Tim Duncan
,
Tony Parker
, and
Manu Ginobili
(along with an army of spot-up outside shooters in
Richard Jefferson
,
Matt Bonner
, and
George Hill
), Blair is asked to do all the dirty, off-ball work on the Spurs, and that happens to be just what he excels at.
Proving his worth as
an offensive rebounder
, space-carver in the lane, and an active cutter off the ball, Blair is the perfect complement to the Spurs' stable of talented scorers, as he creates extra possessions on the glass, sets hard screens on the perimeter, and provides a good target for easy shots around the basket. Unsurprisingly, Blair embraced this role from his first day in the league, and it's a big reason why he's managed to be so successful so quickly.
Part Two: Scoring Around The Basket
Then:
"He uses his body to his advantage inside and in the post, as he finds different ways to get his defender on his back – making it easier for him to finish. He certainly plays below the rim however and his lack of leaping ability has made him susceptible to blocked shots, although he has improved in utilizing crafty moves to get shots off. There is a distinct concern that at the NBA level he will struggle much more to score around the basket, though, considering his lack of size and explosiveness."
-NCAA Weekly Performers, April 8, 2009
Now:
Looking at Blair's ability to score around the basket, his performance has been largely as expected in the pros, with him still being a decidedly below the rim player, albeit one who makes up for it in a variety of other ways. Around the basket, Blair is just an average finisher (his 1.14 points per shot around the basket ranks in the 54th percentile according to Synergy Sports Technology), but it's important to note just how many of these shots he's able to seek out for himself. While Blair may rank as being just "solid" on actually converting his attempts, he's among the league's best in putting himself in situation to get those attempts, as his unique physical abilities make him very difficult to keep away from high-quality shots.
Having incredible raw strength with his massive frame, Blair is definitely among the strongest players in the NBA, something that's magnified further with his low center of gravity. Just like in college, he's still able to back his man down and seal out dominant position in the paint, pinning his man under the rim and creating easy, short angles for shot attempts when the ball comes his way, which it does often on a team that passes as well as the Spurs.
Beyond his ability to carve out space inside using brute force, Blair also shows deceptive agility and body control on his cuts to the rim, be it on dive cuts from the high post or rolls to the basket off high screens. He does a good job adjusting to finish around the defender, and despite his obvious inability to elevate above the rim in most situations, he does a good job using crafty maneuvers to free himself for open shots.
The only area where Blair has seemingly struggled in his ability to attack the basket is the rate he's getting to the free-throw line, as he's averaging just 1.5 FTA per game compared to 7.6 FGA, a low ratio by any means but especially low for an aggressive, inside-oriented big man. He doesn't shy from contact often, but his lack of conventional athleticism allows the opposition to not take many risks defending him, while also making him prone to getting his shot blocked, with 10.3% of his field-goal attempts being blocked
according to Hoopdata.com.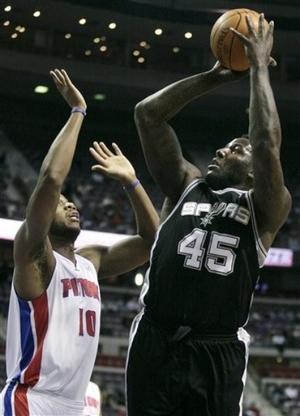 Part Three: Self-Created Offense
Then:
"Blair also does an excellent job at establishing deep position in the post. He's also deceptively quick down there, often using the baseline and reversing on the other side of the rim to shield his defender – putting them in "jail". He doesn't have any type of face-up game at this point and lacks consistency with his shot – which will be something he must work on diligently if he's to find a way to become some type of an offensive option at the next level. His free throw percentage actually declined this year, going from 62.4% to 60.5%. With a good shooting coach and plenty of hard work, it's not out of the question that he becomes at least a capable mid-range shooter in time, which will be very important for him."
-NCAA Weekly Performers, April 8, 2009
Now:
While Blair's post game was a work in progress and his face-up game non-existent in college, both have taken even more of a backseat in the pros, where the Spurs just have little need for him to do much of either, something Blair has embraced to open up the rest of his game.
On the rare attempts he does have a back-to-the-basket opportunity, he shows a mostly unpolished repertoire with just average footwork, while he clearly doesn't have as easy a time overpowering the opposition at this level, especially given the increased length and athleticism used for blocking and contesting shots.
His face-up game is actually in some ways more serviceable than his post-up game, as he's trying to take after his frontcourt mate
Tim Duncan
with the mid-to-high post finesse moves, occasionally showing off a decent array of floaters, runners, and bank shots off the glass. While he's still coming along and it's not something the Spurs will want to rely on come playoff time, Blair does finish at a solid rate on these attempts and if he does ever want to develop the ability to create his own offense, it will likely have to be of the finesse variety given his athletic limitations.
The one area of Blair's offense that has been most disappointing in the pros would have to be his spot-up jumper, as he's taken just 17 mid-range jump shots on the entire season according to Synergy, and only hit four of them. His 66% shooting from the free-throw line is a little more respectable, but mostly in line with what he did at the collegiate level, as he's yet to show any noticeable improvement in this area since being on the national scene.
In order to maximize his ability as a role playing big man in this league, having a respectable 15-foot jumper in pick-and-pop and end of shot clock situations is something Blair will need to do, and he's lucky he's on a team that has above average perimeter shooters up and down the roster, otherwise this flaw might be more apparent given his limited offensive game.
Part Four: Rebounding
Then:
"There are a plethora of reasons as to why Blair excels on the boards, and it all begins with his unique build for a basketball player. Blair resembles more of a linebacker than a power forward, and because of his low center of gravity, standing at a modest 6'7, and his wide frame, weighing in 260 pounds, Blair is able to take up a lot of room in the painted area. In addition, his frame helps him and his teammates, seeing that he sets some of the best screens in the country. Furthermore, his freakishly long wingspan makes up for his lack of height and his incredibly soft hands enable him to wrestle boards away from the opposition."
-NCAA Weekly Performers, April 8, 2009
"Blair has suction cups for hands, which, when combined with his awesome length, motor, positioning and timing, make him one of the best rebounders in college basketball, already as a freshman. He is absolutely tenacious going after anything and everything that is even remotely in his area, grabbing an outstanding 10 rebounds in just 23 minutes per game. These same attributes make him a presence as a shot-blocker (and shot-alterer), but especially as a ball-thief as well, enabling him to just poke away steals while playing the passing lanes—really telling us a great deal about his instincts for the game in the process."
-NCAA Weekly Performers, December 26th, 2007
Now:
As is almost always true with players transitioning from college to the pros, the one thing most likely to translate is rebounding ability, and
DeJuan Blair
is no exception to the rule. While he's no longer the clear-cut most dominant rebounder in the league like he was at the NCAA level, Blair's 13.3 total rebounds per-40 minutes pace adjusted
ranks 8th in our database
and his 4.9 offensive rebounds
ranks 3rd
.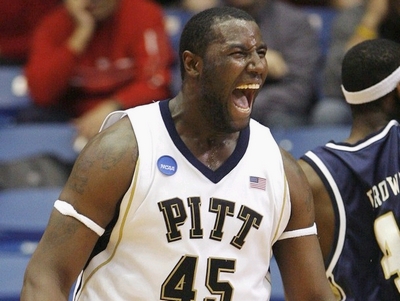 Blair's ability to create extra possessions on the offensive glass is perhaps his greatest attribute as a player, especially in the situation he's on with so many good scorers on his team. Still showing the same great strength, pursuit, and fundamentals that he showed in college, Blair is a major force on the boards on both ends of the floor.
Part Five: Defense
Then:
On the defensive end is where Blair struggles the most. He lacks great lateral quickness to stay with anyone who drags him out and away from the basket. This is evident in isolations and pick and roll situations, where he's forced to switch or hold a hedge for an extra second. Moreover, like many college big men, Blair has a tendency to lack aggressiveness when he picks up a foul. He will drop his hands and get out of the way in order to avoid picking up a foul. The ability to play solid position defense without fouling is a skill he will have to develop in order to play in the NBA."
-NCAA Weekly Performers, April 8, 2009
Now:
On the defensive end, Blair hasn't had the most seamless transition to the NBA, though it certainly gets covered up pretty well on the best team in the NBA with one of the best defensive coaches in the league. Blair's focus and effort level are virtually always there (and he wouldn't be on the floor much on that team if they weren't), while his positioning and off-ball awareness are both very high, a big reason he manages to get 1.2 steals in just 22.2 minutes per game with his limited athletic abilities, something he did quite a bit in college as well.
While Blair's positioning and awareness are both very good, he's prone to being exposed in a variety of ways when the opposition tries isolating him, most noticeably defending the post and on pick-and-rolls.
On pick-and-rolls, Blair's large mass and average change of direction ability make it very risky for him to run out to contest jumpers or hedge screens on the perimeter, so the Spurs often have him play passive in these situations, something that leads to a lot of open pull-up jumpers for the ball-handler. He's fairly limited in the way he's used on pick-and-rolls, though to his credit he does do a solid job sticking with the big on rolls to the basket, showing good agility and mobility in that regard.
In defending back-to-the-basket big men, Blair's effort level is once again high, as he contests shots and fights for position, but he often overextends himself going after entry passes and isn't able to recover. Further, when he is matchup has the ball in his hands, his fundamentals are not where you'd expect them to be, as he doesn't use his hands and forearm well to hold him off, not getting anywhere near the leverage he's capable of with his strength and physique, as he's just not taking full advantage of NBA post defense rules. His height is also problematic, as it leaves him very prone to being shot over, something that happens quite often.
Surprisingly, Blair actually proves somewhat serviceable defending perimeter isolations, though he often gets the weaker of the two frontcourt matchups and isn't tested often. His foot speed is certainly below par, and he's prone to being taken by players with quick first steps, but when he gets into his position he does a solid job sticking with his man and at least not making it easy, thanks to his tremendous length.
Outlook
Looking forward, it's hard to imagine Blair developing into much more than he currently is now, a strange thing to say for a player just 21 years old that is already starting for the best team in the league. The problem for Blair is the two areas where he shows the most capacity for improvement – post defense and mid-range shooting – are areas he has shown little to no learning curve in since he emerged on the national scene his freshman season at Pittsburgh. That said, there is precedent for hard-working big men completely reinventing segments of their game early in their NBA careers, with
Glen Davis
(post defense) and
David Lee
(mid-range shooting) being two recent examples.
In order for Blair to take his game to the next level and place himself among the league's most impactful role players, he's going to need to put in the work in those two areas, and all the signs suggest he has the requisite work ethic to do so. Regardless, even if he doesn't do that, he's already on the path to a very productive career, and he's in the perfect situation to put his unique talents to work, playing off San Antonio's Big Three. As long as he can remain healthy, Blair has already established a very high floor for the rest of his career., and is clearly one of the biggest steals in the draft over the past few years.