Duke's
Gerald Henderson
, Iowa State's
Craig Brackins
and St. Joe's
Ahmad Nivins
earn the nod for an in-depth look with their outstanding play in the latest edition of our NCAA weekly performers series.
Gerald Henderson, 6-5, Junior, SG/SF, Duke
14.5 point, 4.9 rebounds, 2.1 assists, 1.8 turnovers, 1.5 steals,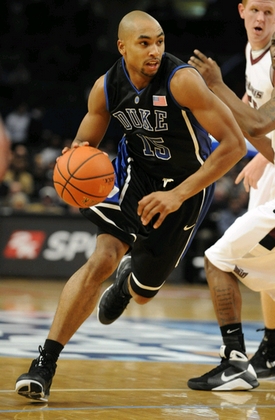 Jonathan Givony
There may not be a hotter draft prospect anywhere in the country right now than Duke's
Gerald Henderson
. After a very slow start, looking rusty and passive for most of the first month of the season, Henderson has absolutely taken off over the past six weeks, establishing himself as one of the premier wing players in college basketball.
Picking up where we left off in the last entry in his profile, the big story this season has clearly been the emergence of Henderson's jump-shot. The wrist surgery he went through at the conclusion of last season seems to have worked wonders, as Henderson is shooting 45% from beyond the 3-point line (up from 32%), 51.4% from the field (47% last year), and 76% from the line (67% in 07-08).
Henderson is first and foremost picking his spots better, rarely taking bad shots and really playing under control, and has been absolutely deadly spotting up on the catch and shoot. His mid-range game seems to be showing significant potential as well, as he regularly drives towards the top of the key (going both left and right) for beautiful pull-up jumpers, creating terrific separation from his defender and seeing outstanding results.
As a slasher, Henderson still isn't what you would call a great ball-handler or shot-creator (particularly with his left hand), looking a little bit limited at times in the half-court. He doesn't have a whole lot of "shake" to his game, which becomes apparent when he's forced to change directions with the ball, but he's still been more than capable of taking advantage of his superb first step and overall athleticism with some crafty forays to the basket. He doesn't get to the free throw line at a very good rate, but when he's managed to build up a head full of steam, he's managed to come up with some highlight-reel caliber dunks, as he's truly an electric leaper and finisher around the basket.
Duke is considered by some to be the best defensive team in all of college basketball, and Henderson plays a huge role in that. He has great physical tools to get the job done, but is also extremely intense and fundamentally sound on top of that. He plays a very calm, smart brand of defense, not gambling in the passing lanes, and really executing the game-plan of Coach Krzyzewski. He comes up with a ton of steals, blocks, and rebounds—a testament to his athleticism, showing the versatility he possesses in his game.
More than anything, the biggest change we've seen from
Gerald Henderson
is the increased poise and maturity he's shown as a junior. He looks extremely comfortable in his own skin these days, knowing exactly what his strengths and limitations are, and is playing unselfishly and under control, which has shown up in his assist to turnover ratio. He tried to do a little too much in their recent road loss to Wake Forest, but some NBA scouts have liked the fact that he tried to take over when his entire team was struggling and starving for a basket—something that we've never really seen much of in the past.
Teams looking to draft a go-to scoring swingman will probably have to look in a different direction, as that's not likely going to be Henderson's role in the NBA. Those in search of a smart, versatile, two-way player who is comfortable blending in as a role-player and offers strong intangibles to boot could find Henderson very appealing. It's not hard to envision him stepping into a role similar to
Courtney Lee
's in doing with Orlando this season.
Craig Brackins, 6'10, Sophomore, Power Forward, Iowa State
19.6 points, 9.1 rebounds, 1.2 assists, 2.3 turnovers, 1.0 blocks, 49.8% FG, 31% 3PT, 66.9% FT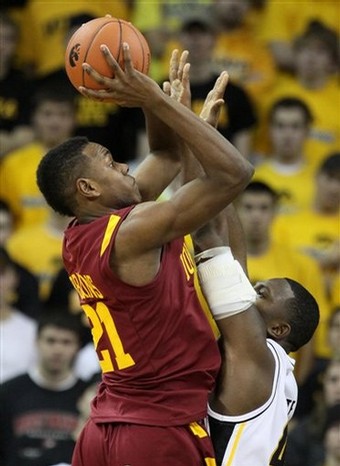 Rodger Bohn
Craig Brackins
has improved just as much as any prospect in the country from his freshman to sophomore campaign, nearly doubling his scoring and rebounding outputs, despite only playing 4 more minutes a game. It appears that the big man is truly realizing how to utilize his talents, and he is in turn establishing himself as one of the top scoring threats in the Big 12.
While listed at the same weight, Craig appears much more toned and muscular then when we evaluated him last season. It is not a coincidence that with his newly sculpted figure that he is also getting off of the ground higher then he was during his freshman campaign. Brackins' motor has seemed to improve as well, as he is now getting up and down the floor and playing harder than any other time we evaluated him.
The most notable place this can be seen is in his rebounding ability. He's gone from pulling down a paltry 7.3 rebounds per-40 minutes pace adjusted in 07-08 to a very impressive 12 this season. That's a huge deal for his NBA draft stock, and something teams will likely monitor very closely moving forward.
Substantial improvement has been made to the California native's back to the basket game. Once a player who only preferred to play facing the rim, he is now a fairly dangerous low post scorer in the pivot. Combining his perimeter skills with his size, he offers a variety of turn-around jumpers out of the post, as well as flashes of a developing jump hook. The large majority of his offense in fact comes in the low post. More importantly the sophomore is playing much tougher then he did in the past, doing a very solid job of shedding the "soft" label that was placed on him early in his career. He's not much of a leaper, but he's certainly doing a better job creating high percentage scoring opportunities.
The perimeter skills that Brackins has shown since his prep days are still very much evident in his game today. Combining a smooth outside jumper with a nice first step, he is able to beat most big men off of the dribble. He is perfectly capable of playing the pick and pop game at the next level considering his ability to consistently shoot the ball from mid-range and his constantly developing three point shot. Brackins isn't the steadiest shooter you'll find at just 31% from beyond the arc and 67% from the free throw line, as his shot-selection isn't great and he still tends to fall in love with the perimeter on occasion. He still shows excellent potential in this area regardless as a power forward who is capable of spacing the floor. With that said, it's good to see him shooting less 3-pointers this season and far more free throws.
One glaring area of Brackins that has certainly not improved is his ability to pass the ball or react well to a double team. He struggles desperately reading the defense and making the simple pass when faced with multiple defenders, often attempting difficult skip passes across the court that are picked off. The prep school product also tends to rely on his size a bit too much, rarely using his left hand in the paint. Considerable improvement must be made in both of these areas if he hopes to fully reach his potential at the next level.
While Brackins' toughness and ability to rebound the ball have improved greatly, he is still a ways away in terms of man to man defense. He still struggles defending the pick and roll game, either not hedging out well enough or struggling defending the roll man once he receives the ball. Opposing coaches still tend to give their power forwards isolation situations facing the basket against Brackins, attempting to exploit his subpar lateral quickness. Brackins is not bad defending the low post by any means, appearing to be much more comfortable defending opposing centers rather than power forwards. His limited explosiveness means that he's not going to be much of a shot-blocking threat, even at the college level.
Brackins' package of size, skill, and productivity have cemented his status as a draft prospect, even if his athletic ability leaves something to be desired. At 21 years old, he is a full year older then the majority of prospects in the sophomore class. While the NBA will certainly be an option at the conclusion of this season, he might have a chance to really make a run at being a high pick in 2010, given the plethora of skilled big men who could make the jump this season. Most NBA scouts still don't really know much about him at this point, although that could change pretty quickly if Brackins is able to help Iowa State win some more games. They have a big one coming up this week against Oklahoma and
Blake Griffin
, and the stands should be packed with scouts and executives in town to evaluate that matchup.
Ahmad Nivins, 6'9, PF/C, Senior, St. Joseph's
20.4 points, 11.6 rebounds, 2.1 blocks, 2.6 turnovers, 68% FG, 78% FT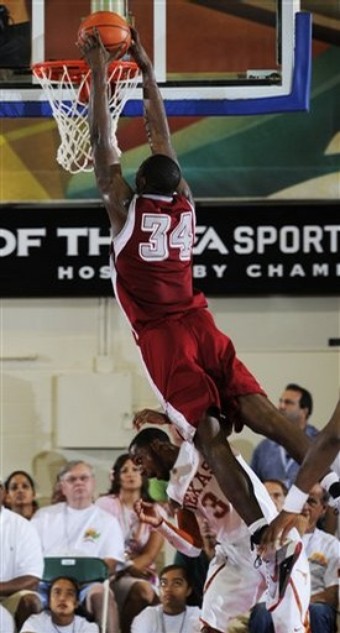 Joseph Treutlein
After a very promising sophomore season,
Ahmad Nivins
took somewhat of a step back as a junior, seeing his production levels slightly fall as he dealt with some ankle injuries and tried to remodel his game with some added finesse. Now a senior, his slight down year looks more than worth it seeing how he's blossomed into a star for St. Joseph's, where his production and efficiency are up across the board, as he's cracked the statistical top 25
in a slew of categories
in our database.
Compared to when we last wrote about Nivins two years ago, his game has progressed significantly in many phases. One thing that jumps out immediately is that his FG%, FT%, and True Shooting% have each steadily increased over the past three seasons, even with his huge bump in usage this season. Another statistic of note is the fact that he plays an astounding 39.6 minutes per game, #1 in our entire database, and posts an outrageous 72% True Shooting percentage
also good for #1.
More impressive than that is his consistency over the course of the season, as looking at his game log he's scored more than 14 points in every contest this season and the worst he's shot from the field in one game this season was 5-for-11.
Although he's made significant improvements in his stat-lines, Nivins is still very much the same player physically, aside from having a well-noted boost in conditioning. Boasting pretty good length and a very strong frame at 6'9, he's both mobile and coordinated for a player his size, but he lacks in quickness, and his explosiveness from static and near-static situations is not much to speak of. However, when he has a head start, such as on pick-and-rolls and in transition, Nivins is able to get off the floor quite well, but this unfortunately doesn't help him much in his post-up game.
Looking at his game, the one area that stands out the most in comparing with year's past is Nivins' finesse game on offense, which has improved notably over the past two years. While he isn't going to fool anyone for
Chris Bosh
, he shows a respectable ability to face-up and put the ball on the floor for straight-line dribbles from the 15-foot range, scoring on running hooks and pull-up jumpers despite a lack of quickness. Speaking of his face-up game, Nivins' mid-range jump shot is much improved as well, as he shows good form from 15 feet out featuring a high and quick release and a shot that he hits with relative consistency.
In the post, Nivins has a decent repertoire of moves at his disposal, and his awareness and decisiveness have both steadily improved over the past few seasons. He can turn to his left or right shoulder, fade away with hook shots and turnaround jumpers, or attack the basket strong with drop steps and step-throughs, while he shows a nice command of reverse lay-ups at the rim and shows a decent command of counter-moves. Due to his lack of explosiveness from standstill positions, Nivins is mostly an under-the-rim player in back-to-basket situations, but his game has evolved to the point that he doesn't simply rely on his brute strength to get the job done, now having a pretty well-diversified attack.
While Nivins' game hasn't been exposed against elite competition this season, his production did somewhat drop-off against teams such as Texas and Villanova, where he showed some struggles dealing with athletic double teams in the post, and didn't show the quick decision-making skills to get out of the situation. While his post moves aren't slow, the speed at which he gets them off would be below average in the NBA, and this could be a problem for him if he doesn't improve it, especially as a non-elite athlete at 6'9.
As for the rest of his offensive game, Nivins does a pretty good job getting open without the ball, especially on pick-and-rolls, where he shows a good ability to catch and finish with power and explosiveness. He also does a pretty good job getting out in transition for a man his size, and is a terror on the offensive glass, showing good pursuit abilities in combination with his size. Nivins also is much improved on the defensive glass this season, getting to a more than respectable level in an area that was previously a major problem area for him.
On the defensive end, Nivins' shot blocking has gone up this year, as he shows pretty good awareness, though he'll probably never be a huge threat at the next level in this area with his lack of quickness. In the post, Nivins shows pretty decent fundamentals, but often seems too content to just keep his hands up and move his feet, not showing much physicality, often leading to relatively easy shot attempts for the opposition. On the perimeter, his lateral foot speed is not great, and while he's pretty active and aware on pick-and-rolls, he just doesn't have the physical abilities to hedge and recover at a very high level.
Nivins should be an ideal candidate for the Portsmouth Invitational Tournament, where players in his mold have greatly thrived in the past. With an NBA-ready body, a pretty well-developed skill set, and after showing the ability to steadily improve his game over his four years in college, Nivins should get quite a few chances to prove he belongs in the NBA, be it in the pre-draft process, at summer league, or in training camp. It'll still be an uphill battle for him to get drafted in the second round given his lack of elite athleticism, but it's certainly not out of the realm of possibility, especially if he can maintain his excellent production for the rest of this season, and maybe make the NCAA tournament.