You probably haven't heard of
Nando de Colo
before; not unless you're an NBA executive, an NBA draft fanatic, or you reside in France. There's a good chance that will all change in the upcoming weeks though. The 6-5 combo guard is one of the top international prospects from the class of 1987 and a name that NBA teams have been getting more familiar with in the last two years. De Colo has a very good feel for the game, able to create his own shot effectively while also proving to be an excellent playmaker for his teammates. While there are still lingering questions about his actual position and his ability to defend at the next level, De Colo presents enough upside at the age of 21 that he will be on plenty of draft boards.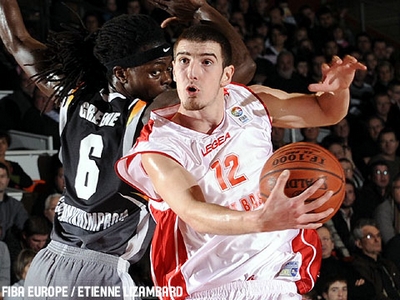 Having come to the US to prepare for individual workouts, De Colo took some time to sit down with DraftExpress to talk about his training, his game and the future of basketball in France.
DraftExpress: What are your plans for the next few weeks? Nando de Colo:
For the moment I'm in Philadelphia, after that I will be going to work out in Detroit and Chicago I think, but I will see.
DX: How are you preparing for these individual workouts? NDC:
I think I'm ready, I don't know how the American clubs do these workouts, but I'm starting to learn. I went this morning with Andre (his agent Andre Buck) to watch a workout, it's not a like it is with the French teams, but it's good.
DX: What aspects of your game are you looking to improve? NDC:
I'm progressing with my shooting and also working on my ability to play as a point guard.
DX: How well do you think NBA teams know your game? NDC:
I don't really know. (Agent Andre Buck added that several teams have seen de Colo play extensively)
DX: How much do you think your size is going to help you as a point guard? NDC:
I think it will help me. I'm 6-5, can see the floor well and protect the basketball. I think it's a good thing for me.
DX: With the elimination of 5-on-5 play at the pre draft camp, how are you going to be able to show off your feel for the game and your basketball IQ? NDC:
I can still show off my skills. In 5-on-5 I pass well and know how to play with the team. In these workouts I can play more for myself; I can shoot, create for myself off the dribble and I can get to the basket. I hope I can show off these skills.
DX: Is there a particular style you think fits you better? Are you more of an up tempo player or a half court one? NDC:
Last year I was more of a fast break guy, but this year I learned to play in the half court. So I can really play both of them, I think this is good for me. I can push the ball quickly but also slow down if the defense is there.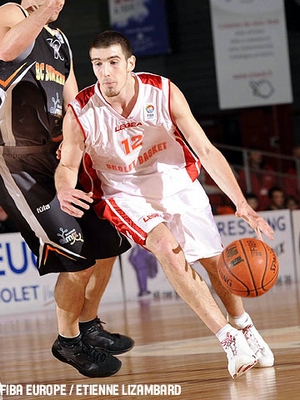 DX: This is a strong group of point guards in the draft this year, what about your game separates you from everyone else? NDC:
I can pass very well, especially when I run in the fast break. I also do well when I drive, I can score when I go to the basket.
DX: How do you think you can match up defensively with some of the quicker point guards in the NBA? NDC:
I think I can match up with them well. This year I didn't usually guard other point guards, but I played against quick players. If I'm guarding quicker, smaller point guards I can use my size to help me.
DX: Early in your career you weren't a very highly touted player. Why do you think you slipped under the radar? NDC:
I didn't grow very much until I was older, being small hurt me I think. Other players progressed quicker than I did, but I was able to develop over time.
DX: How did you end up with your current team Cholet? NDC:
I came to Cholet when I was 15 and played for the junior team, I'm from north of Cholet. After I got older I played for their professional team.
DX: There was talk that there were some other teams, Maccabi Tel Aviv and Dynamo Moscow, that were trying to sign you last summer. Why didn't you leave Cholet? NDC:
I stayed in Cholet because the stars don't normally leave. I have a contract with them for two years and they don't want to cancel that contract and transfer me.
DX: After a great season last year, Cholet missed out on the playoffs this year; can you explain why you think that happened?
NDC: We weren't consistent. We played well in the European Cup but in the French Championships, we weren't the same team. We had some players who played only for themselves, and by the time we learned to play together, it was too late. We lost four games in a row when I was injured and after that it was impossible for us to make the playoffs.
DX: What is it like playing with Rodrigue Beaubois? NDC:
It is very good when we play together. Both of us can play either the 1 or the 2 and we know how to play well as a team.
3858
DX: From a physical standpoint, French players may be the most gifted in all of Europe. Yet, the results of the national team and French teams in European competitions have been disappointing. How good of a job do teams over there do with player development? NDC:
This year I think the coach was good, he can do a great job. I think the French team must play together as a group. Even with a great player like
Tony Parker
, we all need to make sure to play together. Last year everyone said OK I will go to the French team and score, but during the games that didn't happen because we didn't play together.
DX: Do you think that France can reemerge as a power in European basketball? NDC:
Yes, I think if we play well and can beat a great team like Italy, we can build on that. When the playoffs come and we can get all of our players together, I think we can have a great team.
DX: Are you interested in coming to the NBA right away, or would you be willing to play for another year or two in Europe first? NDC:
I want to come here and play in the NBA. You can't be a good player unless you play against the best players, it isn't the same. If I need to stay in Europe for another year though, I will, I'm open to either.
DX: If you do go back for another year in Europe do you think you'll stay with Cholet or will you move to another club? NDC:
For the moment I don't know. I came to the US to work out and I will see about that after the draft.