Patric Young, 6'9, Center, Florida, Senior
---
Latest DX Scouting Reports:
-Gary Harris
-Lamar Patterson
-Jarnell Stokes
-Jahii Carson
-Nick Johnson
-Cleanthony Early
-P.J. Hairston
-Zach LaVine
-Artem Klimenko
-Keith Appling-Tyler Ennis
-Markel Brown
-Jordan McRae
-Rodney Hood
-Doug McDermott
-Juvonte Reddic
-Jordan Bachynski
-Andrew Wiggins
-Elfrid Payton
-Aaron Craft
-Marcus Smart
-C.J. Wilcox
---
Kyle Nelson
When we first wrote about Florida senior Patric Young
in 2010
, he already looked the part of an NBA player, with potential to spare. Four years later, his scouting report is more or less the same, but his resume is more impressive (watch his
DX scouting video
). Already a McDonald's All-American and a top-20 high school recruit, Young played in every game in his college career, which included three consecutive SEC Championships and 120 wins, alongside of being named SEC Scholar Athlete of the Year three times in a row and winning SEC Defensive Player of the Year as a senior. He also played a key role in Florida's Final Four run, particularly in its loss to national champion Connecticut, to the tune of 19 points and six rebounds.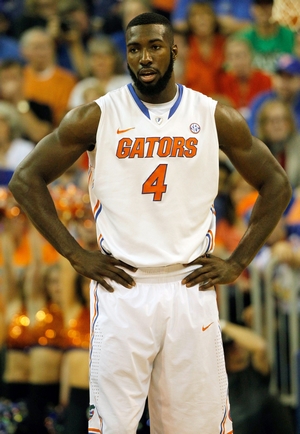 As the draft inches closer, however, scouts continue to wonder why such dominant performances were so few and far between, inviting the larger question of whether Young can continue to move toward a ceiling that many hoped he would have reached by now.
Young's physical profile has never been in question. At 6'9, he is undersized for the center position, but he compensates for that with a chiseled 247-pound frame and 7'1 wingspan. Likewise, Young possesses elite quickness, agility, mobility, and explosiveness, all of which situate him as one of the best overall athletes in the draft. His only shortcoming physically are his extremely small hands, which have hampered him from becoming the dominant rebounder his tools suggest he should be.
On the offensive end, Young remains limited, but continued to make incremental progress as a senior. Though his 11.0 points per game seem modest, he logged a career-high 17.7 points per 40 minutes pace adjusted while seeing the highest usage rate of his career. Though he continued to struggle with bouts of inconsistency, he looked more aggressive and involved as a senior, taking the most shots and free throws of his career. Yet, his increase in production came at the relatively small expense of efficiency, as he shot a career low 56% True Shooting percentage.
On film, it's easy to see why. According to Synergy, Young saw almost 94% of his looks around the basket, 56% of which were post-ups. Yet, he shot just 47% from the field on his post-up attempts Put simply, Young's post game did not improve all that much throughout his time in Gainesville. He still relies on a jump hook and is more effective the closer he is to the basket. Similarly, he shows some promise operating out of the pick-and-roll, even if he needs a relatively open lane to be effective. A serious issue lies in the fact that he oftentimes has little idea of what to do with the ball once he carves out space and receives the ball in the post. His rudimentary footwork, small hands, and limited fundamentals continue to hold him back, which doesn't bode well for his scoring potential at the NBA level.
Young is still at his best finishing off cuts, in transition, and while cleaning up his teammate's misses. He is an excellent finisher in transition and his 4.2 offensive rebounds per 40 minutes pace adjusted ranks
sixth among prospects in our top-100
. If anything, Young should be able to carve out a niche for himself based on sheer hustle.
Yet, for as raw as Young remains on the offensive end, he is one of the most intriguing post defenders in the draft. His numbers don't pop off the page and he is undersized for a center, but he projects as a very good NBA defender due to his unique combination of length, strength, athleticism, and fundamentals. For instance, Young is easily one of the best pick-and-roll defenders in college basketball, able to hedge quickly and stay in front of all but the quickest guards. He showed the versatility to guard most NCAA big men with outstanding lateral quickness to go along with his size, strength, and versatility. Perhaps most importantly, however, he plays with energy and aggressiveness and he should be able to translate his defensive prowess at the collegiate level to the NBA.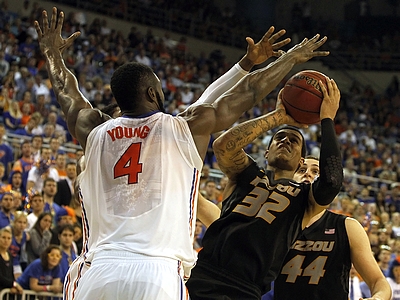 It must be said, however, that for as good as Young is on defense, he never developed as a defensive rebounder. His 5.7 defensive rebounds per 40 minutes pace adjusted
situates him 12th among centers in our top-100
. That he ranks alongside of point guards DeAndre Kane and Shabazz Napier remains puzzling given the fact that he was bigger, stronger, and more athletic than almost every big man he faced throughout his college career.
Therefore, Young is ultimately a puzzling prospect. He has lottery-caliber physical tools and is an elite defensive prospect, but possesses very little in the ways of an offensive game. He is one of the best offensive rebounders in the draft and one of its worst defensive rebounders. Yet, by all accounts Young has excellent intangibles and is the type of player who should have little trouble fitting into most NBA locker rooms.
Thus, while there are big men with higher ceilings in this draft, Young seems like the type of player that has a good chance of making a long career in the NBA. As players like Kendrick Perkins and Joel Anthony continue to slug it out in the NBA, Young should get plenty of looks from playoff teams, even if he is currently projected as a second round pick on our mock draft. Although he will never be the type of player many expected of him coming out of high school, Young remains an intriguing prospect who could easily work his way up in the draft with good workouts and interviews.