With DraftExpress coverage of the 2010 high school class still yet to come from the Nike Hoop Summit and Jordan Brand Classic, we look at 10 select players from the McDonald's All-American week, with a particular focus on those who were not invited to New York City for the Jordan game.
Perry Jones, 6-11, Power Forward
Committed to Baylor
Jones had no problem putting behind a very disappointing high school senior season behind him, showing immediately in the practices why he's arguably the best long term prospect of any player in this class. His body has developed noticeably since we last saw him, and his athleticism and upside is clearly off the charts. He did a great job of showing his perimeter skills as well, in particular his shooting stroke, which looked outstanding even out to the 3-point line. Defensively, he was active and aggressive rotating from the weak-side as a shot-blocker, but struggled at times in man to man situations, particularly when being backed down by the super strong and tough
Jared Sullinger
.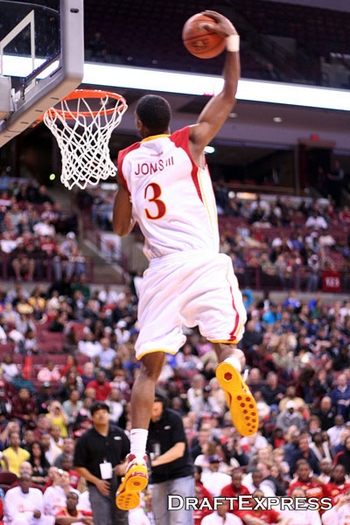 Jones is clearly an extremely rare talent who likely be picked very very high whenever he decides to enter the draft. Recruiting analysts continue to question why him and his high school team underachieved so badly this year, but Jones has his fair share of explanations for why he struggled at times. You can hear all of them in the interview we conducted above.
Patric Young, 6-9, PF/C
Committed to Florida
From a physical standpoint, there may not have been a more impressive player in attendance at the McDonald's game than Florida commit
Patric Young
. He has good size at around 6-9, sports an incredibly chiseled frame and is a very good athlete on top of that, looking mobile and explosive, making him a fairly rare commodity.
Young doesn't seem to have any misconceptions about the type of player he is, which is a very good sign considering his profile. He's a force on the interior thanks to his terrific physical attributes, showing great toughness and a high intensity level, and having no problem throwing his weight around in the paint to get the job done. He rarely strays out onto the perimeter and doesn't seem too eager to show off his skill-level, showing a solid feel for the game and being very team oriented.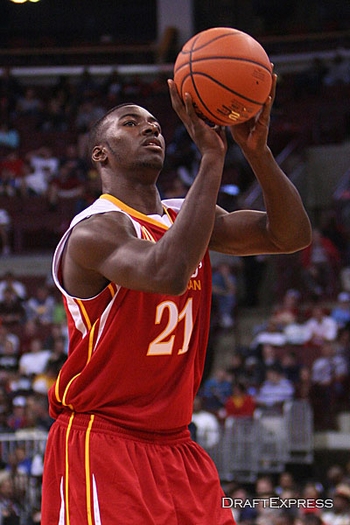 Young will be able to contribute from day one in the SEC as a
Kendrick Perkins
-type rebounder, defender, screen-setter and finisher around the basket, as he's very effective in all those areas already and seems to have no problem playing that role.
He'll need to continue to round out his skill-set as his career progresses, though, which means improving his polish as a back to the basket scorer, developing his countermoves, improving his ability to step away from the basket on both ends of the floor, and improving his passing ability and all-around basketball IQ. That's something you could say about pretty much any big man his age, and Young seems to have the work ethic and intangibles needed to do it.
Fab Melo. 7-0, Center
Committed to Syracuse
Brazilian native
Fab Melo
looks to be in far better shape than he did the last time we saw him about nine months ago on the AAU circuit, shedding pretty much all of the baby fat he once sported, and moving a lot better in turn these days as well. His frame looks like it will easily be able to carry another 25-30 pounds of muscle as it continues to fill out through working in the weight room, which would make him a potentially superb prospect from a physical standpoint.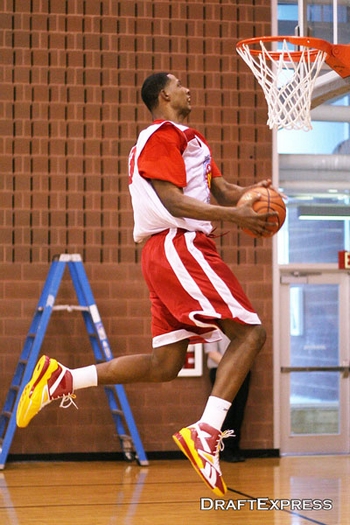 Although he has all of the basic characteristics you look for in a highly intriguing big man prospect, Melo's skill-level remains largely underdeveloped. He struggled to operate effectively in the low post, showing average footwork and post moves with his back to the basket, not really possessing the knowledge of how to use his body effectively to carve out space and finish strong around the rim. He seemed to drift out towards the perimeter quite a bit in turn, showing a very intriguing stroke from mid-range, but also being fairly inconsistent with the actual results here as well. Understanding his limitations and learning how to play within a system will be key for him moving forward.
All this shouldn't really come as a surprise considering the stage of development he's currently at. Big men in his mold tend to take time to develop, and he's only been in the States for about a year and a half on top of that.
The good thing is that Melo knows how to make his presence felt, as he was a major rebounding force and showed much better defensively awareness than we had seen in the past. He blocked a number of shots in the actual game, showing terrific timing in the process, something that is extremely intriguing to say the least. He still has work to do in this area as well, as his fundamentals are fairly poor here as well, but the fact that he's making strides is encouraging.
Melo's size, length, solid mobility soft hands and reportedly strong intangibles give him a terrific framework to build off, though, and should allow him to see immediate playing time for Syracuse in the Big East. Beyond that we'll just have to wait and see how quickly he develops, but there is certainly a lot to look forward to.
Ray McCallum, 6-1, Point Guard
Undecided
The dunk contest darling – many felt he was the most impressive of any of the contestants—McCallum had an excellent week here in Columbus and looks like pretty much a dream pickup for a college coach to add to his roster at this late stage.
While clearly not possessing great size—it's unlikely he's over 6 feet, if that—McCallum is obviously a terrific athlete as he displayed throughout the course of the week, showing excellent pace, a quick first step, the ability to change speeds and outstanding leaping ability. He's also a pure point guard on top of that, being a highly unselfish player with strong leadership skills, excellent poise and terrific passing ability.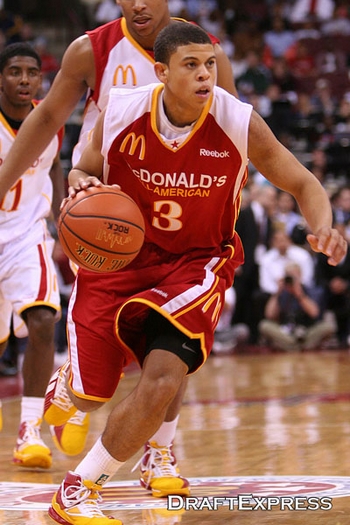 His scoring ability remains somewhat of a question mark—it was tough to get a great feel for this part of his game here—as he struggled to convert jump-shots off the dribble and at times lacks the strength to finish effectively around the rim, preferring to utilize his very nice floater rather than taking contact at the basket. He does seem to be a solid shooter with his feet set (his mechanics are solid) so it will be interesting to see how he develops this part of his game at the college level. McCallum is an unselfish guy by nature, but he appeared a bit reluctant to go out and look for his own shot at times, which his college team will surely need him to do when the situation calls for it.
Players in McCallum's mold are very difficult to come by, and the fact that he's the son of a head coach and clearly possesses outstanding intangibles makes him all the more intriguing. He's already drawing comparisons to players like
Darren Collison
, but probably is even further ahead of him at the same stage.
Keith Appling, 6-2, Shooting Guard
Committed to Michigan State
One of the lesser heralded prospects at this event, Michigan State commit Keith Appling didn't back down from anyone and did a nice job of acquainting himself with those who were previously not familiar with him.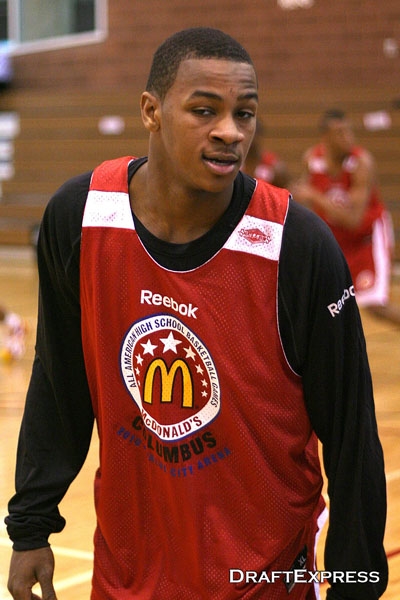 A tough and speedy combo guard, Appling is a shot-creator who likes to take the ball strong to the basket, and isn't afraid to draw contact in the process. His perimeter stroke looked somewhat shaky here in Columbus, and he really didn't show much in the ways of playmaking ability, looking much more like a shooting guard than a point despite his small stature. His shot-selection and decision making were somewhat average as well, which isn't really a surprise considering his profile and the stage of development he's currently at. Defensively Appling plays hard and is very pesky guy, something his future coach Tom Izzo surely will appreciate, as he did a good job getting right into his matchup. He has all the makings of a Michigan State player and will surely fit in very well in East Lansing, although his NBA upside is obviously not as high as some of his counterparts in this class.
Joe Jackson, 5-10, Point Guard
Committed to Memphis
This probably wasn't the best week for Memphis commit
Joe Jackson
, as he looked somewhat out of sorts in the practices and wasn't really able to do much in the actual game as well.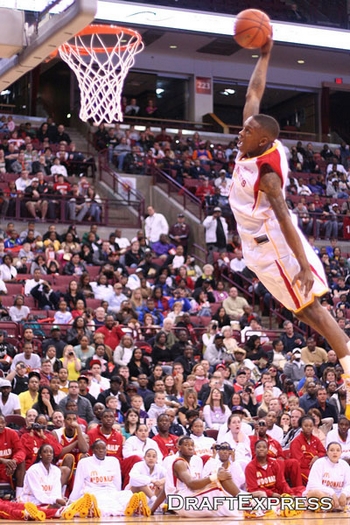 Jackson's terrific quickness and overall athleticism were constantly on display, but he seemed to get a little too caught up in trying to exhibit his scoring prowess, running into brick walls repeatedly and making some poor decisions. Jackson continues to give off the impression that he's more of a scorer than a true point guard, being somewhat of an
Aaron Brooks
type, but without the same excellent stroke from the perimeter. There will be a transition that Jackson will need to make at the college level, but he's clearly a superior talent/athlete that should be able to figure things out down the road.
JayVaughn Pinkston, 6-5, Power Forward
Committed to Villanova
Somewhat of a surprising selection to the McDonald's roster, Pinkston struggled to justify his inclusion over the course of the week, looking very much overmatched relative to much of the talent that was on display here in Columbus.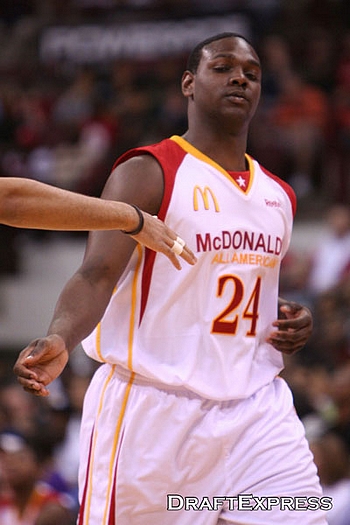 Already at a big disadvantage in terms of pure athleticism, Pinkston didn't do himself many favors by showing up severely out of shape, looking a good 20-25 pounds heavier than you might hope. He desperately looked to prove his value as a perimeter player, repeatedly bulldozing his way into the lane and forcing up bad shots, but not seeing very good results. Pinkston will likely need to start his career off in the post and slowly work his way out towards the wing, similar to the way players like P.J. Tucker and
Mike Harris
did.
When he wasn't busy trying to show off his small forward skills, Pinkston actually managed to impress with his strength, toughness and aggressiveness, traits that will surely be valued by Jay Wright at Villanova next year. He has a great nose for the ball and doesn't back down from contact, also showing the ability to operate somewhat effectively off the dribble taking his man off the bounce with his left hand.
Pinkston's natural talent level isn't up to par with most of the other players at this game, but if he's able to get in shape and is willing to be coached, he'll have a fine college career.
C.J. Leslie, 6-8, SF/PF
Undecided
Leslie was one of the most impressive players seen in the practice sessions of the McDonald's week, but struggled badly in the actual game. He's an amazing athlete who is an absolute terror in transition, but still has a ways to go in terms of maximizing his full potential. He likes to attack players off the dribble, but still needs to improve his ball-handling skills.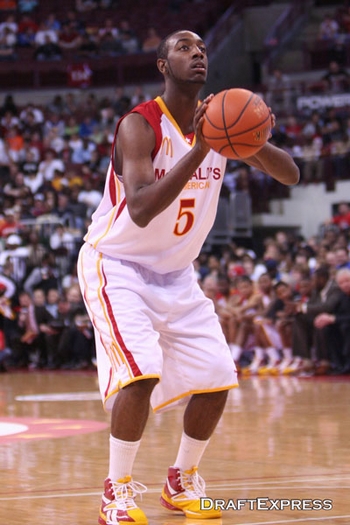 As a shooter, Leslie shows potential but is extremely inconsistent, which is often in large part due to his shaky shot-selection. He fancies himself a small forward, and will tell you as much himself, but can get into some trouble when he tries to do too much with the ball, which was the case at times in Columbus. While he definitely has the tools to play there down the road, he is probably better off as a face-up four at this stage.
Leslie can make a huge impact on the defensive end when he's dialed in, which unfortunately isn't always the case. Many a recruiting analyst talks about the inconsistency he shows from game to game both on and off the court, and there are clearly some concerns about whether he has what it takes to reach his full potential.
All in all we're talking about one of the biggest boom or bust prospects in this class, which will make it all the more intriguing to follow him at the college level.
Jared Sullinger, 6-9, Power Forward
Committed to Ohio State
Arguably the most impressive player seen from a production standpoint over the course of the week,
Jared Sullinger
easily justified his lofty recruiting rankings and even exceeded them to a certain extent.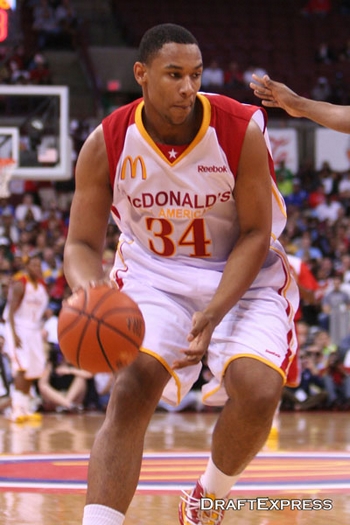 Sullinger is a prospect we've seen numerous times at this point and have written about at great length, but its impressive to see the strides he continues to make with his overall game, particularly on the perimeter. His jump-shot looks absolutely terrific, knocking down a number of 3-pointer in the practices and in the actual game, and showing off far better ball-handling skills than we've seen from him in the past. He took his man off the dribble with both his left and right hand, finishing impressively around the rim with either hand and displaying far more agility and dexterity than we've seen from him in the past. His body looks better and better every time we see him, and the fact that he continues to make strides with his skill level is a very encouraging sign.
Sullinger might not have the best long-term potential amongst the big men in this class, but his intangibles appear to be phenomenal and he's clearly going to be an extremely productive player at the collegiate level. Scouts will continue to monitor his progress closely, but there's already quite a bit to like about Sullinger based on what he's shown over the past few years.
We'll look at the likes of
Harrison Barnes
,
Brandon Knight
,
Cory Joseph
and others over the next few weeks at the Nike Hoop Summit and Jordan Brand Classic.