Wassup readers… Hope all is well in your world today. Sorry I haven't been keeping up with my blogs, (last blog was Sept 15th,2009) and Jonathan Givony (president of DraftExpress) been on me because of that. I know it's May, but HAPPY NEW YEAR!!!
In my last blog, I was working out with the Cleveland Cavaliers, planning to go to camp with them or another NBA team. Mostly everybody on the team was there except for Shaq and
Anderson Varejao
. Just to let you know, the atmosphere at Cleveland's practice facility is off the hook. IPOD is being played while we hooping and everybody was competing to be on the winner's court to play against LeBron and Mo Williams' team.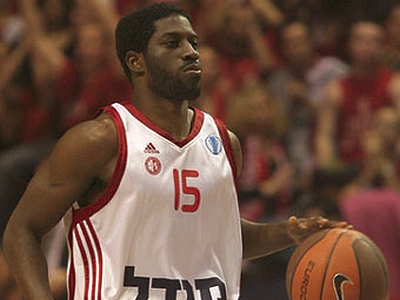 My team was on the winning court most of the time when I was there and we beat LeBron and Mo Williams a few times in the Championship. I had to mention that (LOL). I'm not surprised that Cleveland was the best team in the regular season because they have FUN and are serious about winning. So we shall how they do against the Celtics in this series.
While I was in Cleveland, I got a call from my agent, Andre Buck, telling me that two Euroleague (the #1 European Competition) teams in the ACB wanted to sign me for a few months because their point guards/ base (guard in Spanish) were injured.
My choices were Caja Laboral (aka TAU) and Unicaja Malaga. I choose to play for Unicaja Malaga because their coach, Aito Reneses, plays my type of style, which is up-tempo. Players on their team at that time you would know are:
Omar Cook
,
Taquan Dean
,
Robert Archibald
,
Joel Freeland
, and Jiri Welch.
I felt that playing for a Euroleague team in the ACB is the best of both worlds in Europe, because the competition is the highest level in Europe. For example, we can play a Euroleague game against Olympiacos (
Josh Childress
, Linas Klieza, and
Patrick Beverley
) on Wednesday night and then play a team like Barcelona (
Ricky Rubio
, Pete Mickael, Terrance Morris, and
Juan Carlos Navarro
) on a Saturday for an ACB game.
Our team started off rocky in the ACB because of injuries, which had us losing in the beginning, but the crazy thing about it was that we were undefeated in the Euroleague, beating Serbian team Partizan, Turkish team Efes Pilsen, and Greece powerhouse Olympiacos.
In the middle of November, my contract was up with Malaga and I signed with a team in Israel called Hapoel Jerusalem, right before the Eurocup (2nd best European competition). When the door closed with Unicaja Malaga, a better door opened up for me by coming to Israel.
American players that you would know on my team are:
Dijon Thompson
,
Leo Lyons
,
Tre Simmons
, and
Brandon Hunter
. And we have some good Israeli players too. Our team finished in the Top 8 in the Eurocup and in second place in the Israel league behind Maccabi Tel Aviv.
My bro/ teammate
Dijon Thompson
was 2nd team all Eurocup, I was 3rd team all Eurocup, and
Brandon Hunter
earned Honorable mention honors. Playoffs in the Israel league started last weekend so we must handle our business in the first round against a team called Maccabi Rishon. Pray for us!!
Israel
I didn't really know too much about Israel basketball before I got here from Spain. The only teams I knew about were Maccabi Tel Aviv and the team I'm currently on, Hapoel Jerusalem. They're the only teams playing in European competitions.
I have two things to say about my three years playing overseas, which favors Israel. When I was playing in Ukraine and Spain, the coaches that I had were good coaches but mostly practices were drills and less 5 on 5. Out here in Israel, my coach Guy Goodes, has us doing a few drills to warm up and then it's 5 on 5 for the whole practice.
I think that's a great way to stay in game shape and have rhythm for the game. No offense to the other coaches' philosophy or practice plans, but I feel more in shape this year because of practice.
The other thing I have to say or even heard from other American players that played in other countries is that Israel may be the best country to play in in terms of off the court conditions. But I heard Athens, Greece is great too.
Let's get this straight: Spanish league (ACB) is the best domestic league hands down in Europe. My opinion of why Israel might be the best for Americans off the court is because mostly everybody (85% of people) speaks English, the food is GREAT, the party scene is real cool, and the WOMEN are BEAUTIFUL. Women out here are a lot like Kim Kardeshians out this way. LOL!!!
You should've seen my girlfriend's face as I wrote that statement. She got that look on her face saying "You better not write that". Other than the Holy land, the best thing about Israel is that they love basketball out here. The fans out here are GREAT.
JERUSALEM
One of the main reasons why I wanted to play for Hapoel Jerusalem was to see and live in the HOLY LAND. I went to Bethlehem on Christmas Eve with my teammates, which was very special to me because it was the Eve of Jesus' birthday.
We went on a tour around the Old City of Jerusalem, where I got to see the path where Jesus was carrying the cross, put my hand on the piece of mountain/hill where the cross stood, and see the tomb where Jesus was buried. I visited Mount Olives and saw the actual fig tree where Jesus used to meet with the disciples. The fig tree has been there for about 2,000 years. I hope my calculations add up.
And last but not least, The Dead Sea, which is the lowest point on EARTH. I've been there twice already and will probably go before I leave to go back home. The Dead Sea is known for the mud bath, which is filled with a lot of minerals, and it's good and healthy for your skin and body. Makes you glow like SHO-NUFF in Barry Gordon's "The Last Dragon," so kiss my Converse.
Also, the Dead Sea has a lot of salt and minerals in the water that will make you automatically float and if you don't already know, I can't swim. It's AMAZING!!!
I would like to thank God for having this journey be part of his plans for my life. I just hope that before I go back to the states, I will have an Israeli championship on my resume for the 2009-2010 season. That's the goal.
Traveling
I did a lot of traveling this season playing in the Eurocup. Playing twice a week is the best in Europe. It makes the season go by faster, especially if you make it to the Top 8 or Finals. In the beginning of the season with Malaga, I got the chance to travel to Belgrade, Serbia, to play against Partizen.
Then when I started playing for Hapoel Jerusalem, I traveled to Croatia (KK Zadar), Greece ( Aris Thessaloniki), Lithuania (BC Siauliai), back to Spain ( Pamesa Valencia), Turkey (Galatasaray Café Crown in Istanbul), Russia (Unics Kazan), and Germany ( Alba Berlin).
Berlin was probably the best place to go to because it has everything. They had food spots like: Hard Rock Cafe, Dunkin Donuts, Hooters, Starbucks, T.G.I. Friday's, and many more. Shopping stores were Gucci, Louis Vuitton, Prada, YSL, and there were like 3 stores each.
So since I've been playing in Europe, I traveled to France, Bulgaria, Italy, Belgium, and the other places I mentioned above. Almost time to get a new a passport.
Summer Plans
Everybody is asking me if I'm going to play summer league this summer and the answer to that question is YES. I mean why wouldn't I? My goal is to be in the NBA so I think I have to continue to show teams that I'm the right fit for their team.
Looking at other guards that are my size in the league, like
Jose Juan Barea
,
Aaron Brooks
,
D.J. Augustin
,
Nate Robinson
, B Jennings, and etc. They all can score, are very quick, and are Game changers, meaning when they get into the game, they bring energy and produce.
This is going to be my fifth year playing though. Seems like I am a NBA summer league veteran. But the best thing about playing in summer league is I'm competing against other players that want the same spot that I want.
In previous years I played a lot in summer league, so I hope it doesn't change this summer. Playing in front of NBA and European teams just gets you a lot of exposure.
I gave a verbal to a team already so we shall see how that goes on draft night. Last year, I gave an early verbal to the Portland Trailblazers, and they ended up drafting Patty Mills in the second round. It ended up working out for me anyway because Pat got hurt. I'm glad to see him back on the court now.
A lot of things can happen from now until then, so hopefully things will work out for the best. But for now, I need to concentrate and find ways to bring an Israeli Championship to Jerusalem this season.
Congrats
Congrats to all the players that got called up to NBA teams in the NBA Development this season. I believe they had 40 call ups this year. That's great for the D-League. Congrats to my friends
Mike Harris
(MVP of the D-league) and
Alonzo Gee
(Rookie of the Year in the D-League).
Also, congrats to
Brandon Jennings
for having a great rookie year in the NBA. Congrats to my Alma Mater, Junipero Serra High School in Gardena, CA. They are the first high school ever in California to win state in football and Boys basketball in the same school year. Also, the Girls basketball team won CIF. I'm proud to be an Alumni of Serra in Gardena, not J Serra in the Valley or wherever it is. And congrats to my bro,
Brandon Heath
for being Player of the Year in Cyprus and winning the championship with his team Apoel.
GRACE, PEACE, AND BLESSING TO YOU AND YOUR FAMILY. WE MUST CONTINUE TO KEEP GOD FIRST AND EVERYTHING WILL FOLLOW!!!