Team: Trailblazers College Team: Trailblazers
Physicals
Positions
Salary
Misc
H: 6' 11"
W: 225 lbs
Bday: 02/07/1987
(28 Years Old)

Current: PF
NBA: PF
Possible: PF

Agent: Rafa Calvo
Current Salary:$3,013,512

High School:
Hometown: Farnham, England
Drafted: Pick 30 in 2006 by Trailblazers




Basic Per Game Statistics

- Comprehensive Stats - Statistical Top 25s
| Year | League | Name | GP | Min | Pts | FG | FGA | FG% | 2Pt | 2PtA | 2P% | 3Pt | 3PtA | 3P% | FTM | FTA | FT% | Off | Def | TOT | Asts | Stls | Blks | TOs | PFs |
| --- | --- | --- | --- | --- | --- | --- | --- | --- | --- | --- | --- | --- | --- | --- | --- | --- | --- | --- | --- | --- | --- | --- | --- | --- | --- |
| 2014/15 | NBA | Joel Freeland | 50 | 12.5 | 3.4 | 1.5 | 3.0 | 49.0 | 1.5 | 3.0 | 49.0 | 0.0 | 0.0 | &nbsp | 0.4 | 0.5 | 84.0 | 1.2 | 2.6 | 3.8 | 0.3 | 0.2 | 0.5 | 0.5 | 1.9 |

Player Page&nbsp&nbsp| Player Stats | Related Articles&nbsp&nbsp| Add to My Draft Express&nbsp
&nbsp
Blogging through the Copa del Rey (Part Three)
February 26, 2009
Joel Freelandís (#7 on rights held ranking) scouting report was just updated back in November, and there isnít a great deal to add to that besides saying that heís continued to play well. Heís playing solid minutes in the ACB and continues to score efficiently and pull down plenty of rebounds, particularly on the offensive end. The fact that he ranks 6th in the league in PER while being amongst the league leaders in a host of other categories is obviously no joke considering that he just turned 22.

In the one game we saw in Madrid he did a good job putting his athleticism on display, going after rebounds on both ends, chasing blocks and generally being very active. Offensively, he looked somewhat tentative, not being much of a presence for Gran Canaria, which is not a huge surprise considering his limitations on this end of the floor. Heís mostly a finisher at this point (albeit a very good one at that) and seems to struggle when asked to do much more than that, as he lacks great footwork or much range on his jumper. Heís also somewhat foul prone and clearly not very experienced, averaging a high amount of turnovers relative to his role.

Although itís pretty clear that that Freeland is not ready to contribute in the NBA, it seems like this summer will be the time for Portland to bring him over if they indeed intend on getting him in a Blazers uniform. He has an NBA escape clause and is drawing major interest around Europe from some of the top teams around, for example Real Madrid, Barcelona and Fortitudo Bologna, who all appear to have interest. It wouldnít be shocking to see Gran Canaria decide to cash in and sell his rights at some point, which would likely make Freelandís spot on the NBA rookie scale (around $800k gross) look paltry relative to the new contract heíd receive.

[Read Full Article]

---
European Roundup: Claver Showing his Stuff
November 22, 2008
From an NBA perspective, though, the most interesting player on this team is definitely Joel Freeland. The British big man and former Portland Trailblazers first round pick in 2006 (30th overall) is having a breakout season thus far, averaging an outstanding 12 points, 5 rebounds in just 18 minutes of action, shooting 67% from the field and throwing in a block per game for good measure.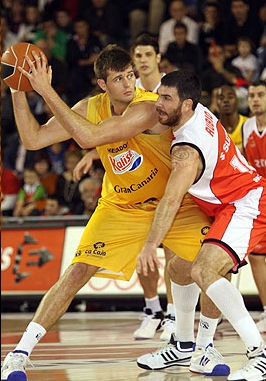 ACB.com



From a per-minute standpoint, there is not a more productive player in the ACB at the moment. Per-40 minutes Freeland is averaging 28 points, 12 rebounds and 2.5 blocks, after only playing 9 minutes per game in the ACB last season.

At 6-11 and approximately 250 pounds, Freeland is quite an interesting player from a physical standpoint, as his frame appears to have filled out nicely and heís retained pretty much all the athleticism that made him a prospect to begin with. Freeland runs the floor well, is very explosive off his feet, and possesses nice fluidity and agility for a player this size.

Inside the paint Freeland can make a big impact, as he has the size, bulk and explosiveness to finish everything around the rim with a powerful dunk, and is quick and active enough to go out of his area and make a living on the offensive glass as well. He is an excellent finisher and is beginning to improve his skill-level to a certain extent as well, showing nice hands and decent touch when forced to finish with a bit of finesse.

Freeland is still fairly limited when asked to create offense for himself, either with his back to the basket or facing up, as he lacks significant offensive polish and is still clearly learning the fundamentals of the game. Defensively he is a solid shot-blocking threat, but is still a little bit inexperienced in his knowledge of the game, making him somewhat foul prone at times.

At just 21 years old, and only playing basketball for a few years now, Freeland obviously still has a great deal of upside left to tap into. He is probably still a few years away from being able to contribute to an NBA team in a meaningful way, but the sparks heís showing at times are quite promising. The Trailblazers are probably the last team in the NBA who need another young big man prospect, but they have the advantage of continuing to let him develop in Spain for free, and reaping the benefits later.

The only problem is that at some point, the highly unattractive slot allotted to the last pick of the first round according to the rookie scale may be outweighed by far better offers from Europe, especially considering Freelandís British passport, which makes him a Bosman A player. Another season in Europe may make things difficult on Portland later, even if Freeland clearly isnít ready right now for the NBA.

Regardless of what happens, you have to tip your hat to Kevin Pritchard and his outstanding staff for continuing to stockpile such promising prospects.

[Read Full Article]

---
An American Perspective on Europe: The Big Men (Part One)
June 25, 2006
Joel Freeland is this yearís international man of mystery. After enjoying little exposure playing in last yearís European Division B Junior Championship, a season in Gran Canaria Fadesa of the Spanish fourth division and the second division of the U-20 Circuit, he surprised everyone in Treviso by showcasing his excellent potential.

Freeland is an athletic big man, extremely quick and highly coordinated. Although heís a bit too skinny right now and has a tendency to get pushed around, he enjoys an excellent frame to put the necessary weight on to make a living in the NBA.

Freeland has reportedly only been playing basketball for three years, but the game comes natural to him. Heís not a polished player, but he does a little bit of everything. Shooting is the department that he looks to be strongest at right now. He shows good mechanics and a quick release, enjoying range out to the international three-point line and already some nice accuracy, even being able to knock it down off the dribble. Indeed Joel can put the ball on the floor rather easily, although he rarely faces and attacks his matchup from the perimeter using his ball-handling skills. Heís more of a post guy when it comes to playing one on one, regardless of the fact that his movements down low are still pretty limited. However, given his excellent coordination and footspeed, he should be able to develop a very nice post game if he works hard enough.

Defensively heís just as promising. Heís a smart and an intense player, which helps quite a bit. Joel shows good positioning and lateral quickness, and battles to keep his position in the low post. Not a bad rebounder at all, perhaps he could use a little extra effort in terms of boxing out.

At this point, Freeland is mostly about potential, but itís highly realizable potential. He seems to have everything in place to become a very useful player: the physical foundations to end up with an NBA body; a raw, but wide skill set that will only get better thanks to his learning curve and excellent coordination, and the right hard-working attitude to be effective on the basketball court. He projects as a late first to early 2nd round pick.

[Read Full Article]

---
RBK Treviso Eurocamp 2006: The Final Cut
June 15, 2006
The surprise of the camp, Joel Freeland, really suffered from the intensity he displayed in Treviso, looking quite tired in the last two days, which made him lose a bit of hustle in his game. This was particularly noticeable in rebounding situations, where he looked less physical, and by the fact that he settled mostly for jumpers instead of looking for some post production. However, I would say that his shooting mechanics did look a bit better by the end of the camp than they did the first day, even if he struggled to make them, probably due to the fatigue. The kid has reportedly been playing basketball for only two years and apparently learns everything extremely quickly (except speaking Spanish).

[Read Full Article]

---
RBK Treviso Eurocamp 2006: Day Two
June 13, 2006
Starting with a 6-11 frame in shoes, although paired with an average 6-10 wingspan, heís very nicely built as shows some interesting strength on a solid frame that should allow him to add the required weight to play at a high level of competition. He has very solid athleticism in terms of quickness, leaping ability (26 inches in static fashion, 29 in the one-step) and reactivity, while showing excellent coordination that should make it very easy for him to assimilate new moves.

The skill part is also there, even if he is still a bit raw. Joel has shown some shooting touch from the mid-range area, and although heís still rather inconsistent, his mechanics look promising. He can also produce in the low post, having the ability to use both hands and enjoying some soft touch, even if again he needs to work here, gaining more moves and more polished footwork. He can also put the ball on the floor, easily finishes strong under the rim, looks aggressive on defense, either denying the ball to his matchup or actively looking for the block, and also does good work passing the ball out of the low post or from the high post. Heís smart and plays with intensity, quite a nice combination. He should actively work on getting a complete power forward game, as he's not big enough to excel as a center, but he looks to be on the right way.

Freeland is coming off spending a season playing in EBA (Spanish fourth division) with Gran Canaria Fadesa, where he averaged 15.2 points and 7.7 rebounds. He has declared for the upcoming draft, although he would probably be way better off withdrawing and trying to work his game into the first round in the following years, as he is only a 1987-born kid. If he decides to stay, some team might take a long look at him late in the second round. For the moment, he has agreed to a three-year contract with Gran Canaria Grupo Dunas (the ACB team), a solid and established organization which is perfect to help develop him, but he can freely leave for the NBA if he gets love in the draft. The kid apparently really wants to try there, although in a position where he can keep progressing.

[Read Full Article]

---