Scouting Report by Jonathan Givony. Video Analysis by Mike Schmitz
Underrecruited out of talent-rich Indianapolis, and thus electing to play for his father, the head coach at Georgia State,
R.J. Hunter
did not take very long to show he can play at any level of college basketball. He won Freshman of the Year and was named a first-team All-Conference player, before winning back to back Sun Belt Player of the Year honors as a sophomore and junior and leading his team to an NCAA Tournament berth.
Hunter and his father (who tore his Achilles celebrating the Conference tournament championship) were responsible for some of the best moments in the first weekend of the NCAA Tournament, taking down Baylor in a very memorable game, before bowing out with a loss to Xavier. After accomplishing quite a bit at the college level, and helping his father establish a great platform at Georgia State, Hunter elected to move on to the pro ranks, which makes sense considering he turns 22 later this year.
(Video may not load with Internet Explorer. Use Chrome or Firefox)
Hunter has good size and length for a NBA shooting guard prospect, standing 6-5 in shoes with a very long 6-9 ½ wingspan. He has a lanky frame that should continue to fill out in time, but is still very underdeveloped, tipping the scales at just 180 pounds in the summer of 2014. Athletically, he is very smooth and fluid, but doesn't stand out with extraordinary speed or explosiveness.
Hunter's biggest appeal as a NBA prospect revolves around his outside shot, even if that's far from his only strength at the moment. He has deep range extending well beyond the 3-point line, and can make shots in a variety of ways, be it off spot-ups, coming off screens, or pulling up off the dribble. Hunter's release point is somewhat low, which would be more of an issue if he didn't get his shot off as quickly as he did. His mechanics are smooth and compact, complete with terrific footwork and a pretty follow-through, and he sets his feet and shoots it all in one quick, effortless and aesthetically pleasing motion.
Hunter's percentages as a jump-shooter were nothing to write home about over the course of his college career—he made just 35% of his 3-point attempts at Georgia State and 30% as a junior. He shows great confidence and aggressiveness as a shooter, though, hitting some deep and incredibly difficult looks that only real snipers do. That, combined with his mechanics, the huge volume of 3s he attempts (over 7-attempts per game), and his sparkling percentages from the free throw line (89% as a junior) lead you to believe that he'll find a way to develop into a very dangerous shooter in the NBA, particularly when he's drawing less attention from defenses than he did as a marked man every night for Georgia State. If he doesn't, he will certainly have problems.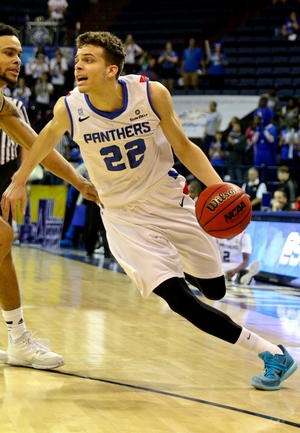 Hunter supplements his shooting prowess with some impressive passing ability too. He has good court vision and a solid feel for the game, allowing him to contribute to his team's ball-movement and find teammates for easy baskets. He posted an assist on a solid 20% of his possessions, compared to a minimal 11% turnover percentage, which bodes well for his ability to play a complimentary role. He showed some increasingly slick passing out of the pick and roll as his career moved on, as well as in transition or attacking closeouts, utilizing his excellent footwork and ability to change speeds.
This was a positive development for his draft stock, as Hunter is not particularly explosive or the most prolific ball-handler in terms of his ability to create his own shot against a set defense in the half-court. He struggles to get by defenders purely with his first step, often relying on his off-arm to fend off opponents, and struggling in turn to get all the way to the basket and finish in the paint among traffic due to his average explosiveness.
(Video may not load with Internet Explorer. Use Chrome or Firefox)
Hunter converted just 47% of his shots inside the paint this season, a mediocre rate for any college player, but especially one from the Sun Belt, which is considered one of the weaker conferences in the NCAA. He tends to shy away from contact around the rim, as he lacks not only strength but also a degree of toughness, causing him to settle for tough floaters, which he hit at a middling rate (9/34 on the season).
Despite his unimpressive percentages (49% 2P%, 30% 3P%) from the field, Hunter was able to remain reasonably efficient offensively thanks to his ability to get to the free throw line at a strong rate (7.2 attempts per-40). It's doubtful that he will be able to get to the line at the NBA level at the same rate, so it will be imperative for him to become more consistent with his outside.
Just as important will be Hunter's defense, which will likely play a major role in his ability to carve out a serious role for a good NBA team. On one hand he has excellent length (6-9 ½ wingspan), which, combined with his solid lateral quickness and excellent anticipation skills and feel for the game, gives him a chance to develop into a solid option on this end of the floor. He was a real playmaker at the college level, generating a huge amount of steals (2.3 per-40) and blocks (1.1) for a player at his position, which is usually a very good sign.
On the other hand, a lot of this had to do with the amount of zone Georgia State plays, which allowed him to roam around, gamble at times, and make plays all over the floor. Playing zone exclusively for three years in college is not ideal from an NBA standpoint, where he'll be forced to learn an entirely new style of defense, with all the many principles, concepts and coverages that go along with that, and Hunter's slender 180-pound frame could make it difficult for him to contain bigger and stronger players. Considering he turns 22 before the NBA season begins, it will be interesting to see how much his frame can continue to fill out over the next few years.
Hunter did not have a great junior season statistically, which saw his draft stock stagnate somewhat, but he finished on a relatively strong note advancing to the NCAA Tournament Round of 32, and plays arguably the shallowest position in this draft class, which should help him quite a bit. Many teams around the NBA are looking for shooting guards who can stretch the floor, pass the ball and be competitive defensively, so as long as Hunter can ease the concerns around his surprisingly low 3-point percentages and show he can adequately guard his position during the pre-draft process, he should easily find a spot for himself in the first round.