R.J. Hunter vs Iowa State Video Analysis
February 27, 2015
(Video may not load with Internet Explorer. Use Chrome or Firefox)
More Situational Videos from Mike Schmitz
-Jahlil Okafor vs Frank Kaminsky
-Myles Turner vs Kentucky's NBA Frontcourt
-Kristaps Porzingis vs Barcelona
-Ben Simmons vs Ivan Rabb
-Jakob Poeltl vs Cliff Alexander
-Montrezl Harrell vs Kentucky's NBA Frontcourt
-Rashad Vaughn vs Arizona
-Christian Wood vs Arizona
-Jerian Grant vs J.P. Tokoto
-Bobby Portis vs Damian Jones
-D'Angelo Russell vs Louisville
-Delon Wright vs Rondae Hollis-Jefferson
-Stanley Johnson vs Anthony Brown
-Robert Upshaw vs Jakob Poeltl
-D'Angelo Russell vs Indiana
-Justise Winslow vs Justin Anderson
-Mario Hezonja vs Real Madrid
-Karl Towns vs Jarell Martin
-Delon Wright vs Tyrone Wallace
-Jerian Grant vs Kris Dunn
-Christian Wood vs James Webb
-Kevon Looney vs Arizona
---
Take a look at our video section for a compilation of all the videos we've produced this year.
[Read Full Article]

---
Top NBA Prospects in the Non-BCS Conferences, Part 1
October 28, 2014

Mike Schmitz is the video analyst for DraftExpress. Follow him on twitter and check out the DraftExpress video section. He will be breaking down the NBA draft in digital format all year long for us.

[Read Full Article]

---
Top NBA Prospects in the Non-BCS Conferences, Part Five: (#21-25)
November 5, 2013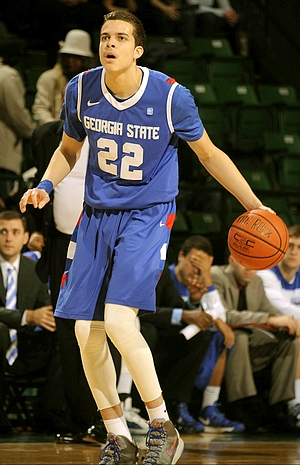 US Presswire



Kyle Nelson

R.J. Hunter left high major offers on the table to play for his father at Georgia State University, but few expected him to emerge as his team's best player and the Colonial Athletic Association's Rookie of the Year, all while being named to the All-CAA First Team.

Hunter struggled in games against Duke (10 points on 4/11 FG) and BYU (7 points on 2/9 FG) early on, showing that he has a lot of room to grow against high-level competition, despite his impressive freshman season. Now a sophomore, Hunter is no longer flying under the radar and NBA scouts will be watching to see if he is capable of taking the next step in his development as a prospect.

At 6'5 and 185-pounds, Hunter has average physical tools for a NBA shooting guard, as he lacks ideal length, strength and explosiveness. Yet, while he is not a standout athlete, he possesses deceptive quickness, showing solid agility off the dribble and body control in transition.

Yet, Hunter is best known at this point in time for his scoring ability, averaging 20 points per-40 and ranking as the the fifth most prolific freshman in our database last season, while using 25% of Georgia State's overall offensive possessions. He played a significant role and showcased impressive versatility as a shot creator at this stage in his development.

Ultimately, however, 73.2% of his overall field goal attempts were jump shots, of which he made a solid, though unspectacular 37%. When coupled with his 36% 3P%, it would seem as though he is a decidedly average jump shooter. Yet, a closer look reveals that Hunter made 39% of his catch-and-shoot. In these situations, he shows fluid mechanics, solid elevation, and a quick release with range out to the NBA three point line.

Hunter's lack of efficiency stems from his propensity for taking off the dribble jumpers, something he's capable of doing with reasonable effectiveness, showing the capacity to create space for step back and pull up jump shots both inside and outside of the arc. While his ball-handling ability is far from elite, he has a few moves, particularly a crossover and step back, which are particularly helpful for him to create shots off the dribble, where he makes a decent 35% of these attempts.

Furthermore, he is a very adept shot creator out of the pick-and-roll, both for himself and his teammates. As a shooter, he does a very good job of using his size and savvy to see over screens, either hoisting up a long jumper or attacking the lane off of the dribble. Perhaps most impressive about Hunter's freshman season was the fact that he played under control, showing solid patience and shot selection, as well as instincts as a distributor. While nobody will mistake him for a point guard, his abilities as a shot creator out of the pick-and-roll is another intriguing aspect of his versatile skill set.

While he lacks ideal quickness and does not get to the line at a standout rate (5.2 FTA per 40 minutes pace adjusted), he was reasonably effective when he did create scoring opportunities inside the paint, converting on an impressive 59.7% of his overall attempts around the basket. Likewise, he was solid in transition, compensating for his average athleticism by weaving in and out of defenders on his way to the basket while always being a threat to launch a floater or pull up for a mid-range jumper.

On the defensive end, Hunter shows some solid tools and undeniable limitations in Georgia State's 2-3 zone. The biggest issue here is his combination of average lateral quickness and length, which will undoubtedly result in issues against better competition. That being said, he does a good job of staying aggressive and remaining involved on plays even after he is beaten, crashing passing lanes (2.1 steals per 40 minutes pace adjusted), hustling on the boards (6.1 rebounds per 40 minutes pace adjusted), and even blocking one shot per 40 minutes pace adjusted.

On the other hand, he is not the most fundamentally sound defender, either. He often finds himself out of position, getting sucked into the lane chasing steals and has a tendency to struggle to close out on perimeter shooters as a result. He also misses his fair share of rotations, as well, though it is worth pointing out that Georgia State's team defense, in general, left much to be desired.

It is worth repeating, however, that Hunter is still young and has already shown quite a bit in a starring role during his freshman season. Unfortunately, for the second straight year, he will have few opportunities to prove himself against elite competition in Georgia State's weak out of conference schedule. Even so, Georgia State should be a contender in the Sun Belt Conference championship right away, and the conference features some solid backcourts that will test Hunter on both ends of the floor.

The addition of well-traveled point guard transfer Ryan Harrow should also help Hunter's case, allowing him to play exclusively off of the ball while providing yet another scoring option in Georgia State's perimeter attack. Nevertheless, R.J. Hunter is still probably a ways away from hearing his name mentioned as an immediate NBA prospect, even though another standout season will ensure that, at the very least, he stays on scouts' radars.

[Read Full Article]

---