In our newest installment of our "Rookie Retrospectives" series, we'll be analyzing the play of former Texas Longhorn standout
D.J. Augustin
. After two years under Rick Barnes,
D.J. Augustin
entered the 2008 NBA draft as the most decorated point guard in his class. An Academic All-American and
Bob Cousy
Award winner, scouts acknowledged his high basketball IQ, but questioned how his size would project to the next level. Leading into the draft, most experts predicted the Bobcats would select
Brook Lopez
if available, but Head Coach
Larry Brown
pushed for
D.J. Augustin
and felt he had the essential tools to become a great NBA floor general. As he's acclimated to the demands of the NBA, Augustin has provided Charlotte with a great scoring punch off the bench, as well as a solid distributor at the backup point guard spot.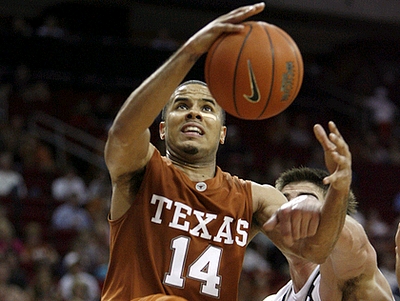 Rookie Retrospective: D.J. Augustin
Point Guard, 5'10, 180, 1987, Charlotte Bobcats
Part One: Point Guard Skills & Decision Making
Then
"Augustin is remarkably well-rounded for such a young prospect, but the aspect of his game that immediately sticks out is how he plays the game under control. His fantastic 2/1 Ast/TO ratio doesn't tell the entire story here, as Augustin plays at very high speeds - his explosiveness, quick hands and court vision allow him to weave in and out of traffic at will- and gets the most out of his ball-handling ability while usually managing to keep himself out of turnover situations."
-NCAA Weekly Performers - 3/8/07, Part One
"In terms of his point guard game, Augustin also looks as good as ever running his team's offense and managing the tempo, dishing out assists every which way, whether it be feeding the post, pushing the ball in transition, drive-and-dishing, or just finding open shooters on the perimeter. He gets the tendency to hold on to the ball at times, but it's often due to lack of movement from his teammates, while he waits for something to develop. Augustin's looked really good in transition thus far, keeping his head up and making accurate long passes to get easy baskets for his teammates. He's also looked very good adjusting with the ball in mid-air in the halfcourt, being able to find an open man if he gets caught in a tough position."
-NCAA Weekly Performers - 12/12/07, Part One
Now
Since arriving in Charlotte, Augustin has displayed good court vision and the ability to consistently put his teammates in positions to score, especially in transition. During his days at Texas, he proved more than capable of making plays at full speed –a quality that has transitioned smoothly to the NBA level due in large part to his basketball IQ. Augustin may not be a freak athlete like most under-sized point guards, but he's no slouch, and optimizes his quickness by changing speeds effectively which allows him to get around most defenders and attack the paint. When he can attack the rim with the defense off-balance, whether that occurs on the fast break or in a half-court setting, he has the ability to create open looks for himself and others.
Augustin's experience with the pick and roll at Texas has also helped him adapt to the NBA, where the pick and roll accounts for 45% of his offensive possessions. Combining his solid quickness and high basketball IQ, Augustin uses ball screens well, and has proven to be more effective when facing a double team off the screen (1.14 PPP) than a straight up defensive approach (0.84 PPP). This is because he's more adept at finding a cutting big man than shooting a mid-range jump shot off the dribble. Even if defenses don't hedge aggressively, the pick and roll forces Augustin's man to fight over the topside of the ball screen since he's such an effective 3-point shooter.
As evidenced by his solid assist numbers and turnover ratio (4.1 APG – 4th among rookies; 2.1 Ast/TO – 3rd among rookies), Augustin usually makes fundamentally sound plays, a testament to both his cerebral playing style and
Larry Brown
's coaching demands. These statistics practically mirror his college production in these categories; however they are also a good reflection of both his strengths and weaknesses as a playmaker and a scorer.
Even though Augustin has shown promise as an NBA floor general, he is certainly guilty of his share of rookie mistakes. In many instances, Augustin uses his quickness to get into the paint and penetrates too deep before shooting. Already at a disadvantage because of his height, this
over
-penetration forces Augustin to alter his shot, drastically lowering his field goal percentage. Many of the passes that he could sneak out of the paint as a collegiate now turn into easy transition opportunities for opponents. If he begins shooting more pull up jumpers from 12-15 feet and doesn't try and force things as often, Augustin should see an increased number of open looks leading to better offensive efficiency.
Part Two: Scoring Ability
Then
"Augustin also possesses a very effective perimeter shot, with a good number of his looks coming off the dribble. Last season, he was the only point guard in the country to shoot above 40% from the three point line and have a 2 to 1 assist to turnover ratio, an impressive feat for a freshman on a team filled with underclassman. His shooting percentage looks more impressive when you factor in the degree of difficulty on some of the shots he attempted. Augustin lacks the ideal elevation you'd like to see from a small guard, though he is helped by a quick release and a very consistent stroke."
-Top NBA Draft Prospects in the Big 12 (Part One: #1-#5) - 10/8/07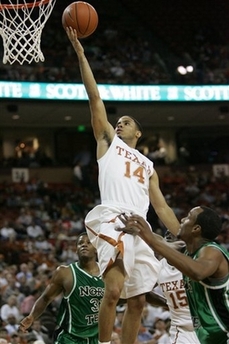 Now
After a two-year stint at Texas, few questioned Augustin's shooting ability; however, many scouts were concerned he wouldn't efficiently score against larger and more physically gifted NBA defenders. While he has adapted to the deeper three-point line (39%, 2nd among rookies), Augustin's production from two-point range has been absolutely dismal through the first half of his rookie season. On film, Augustin showed a very consistent outside stroke and solid shooting mechanics, yet his 37% shooting percentage from inside 17 feet certainly has the Bobcats concerned. According to Synergy Sports Technology, Augustin is finishing just 43% of his attempts around the rim, down from 49% last year at Texas.
This inadequacy can be attributed to Augustin's short 5'11 stature and the fact that he now faces much better help side defenders than he saw at the collegiate level. When he attacks the basket, he's now guarded by much lengthier players, which forces him to fade away or use other crafty moves to score the ball. Instances where he forces a drive to the rim and alters his shot in mid-air have greatly hindered his NBA shooting percentages.
Augustin has proven over the past few seasons that he is an elite spot-up shooter (NBA – 43%, 1.29 PPP; NCAA – 44%, 1.27 PPP); however, he's been minimally effective when shooting pull-up jumpers off the dribble. Up to this point in his rookie season, he's shooting just 37% on dribble jumpers, averaging only 0.89 PPP. Improvement in this mid-range area is critical to the development of every young guard and
D.J. Augustin
is certainly not an exception to this rule. The lack of elevation he gets when shooting from the outside has made it even tougher for his to become an effective pull up jump shooter.
One bright spot for Augustin has been his free throw shooting. He's currently shooting 92% from the charity stripe, good for sixth in the NBA. While his percentage is vastly improved from his 78% average last year at Texas, he's only attempting 3.4 free throw per game. While that number could rise marginally over time as Augustin becomes more adept inside the arc, he isn't the type of player that is going to be seeking out contact at the rim in an effort go to the line. However, he will be a great player to have on the floor in crunch time.
Part Three: Athleticism
Then
" His 5'11 height somewhat limits his upside at the next level, but he has the quickness and skill set to make up for it. He doesn't quite display the athleticism of a Terrell Brandon, but probably belongs in that mold for play style comparisons. Augustin can probably add a bit more strength/explosiveness with some time in the weight room, but one really has to stretch to find any sort of hole in his game, beyond his shortcomings defensively."
-Top NBA Draft Prospects in the Big 12 (Part One: #1-#5) - 10/8/07
Now
During his college career, we saw a very skilled player with a great feel for the game, who was limited by his lack of height. As predicted, Augustin's court savvy has translated favorably to the NBA, and he has used his understanding of the game and sound ball handling abilities to set up teammates in a variety of ways. However, there are still significant concerns about Augustin's athleticism with regard to his quickness, leaping ability, and strength.
While he possessed a fairly strong frame for the college game, Augustin will have to continue to improve in the weight room so he can contend with taller, stronger NBA guards, especially those that spend time in the post. Added strength would also allow Augustin to improve in one other important area: finishing at the rim. Improvements in each of these categories would certainly increase Augustin's contributions.
In terms of quickness, Augustin is not considered an elite prospect; however, he moves very swiftly on offense by changing speeds constantly and keeping the ball in his strong hand when facing pressure. Also, opposing guards are forced to crowd Augustin because of his outside shooting ability, which in turn opens up drive-and-kick opportunities for Charlotte's shooters. Defensively, Augustin does a solid job of staying between his man and the bucket, but improved strength and quickness would increase his overall effectiveness on both ends of the floor.
Finally and most importantly, Augustin must spend time in the offseason improving his overall explosiveness. Offensively, Augustin struggles mightily finishing at the rim and elevating on pull-up jump shots, and on the defensive side of the ball he doesn't always contest taller shooters. By continuing to improve his understanding of the game and dedicating more time to weight training and plyometrics, Augustin may become a solid NBA starter for years to come.
Part Four: Defense
Then
AT A GLANCE: D.J. Augustin
Strengths:
-Commitment to playing defense.
Weaknesses:
-Defensive potential
-NBA Draft Prospect Profile:
D.J. Augustin
"Right off the bat we see a lot of the things we wanted to look for in our preview. Derrick Rose took D.J. Augustin down to the mid-post, where his height was just too much for him to handle, even though he did everything humanly possible to try and contest his shot."
- Blogging Through the Elite Eight (Part Two) -3/11/2008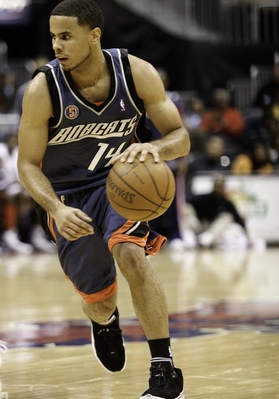 Now
During his stint at Texas, Augustin was viewed primarily as an offensive player. His defensive statistics (NCAA – 1.3 STLPG), though solid, didn't jump off the box score. Fortunately, Augustin had an advantage in quickness and basketball IQ over his collegiate counterparts, which prevented him from becoming a defensive liability. Scouts rarely questioned his effort on the defensive end, since he usually stayed between his man and the hoop and rarely got beat off the dribble. Yet due to his lack of size (he measured just 5-10 without shoes) Augustin continued to face criticism about his defensive potential at the NBA level.
At the midpoint of his rookie season, Augustin has answered the critics by developing into a steady defensive player in the Bobcats rotation. Much like he did at Texas, he uses quick feet and a great understanding for the game to keep his man out of the lane. And although his steals numbers are down from college (NBA – 0.8 steals-per-40, down from 1.4 per-40), Augustin has developed into an average on-ball defender in the NBA. While this might not seem like a compliment, he is doing a little better than scouts were predicting before draft night.
Augustin's struggles on the defensive end stem from his lack of size and explosiveness. Because of his length issues, Augustin isn't a factor in passing lanes, and his lack of elite quickness makes it tough for him to defend the more athletic point guards in the League. Another downfall created by his lack of size and strength is his inability to contest interior shots and provide any sort of resistance in the post. On the whole, he seems willing to make a solid defensive effort and takes few risks in the passing lanes, which makes him a middle-of-the-road defender at best. In order to climb among the NBA ranks, he will need to become more physical on the ball and use his anticipation and solid quickness to compensate for his lack of height and vertical explosiveness. If he improves in these areas, as most lottery picks eventually do, we may see him as an NBA starter sooner than previously thought.
Part Five: Intangibles (Leadership & Poise)
Then
"He just does what you ask him to do, without exception," Brown said after a minicamp practice this week. "I knew he was a good player, but he's far exceeded my expectations."
"It'll be neat because once the veterans come in I think he'll endear himself to all those guys, because if you get open he's going to get you the ball," Brown said. "He thinks pass first. He gets you into what you want to do. He gets the ball to the right people. He's real good."
-Augustin Makes First Impression – 7/12/08
Now
When he is on the court, Augustin has the look of a veteran point guard who is familiar with pressure situations. He plays very hard and fast and has shown a great deal of defensive effort, although his statistics don't necessarily prove it. Augustin rarely gets into arguments with referees and seems to maintain positive body language, which is incredibly important on a team going through some growing pains like the Bobcats. Becoming a more vocal and expressive floor leader should be one of Augustin's priorities throughout this season. As his role in the Bobcats' game plan increases, so too must his leadership ability.
Overall, the Bobcats should be pleased with Augustin's first few months of NBA action. Many experts questioned their decision to pass on
Brook Lopez
, but Augustin's play has quieted some of the doubters. Although he will probably never be an all-star caliber point guard, his development into a reliable NBA starter will be critical to the future success of the Bobcats' franchise.