Russ Smith, 6'0, Guard, Louisville, Senior
---
Latest DX Scouting Reports:
-Gary Harris
-Lamar Patterson
-Jarnell Stokes
-Jahii Carson
-Nick Johnson
-Cleanthony Early
-P.J. Hairston
-Zach LaVine
-Artem Klimenko
-Keith Appling-Tyler Ennis
-Markel Brown
-Jordan McRae
-Rodney Hood
-Doug McDermott
-Juvonte Reddic
-Jordan Bachynski
-Andrew Wiggins
-Elfrid Payton
-Aaron Craft
-Marcus Smart
-C.J. Wilcox
---
Kyle Nelson
It has been over a year since Russ Smith was our
NBA Draft Prospect of the Week
(click to watch video scouting report) and one of college basketball's more unique prospects took another giant leap forward in his development. Known previously as a loose canon without point guard instincts, Smith averaged 24 points and 6 assists per-40 minutes as a senior, showcasing new-found versatility and playmaking skills, while leading Louisville to a top-5 AP ranking and a Sweet Sixteen run in the NCAA Tournament.
Individually, Smith was named First Team AP All-American and was a finalist for National Player of the Year, capping off an impressive college career that was nothing short of
russdiculous
. Yet, most scouts project him as a second round pick and, despite his significant improvement, there is little consensus on what he can offer an NBA team at this stage.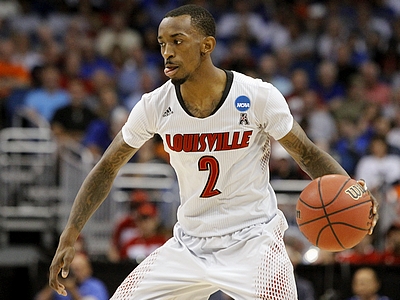 Some of that has to do with his size. Standing just 6-0, with a rail thin 165-pound frame, Smith ranks as the
eighth most prolific
scorer in our top-100 prospect rankings, posting an impressive 23.9 points per 40 minutes pace adjusted. Furthermore, Smith made a career high 52% of shots from inside of the arc and 39% from 3-point range, up from 46% 2P% and 33% 3P% as a junior.
On film, Smith plays a fearless, albeit reckless, style of basketball. Making him particularly dangerous is the fact that he can score inside and out, off the dribble and from a standstill, while possessing elite quickness, agility, and explosiveness.
Perhaps most notably, he added perimeter shooting as a consistent part of his offensive repertoire, making 39% of his many 3-point attempts and 40% of his overall catch-and-shoot attempts. Unsurprisingly, he took and made more shots while guarded and showed a knack for finding looks off the dribble. His shooting mechanics are inconsistent, however, and he still shows a tendency to fade away, kick out his feet, and shorten his follow-through with a defender in his face, running off screens, and shooting outside of his range. His shot selection will need to continue to improve, as he still is all too fond of tossing up bad shots out of rhythm. His shooting mechanics do look good with his feet set and in space, however, suggesting that he can continue to improve in this area.
Smith remains a dynamic player in transition, using his speed to push the ball up the floor and darting effortlessly through traffic on his way to the basket. Likewise, he also polished his half-court skills, showing an excellent first step and agility while continuing to hone his instincts operating out of the pick-and-roll. While he continues to struggle as a finisher around the basket, he at least made strides in this area as a senior, making 50.4% of shots around the basket, up from 44.8% as a junior. Furthermore, Smith subtly adapted to his size and strength limitations, showcasing a much-improved floater, utilizing better body control and restraint, and even occasionally finding open teammates.
That being said, he continued to show questionable decision making ability, particularly off the dribble, as he ranks as the fifth most
turnover prone
player in our top-100. Smith continued to show a tendency to recklessly attack the basket, throwing up contested looks with teammates open both inside and out and leaving his feet without a plan. Therefore and while Smith's fearlessness is arguably his greatest asset, continuing to refine his decision-making ability would go a long way in terms of becoming a more efficient finisher.
His decision-making did, however, improve during his senior year. One of the criticisms surrounding Smith as a junior was that he was a 6'0 shooting guard without point instincts. As a senior, he showed significant improvement as a distributor both on and off of the ball, logging a career high 6.1 assists per 40 minutes pace adjusted and a respectable 1.64 assist/turnover ratio. Additionally, he looked increasingly comfortable running the pick-and-roll, which might go a long way in convincing teams that he is capable of playing rotation minutes at the point guard position.
On the other hand, he still did not look like a natural distributor and too often was plagued by tunnel vision and bad decision-making. He is not a particularly adept passer, oftentimes overthrowing lobs inside and missing open teammates, and his instincts off the dribble more generally could use significant improvement. Still, few saw Smith taking such a giant step forward, suggesting that he has still has room to improve as a point guard, particularly in the more wide open NBA where his style of play undoubtedly fits better.
While his considerable improvement on the offensive end adds to his intrigue, his bread-and-butter as a prospect remains his defense. By the numbers, Smith graduated as Louisville's all-time leader in steals, averaging 1.9 steals per game for his career and ranked fifth among prospects in our top-100 as a senior.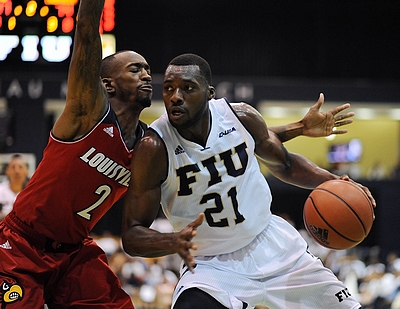 On film, his excellent lateral quickness, length, and aggressiveness allow him to be an elite on-ball defender, skills that should translate seamlessly to the next level. Likewise, he fights through screens, gets in passing lanes, and makes hustle plays, all of which make him an intriguing NBA prospect, despite his lack of size and slight frame.
Smith, therefore, presents scouts with an interesting decision. He displays some very obvious weaknesses. He is a dynamic scorer off of the dribble, an intimidating on-ball defender, and an improving point guard, but he also tends to play out-of-control and does not make the greatest decisions. Yet, there are few players who improve on almost every single one of their weaknesses at 23. There are even fewer undersized volume scorers that develop point guard instincts as seniors. Simply put, Russ Smith is an exception to the rule across the board and improved while playing a different role than he did the year before. For these reasons, it's hard to bet against Russ Smith at this point and, at the end of the day, he will have every opportunity to prove himself as an NBA player over the next few months and years.