Russ Smith has gone from lightly recruited high school player to one of the faces of college basketball. What type of NBA prospect is he?
-NBA Prospect of the Week: C.J. McCollum
-NBA Prospect of the Week: Marcus Smart
-NBA Prospect of the Week: Anthony Bennett
-NBA Prospect of the Week: Ben McLemore
Scouting report by Jonathan Givony. Video analysis by Mike Schmitz
One of the most popular players in college basketball due to his highly entertaining and unpredictable style of play, as well as his
quirky nickname and background
,
Russ Smith
has unexpectedly developed into the best player for a Louisville team that will contend for the national championship this spring.
Video Analysis:
Seeing most of his minutes off the ball alongside
Peyton Siva
, Smith currently rates as the
sixth best per-minute scorer
in the NCAA, being responsible for 34% of his team's possessions when on the floor, highest amongst all college prospects.
Showing excellent speed, strong ball-handling skills and terrific aggressiveness, Smith is at his best in the open court, as no prospect in college basketball pushes the ball up the floor more frequently than he does. Generating 9.1 transition plays per-40, Louisville scores 1.37 points every time he does so, which is one of the reasons they've improved from being outside the top-100 in offensive efficiency last season to inside the top-15 this season.
Not afraid to drive the ball right into the teeth of the defense and take a hit at the rim, Smith has become a much better finisher around the basket this season, a big reason he's been able to improve his 2-point conversion rate from a paltry 38% to a much more respectable 46%. The real key to his offensive efficiency lies in the way he gets to the free throw line though—8.1 times per-40—which ranks second amongst all NCAA point guard prospects.
While Smith is not what you'd describe as a great finisher around the basket with his average size, strength and decision making, it's not difficult to see his incredible first step, quickness and ability to get to the rim translating to a NBA setting, particularly in an offense that values spacing and is committed to playing at a fast tempo, such as those run in Denver or Houston.
Where Smith must continue to improve is as a jump-shooter, or more specifically, with his shot-selection. While clearly capable of making shots from the perimeter with both his feet set and off the dribble—he converts nearly two 3s per game—he is unable to do so with any type of consistency, only hitting 31% of his jump-shots on the year. Many of these attempts are deep, contested looks early in the offense, which he heaves up with no conscience whatsoever.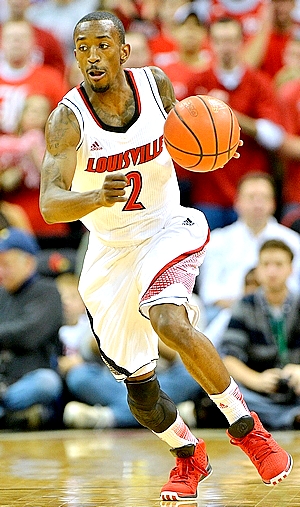 Because of how much time he spends off the ball—due to the makeup of Louisville's roster as well as his very questionable decision making skills—there are plenty of questions about how he'd fare playing the point guard position full time. In the ten or so minutes per game in which
Peyton Siva
goes to the bench, it looks pretty clear that Smith isn't a natural distributor, and that he's obviously most comfortable looking for his own shot.
Smith is capable of making some nice plays driving and dishing to teammates at times, but he tends to get tunnel vision too often, while the offense seems to lack much flow with him as the primary ball-handler. While he doesn't turn the ball over very much relative to his extremely high usage (just 17% of his possessions, around average for a NBA point guard prospect), he also doesn't generate many assists, and sports a 1/1 assist to turnover ratio.
On the other end of the floor is where Smith really shines, though. Louisville currently rates as the 2nd best defensive team in college basketball, and Smith plays a huge part in that. While not incredibly tall, his lateral quickness is off the charts, which combined with his very physical nature and tremendous anticipation skills, allows him to put incredible pressure on opposing guards, and in turn come up with plenty of steals. He has an almost uncanny knack for getting in the passing lanes,
ranking third
among all prospects in steals per-40 minutes, after finishing second among all college players in that category last season.
It's not difficult to see a NBA coach bringing him off the bench and sticking him on the opposing team's point guard for a couple of minutes at a time, just to change the pace of the game. He really takes pride in his work on this end of the floor, not being afraid to stick his nose in to take a charge, dive on the floor for loose balls, or rotate from the other end of the court to help make a play.
Smith is a unique prospect in the sense that he has some incredibly distinct strengths and weaknesses on both ends of the floor. It's difficult to find players who can make their presence on the floor felt offensively and defensively simultaneously, but on the other hand, he doesn't have great size for his position, he plays a very wild style of basketball, and he's not much of a distributor.
With that said, his instincts on both ends of the floor are clearly outstanding, and he's matured quite a bit in the past three years, making it safe to wonder where he might be three years from now considering the rate he's currently progressing at. The biggest question is whether he can continue to tone his game down and polish his weaknesses to become the type of player a NBA coach can trust enough to put on the court for more than a few minutes at a time.
Smith is also a little old for his class, as he turns 22 in April. That may put a little more pressure on him to consider leaving early despite having another year of eligibility. How Smith and Louisville finish the season will likely play a big part in that, but the fact that this is even a topic of conversation is amazing considering where he was two years ago.