Now that the NCAA season is about three quarters of the ways through, many college prospects are already seriously contemplating entering this year's draft. With every marginal prospect being recruited by at least a half dozen agents or more, the frenzy to gather information and outwork the competition is in full force. By this point, most top prospects already have their NBA agent selected, or at least have narrowed down the group down to a select few. As unbiased spectators who watch as much film, if not more, than any NBA scouting department around, some of this process crosses our paths as well, which gives us an interesting perspective into the decision making process and gives us some nice insight into which players might or might not be declaring for the draft.
Inevitably, there will be some who make smarter decisions than others. Every year there are underclassmen that get caught up in their own hype (or hype coming from unaccountable and/or misinformed sources), and foolishly burn their draft card a year too early. These are too often freshman or sophomores who are just beginning to figure things out as far as their long-term potential is concerned, and rather than continuing to add polish to enter the league ready to compete for minutes, they decide to try and cash in way too early. At best, these players get drafted somewhere in the first round and then have their career defined by the opportunities they may or may not receive and the work ethic needed to "get better on the job."
At worst, players who decide to "strike while the iron is cold" end up forcing themselves into a serious bind after returning the following year with no draft card in hand, ala
Richard Roby
this year. What then happens is that once they are truly emerging as legitimate NBA prospects, they are then faced with a life-altering decision and no possibility of turning back if they make the wrong move. The real problem is, there is such a huge gap between the end of the college season and the actual draft that no one in their right mind can accurately predict whether any player--beyond a handful of select prospects--will definitely be selected in the first round. There are just too many variables involved that cannot be controlled by one player on his own.
This year more than ever, considering the sheer depth of this year's draft class; it's crucial for prospects to gather the right type of information from as many well-informed sources as possible. Players who would have been solid first round picks last year can easily slide into the second round this year considering the type of talent we're seeing in the freshman, junior and senior classes. And players who normally would have been second round picks in a "normal" year can easily go undrafted due to concerns over roster spots that can have NBA teams reaching for international players that they can stash overseas.
In the interest of social responsibility, DraftExpress will attempt to temper some of the enthusiasm in regards to some of the younger prospects we're evaluating, and is encouraging everyone not to make hasty decisions regarding entering the draft and giving up NCAA eligibility by hiring agents. The NBA draft is a volatile beast, and it needs to be approached with caution.
With that said, we are kicking off a series discussing players that we're hearing strong rumors about potentially declaring for the draft or leaving college altogether, and who may want to think twice before they make a career-defining move. Making long-term predictions on the fate of 18-21 year old athletes who are still coming into their own usually isn't a smart thing, which is why none of these observations should be considered final conclusions, but it's important for the other side of the picture to come out as well… the anti-hype if you will.
Thaddeus Young, 6-8, Freshman, SF/PF, Georgia Tech
Thaddeus Young, as unique a prospect as any in the 2007 NBA draft, in all likelihood would have been a lottery pick last year had he been allowed to put his name in the draft. Rumored to be strongly considering entering the draft this year, although that could still go either way according to people with knowledge of the situation, in DraftExpress's opinion,
Thaddeus Young
should strongly consider returning for his sophomore year.
An extremely well regarded prospect coming out of high school, Young is, in many respects, meeting the expectations that were set for him. Statistically speaking, he is performing well, averaging 13.7 points per game for Georgia Tech. But this is due more to outstanding natural talent than anything else.
What's odd about Young's situation at Georgia Tech is that he couldn't be doing a better job exposing his weaknesses if he tried. Young entered college with the mindset that, barring the age limit, he would have entered the draft already, and therefore decided in advance to spend this year polishing up his perimeter game before claiming his spot in the NBA.
With that in mind, Young decided to go to Georgia Tech, largely on the premise/promise that Paul Hewitt would play him exclusively at the small forward position. That promise has been 100% fulfilled, even though it is clearly not in the Yellow Jackets' best interest. The problem is scouts and opponents found out almost immediately that there isn't much of a perimeter game to polish right now, and Young hasn't left any doubt about that throughout his freshman season, with his insistence on camping out on the perimeter.
For the most part, Young's desire to play on the perimeter, and abandoning his biggest strengths his size, length, raw strength, hands, touch, and explosive leaping ability, has exposed every deficiency in his game in terms of the next level. Georgia Tech's fairly slow tempo doesn't help him out much either, as he is clearly a guy that would thrive playing power forward on an up-tempo team like Arizona.
Advanced statistics taken from breaking down almost all of Georgia Tech's games show that only 7.8% of Young's offense comes from the post, compared with over 35% from spot-up shots and over 17% on isolation situations. All too often, Young is uninvolved in Georgia Tech's offense, as he's caught hanging out on the perimeter, waiting for others to create spot-up shots for him. This contributes to making the Yellow Jackets' half-court sets look painfully stagnant and unimaginative. Of course,
Javaris Crittenton
's insistence on dribbling the ball for 25 seconds or more on any given offensive possession certainly doesn't help matters either.
Young is, however, a solid shooter with his feet set, as evidenced by the 39% he is averaging from behind the arc so far this season. He needs time to get his shot off though, due to his fairly slow, deliberate release, which includes too much wasted motion. When forced to shoot the ball quicker than he'd usually prefer, his percentages drop. This is particularly noticeable when shooting on the move or off the dribble, as Young has a tendency to let his body flail out as he's setting himself up for a quick shot, which stops him from maintaining a consistent release point. This, combined with his poor ball-handling skills, is the main reason why Young does not have any real mid-range, pull-up game to speak of.
Another reason Young hasn't been able to capitalize on much of his talent lies in his poor ball-handling skills. A natural lefty, Young is an average ball-handler with his left hand, but with his right, he's downright mediocre. The ball slows him down considerably-- in both half-court sets and in transition-- and nullifies any chance he has of exploding to the basket off his already underwhelming first step.
Breaking down tape on his entire season so far, poor ball handling has also been the main source of many of Young's turnovers on the year, whether through traveling, dribbling the ball off his foot, offensive fouls, palming violations, or just exposing the ball to his defender and seeing it swiped away.
Young's lack of a right hand also hinders his finishing ability. Young avoids going to his weaker hand virtually at all costs, and when presented with an opportunity to finish cleanly with his right hand at the basket, he'll instead make things more difficult by switching to his left hand in mid-air.
The lack of a right hand has made it easier for teams to defend Young, as they position their defenders to his left, daring him to go to his weaker hand. This, combined with his absolute refusal to go into the post and utilize his excellent natural tools to his advantage, is the main reason why he's averaging just two free throw attempts per game, a stat that puts him at the absolute bottom of this draft class in that category.
Young also appears to lack a certain amount of toughness. It is not unusual to see him avoid contact in the post, where he already struggles due to his unrefined footwork.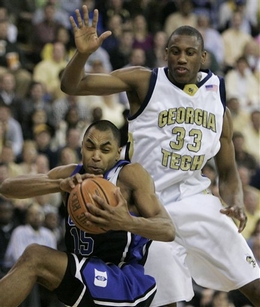 Defensively, Young doesn't look much closer to being a full-time wing player either at this point. At times, he'll get down in a fundamental stance and use his outstanding length to really bother his matchup. All too often though, he gets caught flatfooted on the perimeter as a 6'4" or 6'5" college small forward drives right by him. His defensive effort needs to improve, as does his awareness of where he is on the floor in relation to his matchup, particularly when defending the pick and roll. Young has shown excellent hands getting in the passing lanes on occasion, but like all of Georgia Tech's young squad, has generally been very inconsistent defensively.
The Upside:
Despite what this report might lead you to believe, not all is gloom and doom when looking at Young's overall NBA potential. He has quite a few things working in his favor, which are mostly the things that can't really be taught. For one, his physical attributes are very good, starting with nice size at 6-8, an excellent wingspan (7-1), an NBA caliber frame that will surely fill out, and solid, but not freakish athleticism.
His hands are absolutely terrific, he has a gorgeous floater and jump-hook shot he can hit with his left hand out to about 12 feet, and combining this with his physical attributes and very soft touch around the rim leads us to believe that he has much better potential as an inside scorer than shown so far. Young is also a terrific offensive rebounder, as his combination of hands, an extremely quick 2nd bounce and a real nose for a ball allow him to grab nearly as many offensive rebounds as defensive.
When focused on playing up to his strengths, for example cutting to the basket and finding open spaces in the defense to pick up easy points, he's at his best.
If you're looking for an NBA comparison, think
Antawn Jamison
. Physically, Young is similar to Jamison, particularly in the way he hits the offensive glass. Jamison needed time and experience to develop his all-around game, particularly his perimeter skills, since he was always considered a tweener for the NBA. Had Jamison left North Carolina following his freshman season (where he averaged 15 points per game), he probably would have been a first round pick, but it's very hard to say whether he would have developed into the player he is now. Young can get there too, but he'll have to be patient about it.
Right now, Young is extremely far away from being a complete basketball player, and it's hard to fathom what a few years of rotting on an NBA bench will do for his overall development curve. For whatever reason--maybe his somewhat deceiving stats, or his lofty ranking coming out of high school -- he's still ranked very highly on most other NBA mock drafts. Chad Ford of ESPN Insider for example has him ranked as the 11th best NBA prospect in this draft, while nbadraft.net has him slotted 13th.
It's impossible to say who is in the right on this one, because there certainly are some things to like about Young's game and NBA teams tend to draft on potential more than anything else. However, every NBA scout we have talked to has come away disappointed with one thing or another from watching Young play and/or practice this year. This is probably the single biggest reason why the sentiment seems to have moved from "he's definitely one and done," to "we hear he might stay another year".
Conclusion:
It's fairly clear Young has a high basketball IQ, and that if he commits himself to playing up to his strengths and not being something he isn't, he will reach his potential down the road. In our view, given that what Young lacks, basketball fundamentals rather than physical gifts, DraftExpress feel that Young would best be served with another year or Two at Georgia Tech, where he can focus on improving his shooting, ball handling and weak hand before entering the NBA
If just "making" the NBA is Young's goal, then he probably would be drafted this year and, more than likely (but not certainly), in the first round. If it's a long-term NBA career he's after, though, staying in school at least another year, developing his skill-set and learning the nuances of the game would, in our estimation, be the safer route to take.