Josh Riddell
T.J. McConnell
ended his college career by helping Arizona to a second straight 30-win season, although it ended in similar fashion as his junior season with an Elite Eight loss at the hands of Wisconsin. A steady hand at point guard under Sean Miller's tutelage, McConnell was named to the
Pac-12 All-Conference 1st team
and All-Defensive team. After being one of the most consistent collegiate players the past few seasons after transferring from Duquesne, McConnell will look to land a role at the NBA level, continuing his basketball career.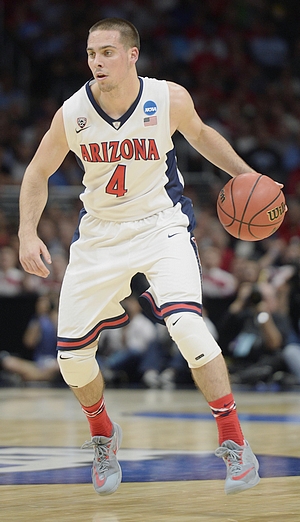 Already 23, teams will be drafting McConnell for what he can provide as a role player instead of his upside, as McConnell is the third oldest player in our top-100 rankings. McConnell can provide consistency in a third point guard spot and a steady hand in limited minutes, as he has numerous characteristics that will be interesting to NBA teams.
At 6'1.5" with a below average 6'0" wingspan, McConnell will be undersized relative to other NBA point guards. None of his physical tools leap off the page, as he isn't exceptionally fast with the ball or explosive off the dribble. He does have a solid frame for his size and doesn't get pushed around, as he has great toughness to go along with his excellent strength. Since he doesn't have great athletic tools, he will need to find other ways to impact the game.
A pass-first point guard, McConnell leads our top-100 with
8.0 assists per 40 minutes pace adjusted
and a
6.83 pure point rating
, which would also rank second among all college players. He has displayed excellent decision making with the ball in his hands, rarely forcing the issue while getting the ball to his teammates in spaces for them to create offense.
Rarely looking to create his own shot, McConnell is more focused on playing within the framework of the offense and setting up his teammates. While he won't disrupt an offense by breaking a play to get his own points, he will struggle with the ball in his hands at the end of the shot clock as he doesn't have an explosive first step or great ball skills to break defenders down off the dribble.
Since McConnell doesn't project as a prolific shot-creator, he will need to show he can be a consistent threat from beyond the arc to round out his offensive skill set. After making 36% of his 3-pointers his junior season, his average slipped a bit to 32% last season bringing his career average to a still solid 38%. His fundamentals on his shot need some work, as his release point is low and he struggles to get his shot off quickly, which makes it easy to contest. Off the dribble, his release is much quicker, and he subsequently found a great deal of success here, converting 47% of his 115 pull-up jumpers, according to Synergy Sports Technology.
McConnell can be a capable pick and roll player, as he is a terrific decision maker in addition to possessing the ability to shot off the dribble. If he has space to create, he can run his defender off the screen and find the open man after making the defense collapse. When he gets all the way to the rim, he's a solid finisher, at 60.9% according to Synergy Sports Technology, but his below average athletic tools and length don't project him to get there all that often. He's crafty around the rim to avoid the defense to get his shot off but he does so at the expense of getting to the free throw line, attempting just 2.4 free throw attempts per 40 minutes pace adjusted as he looks to avoid contact so he can get by the defender to attempt his close range shots.
Defensively, McConnell was one of the toughest perimeter defenders last season and had his hand in shutting down many top offensive players throughout the season, including Ohio State's D'Angelo Russell in the Round of 32. He moves his feet incredibly well to stay in front of opponents and he has quick hands to harass the dribbler, forcing 2.8 steals per 40 minutes pace adjusted,
tops among all players in our top 100
. His lack of length doesn't seem to affect him all that much, as his strong lateral quickness, physical nature, high basketball IQ and outstanding anticipation skills make him an absolute nuisance on this end of the floor, which could very well endear him to coaching staffs.
He's the type of player who will pick up defensive schemes and NBA rotations quickly, while his work ethic should allow him to be a positive defensive player from an overall standpoint. The intensity and toughness he brings to the table is exactly what NBA teams often hope to see from players on the end of their bench, as he's the type of player who will raise up the level of practices and push the star players to bring their best night in and night out if they want to stay on the floor.
While his ceiling may be limited, pretty much any NBA team could find a spot for McConnell and his ability to lead a bench unit in a backup or third point guard capacity. He'll need to show he can overcome his average physical tools to impact the game with his point guard skills and defensive ability in pre-draft workouts. If he can do so, he could play his way onto a NBA roster this season, even if he doesn't get drafted, and regardless will a long professional career.