T.J. McConnell
Recent Tweets
All Tweets
DraftExpress: Players who went undrafted (#2) Michael Qualls Shawn Dawson Alan Williams Quinn Cook T.J. McConnell Chris Walker Corey Hawkins
2015-06-26 00:22:22
DraftExpress: Today on DX Mario Hezonja ACB Finals Video Analysis Mam Jaiteh Scouting Report T.J. McConnell Workout\/Interview http://t.co/ftG40zzQIu
2015-06-20 22:42:49
DraftExpress: New on DX Workout Video and Interview with @APlayersProgram PG T.J. McConnell (@iPass4Zona) http://t.co/KPf56sTtLV http://t.co/TxnnKLGudh
2015-06-20 14:02:09
Team: 76ers
Physicals
Positions
Salary
Misc
H: 6' 2"
W: 188 lbs
Bday: 03/25/1992
(23 Years Old)

Current: PG
NBA: PG
Possible: PG

Agent: Chris Emens

High School: Chartiers Valley
Hometown: Pittsburgh, PA

Predraft Measurements
| Year | Source | Height w/o Shoes | Height w/shoes | Weight | Wingspan | Standing Reach | Body Fat | No Step Vert | Max Vert |
| --- | --- | --- | --- | --- | --- | --- | --- | --- | --- |
| 2015 | NBA Draft Combine | 6' 0.5" | 6' 2" | 188 | 6' 2" | 8' 0.5" | 7.3 | 26.0 | 31.5 |
| 2014 | Nike Skills Academy | NA | 6' 1.5" | 194 | 6' 0.5" | NA | NA | NA | NA |



Basic Per Game Statistics

- Comprehensive Stats - Statistical Top 25s
| Year | League | Name | GP | Min | Pts | FG | FGA | FG% | 2Pt | 2PtA | 2P% | 3Pt | 3PtA | 3P% | FTM | FTA | FT% | Off | Def | TOT | Asts | Stls | Blks | TOs | PFs |
| --- | --- | --- | --- | --- | --- | --- | --- | --- | --- | --- | --- | --- | --- | --- | --- | --- | --- | --- | --- | --- | --- | --- | --- | --- | --- |
| 2015/16 | NBA | T.J. McConnell | 18 | 27.6 | 6.8 | 3.2 | 6.3 | 50.4 | 2.7 | 4.9 | 55.7 | 0.4 | 1.4 | 32.0 | 0.0 | 0.1 | 0.0 | 0.7 | 4.1 | 4.7 | 6.2 | 1.3 | 0.4 | 2.8 | 2.2 |

Player Page&nbsp&nbsp| Player Stats | Related Articles&nbsp&nbsp| Add to My Draft Express&nbsp
&nbsp
T.J. McConnell Workout Video and Interview
June 20, 2015
An interview with Arizona's T.J. McConnell, featuring footage from his pre-draft workouts in Los Angeles.

(Video may not load with Internet Explorer. Use Chrome or Firefox)
---
More Pre-Draft Interviews/Workout Videos
-Kevon Looney Workout Video and Interview
-Christian Wood Workout Video and Interview
-Larry Nance Workout Video and Interview
-Kristaps Porzingis Workout Video
-ASM Workout Outtakes: Kristaps Porzingis Dunks/Jumpers/Post-Moves
-Kristaps Porzingis Interview
-Emmanuel Mudiay Workout Video and Interview
-Josh Richardson Workout Video and Interview
-Dakari Johnson Workout Video and Interview
-Devin Booker Workout and Interview
-Jonathan Holmes Workout Video and Interview
-Alpha Kaba Workout and Interview
-Willie Cauley-Stein Workout
-Karl Towns Workout
-D'Angelo Russell Workout
-D'Angelo Russell Interview
-CAA Workout Outtakes: Towns/Cauley-Stein Dunks from LA
-CAA Workout Outtakes: Russell/Towns/Cauley-Stein Jumpers
-Justin Anderson Workout Video and Interview
-Cliff Alexander Workout Video and Interview
-R.J. Hunter Workout Video and Interview
-Bobby Portis Workout Video and Interview
-Sam Dekker Workout Video and Interview
-Kelly Oubre Workout Video and Interview
-Stanley Johnson Workout Video and Interview
-Terry Rozier Workout Video and Interview
-Michael Qualls Workout Video and Interview
-Rondae Hollis-Jefferson Workout Video and Interview
-Rashad Vaughn Workout Video and Interview
-Andrew Harrison Workout Video
-J.P. Tokoto Workout Video
-Jarell Martin Workout Video
-D'Angelo Russell Interview
-Quinn Cook Interview
-Frank Kaminsky Workout Video
-Robert Upshaw Workout Video
-Rakeem Christmasn Workout Video
-Myles Turner Workout Video
-Stanley Johnson Interview
-Kelly Oubre Interview
-Frank Kaminsky Interview
-Satnam Singh Interview
-Satnam Singh Workout Video
-Alan Williams Interview
-Aaron White Interview
-T.J. McConnell Interview
-Chasson Randle Workout Video
-Chris Walker Interview
-Chris Walker Workout Video
-Cameron Payne Workout Video
-Cameron Payne Interview
[Read Full Article]

---
T.J. McConnell Interview
May 17, 2015
Arizona point guard T.J. McConnell talks about his preparation for the 2015 NBA Draft.


---
More Pre-Draft Interviews/Workout Videos
-Justin Anderson Workout Video
-Rakeem Christmas Workout Video
-Robert Upshaw Workout Video
-Rakeem Christmasn Workout Video
-Myles Turner Workout Video
-Satnam Singh Interview
-Satnam Singh Workout Video
-Alan Williams Interview
-Stanley Johnson Interview
-Kelly Oubre Interview
-Frank Kaminsky Interview
-Chris Walker Interview
-Chris Walker Workout Video
-Cameron Payne Workout Video
-Cameron Payne Interview
[Read Full Article]

---
NBA Combine Competitive Action Recap: Day Two
May 16, 2015
6 points, 6 assists, 5 rebounds, 5 steals, 3-5 2P, 0-1 3P, 22 minutes

McConnell was one of the best players on the floor on Friday as he impacted the game on both ends of the floor with his ball pressure, defensive toughness, playmaking ability, and vocal nature. McConnell set the tone on the defensive end, where he picked up 94 feet for the second consecutive game, hounding opposing guards and making them work just to initiate the offense. McConnell finished the game with five steals and forced a handful of turnovers with his relentless ball pressure.

The 23-year-old Arizona point guard also made plays as an off ball defender, showing excellent instincts and anticipation in the passing lanes while also regularly stunting at shooters to force them to second guess their open look and put the ball on the floor as the defense recovered.

While McConnell set the tone on the defensive end, he also ran the show as the floor general on offense. McConnell moved the ball ahead in transition with regularity, broke down his man off the dribble to find shooters and bigs underneath, hit the pop man with pocket passes out of the pick and roll, and hit the weakside shooter in the hands consistently, playing with excellent pace and timing out of ball screens. McConnell also knocked down a 15-foot pull up, finished in transition after an on ball steal, and got all the way to the rim in the half court and converted an uncontested finger roll.

McConnell did miss a spot up three and a pull up jumper and fail to finish a speed layup at the rim against length, but he played a complete game on both ends of the floor and certainly helped himself in both 5 on 5 sessions. McConnell may not hear his name called during the 2015 NBA Draft, but he'll certainly get his fair share of summer league and vet camp invites, giving him a chance to play his way onto an NBA roster as a third point guard.

[Read Full Article]

---
T.J. McConnell Updated NBA Draft Scouting Report
May 11, 2015
Josh Riddell

T.J. McConnell ended his college career by helping Arizona to a second straight 30-win season, although it ended in similar fashion as his junior season with an Elite Eight loss at the hands of Wisconsin. A steady hand at point guard under Sean Miller's tutelage, McConnell was named to the Pac-12 All-Conference 1st team and All-Defensive team. After being one of the most consistent collegiate players the past few seasons after transferring from Duquesne, McConnell will look to land a role at the NBA level, continuing his basketball career.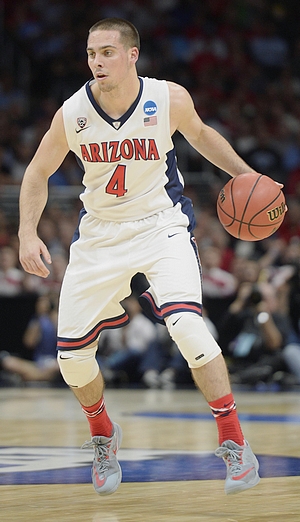 US Presswire



Already 23, teams will be drafting McConnell for what he can provide as a role player instead of his upside, as McConnell is the third oldest player in our top-100 rankings. McConnell can provide consistency in a third point guard spot and a steady hand in limited minutes, as he has numerous characteristics that will be interesting to NBA teams.

At 6'1.5" with a below average 6'0" wingspan, McConnell will be undersized relative to other NBA point guards. None of his physical tools leap off the page, as he isn't exceptionally fast with the ball or explosive off the dribble. He does have a solid frame for his size and doesn't get pushed around, as he has great toughness to go along with his excellent strength. Since he doesn't have great athletic tools, he will need to find other ways to impact the game.

A pass-first point guard, McConnell leads our top-100 with 8.0 assists per 40 minutes pace adjusted and a 6.83 pure point rating, which would also rank second among all college players. He has displayed excellent decision making with the ball in his hands, rarely forcing the issue while getting the ball to his teammates in spaces for them to create offense.

Rarely looking to create his own shot, McConnell is more focused on playing within the framework of the offense and setting up his teammates. While he won't disrupt an offense by breaking a play to get his own points, he will struggle with the ball in his hands at the end of the shot clock as he doesn't have an explosive first step or great ball skills to break defenders down off the dribble.

Since McConnell doesn't project as a prolific shot-creator, he will need to show he can be a consistent threat from beyond the arc to round out his offensive skill set. After making 36% of his 3-pointers his junior season, his average slipped a bit to 32% last season bringing his career average to a still solid 38%. His fundamentals on his shot need some work, as his release point is low and he struggles to get his shot off quickly, which makes it easy to contest. Off the dribble, his release is much quicker, and he subsequently found a great deal of success here, converting 47% of his 115 pull-up jumpers, according to Synergy Sports Technology.

McConnell can be a capable pick and roll player, as he is a terrific decision maker in addition to possessing the ability to shot off the dribble. If he has space to create, he can run his defender off the screen and find the open man after making the defense collapse. When he gets all the way to the rim, he's a solid finisher, at 60.9% according to Synergy Sports Technology, but his below average athletic tools and length don't project him to get there all that often. He's crafty around the rim to avoid the defense to get his shot off but he does so at the expense of getting to the free throw line, attempting just 2.4 free throw attempts per 40 minutes pace adjusted as he looks to avoid contact so he can get by the defender to attempt his close range shots.

Defensively, McConnell was one of the toughest perimeter defenders last season and had his hand in shutting down many top offensive players throughout the season, including Ohio State's D'Angelo Russell in the Round of 32. He moves his feet incredibly well to stay in front of opponents and he has quick hands to harass the dribbler, forcing 2.8 steals per 40 minutes pace adjusted, tops among all players in our top 100. His lack of length doesn't seem to affect him all that much, as his strong lateral quickness, physical nature, high basketball IQ and outstanding anticipation skills make him an absolute nuisance on this end of the floor, which could very well endear him to coaching staffs.

He's the type of player who will pick up defensive schemes and NBA rotations quickly, while his work ethic should allow him to be a positive defensive player from an overall standpoint. The intensity and toughness he brings to the table is exactly what NBA teams often hope to see from players on the end of their bench, as he's the type of player who will raise up the level of practices and push the star players to bring their best night in and night out if they want to stay on the floor.

While his ceiling may be limited, pretty much any NBA team could find a spot for McConnell and his ability to lead a bench unit in a backup or third point guard capacity. He'll need to show he can overcome his average physical tools to impact the game with his point guard skills and defensive ability in pre-draft workouts. If he can do so, he could play his way onto a NBA roster this season, even if he doesn't get drafted, and regardless will a long professional career.

[Read Full Article]

---
NCAA Tournament Sweet 16 NBA Draft Prospect Viewing Guide: Thursday
March 25, 2015
Senior point guard T.J. McConnell has been the most consistent player on Arizona's roster this season, and has been making a strong case for himself for consideration as utility third-string point guard in the Matthew Dellavedova mold. He's a career 38% 3-point shooter, sports a stellar 2.7/1 assist to turnover ratio, and is one of the toughest perimeter defenders in college basketball, as evidenced by his lockdown performance on freshman sensation D'Angelo Russell in the Round of 32. His credentials as a NBA prospect will be based on his winning pedigree, and not his upside, so taking his team as far as possible into the NCAA Tournament is extremely beneficial for his pro prospects.

[Read Full Article]

---
Top NBA Draft Prospects in the Pac-12, Part 6: Prospects #10-14
September 8, 2014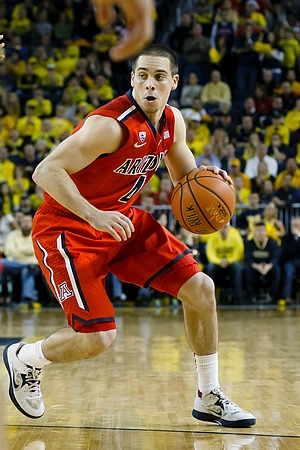 US Presswire



Josh Riddell

After starting his collegiate career at Duquesne for two years, T.J. McConnell transferred to Arizona, where he played his first season with the Wildcats in 2013-14 after sitting out the 2012-2013 campaign. He jumped right into the team as the starting point guard on a squad that would eventually end up as a #1 seed in the NCAA tournament, advancing to the Elite Eight before falling to Wisconsin. McConnell returns for his senior season to lead another loaded Wildcat team that again looks poised to make a deep NCAA tournament run.

McConnell was one of the best point guards in the nation last season, which helped land him on the Cousy Award finalist list. His 6.8 assists per 40 minutes pace adjusted ranks him among the top passers in the country among returning players while his pure point ratio of 5.41 ranks fifth among all returning PGs. McConnell is steady with the ball in his hands and initiates the offense well by making the proper pass while not over dribbling. He doesn't try to force the issue and his decision making helped him average only 2.3 turnovers per 40 minutes pace adjusted last season. He does an excellent job of making the right decision and delivering the ball to his teammates in the right position to allow them to shoot or create immediately. His ability to run a team will get him noticed by NBA scouts, but he will have to show he can provide more to a team to be a serious draft prospect.

Nothing about McConnell's physical tools are terribly exciting, as he measured 6'1.5" and 194 pounds at the 2014 Nike Skills Academy, with just a 6'0" wingspan. He has good strength for his size, which prevents him from getting pushed around by bigger players. However, he isn't exceptionally explosive or quick with the ball, and will likely be at a disadvantage physically in the NBA.

McConnell wasn't relied on to score all that frequently by Arizona last season, as he attempted only 9.4 field goal attempts per 40 minutes pace adjusted last season. His 16% usage rate would rank dead last among returning point guards, as it would among any college player drafted last season.

The majority of McConnell's scoring in the half-court comes off his jump-shot, which he finds somewhat mixed results with. With his feet set, McConnell is fairly effective, making 41% of his attempts last season, and 40% of his career 3-pointers in his three seasons of college basketball overall. He doesn't have the most conventional shooting mechanics, including a low release, a somewhat off balance stance and a propensity to shoot a flat shot off the dribble due to the lack of lift he gets creating separation from opponents, but he's able to punish opponents when given time and space, which happens a decent amount as he sees a good amount of his offense playing off the ball.

A very pass-first oriented point guard, McConnell doesn't look for his own shot all that often, being much more focused more on running the offense and creating for his teammates in the halfcourt.

Playing in a fairly deliberate offense that tends a bit stagnant at times, McConnell was asked to operate on the pick and roll a decent amount last season. He showed the ability to attack the rim at times, which created offense for his team, but his combination of an average first step, and a lack of a consistent pull-up jumper, allowed defenses to clog the lane, especially with as many non-shooters as Arizona usually fielded at the same time. McConnell only got to the free throw line 50 times in total last season in 38 games, as he simply isn't all that prolific of a threat to create his own offense, something that wasn't too different in his time at Duquesne (55 free throw attempts in 30 games). While it's unlikely that he'll ever develop into a dynamic one on one player, having a quicker and more consistent pull-up jumper in his arsenal will force defenses to respect him more on the perimeter, which will open up lanes for him to create for his teammates.

On the defensive side, while McConnell can be at a disadvantage physically, he is able to contribute defensively by knowing his assignments, playing with excellent intensity, and being in the right position on the floor to slow down his opponent. McConnell had 2.2 steals per 40 minutes pace adjusted last season, a product of his ability to read the floor and anticipate, combined with his quick, active hands. While he should be adapt to the complex defensive systems of the NBA due to his experience playing under Miller, and his willingness to compete certainly helps his chances, he may have trouble matching up with some of the bigger and more explosive point guards he'll run into at times in the NBA, as he at times gets beat off the dribble by quicker guards.

As the oldest and most experienced player on Arizona's roster, McConnell will be counted on to run Sean Miller's offense efficiently, play solid defense, and possibly carry a slightly larger offensive load this season, after seeing the team's top two scorers move on to the NBA. McConnell is already 22 years old due to sitting out a year and will be 23 by the 2015 NBA Draft. His ceiling is certainly limited by his age and average physical tools, but NBA teams are always on the lookout for solid, steady, competitive players to fill out their roster and up the level of their practices, and McConnell could certainly improve his chances of finding a roster spot if he leads Arizona on another deep tournament run.

[Read Full Article]

---